When you click the links and ads on this blog, it helps me to pay the bills & keep this site free for you. Thanks for supporting me! For more info, read the Disclosure page.
As transcription grows in popularity, more and more online companies enter the picture. Tigerfish is one such old business.
If you're thinking about joining them but aren't sure how the company will turn out? This Tigerfish transcription review will provide you with a clear picture of both the good and the bad sides.
For this, I spent several hours researching everything I could about them before coming up with all of the points in this review. While doing so, I discovered a disadvantage that may be the deciding factor for you.
So, before you get to the review, here's a quick recap.
Tigerfish Transcription Quick Review
Summary:
Tigerfish is a legitimate company that accepts anyone who passes their test. This includes inexperienced beginners as well. However, in order to work with them, you must invest some money in their recommended software, which can be a big letdown. Overall, if you are more interested in gaining transcription experience than earning money, you should definitely consider them if money is not an issue.
TRANSCRIPTION FREE MINI-COURSE
Want to know if Transcription is right for you? Enroll in this free mini-course to get the answers of your questions and much more!
What is Tigerfish Transcribing?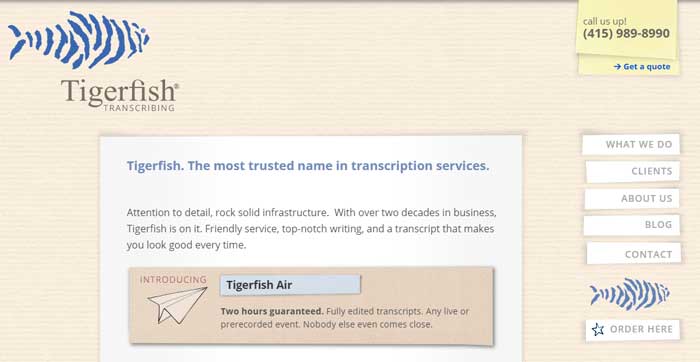 Tigerfish has been in the transcription industry since 1989 and has a diverse client base.
Clients come from a variety of industries, including technology, finance, healthcare, arts, and many others, which is a good sign for job seekers in terms of job variety.
They accept everyone, whether you are a beginner or an intermediate, but you must be patient because their response time is quite slow.
Who Should Join Tigerfish Transcribing?
If you lack experience but still want to work for transcription companies to earn extra money, Tigerfish is a good option if you have a budget of $229. (I will discuss it in a bit)
Aside from that, having skills such as an excellent typing speed, a better ear for language, and an excellent command of written English makes you a strong candidate for joining them.
What Are The Requirements to Join Tigerfish Transcribing?
To join for the freelance transcriptionist post, you need – 
How Do Tigerfish Transcribing Works?
Businesses and individuals sign up as clients on their websites and submit audio/video files for transcription.
Tigerfish distribute these files to their freelancers (you), who then transcribe the files and submit them for approval.
Once approved, Tigerfish sends the files to the clients and is paid for the work. They then send you a percentage of the commission, which benefits both of them.
Is Tigerfish Transcribing Legitimate?
Yes, they are a legitimate company because they have been in operation for a long time and have active offices in New York and San Francisco. If it had been a scam or an illegal company, it would not have lasted as long.
Additionally, many employers have been working for them for a decade and have been getting paid regularly. So it's safe to say they're a legitimate company.
But, before you make your final decision to join them, ensure to read the red flags discussed in the cons section.
How Much Does Tigerfish Transcribing Pay?
Tigerfish pays about $0.005 per word transcribed, which works out to about $5 to $10 per hour. The payments are made via PayPal on a weekly basis.
Typically, transcription companies such as GoTranscript, Rev, & TranscribeMe will provide you with an estimate of how much you can earn with them.
Usually, transcription companies like GoTranscript, Rev, TranscribeMe provide you an estimated earning of how much you can make with them. Surprisingly, I couldn't find any such information on TigerFish's official website.
So I tried looking online to see if anyone had shared their earnings, and eventually, I found someone who had.
I'm not sure why Tigerfish wants to keep such information hidden, as it clearly hinders transparency between the company and the job seeker. However, rest assured that their pay is average and not particularly impressive.
How Do You Apply For Tigerfish?
Visit their transcription jobs page and read through all of the details, including all of the dos and don'ts before getting started.
Once you've reviewed all of the guidelines, you can proceed to sign up with their company. Though you can find exact step-by-step instructions on their website, here's a quick summary to get a general idea.
Their response time is too slow due to the periodic review timetable and the volume of applications they receive. Furthermore, they restrict you from contacting them by call, which may frustrate you. As a result, you are only left with the option of waiting.
Nonetheless, if you haven't heard from them after a while, consider yourself rejected.
What I Like About Tigerfish Transcribing (Pros)
Apart from giving opportunities to beginners looking to get into the transcription business, there was nothing special about them that I liked.
Even if it appears to be a pleasant opportunity, you will still need to work hard on the skills I mentioned earlier.
Because, given the volume of applications they receive, there's no way they'll accept you if you don't pass their test with flying colors.
So, if you're a beginner with no previous experience in Transcription, Tigerfish is a great platform to get started.
What I Dislike About Tigerfish Transcribing (Cons)
1. Investment Needed in a Software
The first turnoff for me is the $229 investment required to purchase their recommended software. Though you can use the free software 'Express Scribe' during the testing and evaluation period, you must ultimately purchase the recommended software.
It can be a problem for those who cannot afford the amount. However, if you have the budget and long-term plans to be in the transcription business, investing in the software is not a waste of money.
What I believe is that when there are companies that accept beginners with no special requirements, most newbies will drop their plans to join Tigerfish.
I would have still agreed if it had been after a while, when you'd gained some experience and started making money with them. It would have made more sense to invest at the time.
But working with an online company that requires an investment is a big NO for me unless I am quite confident to succeed. 
Consider this: what if, after a while, you decide that transcription is not for you? Then your $229 investment would have been wasted.
Furthermore, many beginners are in a trial mode in which they are unsure whether they will be able to continue working for a long time. In this case, they are not ready for any investment, which I see as a shortcoming on Tigerfish's part.
2. Lack of Transparency in Payment
I also did not appreciate the lack of transparency when it came to payment. I've seen a lot of transcription companies that are very open about the earnings. They have nothing to hide from job seekers, who can then make an informed choice.
However, there is no payment information on Tigerfish's website. I'm not sure why they want to keep it hidden, but I believe they should be more open.
Tigerfish is undeniably a legitimate company, but I would have given them more points if they had displayed how much one can earn by joining their site.
3. Work Load Varies
After doing some research, I discovered that the workload in Tigerfish is extremely variable. It's possible that you'll see more jobs one week and fewer the next.
Although this is not a new thing, similar situations are there in the majority of businesses. So, take a note of it while joining Tigerfish.
Also, your schedule will play a role in the process as well. As long as your availability is consistent, you won't have the same scheduling issues as someone with a fixed schedule who only has a few hours available each week.
4. Transcription Software is Only Compatible With Windows
Even if you have decided to join them and are prepared to purchase the software, things will not go smoothly if you have a Mac computer/laptop.
Yes, Start Stop's Power play software is only compatible with the Windows operating system. So, if you want to be a part of Tigerfish's transcription team, you'll need to invest more money (Windows laptop/PC).
Tigerfish Transcribing Alternatives
After reading about the software, I'm sure most of you have given up on the idea. So, in order to lift your spirits, I'd like to offer some suggestions for possible alternatives.
Despite the fact that every company has some drawbacks, I still recommend them if you want to gain experience while earning a little extra cash.
1. GoTranscript
GoTranscript is a better alternative for beginners, even though their pay is not much impressive. But as they don't ask you to spend money on software, they make an excellent alternative.
They accept applicants from nearly every country and even offer transcription jobs in the majority of native languages. A basic requirement for joining is good English skills, as well as passing a quiz and a transcription test.
Besides transcription, GoTranscript also has Editor jobs available, where you only need to review completed transcripts to get paid.
The payments are paid weekly via PayPal and Payoneer.
2. Rev
Rev is yet another excellent company that welcomes beginners of all skill levels.
Their application process consists of a quiz exam, sample audio transcription, and filling out an application form with all of the necessary information.
They offer weekly payments through PayPal, but I've heard their pay is below minimum wage.
3. TranscribeMe
TranscribeMe is a crowdsourcing company based in the United States with offices in several countries around the world, including New Zealand, Auckland, and Singapore.
Unlike other companies, they divide large audio files into smaller ones of 3-5 minutes and then posted on their job board. As a result, you don't have to deal with long audio files.
Even though passing the test and getting used to the job will take some time, you'll feel more at ease once you get the hang of it.
Final Verdict – Tigerfish Transcription Review
Though Tigerfish is a legitimate company where beginners can earn money and gain transcription experience, it has a few flaws that may influence your decision.
The biggest turndown is the investment required for their recommended software, which is enough to turn off many beginners.
However, if spending money isn't an issue for you and you want to work as a full-time Transcriptionist in the future, you're welcome to join them.
Read Next:
Pin it For Later: