When you click the links and ads on this blog, it helps me to pay the bills & keep this site free for you. Thanks for supporting me! For more info, read the Disclosure page.
As transcription is becoming popular day by day, many online companies are coming to the picture frequently. One such old company is Tigerfish.
If you're thinking of joining them but have no idea how the company would turn out to be? This Tigerfish transcription review will give you a clear picture of all the good and the ugly side.
For this, I invested some hours researching everything about them & then came up with all the points in this review. 
While doing so, I also got to know a disadvantage that could be the deciding factor for you. 
But before we get into it, let's know a few things about them.
Tigerfish Transcription Quick Review
Company Name – Tigerfish Transcribing
Website – tigerfish.com
Eligibility – Only US residents can apply
Average Pay – $0.005 per word
Payment Method – PayPal
Payment Term – Weekly
Rating – 2/5
Summary – Tigerfish is a legit company that accepts everyone as long as they pass their test. This includes beginners with no experience as well. However, to work with them, you need to invest some money in their recommended software that can be a disappointing factor. Overall, if you are more interested to gain transcription experience besides earning cash, you can surely consider them if money is not a problem.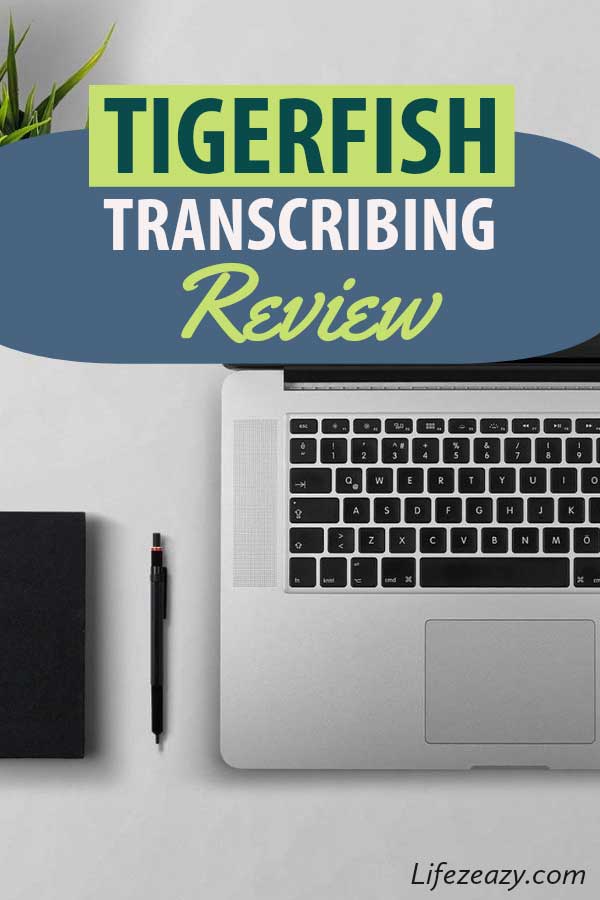 What is Tigerfish Transcribing?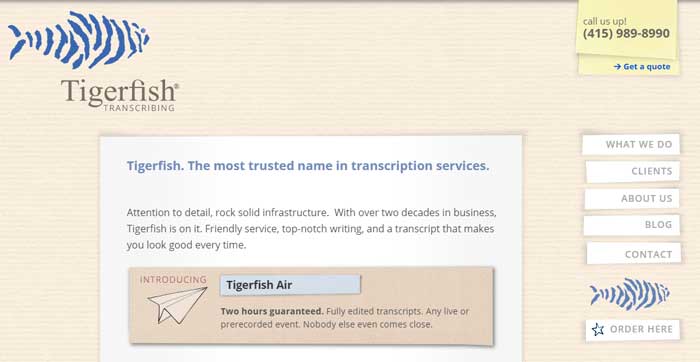 Tigerfish has been in the transcription business since 1989 & has a wide range of clients under their bucket.
The clients come from several categories like technology, finance, healthcare, arts, & many more, which is a good sign for job seekers as far as the variety of jobs is concerned.
Whether you are a beginner or an intermediate, Tigerfish accepts everyone, but you need to have patience as their response rate is quite slow.
Who Should Join Tigerfish Transcribing?
If you lack experience but still want to join transcription companies to earn extra money, Tigerfish might be a decent choice only if you can afford a budget of $229 (I will discuss it in a bit)
Apart from this, possessing skills like excellent typing speed, a better ear for language, & an excellent command of written English makes you a great contender for joining them.
What Are The Requirements to Join Tigerfish Transcribing?
To join for the freelance transcriptionist post, you need – 
How Do Tigerfish Transcribing Works?
Businesses and individuals sign up as clients on their website & submit audio/video files for transcription.
After submitting their files, Tigerfish distributes them to their freelancers (you), who will then transcribe the files & submit them for approval.
After the approval, Tigerfish sends the files to the clients and gets paid for the job. They then send a percentage of commission to you, thus benefiting both of them.
Is Tigerfish Transcribing Legitimate?
Yes, they are a legitimate company because they are in the business for a long time & have active offices in New York & San Francisco. Had it been a scam or illegal company, it wouldn't have sustained for so long.
Also, many employers have been working for them for a decade & getting paid every month. So, it is safe to say they are a legit business.
But before you make your last call, ensure to read a few red flags discussed in the cons section.
How Much Does Tigerfish Transcribing Pay?
Tigerfish pays around $0.005 per word transcribed that estimates to around $5 to $10 an hour. The payments are sent weekly via. PayPal.
Usually, transcription companies like GoTranscript, Rev, TranscribeMe provides you an estimated earning of how much you can make with them. But surprisingly, I couldn't find any such detail on TigerFish's official website unless you join them. 
So, I tried looking online whether anyone has shared their earnings, and, finally, I found a person who disclosed this information.
I don't know why Tigerfish wants to keep such information a secret, which definitely hinders the transparency between the company and the job seeker. But rest assure their pay is average & not much impressive.
How to Get Started With Tigerfish?
Visit their transcription jobs page and go through the whole detail listing all the dos and don'ts to getting started.
Once you know all the guidelines, proceed towards signing up with their company. Though you can find exact step-by-step detail on their page, here's a quick summary to get a general idea –
Download their style guide that lists the formatting standards, usage standards, & types of transcripts Tigerfish adhere to. Reading this guide will help you in passing the transcription test.
Next, download a sample audio file (provided by them) comprising three recordings of 5-minutes long & transcribe them on a document.
Ensure you format the complete document as per the Tigerfish suggested norms & send it to their email address.
Now, wait for the approval to get started.
Because of the periodic review timetable and the volume of applications they receive, their response time is too slow. Moreover, they prohibit contacting them through call, which may frustrate you. So it only leaves you with the option of waiting.
Nevertheless, you can consider yourself rejected if you didn't hear from them after a while.
What I Like About Tigerfish Transcribing (Pros)
There is nothing special I liked about them, apart from giving chances to beginners looking to get into the transcription business.
Even though it appears as a pleasant opportunity, you still need to grind hard working on the skills I discussed earlier. 
Because if you don't perform with flying colors in their test, there is no way they're going to accept you after looking at the volume of applications they receive.
So this is the only thing I liked about them, apart from finding a bunch of flaws.
What I Dislike About Tigerfish Transcribing (Cons)
1. Investment Needed in a Software
The first turnoff for me is the investment needed in buying their recommended software, which cost $229.
Though you can use the free software 'Express Scribe' for the test and evaluation period. But ultimately, you must purchase the suggested software if you like to continue with them.
Now, it can be a bit of a problem for people who couldn't afford the amount. Nevertheless, if you have the budget & have long-term plans to be in the transcription business, investing in the software is not a loss.
What I feel is when there are companies accepting beginners with no special requirement, most newbies will drop the idea of joining Tigerfish.
I would have still nodded my head had it been after a while when you have gained some experience & started making money with them. At that moment, it would have made more sense to invest.
But working with an online company that starts with an investment is a big NO for me unless I am quite confident to succeed. 
Let's imagine – what if, after a while, you decide to quit them because you think transcription is not for you? Then, your $229 worth of investment will go in vain.
Also, many beginners are in a trial mode where they aren't sure whether they could continue the job for a long time. In such a case, they are not ready for investment, which I see as a bit of a flaw in Tigerfish's side.
2. Lack of Transparency in Payment
I also didn't enjoy less transparency when it comes to paying. I have seen many transcription companies who are quite open with the earnings they are willing to pay. They have nothing to hide from the job seekers who can then make a fair decision.
But with Tigerfish, you won't find anything on their website regarding the payment. I don't know why they want to keep it a secret, but it kind of looks fishy to me. 
No doubt Tigerfish is a legit company, but I would have given them more points had they been more open with payment.
3. Work Load Varies
After researching a bit, I came to know the workload in Tigerfish varies a lot. On one week, you may see more jobs, while on other weeks, it will be the opposite scenario.
Though this is not a new thing, as similar situations occur in most companies. It is still a good idea to consider if you have drawn a different scenario in your mind.
Also, your schedule will come into the picture. If you have a flexible schedule and are available most of the time, you won't face much problem as people with fixed scheduled with only a few hours in their basket.
4. Transcription Software is Only Compatible With Windows
Even if you have made your mind to join them & are ready to buy the software, things will not go well if you have a Mac computer/laptop.
Yes, Start Stop's Power play software is only compatible with the Windows operating system. So, you got to invest additional bucks (Windows laptop/PC) if you want to be a part of Tigerfish's transcription team.
Tigerfish Transcribing Alternatives
I know most of you must have dropped the idea after learning about the software. So, to cheer up your mind, I would like to suggest a few alternatives where you can give it a shot.
Though every company has a few cons, I will still suggest them if you are interested to gain experience besides making some extra money.
1. GoTranscript
GoTranscript is a better alternative for beginners, even though their pay is not much impressive. But as they don't ask for any specific tool, it'd make an excellent alternative.
They are open to most countries and even offer transcription jobs in most native languages. To join them, you need to have strong English skills to pass their quiz exam along with a transcription test.
Besides transcription, they also offer Editor jobs where you only have to review completed transcripts to get paid.
GoTranscript transfers your earnings weekly via PayPal and Payoneer.
2. Rev
Rev is another good company that accepts beginners of any skill level.
Their application process includes quiz exams, sample audio transcription, besides filling their application form with all the required details.
They offer weekly payments via PayPal, but I have heard their pay is less than minimum wage.
3. TranscribeMe
The good thing about TranscribeMe is that it breaks down bigger audio files into small ones of 3-5 minutes long and then posts them on their job board. Thus, making transcription less hectic.
If you are not a fan of transcribing bigger files, TranscribeMe is a better choice for you. But like most companies, you can't expect jobs in abundance every day.
Final Verdict – Tigerfish Transcription Review
Though Tigerfish is a legitimate company where beginners can earn money and gain transcription experience, it has a few flaws that can change your decision.
Overall, if you can afford $229 & would like to strive in the transcription business, Tigerfish can be a good starting point. But if you want to do the same thing with no initial investment, you can try the alternatives.
READ NEXT: