This post contains affiliate links. For more info, you can read my
Disclosure
page.
Walking is the best exercise anyone can do to stay fit.
Many studies have shown that walking reduces the rate of heart disease and stroke, improve high blood pressure, cholesterol and many other things.
But, when you have a busy schedule where you don't have enough time to go for a walk or even if you have time, you better stay inside to watch your Netflix shows, then what can you do?
What options do you have to motivate yourself to go for a walk even if you are not willing to?
Well, thats when you can use apps that pay you to walk.
Apps where you can make money for each step you take.
Sounds interesting? Right?
In this post, you will find 10 apps that pay you for taking steps.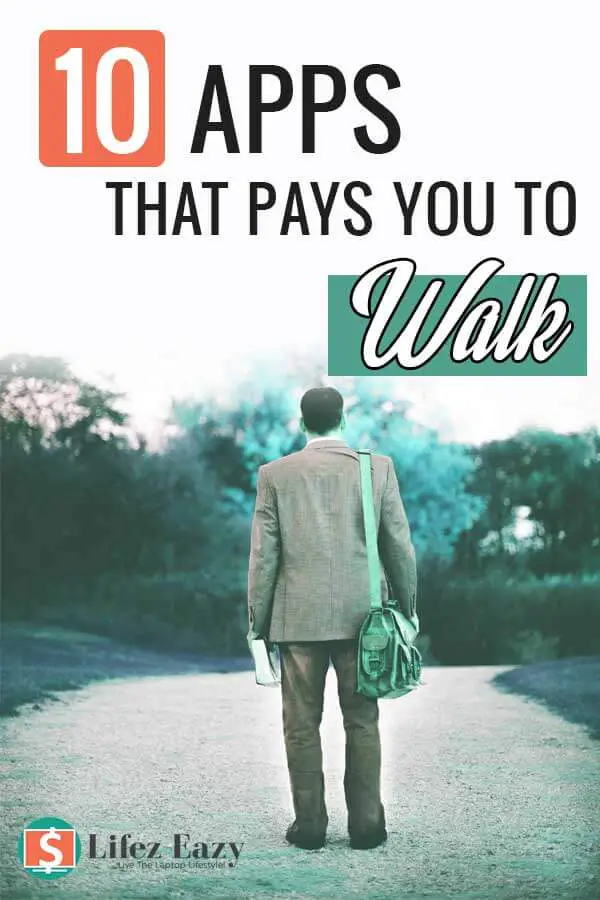 15 Apps That Pay You To Walk
1. SweatCoins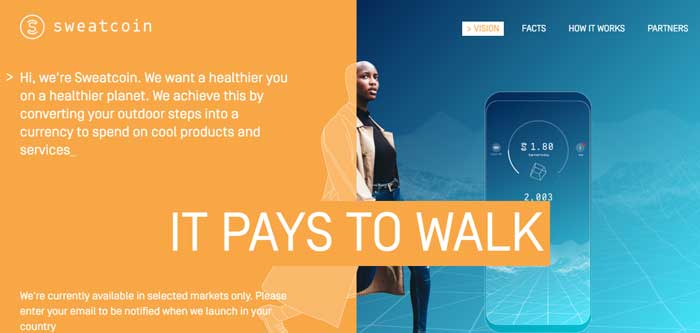 Platform – Android & iOS
The first app on the list is SweatCoins which pays money for every step you take.
It tracks your activities via GPS so if you are using the treadmill, then you won't get paid. You need to go outside and walk as you normally do.
For every 10,000 outdoor steps you take, you make 0.98 SweatCoins that can be redeemed for rewards within the app.
The rewards can be magazine subscriptions, yoga classes, running shoes, electronics, and even iPhone or Apple Watches.
It changes every day so even if you don't like the reward for that day, you can wait for the next day to see any favorites are showing up.
Read More:
> 8 Amazing Apps that pay you to workout
> 10 Awesome apps to save money on shopping your groceries
2. Runtopia
Platform – Android & iOS
Runtopia not only focuses on walking but it also focuses on other activities like cycling, exercise etc to improve your fitness.
There are two sections in this app.
Exercise – Run, Walk, Cycle
Training – Warm-up, Stretch, Running Novice, Lose Weight, Train for 10K, Train for marathon, Keep fit, Runtopia shoes exclusive
Exercise section is the basic one where you can set goals for running, walking & cycling.
Training section has training programs that are more advanced and better if you want to lose weight and build good fitness.
However, some features require a premium membership but most are completely free. 
For completing your tasks, you earn Sports Coins that can be redeemed for products, free memberships, coupons, and even PayPal cash.
Ensure to use these coins before 1st March of every year before its get expires.
You can explore more about this app by clicking here.
3. LifeCoin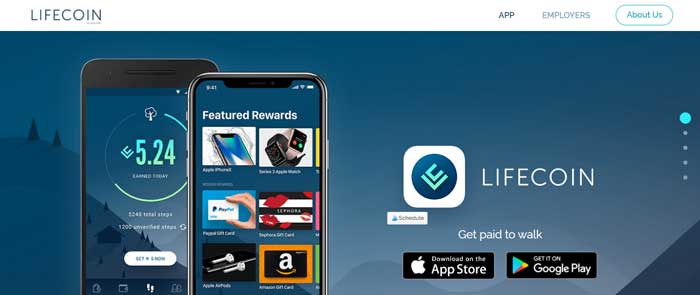 Platform – Android & iOS
LifeCoin is like Sweatcoins where you make LifeCoins for walking & running activities.
It uses GPS to track your outdoor steps so you can't bluff them by using treadmills.
Just like SweatCoins, they pay LifeCoins for the successful completion of your goals.
However, there is a small problem.
You can only make 5 LifeCoins every day as a free member and if you want to earn more, you need to pay for their premium membership ($4.33/month).
With Premium membership, you can make 10 LifeCoins every day along with access to Azumio premium that gives premium access to all of their other top apps as well.
You can redeem these coins for $50 Amazon gift cards, Apple Airpod, iTunes gift card, $100 Paypal gift card and much more.
4. Achievement
Platform – Android & iOS
Achievement is another app that pays you for doing fitness-oriented activities like walking, running, etc.
All these activities give you free points that can be redeemed for cash.
To begin, you need to sign up for an account and then sync it with health apps like Google Fit, Fitbit, Samsung Health.
As soon as its synced, you will make points for things you already do that gets added to your account.
Once you earn 10,000 points, you can redeem it for $10.
5. StepBet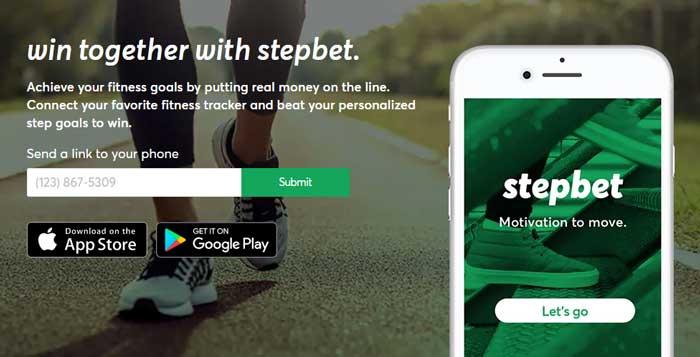 Platform – Android & iOS
StepBet is just like other apps I mentioned above but with a little twist.
Here, you won't make free money for just walking. Instead, you need to bet your own money to win the prize.
Here is how it works.
You need to install this app and sync your fitness tracker with it. Based on your step history, StepBet will calculate your step goals.
These step goals will be bigger than your normal walking routine. Once everything is set,  you can join a game and make a bet. Most bets start from $40.
Now, you need to perform and complete your weekly goals to win a share from the pot (total money from bets of different users)
If you fail in any of the weekly goals, you're disqualified. Usually, you will make double or even triple of your bet amount.
6. FitPotato
Platform – iOS
FitPotato is an Australian-based app similar to StepBet where you bet on yourself to perform different activities to win a share of the monthly prize.
You just need to install it and challenge your friends or other FitPotato users for a monthly prize activity which includes going to a gym, walking, jogging & running. (You can choose anyone)
Then place your betting amount and start performing your goals. For the duration of your workout, FitPotato uses your GPS in the background to track your session.
You need to complete 3 sessions/week for 4 weeks in a row to win the prize.
At the end of the month, ensure to open the app to sync your steps. Whoever has missed the least amount of sessions at the end of the month gets a share of the monthly prize.
7. Lympo
Platform – Android & iOS
Lympo is a free app where you can earn rewards just for completing walking and running challenges.
They provide new challenges every day that rewards LYM tokens on successful completion.
The great thing about this app is that you can perform challenges both indoor & outdoor which includes treadmills.
The fact that you can use this app indoor is actually good for those people who prefers working out in home.
So, if you are someone who only wants to use a treadmill, then I highly recommend it.
While performing challenges, you need to track your activities with the Lympo app or other health trackers. like Google Fit, iHealth.
This will ensure all your LYM tokens are safely stored in the in-app digital wallet.
You can then use these tokens to buy products from the in-app marketplace which includes Amazon gift cards.
Thus, if you are looking for some motivation to achieve your fitness goals specially indoor, then Lympo is for you.
8. PK Workout & Activity Tracker
Platform – Android & iOS
PK Fitness Rewards is another app that not only pays for walking but also pays for literally any moment you make. Whether it is walking, jogging, running, cycling or any workout.
All you have to do is open this app on your phone or Apple Watch (they also support Apple watch) and click on "Start Earning" button before performing your workout. 
Once you're finished with your workout, hit the button again & it will calculate an Effort score based on the time and effort taken.
Based on this score, you'll be rewarded with coins that you can trade it for rewards from your favorite brands like Nike, Lululemon, Amazon.
The more hard work you do, the better you will earn. You can literally earn your first prize within a week.
9. Earthmiles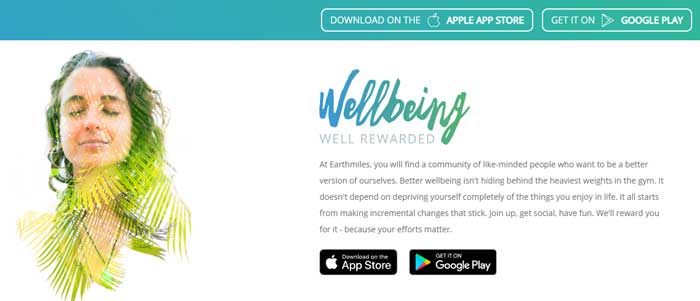 Platform – Android & iOS
Earthmiles app is a UK based app that rewards prizes for walking, cycling and running.
The first step involves downloading and installing this app on your smartphone.
Once done, sync your Earthmiles app with your favorite health tracker so that everything gets tracked perfectly.
Then you can choose which activity you can perform to earn Earthmiles.
Walking – 1 km – 1 Earthmile
Cycling – 1 km – 3 Earthmiles
Running – 1 km – 5 Earthmiles
The more intense activity you do, the more you'll earn.
Once you have enough Earthmiles, you can redeem them for exclusive rewards from fantastic health brands. They provide new rewards every week to keep you moving.
10. Fit For Bucks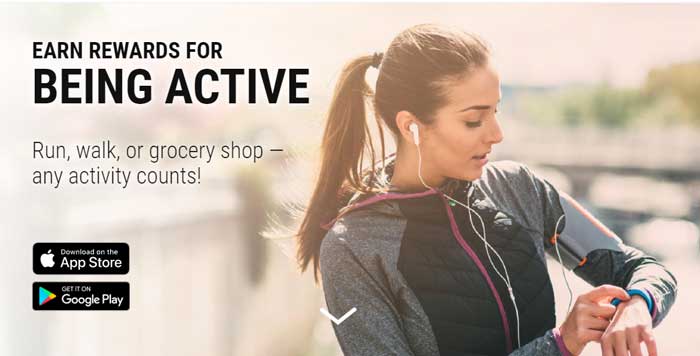 Platform – Android & iOS
Fit For Bucks is another paid to walk app that pays for any activity that involves steps such as running, hiking, dancing, walking the dog, etc.
You can install this app and connect it to your preferred activity tracker or Apple Watch. 
Once done, do your activities as you always do and everything will get tracked.
You can then exchange your step counts for rewards that can be redeemed in your local LA community.
For example, below are some available rewards.
Free Milk Tea with Boba – 20,000 steps
Free Cup of Coffee – 35,000 steps
Free Barre Sculpt Class – 30,000 steps
The only CON it has right now is that the rewards are from L.A. merchants. But they have promised to add more cities in the future.
How To Make More Money Using These Walking Apps?
If you want to make the most out of these apps, then its better to install as many as you can.
The reason is because all of them works on the same principle where they are synced with your fitness tracker.
So, it makes your job easier to share your result with multiple apps & you can win rewards for literally all of them in the same month.
Ending Note..
So, these are some apps that pay you to walk. Surely, there are many more apps like these which pays you for walking & I will update them here regularly.
The great thing about these apps is that they motivate you for doing workouts like walking you would normally ignore or don't feel like to do.
And the motivation comes from the extra money you'll make using the apps.
Surely, you won't get rich but if you are getting free money for doing things that will improve your fitness, then why not?
So, start installing them and see a change in your healthy lifestyle. Cheers.