This post contains affiliate links. For more info, you can read my
Disclosure
page.
MAKE REACTION VIDEOS
Nowadays, whenever you visit Youtube. You may have come across different videos such as reviews, unboxing videos, how to videos, time-lapse videos etc.
But the most popular videos nowadays is reaction videos. Everybody is very much concerned about the reaction of others to particular videos.
It's like you are watching a video with the others. Well, I love it and I hope you too. But before you even consider making reaction videos, it's better you create a YouTube channel first.
If you don't know how to create it, then you can read this step-by-step guide.
If you already have a channel, then that's great. Let's proceed with our main topic.
Before you dive into the main procedure, the following are the steps which I will discuss here.
What is a reaction video?

Requirements for creating reaction videos.

Steps to create reaction videos.
Once you have created your reaction video, you can follow this guide on YouTube video optimization which will help you to rank videos better on YouTube.
Also, if you are not in a mood to read the whole article, you can check out this video where I have shown all the necessary steps required to create your own reaction video.
>>Read On: How to make videos more YouTube optimized for better ranking
WHAT IS REACTION VIDEOS?
It is basically a video of someone reacting to someone else video. These type of videos are made famous by Benny & Rafi Fine who are brothers and better known as Fine Brothers.
It is a very simple concept and they earned a lot of money from reacting on Youtube. Now, there are many reaction videos where they react to movie trailers, stand up comedy, funny videos, vines etc.
To be honest, it is the most simple way to earn money on Youtube nowadays. Literally, You don't need much knowledge for making such videos. 
Now, what are the basic requirements in order to make such videos?


REQUIREMENTS
You will require these things:
Video camera or Smartphone

Microphone for recording voice

A nice and clean place

Videos to react

Video editing software



1. VIDEO CAMERA OR SMARTPHONE

This is the basic requirement to make a reaction video. For recording yourself, you can either use your smartphone or if you want to make it more professional kind of reaction videos, you can opt for any best cheap cameras.
But, I would prefer to use a smartphone as you don't want to invest money in video camera if your smartphone can record videos in HD quality.
2. MICROPHONE FOR RECORDING AUDIO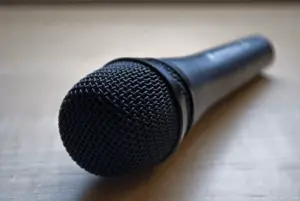 If you record your voice through a smartphone while recording videos, chances are your sound would not be clear and will sound muddy which is bad for your videos.
I would suggest buying an affordable microphone because if you want to continue making such type of videos, a microphone will be your best friend for recording crisp & clear voice.
You can also use headphones having a mic in it. As a viewer, I would love to watch reaction videos having a clear sound of the guy who is reacting rather than someone having a muddy, slow or noisy voice.
You can check out some of the best cheap microphones here to make reaction videos.
3. A NICE & CLEAN PLACE

Now it's not that important, but if you are reacting to videos you should have a nice background rather than having a messy one.
Now, it is obvious that you will be reacting to videos from your room. If you think that your room is not that good, then you can place curtains behind which will do the job.
4. VIDEOS TO REACT

It is up to you to choose which videos to react. I would suggest you make reaction videos on any of them:
Movie trailers & fight scene

Stand up comedy

Funny Videos

Funny Vines

Speeches

Video songs


5. VIDEO EDITING SOFTWARE

Now there are various options to edit videos. You can either edit online or via a software. For making reaction videos, I will be using Vegas Pro 14. It is one of the best video editing software out there.
It is quite easy to use and have a user-friendly interface. You can buy this software Vegas Pro 14 if you're against piracy or else you can get this software for free on the internet.
How To Make Reaction Videos Fast
Click To Tweet



STEPS TO CREATE REACTION VIDEOS USING VEGAS PRO
I am considering that you have recorded your reaction and now you have two videos. First one is your reaction video and another one is the video to whom you reacted. Now let's edit this video using Vegas Pro 14.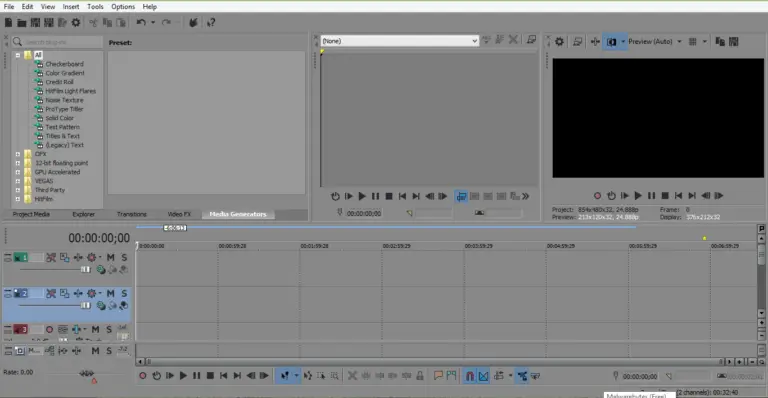 I imported two videos. The first one is the normal video and another one is my reaction video. Here Darcy Oak 1.mp4 is the video to whom I reacted & react.mp4 video is my reaction video.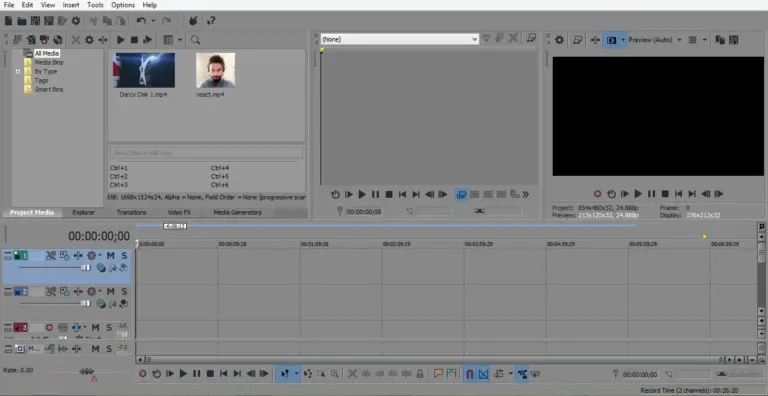 Now drag your videos into the timeline as shown. Remember to keep your reaction video at the bottom and the video to whom you reacted at the top.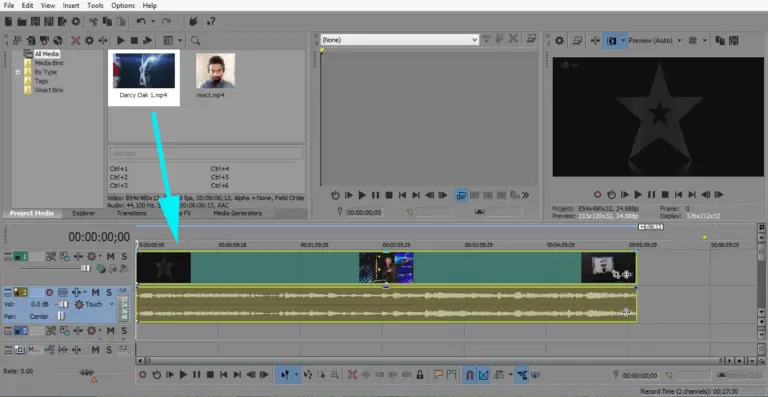 Now select top video (to whom you reacted) and click the Event Pan/Crop button as shown.
A new window will open as shown. Change the preset to 16:9 ratio. Now resize it by clicking on that small square and drag it as if you want to enlarge it.
You will see that the top video will get shrunk and then you can adjust the size as per your convenience and then drag it to the side of your video.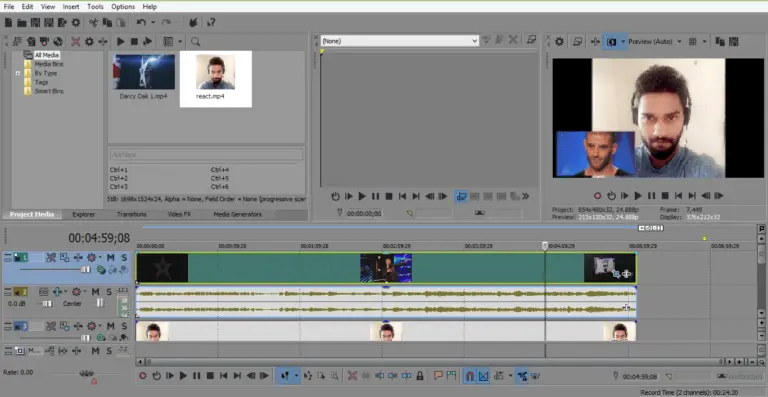 Now to save the file. Go to File> Render as and click it.
A new window will open. Input your file name, location and then select the quality of the video. I would suggest choosing 1280×720 as shown and then click on render button. The file will be produced and will be saved at your preferred location.

See, it is that simple to make a reaction video. So, now you know the secret.
It doesn't require much talent. If you got all those gears which I mentioned above, you are good to go.



HOW TO AVOID COPYRIGHT CLAIM?
Well. if you are using others video, then there is a high chance of getting copyright claim. Especially, when you are reacting to music videos.
So keeping that in mind, whatever I am about to tell you it isn't a 100% solution for copyright claims. However, these tricks will probably reduce the risk & who knows your video comes out clean. So let's see
I have seen a lot of YouTubers who tend to low down the volume of videos while reacting to it. This helps them to avoid any audio detection by YouTube bots which otherwise results in a copyright claim.

Another thing you can do is, chop 5 seconds of your video after every 30 seconds. This means you watch the first 30 seconds of the video, cut off the next 5 seconds, then again watch 30 seconds & then cut off the next 5 seconds and so on.

Similarly, instead of chopping off the 5 seconds, you can pause the video after 30 seconds and then talk a little about it. Then, again play the next 30 seconds, pause it and then again talk about it. Basically, you need to stop the video after every 30 seconds for a while and then again repeat the same thing. I hope I am not confusing you.

Lastly, you can change the video sound pitch to avoid copyright claim.



CONCLUSION
So, that's how you create a reaction video. Not to mention, there are many other ways as well using different software.But Vegas Pro seems easy for me.
If you liked this method, then don't forget to share it. Also, if you want to know about an extension that will manage your YouTube channel easily, then check out the below article.
>>Read Next: YouTube SEO Tool Tubebuddy Review – Manage Your Channel