Disclosure: This post contains affiliate links. If you buy or sign-up through one of those links, you won't pay a penny more but we'll get a small commission that helps us in running this blog. Read the Disclosure page.
In this article, I will teach you how to make reaction videos for YouTube within 10 minutes.
Along with that, I will also give you a few tips that you can use to avoid any copyright claim on your reaction videos.
But before that, you already know there is a trend going on YouTube, where many people are giving reactions to different videos like movie trailers, short stories and what not.
As it is becoming popular day by day, there is a craze among many people who want to start their own reaction channel.
But most of them have no idea how it's done.
Though it may look complicated, it is actually easy to make reaction videos using Vegas Pro.
If you don't know what it is and how to use it, then don't worry because I will explain all the procedure step-by-step and by the end of this post, you'll know the secret
So, wasting no time, let's begin.
Helpful Resource:
Starting a successful YouTube channel requires a great knowledge of keywords, channel optimization, tools and best practices so it ranks well on YouTube.
But most YouTubers pay little attention to it, which results in fewer subscribers, views & Adsense income. That's why YouTube SEO Success Course teaches you everything from the scratch, so you are confident enough to make a great passive income. Click here to know more.
What Is Reaction Videos?
It is basically a video of someone reacting to someone else video.
Benny & Rafi Fine who are brothers and better known as Fine Brothers made it famous, which earned them a lot of money by giving reactions on YouTube.
At present, there are many reaction channels where people react to movie trailers, standup comedy, funny videos, vines, etc.
To be honest, it is one of the easiest ways to make money as a YouTuber because all you need to do is react & give honest opinions about the videos.
You might also like:
>Grow your YouTube Channel With this Secret Tool
>5 Websites to download Royalty-free music
How Do YouTubers Make Reaction Videos?
To be frank, it's not complicated as it looks.
As a YouTuber, you just need a good video editing software and a few other things to make such videos.
If you have all the things already set-up, it will take a mere 10 minutes to create a reaction video that will be ready to get uploaded on YouTube.
Can You Make Money From Reaction Videos?
Yes, you can, but it's not easy.
The problem with reaction videos is that they have a high chance of getting a copyright claim.
If your reaction videos are getting a copyright, then either the money generated from that video goes to the original creator or you need to delete them.
So, it's very important to know the fair usage policy before reacting to videos. The best thing you can do is email the original creator to ask for permission.
But then, they don't give permission to newbies as far as I know. If you have a nice subscriber base & they think it will benefit them (getting more exposure to their content), then the creators will probably give you permission.
If that happens, you can easily monetize these videos to make money from Adsense.
What Do You Need To Make Reaction Videos?
To be honest, nothing special. I am pretty sure most of the equipment is already available to you.
Though there is a chance you won't have a video editing software, but that's not a problem because you can easily find them online.
Here are the things need to create reaction videos
Video camera or any good Smartphone camera
Microphone for voice recording Or Earpiece with microphone
A nice background (Optional)
Videos to react
Video editing software
1. Video Camera Or Smartphone
Obviously, without a camera, how are you going to record yourself?
If you already have a camera, then that's a good thing because you don't have to buy a new one.
But, if you don't have a camera and planning to buy one, you can try any of these best cheap cameras.
Other than that, you can use a Smartphone that can record in at least 720p
2. Microphone For Audio Recording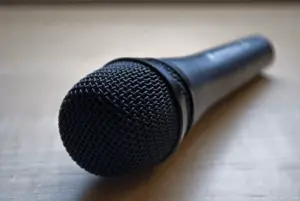 If you record your voice through your smartphone or camera, chances are, your sound may not be clear and it will sound muddy which is a big turnoff for your YouTube audience.
Therefore, I will suggest that you should invest a few bucks on an affordable microphone if you want to record your audio crisp & clear.
As an alternative, you can also use headphones having an in-built mic in it.
Being a viewer, I would love to watch those reaction videos where I can clearly listen to the Youtuber's voice or else I'll skip.
You can check out some best cheap microphones from here.
3. A Nice & Clean Place
Now it's not that important, but if you want to look more professional, get a nice background.
It can be your good looking room, green screen, or you can use a curtain if your room is messy.
As a viewer, I am more attracted to those reaction videos which look more professional.
Now, it doesn't mean that others are bad, but the presentation matters.
4. Videos To React
It is up to you to choose which videos to react. I will suggest you make reaction videos on any of these below videos:
Movie trailers & fight scene
Stand up comedy
Funny Videos
Funny Vines
Speeches
Video songs
You must also listen to your audience in the comment section and react to those videos which they are suggesting to make them happy and eventually turn them into your subscriber.
5. Video Editing Software
There are many software available to edit videos. To be honest, you can make reaction videos with any of them.
Personally, I like Vegas Pro 14 because it is easy to use.
The interface is easy to understand, and it's quite user-friendly. I have used a bunch of software previously, but I liked Vegas Pro more.
You can buy this software online if you're against piracy, or else you can get this software for free if you do some Googling.
Steps To Create Reaction Videos Using Vegas Pro
This is the part where you'll learn how to edit reaction videos for YouTube.
I assume that you have already recorded your reaction, and now you have two videos.
The first one is your reaction video, and another one is the video to whom you reacted.
Now, using Vegas Pro, let's edit these videos.
First, open Vegas Pro 14.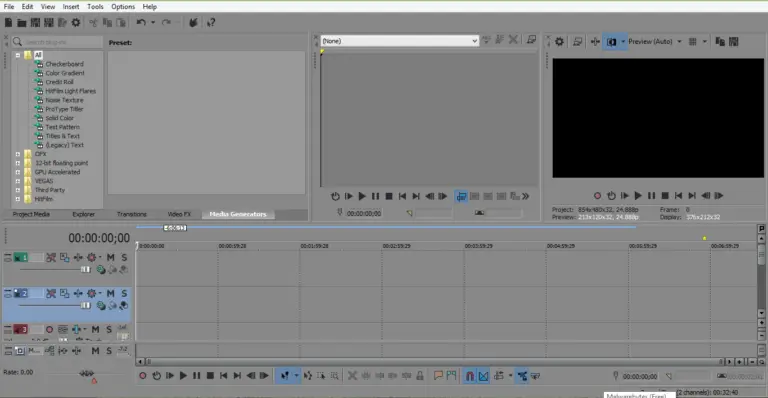 I have imported two videos. Here Darcy Oak 1.mp4 is the video to whom I reacted & react.mp4 video is my reaction video.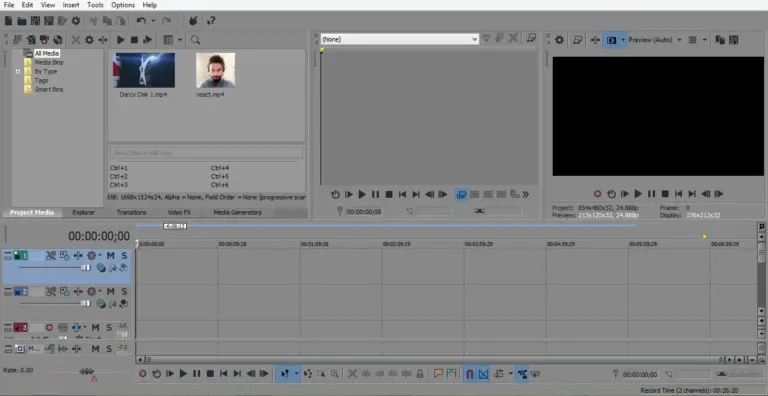 Now drag both the videos into the timeline as shown. Remember to keep your reaction video at the bottom and the video to whom you reacted at the top.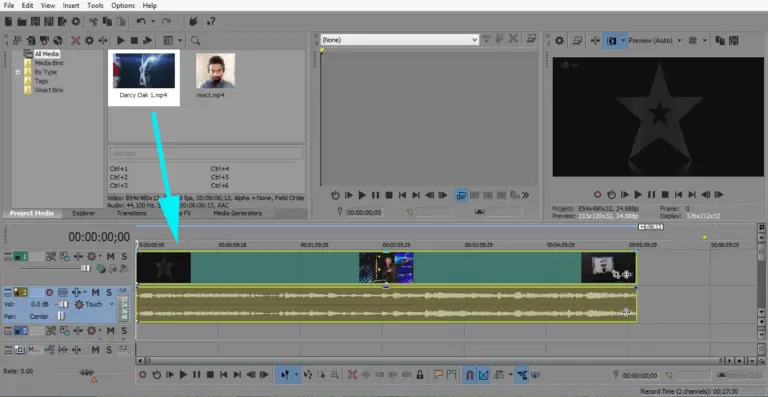 Now select the top video (to whom you reacted) and click the Event Pan/Crop button as shown.
A new window will open. Change the preset to a 16:9 ratio & then resize the video box by clicking on the small square and dragging it as if you want to enlarge it. See the below screenshot for clarification.
You will see that the top video (video on whom you reacted) will get shrunk and then you can adjust the size as per your convenience. Once you're done, you can drag it to the side of your video (reaction video).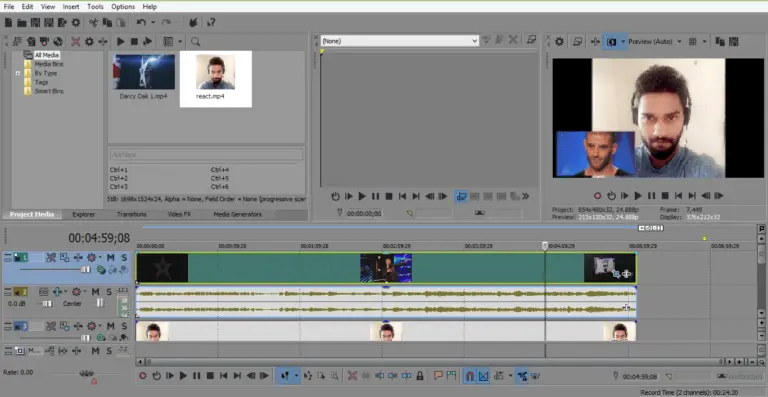 Now, you need to match both your videos in the timeline, i.e. the original video and the reaction video so it plays perfectly in sync. To match them, you can drag those videos via your cursor.
After arranging both of them, play the video to see whether it is matching perfectly.
If everything is fine, save your file by clicking File> Render As. Ensure to save it in 720p or 1080p.
That's pretty much it. The whole procedure will take at least 10 minutes before seeing your final product.
So, what are you waiting for?
Start creating your own reaction videos & upload it on YouTube.
How To Avoid Copyright Claim On YouTube?
Well. if you are using someone's video, then there is a high chance of getting a copyright claim especially when you are reacting to music videos.
So keeping that in mind, whatever I will share now, it isn't a 100% solution for copyright claims.
However, these tricks will probably reduce the risk & who knows your video comes out clean. So let's see.
I have seen a lot of YouTubers who decrease the volume of the videos while reacting to it. This helps them to avoid any audio detection by YouTube bots.
Another thing you can do is chop 5 seconds of your video after every 30 seconds. This means you watch the first 30 seconds, cut out the next 5 seconds, then again watch 30 seconds & then again cut out the next 5 seconds and so on.
Similarly, instead of chopping out the 5 seconds, you can pause the video after 30 seconds and then talk a little about it. Then, play the next 30 seconds, pause it and then again talk about it. Basically, you need to pause the video every 30 seconds for a while. I hope I am not confusing you.
Last, you can change the video's sound pitch to avoid any copyright claim.
I know these tricks aren't 100% good, but you must know you're using someone else content without their permission.
The best thing you can do is email the original video creator and ask permission for a reaction.
If they agree, then you don't have to worry about anything.
Ending Note…
So, that's how you make reaction videos & avoid copyright claims.
Not to mention, there are many other ways where you can use different software to make reaction videos.
However, Vegas Pro seems easy for me. But you're free to do it in your way.
If you loved this post and want to support it?
Ensure to share and pin this post. If you have any doubt? You can drop a comment down below.
As a bonus, watch this video where I will show everything practically.