This post contains affiliate links. For more info, you can read my
Disclosure
page.
Non-Copyrighted Music For YouTube
If you are a YouTuber, then you might have faced copyright infringement where YouTube took down your video because of copyrighted music or video.
I know it feels pretty bad when we work so hard for a video only to be taken down.
Well, not anymore.
If you are facing the problem of music copyright infringement, then in this article, I will introduce 5 websites from where you can download non-copyrighted music absolutely for free.
So, if you are ready to explore them, then let's begin.
What Happens When You Use Copyrighted Music?
Suppose you made a video having a piece of licensed music in it such as any popular song.
As soon as you upload it on YouTube, YouTube algorithm (content ID) analyzes your video & will detect any copyrighted material.
Once they recognize it, they will email you asking whether you have the written permission from the original creator.
If you have permission, you can email them back. But in case, if you don't have any legal proof, there are possibly two choices.
Revenue generated from your video will be credited to the original creator.
Or you can remove copyrighted material from your video & keep all the revenue.
Whatever it is you must have some patience to resolve such problems because it takes time.
Another thing is if you are using your own music and still got a copyright strike, then in such cases, you can file a dispute.
5 Best Website For Free Music
1. YouTube Audio Library
We all know that YouTube takes down videos which are having copyrighted material. But many of them don't know that YouTube also provides music & sound effects for free that can be found in YouTube Audio Library
YouTube Audio Library was started back in 2013 with only a few 100 songs/music. But now, it has grown to over 1,000.
You will get high-quality 320kbps sound effects & audio tracks which you can filter by mood, genre or duration.
Why Are They Providing Free Music For YouTube Videos?
If YouTube provides free music, then there will be less copyright infringement which means less stealing of music. Thus, they provide free music for reducing this problem.
How To Access YouTube Audio Library?
Click on your channel icon on the top right side of your screen & click YouTube studio (beta).
On the left side, you can see a lot of options. Select Other features > Audio Library
You can either choose free music or sound effects.
After selecting any of them, you can click "download icon" to download the music.
If you find an "attribution-required icon" next to the music. Make sure to give the credit to the original artist in your video description.
Read More:
>Grow your YouTube channel using just a browser add-on
>Make your own reaction videos within 10 minutes
2. PacDV
PacDV is a great website which provides free royalty sounds for filmmakers, sound designers, music producers, film students, and multimedia developers.
Various independent films, videos & television shows have featured their sounds. They provide sound effects in various genres such as ambiance, domestic, machines, interfaces.
If you use their sound, they want you to link back to their site or give credit in your video description.
Also, you cannot re-sell or re-license their sounds as they are against their rules.
5 Websites To Download Free Non-Copyrighted Music
Click To Tweet
3. Incompetech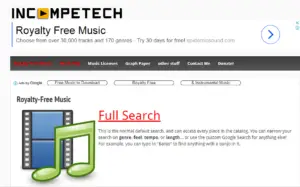 Incompetech is a great website to find free music for YouTube. Kevin MacLeod created this site and has a lot of free music which you can sort out by genre & feel.
While using their music, you need to give the credits to the original creator (Kevin MacLeod) in your video description.
How To Give Credit?
You can write the below sentence in your video description.
Title: Kevin MacLeod (incompetech.com)
Licensed under Creative Commons: By Attribution 3.0
http://creativecommons.org/licenses/by/3.0/
Here, you need to replace Kevin MacLeod with the music title. You can check out their FAQ page for more details.
4. CCMixer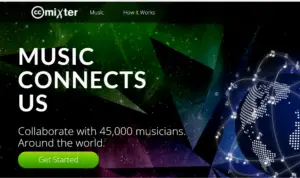 It is a community music remixing site having remixes and samples, licensed under Creative Commons.  You are free to download music from this site.
It allows you to listen to music, create mashups and much more. However, some songs might have restrictions, depending on their specific licenses.
If you are using them, you need to give credit to the original source within your video.
How to Give Credit?
As they have not specified any credit rule, so, I'll share my experience.
If you are using their music, you can either give credit in your video description or you can give credit in the outro of your video.
You should give credit in such a manner that your audience can easily find the credits.
But I wouldn't recommend this site much because there are few cases of getting copyright strike even after giving credits.
So, do proper research and read their guidelines before using them. You can learn more by going through there about the page.
5. NoCopyrightSounds
NCS has a YouTube channel by the name Nocopyrightsounds where they upload all free music.
They also have a website by the name NCS where you can sort all music by categories, most viewed, and playlist.
If you are using their music, give credit in your video description.
NCS Music is free for all independent creators  & they can also use them on Twitch.
However, there are some restrictions on the brand & commercial organization who are interested in using their music on YouTube or anywhere else.
They need to get in touch at [email protected] to get permission. So, if you are a brand or a company, take their permission.
How to Give Credit?
When using their music in your videos, you MUST comply with all the below terms:
Include the full title of the track (Stating the music was provided by NoCopyrightSounds)
Include a link to the actual video of the track used on NCS YouTube channel.
Credit the artist(s) of the track by including links to their social media.
For Example:
Music Provided by NoCopyrightSounds:
Artist name – Music Title: video link
You can check out their info page for more details.
Conclusion – Royalty Free Music For YouTube
These are some of the best websites for non-copyrighted music for YouTube.
Out of all these sites, I would prefer the YouTube audio library & NCS more because I can completely rely on them.
Personally, I have used both of them and faced no problem. Even though I have tested other websites as well, but still, I have a gut feeling of copyright infringement from these websites.
Now, this is just my personal opinion. You can experiment with whatever works best for you.
But remember that, before using any of them, please be sure to read their guidelines & act accordingly.
If you find this article useful, then don't forget to share & comment. Cheers.