When you click the links and ads on this blog, it helps me to pay the bills & keep this site free for you. Thanks for supporting me! For more info, read the Disclosure page.
Hey there! So you've been searching for legit ways to earn money online and stumbled upon GMR Transcription.
Now, you've got some questions in mind: Is it trustworthy? What about the pay – is it decent? 
In this GMR Transcription review, I'll dive deep and spill the beans, holding nothing back!
Whether you're a pro or a newbie in online transcription jobs, stick with me as I guide you through the roller coaster that is GMR Transcription. So, let's dive in!
GMR Transcription – An Overview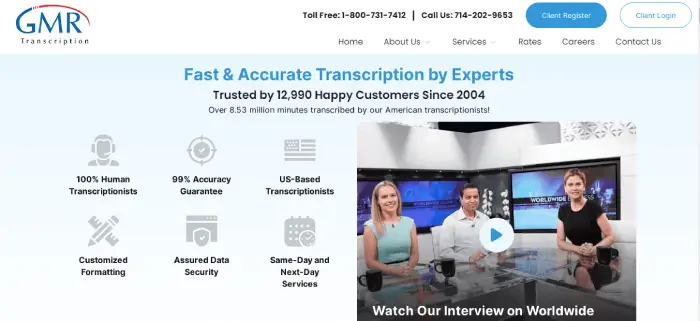 You might have heard this name buzzing around in the transcription industry.
It's one of the more established transcription companies that offer people like you and me the chance to earn some money right from the comfort of our homes.
Founded by Ajay Prasad back in 2004, GMR Transcription has made its mark by providing high-quality transcription services to a wide range of clients – from government institutions and academic entities to businesses and individuals.
But it's not solely about transcribing audio files into text. Nope! They've got a broader range of services up their sleeve – including translation services and verbatim transcriptions. It's this diversity that sets them apart from many other transcription platforms out there.
What stands out about GMR Transcription is their claim of a quick turnaround time and an accuracy rate of 99% – now that's no small feat.
But hold on, what does this mean for you as a potential freelance transcriptionist? We will find that out.
Grab your FREE SPOT in the TRANSCRIPTION WORKSHOP by none other than the transcription pro, Janet Shaughnessy!
Understanding The GMR Transcription Workflow
Alright, let's understand how things work with GMR Transcription.
The whole journey with GMR Transcription begins with an application. It's pretty straightforward – you fill out their application form online, proving that you've got the right typing speed and language skills.
But don't underestimate its simplicity. The application process is rigorous, intended to select only the best of the best.
Then comes the GMR test, also known as the audition round. Now, I won't sugarcoat it – passing this test can be tough. It's their way of testing whether you've got what it takes to produce high-quality transcription services.
Once you clear the test, congratulations! You're now part of the GMR Transcription family. Now, it's time to work with those audio files.
Depending on the audio quality and your level of expertise, you could be dealing with easy-peasy lemon squeezy or tough-as-nails audio recordings. Now, no two audio files are the same, adding to the excitement of the experience!
As for the money, payments with GMR are made via direct deposit, so make sure you've got that set up. As for how much you'll earn, your potential earnings depend on factors such as the audio minute and task difficulty. We'll discuss this further later on.
So, there you have it – the GMR Transcription workflow in a nutshell!
GMR Transcription Pay Analysis
Okay, let's talk MONEY. GMR Transcription doesn't beat around the bush when it comes to compensation.
They're pretty transparent about what you can expect to earn as a transcriptionist, and that's a major plus.
Does GMR Transcription Pay Well?
So, it appears GMR doesn't stick to a flat rate per audio minute like some other transcription companies. Instead, the pay varies based on audio quality, difficulty level, and turnaround time of the files you work on. Seems fair, right?
Let's break it down!
As a newbie transcriptionist at GMR, you'll typically get easier files. You'll be looking at a pay range of $0.70 to $1.25 per audio minute. That can add up quite nicely, especially if you have a GOOD typing speed and can handle several hours of audio a week.
For experienced transcriptionists, the pay can go up to $3 per audio minute for difficult files.
Let's face it, those higher-paying jobs come with challenges. We're talking about poor audio quality, complex technical or medical terms, or a ridiculously quick turnaround time.
Now, here's a suspenseful bit – some have said they've earned a full-time income from working with GMR. But wait a second! Before you jump with joy, let me clarify.
These are typically highly experienced transcriptionists who've been in the game for a while. They're able to breeze through the audio recordings, even the difficult audio ones, and produce high-quality transcription services in a timely fashion.
Also, remember this – As an independent contractor, you won't have guaranteed hours or benefits. So, your earnings will depend on how much work you put in.
How Often Do They Pay?
Rest assured, your hard-earned cash won't be kept waiting for too long as payments are made twice a month via direct deposit.
Although your earnings from GMR may not suffice for that dream house in the Hamptons, it can definitely serve as a reliable income stream for paying student loans, household budget, or simply enjoying some extra spending cash.
If this pay structure seems intriguing to you, then GMR might be a good fit. However, if you prefer a steady hourly wage, consider exploring other jobs mentioned in my article on "work-from-home jobs that provide equipment."
The Pros and Cons of Working at GMR Transcription
Ah, the million-dollar question, or should I say the 'per audio minute' question – Is working at GMR Transcription a good move for you? Let's dive into some PROS and CONS to get a clearer picture, shall we?
PROS:
No Upfront Fees: That's right! Unlike some other transcription companies out there, GMR Transcription doesn't charge a penny to get started. No sneaky registration fee lurking in the shadows here, my friend.
Flexible Work Hours: One of the big benefits of remote transcription jobs like GMR is flexibility. Need to do a school run at 3 pm? No problem. Want to work at 2 am because you're a night owl? Go for it! As long as you meet your deadlines, you can work whenever suits you.
Variety of Assignments: The audio files you'll be transcribing could be anything from interviews and focus groups to legal depositions and academic research. Boredom is not an option, and you'll be broadening your knowledge as you work.
Potential for Good Pay: If you're a quick turnaround time maestro with a fast typing speed, you can earn a decent income here.
Gain Experience: Being a beginner, you'll gain tons of valuable experience with different audio types and get a real feel for the job.
CONS:
Rigorous Application Process: GMR is not for the faint-hearted. Their application process is rigorous, and the transcription test is pretty tough.
Unpredictable Work Volume: As an independent contractor, there's no guaranteed volume of work. Sometimes, you might be swamped with audio recordings, and at other times, it could be slow.
Pay Can Vary: The pay is calculated per audio minute, which can be great for fast typists, but if you're new or if the audio quality is poor, it could take a while to transcribe a single minute, which will impact your earnings.
No Benefits: As a freelance transcriptionist, you won't get the perks a regular employee might enjoy, like health insurance or a retirement plan. So you should be aware of this if you're thinking of making GMR your main income source.
Unpaid Probationary Period: If your application is successful, you'll need to complete a probationary period, transcribing two hours of audio for free. Some may not be too thrilled with this, but consider it as paying your dues.
Real-life Experiences: GMR Transcription Reviews and Ratings
Let's talk straight. Before we proceed, I've extensively scoured the web, delving into countless reviews and ratings, to present you with an honest and authentic view of GMR Transcription.
These are genuine experiences shared by real people – no recycled data or marketing fluff here.
The Good Stuff:
Plenty of reviewers gush about GMR Transcription's accurate transcriptions and praise their quick turnaround time. It's a recurring theme – their transcription services are often hailed as top-notch.
One reviewer, a university professor, mentioned how the audio quality of her lecture recordings was far from ideal, but GMR managed to churn out impressively accurate transcripts.
Some reviewers claim GMR Transcription pays well compared to other transcription companies, with payments made via direct deposit without a hitch.
They seem to enjoy the freelance transcriptionist role, saying it offers a reasonable source of income.
The Not-So-Good Stuff:
Some reviewers find the rigorous application process and initial unpaid probationary period a bit disappointing. The test files can be tricky, and not everyone sails through.
There are stories of folks who found the GMR Transcription test challenging and didn't pass on their first attempt.
A few individuals complained about dealing with difficult audio files and feeling inadequately compensated for the extra effort.
There were whispers of a lack of feedback and support, especially for beginners in the transcription industry.
And then there's the pay. While some people seem to make a decent amount, others feel the pay-per-audio minute could be better.
Remember, experiences with GMR Transcription can differ widely, just like any other job. So, keep that in mind.
Is GMR Transcription Legitimate?
From what I've discovered, GMR Transcription is as legitimate as they come. They've been around for a decent chunk of time (since 2004, in fact), providing transcription and translation services to various clients, from government institutions to independent contractors.
They've gathered tons of great reviews over the years, quite impressive in the competitive transcription biz.
However, legitimacy doesn't always equate to a good fit. I found out that GMR Transcription operates on a bit of a tough-love policy.
They have a rather rigorous application process and the expectations in terms of quality and turnaround time are pretty high. It's not a walk in the park, but hey, which legit money-making venture is?
This company isn't for everyone. You gotta be good with English, type fast, and pay attention to details. But, honestly, these requirements are pretty normal for a company that's all about top-notch transcription services.
GMR Transcription vs. Other Transcription Services
Ready to hop on the comparison wagon? Let's see how GMR Transcription stacks up against other players in the Transcription Industry.
Hey, remember, the biggest factor is your own circumstances. What works for someone else might not be your best fit. It's all about finding the one that suits your needs. Alrighty, let's dig in!
1. Turnaround Time
When you're on a deadline, waiting around for your transcription work is the last thing you need. GMR Transcription takes pride in its QUICK turnaround time.
Usually, you can expect your transcripts in about 2-3 business days for audio under 2 hours. Of course, this might vary based on the audio quality and level of difficulty of the project, but overall, not bad, right?
But hold on, there's more. Many other Transcription Companies out there offer similarly impressive speeds.
Check out my Tigerfish Transcribing review or even the Gotranscript review. Each company has its strengths, so one might be a better fit depending on your project's urgency.
2. Accuracy Rate
In the transcription world, accuracy is everything. I mean, who wants a transcript full of errors, right?
GMR Transcription boasts a killer accuracy rate with their team of experienced transcriptionists delivering top-notch services.
But, here's the catch – it all depends on the audio recordings' quality.
Now, let's look at other transcription platforms like 3Play Media and Daily Transcription. They've got their own standards for quality and accuracy too.
So, think about which company fits your accuracy needs better. Choose wisely!
3. Pay Rates
Let's talk money. You're likely considering transcription work to earn extra money or even a full-time income.
Here, GMR Transcription fares decently. The pay typically depends on the length and difficulty level of the audio files, with the pay per audio minute varying.
However, pay can vary widely in the transcription field. Platforms like Gotranscript and Tigerfish may offer different pay structures, including a more solid hourly rate.
4. Variety of Services
GMR Transcription also offers Translation Services! If you know more than one language or rock at languages, this could totally change the game for you!
But hold up, don't forget to explore other options too. Daily Transcription is worth a look, they offer a bunch of different services, which means even more chances for you.
5. Job Requirements
Like most Transcription Jobs, GMR Transcription does have some requirements. They expect a decent typing speed, proficiency in English transcription, and some experience in the field.
Some people might find this rigorous application process challenging.
But my friend, if you're a beginner, you might wanna check out some newbie-friendly platforms.
You can take a look at my post on Transcription Jobs where I have mentioned some companies accepting both beginner and experienced transcriptionists.
Whichever company you choose, ensure it aligns with your needs, skills, and goals, whether it's GMR Transcription or another platform.
FAQ Section:
Is GMR Transcription trustworthy?
Well, based on the positive reviews and solid reputation, I can confidently say – YES. GMR Transcription is a legit company that has been around for quite a few years now.
Does GMR Transcription pay well?
Okay, so here's the tea. GMR Transcription offers an hourly rate for their transcription jobs. Some might find it generous while others might think it's a bit on the lower side. It really depends on your typing speed, accuracy, and difficulty level of the files.
Is it hard to pass the GMR Transcription test?
Honestly, the GMR Transcription test isn't easy. The transcription test is hard, requiring exceptional accuracy. But don't worry, with practice and these tips, you can pass it.
How do I pass my GMR Transcription test?
This is where your dedication and typing skills will really pay off. Pay close attention to the audio, make accurate transcriptions, and meet the accuracy requirement. Solid typing skills and a good grasp of English will be your best buddies.
How much typing speed is required for GMR Transcription?
GMR doesn't specify a minimum typing speed, but as with any transcription job, the faster you can type, the more audio you can transcribe in less time. But remember, accuracy is just as important as speed!
There you have it – your burning questions about GMR Transcription, answered.
Conclusion:
Alright! So that's the end of the line on our deep dive into GMR Transcription. We've unraveled the good, the bad, and the somewhat tricky.
We've found out that GMR Transcription provides an opportunity for a legitimate work-from-home setup, and it definitely does pay well considering industry standards.
But let's not ignore the rigorous application process and the somewhat difficult audio files you might face.
So what's the verdict? It's all up to you! Transcription can be both rewarding and challenging. If you've got patience, persistence, and a good ear, GMR is for you. But if you're after quick cash with less effort, maybe explore other options.
So, my dear readers, have you had an experience with GMR Transcription? Please share with us! We're all here to learn, grow, and empower each other on this crazy journey of online earning. Until next time, keep hustling!
Read Next:
Pin it For Later: