When you click the links and ads on this blog, it helps me to pay the bills & keep this site free for you. Thanks for supporting me! For more info, read the Disclosure page.
Let me guess, you just came to know about Proofreading and maybe you tried it but don't feel confident enough to offer your own services?
Proofreading may sound like a simple Grammar checking job, but it's more than that.
Actually, it's the final stage of the editing process, after which the copies are printed or shared with thousands and millions of people.
Holding such a crucial part, it's an important job and must be done accurately. 
As a beginner and English, not being your first language can make this job really tough for you and it's really important that you know Proofreading pretty well before offering your services.
That's the reason I have written this post on Best Online Proofreading Courses so you can invest your money in the right place.
All of them are top-rated courses you can find online and they really help you built your own proofreading business.
Overall, if you are looking to earn a full-time income as a proofreader, then you should definitely check out these courses.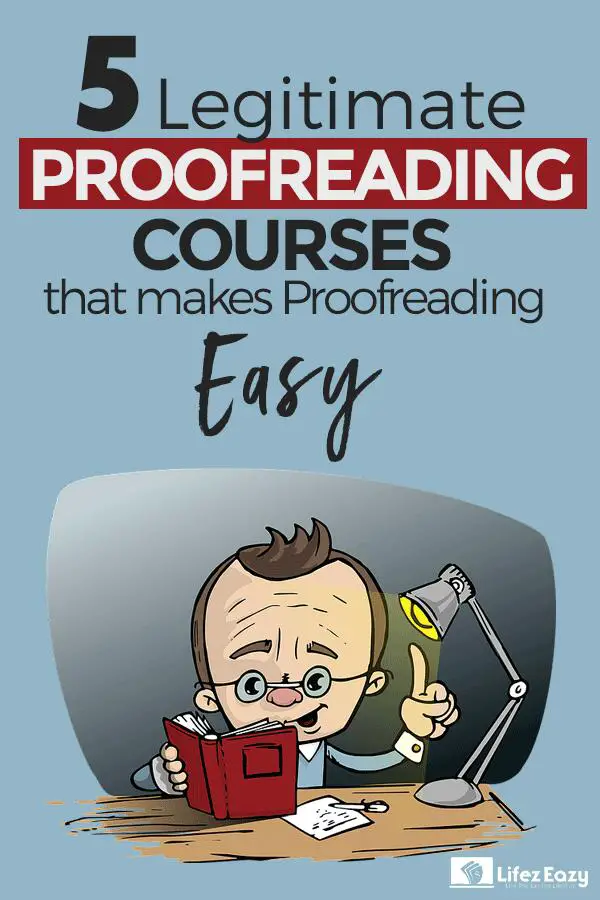 5 Best Proofreading Courses Online
1. Proofread Anywhere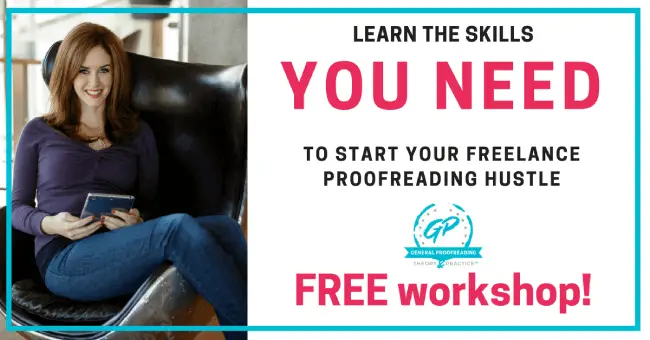 Learning and building a Proofreading business can be really tough when you don't know how to get things done.
Surely, you might have good English and can do Proofreading, but it takes the right guidance to turn your side hustle into a full-time business.
Proofread Anywhere course is one of the top-rated Proofreading courses in the market created by Caitlyn Pyle, who is proofreading since 2007. It has courses for both General & Transcript Proofreading.
Talking about General, it deals with all sorts of written materials including things like books and blog posts.
It has about 40-plus lessons with all kinds of support materials that can take anywhere around 30 days or more to complete.
Whereas the other one deals with the transcripts produced by court reporters & Scopist helping to prove legal documents.
It has a total of 55 lessons & like General Proofreading, you'll receive an amazing number of support documents for study and future reference. The average time to complete this program runs between two to four months or more.
Both the courses give lifetime access to the materials upon completion & you can also be a part of their online community on Facebook.
Proofread anywhere isn't just a group of tips on how to proofread but it's more than that.
Once you've finished the course, you not only understand everything you need to know but how to market your services, how to find clients and one of the most important pieces is how to set up and run your own business. 
To test the water, Caitlyn provides a free intro workshop that lets you figure out whether proofreading is really your thing.
This is especially great for those who don't want to blindly invest their money on courses until they are confident enough that it's valuable.
2. How to Find & Correct Writing Errors: The Proofreading Guide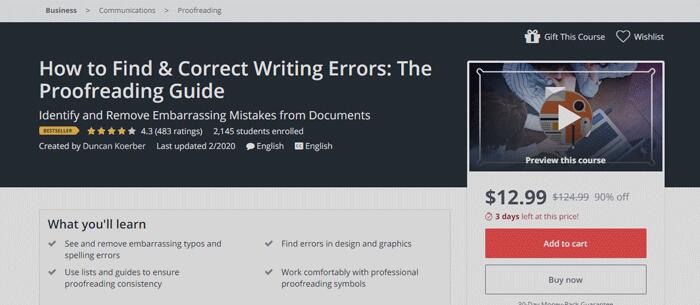 This is a course by University Professor Duncan Koerber, who is currently a bestseller on Udemy.
Having over 2,100 students enrolled in this course, it has a good rating of 4.3 stars out of 5 which definitely shows that the students are finding it valuable.
Once enrolled, you'll get a one-hour on-demand video, 3 articles, and full lifetime access to its resources that make it quite worthy for beginner Proofreaders.
You get to learn 
How to find and correct typos and errors in written documents

Working with proofreading symbols

Find errors in design and graphics

Using lists and guides to ensure proofreading consistency and much more.
Being a beginner, it will teach you how to develop the right mindset to catch errors, where most errors hide and other unique techniques for making your proofreading work easier and effective.
3. Writing Editing Masterclass – Content Editing, Copyediting, and Proofreading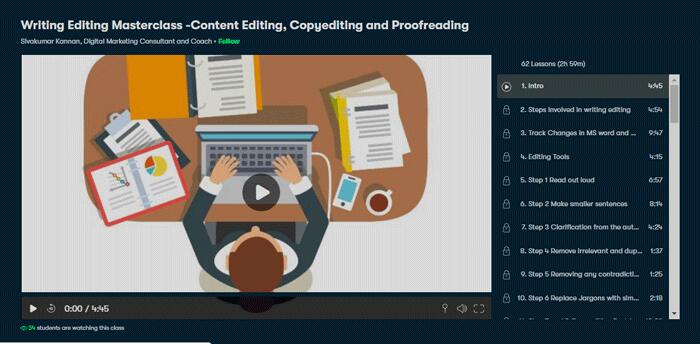 This Skillshare course not only focuses on proofreading, but it also teaches editing and copyediting with lots of modules & lessons. This adds to the whole context of the editing process of documents.
The course duration is 3 hours long that comprises 62 lessons where you can learn about Proofreading strategies, spelling errors and Homonyms, Punctuation mark period and mark comma, question marks and exclamation marks, colon and quotation marks, apostrophes, hyphens, and dashes and parentheses.
Once you complete the course, you can take an optional final assignment that will let you test your skills and help you figure out how much you have learned.
The best thing about taking a course on Skillshare is that it offers a 2-month free trial plan where you get free access to premium courses.
So, you can actually take this course for free via. their trial plan or else, you need to buy their premium membership to get things rolling. The choice is yours.
4. Become a Professional Proofreader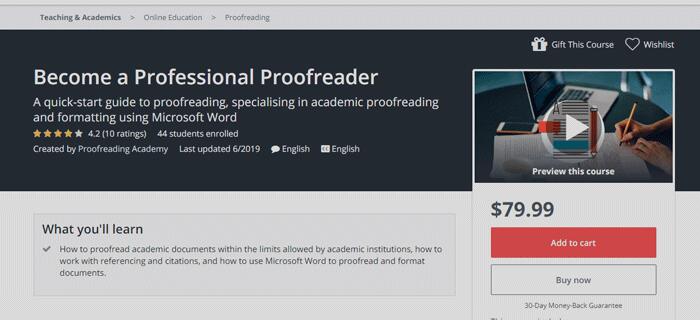 This is another Proofreading course specialized in academic proofreading and formatting using Microsoft Word.
This is created by a team who has been working professionally in the field of academic proofreading for many years.
Basically, it has 8-9 modules from its main course available at Proofread Academy that you can grab at a 50% discount once you complete this Udemy course.
In this 34-minute video course, you get an overview of how proofreading and editing are done for academic documents within the limits allowed by academic institutions.
You also get to watch lessons on referencing and citations, how to use Microsoft word to proofread, access to 48 articles and much more.
Overall, I highly suggest this course and its full version if you want to get in Academic Proofreading.
5. Kickstart a Freelance Editor & Proofreader Career on Upwork
Getting freelance editing and proofreading jobs on Upwork can get really tough when you are just getting started.
That's because you don't have any experience and you are competing with those who have 5-10 years of experience in proofreading.
Because of this, sometimes you get underpaid and even you have to work for free just to gain experience. 
This course targets the same problem and walks you through how to use the Upwork platform to find work as a proofreader. It ensures you get paid for your efforts and you can build great portfolio overtime.
This 2-hour long video course covers topics on how to gain good ratings & create an effective bid proposal to attract clients, how to get repeated customers, mistakes to avoid, winning contracts with good bidding principles and much more.
If you are looking to make a side income via. Proofreading and want to get started with Upwork, then this course will definitely help you.
The good thing about it is that you can learn how to use Freelance websites efficiently, which most of the beginners don't have any idea about.
While other newbie proofreaders will be struggling to get their first job and here, you could have already done a few projects.
Overall, this course is for those people who either have no idea about Upwork or have tried but failed.
Final Thought
Well, these are the 5 best Proofreading Online courses that you can take to develop or enhance your proofreading skills. 
Taking courses alone won't help unless you practice them regularly. Even if you take the best course on this list, you are not going to be a Professional Proofreader unless you are practicing it.
My only advice is that whichever course you are going to take, ensure you complete it till the end and practice it daily even if it is for 15 minutes unless you become a master in it.
Then only you can do justice to your investment else, it's a waste spending your hard-earned money on something that you don't take seriously.