When you click the links and ads on this blog, it helps me to pay the bills & keep this site free for you. Thanks for supporting me! For more info, read the Disclosure page.
If you want to make a side income or even a career out of proofreading, enrolling in a legitimate course is the best way to get started 
But which online proofreading courses are the best for taking off your career in the proofreading industry?
In this post, I will list three AMAZING courses that have assisted many students in learning this beautiful skill.
But, before I get into the specifics, let's discuss an important question.
Is it Worthwhile to Take a Proofreading Course?
There are many resources available online that can teach you any skill for free. But the problem is that you won't be CONFIDENT enough to work with clients and manage projects.
That's because you learned a skill by reading dozens of articles and watching videos written/created by various people. Some may be professionals, whereas others must have plagiarized information from experts.
As a result, you will not experience the SATISFACTION and INNER CONFIDENCE that comes from enrolling in a reputable course.
Why did I say so?
Because you will be taught by an EXPERT with extensive proofreading industry experience. This alone will BOOST your confidence once you complete their course.
In a nutshell, by enrolling in a course:
You will gain CONFIDENCE.
You will learn a skill SYSTEMATICALLY.
You will know every ins and outs of the proofreading industry.
Most importantly, you will gain MORE clients & jobs.
So, if you want to learn proofreading as a hobby, you don't need to enroll in any paid course. 
But, if you want to pursue proofreading as a career or generate a nice side income, enrolling in a course is the BEST WAY to do so.
3 Best Online Proofreading Courses
The first two courses on this list are the most popular and have received mostly positive feedback from students. If the first two courses are out of your price range, the third one is also a great option.
1. Proofread Anywhere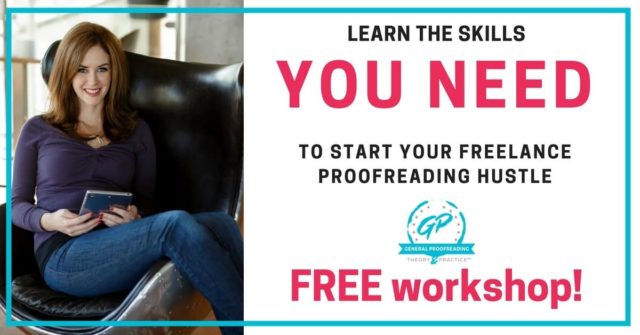 Caitlin Pyle created the Proofread Anywhere course after years of successfully running her proofreading business.
It is one of the best online courses available, teaching not only proofreading skills but also how to START an online proofreading business from home.
Her program includes two courses targeted for different purposes.
General Proofreading – Theory & Practice
Transcript Proofreading – Theory & Practice
General Proofreading – Theory & Practice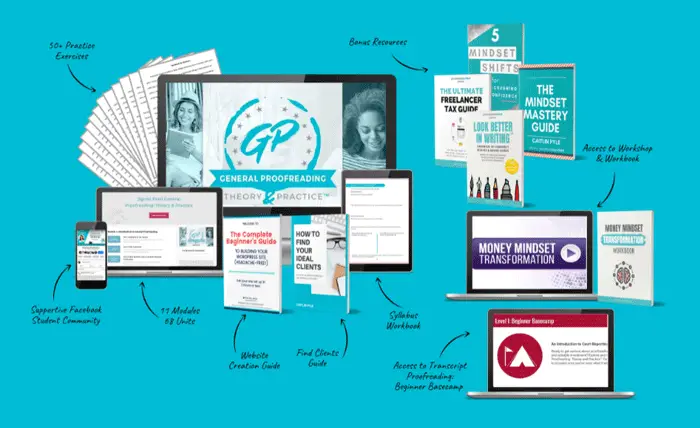 This course is an excellent place to start if you want to work as a proofreader for a living. 
It's a fantastic, in-depth training system that will teach you EVERYTHING you need to know about proofreading general texts such as books, blog posts, essays, etc.
Even if you don't have any prior experience, you will learn detailed mechanics of proofreading as well as how to market your services to find clients.
In short, you will be trained to proofread general copies that don't require any niche-specific knowledge like medical or court reporting.
Transcript Proofreading – Theory & Practice
This is a more technical, intense, and focused course than General Proofreading. 
This is due to the fact that it teaches you how to proofread transcripts from the world of court reporters. It is far more technical and difficult than proofreading standard copies.
This course is EXCELLENT for those:
Who already knows how to proofread.
Who wants to proofread legal documents that require more technical skills.
Who wants to get more high-paying jobs.
Benefits of Enrolling in Proofread Anywhere
Improve your proofreading skills with 40+ lessons in 14 modules, grammar-specific worksheets, and real-life example jobs.
You will have LIFETIME ACCESS to the course, allowing you to always upgrade your skills when there is an update.
You will be able to work INDEPENDENTLY by starting your own online proofreading business. So no more relying on freelance marketplaces and online companies for jobs and paychecks.
The course is designed for all levels of proofreaders, including beginners, intermediate, and experienced proofreaders. So, ANYONE is welcome to join them regardless of their proofreading knowledge.
Become a member of an AWESOME Facebook group where you can interact, ask questions, and help each other grow as Proofreaders. If you are the type of person who requires constant motivation, this group is a BANGER!
Get listed in the Self-Publishing School Preferred Outsourcer Rolodex. This is a great way to start your proofreading career.
Students will receive a Certificate of Completion if they score 90% or more on their final hand-graded exam. You can PROUDLY use this certificate to attract more clients and jobs. 
This course also provides many useful bonuses that include extra courses and guides. 
If you'd like to learn more about this course, read my Proofread Anywhere review, where I've highlighted every important detail. This will help you in making an informed decision.
Or…
If you want to have a demo of this course, click below to enroll in their free workshop.
CLICK HERE TO ENROLL IN CAITLIN'S FREE WORKSHOP
2. Becoming a Proofreader By Proofreading Academy
This is yet another popular course that teaches you how to proofread any type of document. 
Whether it is business, creative or academic documents, you can easily proofread all of them once you complete this course.
Becoming a Proofreader is a big course providing 15 modules for a total time commitment of 50 hours. If you want to check out their modules to know what to expect, click here.
Even though this course covers everything, some people do not want to learn the entire content because they already know a few things. 
In short, they are only interested in learning a certain section within the course.
If you are one of these individuals, Proofreading Academy offers three additional training courses that are excerpts from their flagship course.
Academic Proofreading course – This course is ideal for people who already have a good grasp of spelling, grammar, and punctuation and just want to get started.
Basic Business Proofreading – This course is ideal for people who like to work for a variety of different organisations, companies or business.
Mastering Microsoft Word – Perfect for those who work with Word documents and want a quick refresher on their technical skills.
Benefits of Enrolling in Becoming a Proofreader Course
If you're able to score 80% or above in their final assessment, you're GUARANTEED to get a job with Proofed. This is an excellent way to begin your career with a BANG!
You can chat with a tutor if you're having trouble with a particular section of the course. They're responsive and eager to help you succeed.
Regardless of how well you perform on the final exam, you will receive a certificate of completion once you have completed the course.
There is a lot of training material available in punctuation, grammar, spelling, and other areas. You will also be given training on how to edit texts for flow, tone, readability, and style.
You can sign up for a free trial to see if this course is right for you. During the trial period, you will have one week to finish a sample module.
To explore more, here is my Proofreading Academy full review.
CLICK HERE TO JOIN THE FREE TRIAL
3. Proofread Like a Pro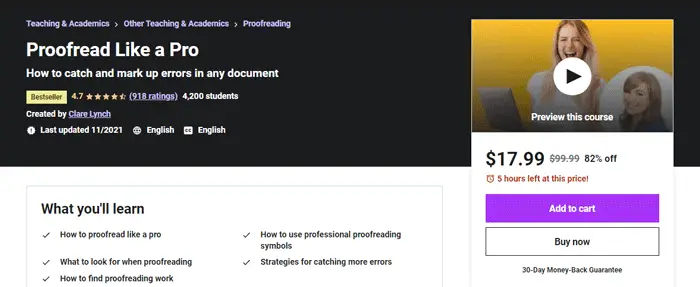 Dr. Clare Lynch, a professional copywriter, created this Udemy course that teaches the following topics:
Different strategies to catch errors
How to use professional proofreading symbols
How to find proofreading work
Launch a freelance career as a professional proofreader
What to look for when proofreading & many more.
It not only covers the theoretical part, but it also includes proofreading exercises designed to test your understanding of the material after each lecture.
The course includes 1.5 hours of video on demand, 21 articles, and 24 downloadable resources.
Please keep in mind that this is not a beginner's guide course. It is not a comprehensive guide to proper English usage.
So, unless and until you have a firm grasp of English grammar, spelling, and punctuation, this course is not for you.
CLICK HERE TO CHECK OUT THE COURSE
Which Proofreading Course is Best For You?
Though all of the courses are excellent and will teach you proofreading skills, it is up to you to decide which one is best for you.
Choose Proofread Anywhere if
You want to learn the right knowledge, skills, and the mindset to become a successful Proofreader.
You want to learn the right way to start a freelance proofreading business.
Proofreading Academy is best for you if
You want more practice material to hone your proofreading skills.
You want a guaranteed job with Proofed company.
Choose Proofread Like a Pro if
You already have a good grip on proofreading.
You can't afford courses costing over $350.
Read More: