Disclosure: This post contains affiliate links. If you buy or sign-up through one of those links, you won't pay a penny more but we'll get a small commission that helps us in running this blog. Read the Disclosure page.
Before you start reading this post, I want to tell you that most of the methods listed needs a little work.
Though, it's not possible to earn money without doing any sort of work. But I have tried my best to include ways that take less effort.
So, if you are expecting to make money doing nothing, then please bear with me.
All the methods are easy and don't need any special skills.
Though you won't make much using them. But surely, it's great as extra money knowing you made it in your free time.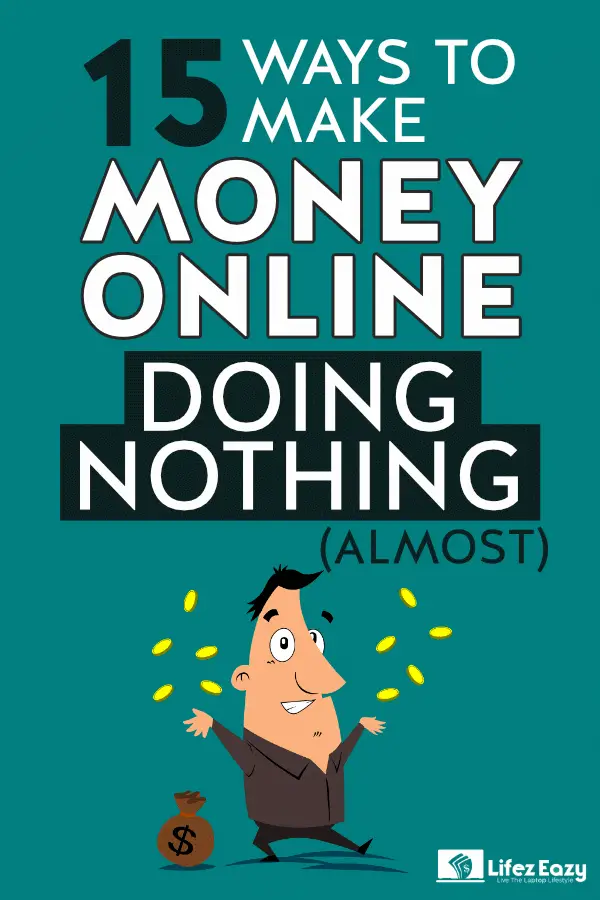 15 Ways To Make Money Doing Nothing
1. Get Paid For Using The Internet
If you are ok with installing apps that read your internet habits? You can definitely make money doing nothing.
There are many companies wanting to know the internet habits of users. This would help them make informed decisions about their mobile marketing strategies.
For this purpose, apps like MobileXpressions and Neilsen Computer Mobile Panel are created.
If you install & keep them active on your devices such as smartphones or PC, you can redeem cash or gift cards.
How to Get Started?
You need to register on their website and then install their app on your devices.
During registering, they ask several questions related to demographics, devices, etc. Once done, install the app and use your devices normally.
How Much Money Can You Expect?
MobileXpression pays $5 bonus gift card for keeping the app active for a week and you can further make $4-$5 a month. (earnings & duration can change anytime).
For India, they reward 300 INR worth Amazon gift cards for keeping it active for 45 days.
Whereas Neilsen app makes up to $50 a year for installing it on one or more mobile devices.
2. Earn Cashback On Shopping
We all do online shopping to buy groceries and other things. But have you thought you can save some money back?
Well, if you use cashback apps like Rakuten for shopping, you can actually save money.
It can be a few percentages of your spending, and it may look a little. But trust me, when you calculate all the cashback money at the end of the year, you will realize how much money you saved on shopping.
How to Get Started With Cashback Apps?
First, register yourself on the Rakuten's website and install their app on your smartphone. You can also use their website for the same purpose.
While browsing on the app, select any store from where you like to shop. Then do your normal shopping and the app will automatically pay a few percentages of your spending into your account within a few days or weeks.
Once you reach the minimum payout, you can redeem them via PayPal or check.
How Much Money Can You Expect To Make?
It depends on how frequently you are shopping and how much money you are spending.
3. Sell Your Old books on BookScouter
Do your old books take up space in your room? Then why don't you sell them online to make some profit on BookScouter?
There are many platforms like eBay, AbeBooks, Amazon, etc. where you can list them for selling.
But the problem arises when you actually don't know to set the selling price. Even if you set a price, who knows there will be a vendor offering more?
That's the reason I always prefer BookScouter whenever I am looking to sell my old books.
BookScouter helps you sell books for the most money by comparing offers from over 30 vendors.
How To Get Started With BookScouter?
To find the best vendor offering the most price, search your book with the ISBN number. You can find this number inside your book.
When you search, it will show all the vendors offering different prices for buying the book.
Choose the one offering the most price and sell them by shipping the book using the provided shipping label for free. That's all you need to do.
Once the book reaches to the vendor, BookScouter will credit money into your account.
How Much Can You Make?
Well, it depends on your sales and how many books you are selling.
4. Scan Receipts
If you're a shopaholic, then ReceiptPal is especially for you. It allows you to make money from your shopping receipt. Whether its from grocery stores, restaurant or local retailers, you can use them.
Simply install ReceiptPal on your smartphone and upload snaps of your receipts to get points.
You can also connect your Gmail and Amazon accounts to receive points whenever you buy something online.
Once you have enough points, you can redeem them for gift cards and cash prizes. This is actually a great way to reuse your receipts which otherwise thrown.
5. Get Paid to Watch Videos And Playing Games
If you spend a lot of time playing online games and watching videos on YouTube, why not switch the platform to make money doing the same thing?
Even though you won't feel the same fun, but it's worth giving a shot knowing you'd make extra money.
There are many online platforms paying cash for these activities. Sites like InboxDollars & Swagbucks are a few of them.
How to Get Started?
First, sign up for InboxDollars and get a bonus of $5. Then, check out the games library where you can play arcade and WorldWinner games.
You can also watch videos, print coupons, scanning products in-store, take surveys, and more to boost your earnings.
Another platform is PlaytestCloud that pays money for testing games. If you are not interested in InboxDollar, you can try this platform instead.
How Much Can You Make?
Well, don't expect to make lots of money here. If you are ok with a few dollars a month and don't mind using InboxDollar for a few minutes every day, you are good to go.
With PlaytestCloud, they pay $9 per game for testing and usually you will receive games twice a month. So that makes a total of $18 a month.
6. Use Bing Search Engine
If you like to use Bing instead of Google for web searching, then you can get gift cards.
As you know, Google is the biggest search engine on the web and its competitor is Bing, which is on the second spot.
Obviously, they have less traffic as compared to Google. So, to attract more users on their search engine, they came up with Microsoft Rewards.
This program pays you +5 points per search for using their platform for web searching.
Once you have enough points, you can redeem for gift cards, sweepstakes entries, nonprofit donations, and more.
Aside from Bing, Swagbucks also rewards you to search the web.
How to Get Started?
To become a part of the reward program, you need to sign-up for a Microsoft account.
Once you have an account, you can then use their search engine normally to get points. Other ways to earn points include shopping, playing games, and much more.
How Much Can You Make From Microsoft Rewards?
What I have seen, it takes around 5000-5250 points to redeem $5 worth of gift card.
As Bing search gives +5 points each, it may take a while to reach that level. So, it's better that you also use quizzes and polls along with it that pays 10 to 30 points.
If you spend a lot of time on the web doing several web searches, you can easily make 400 points a day. Thus, reaching the minimum points in 10-12 days.
7. Use Influencer Program to Get Sponsored Post
If you already have good engaging followers on Social media sites like Instagram, then you can join an influencer platform.
An influencer platform is where you can get sponsored post opportunities from brands and businesses. They are ready to pay you to promote their product or service with your followers.
For each sponsored post, they pay you a good sum.
How To Get Started?
You can join influencer sites like PayPerPost & Linqia to explore these opportunities.
Linqia will only accept you if you have at least 2,500 engaging followers on social media, and you must be a resident of the US or UK.
With PayPerPost, they don't have any specific requirement but ensure to have a good number of followers to attract various brands.
8. Make Money Via Ads
Businesses and companies are investing more money in ads on social media, search engines, and websites.
If you already have a blog with good traffic, you can join Google Adsense to make money by displaying ads.
For those who don't have a blog, I know there is a lot of effort in creating a successful blog and it's not a piece of cake.
But trust me, if you're willing to put some work, it's the easiest way to make money on autopilot.
How To Get Started?
You can check out my blogging guide for newbies if you don't know how to start one.
Though there is some initial investment under $100, you can still make money from ads with a free Blogspot blog. But, I always prefer the paid one because it's sustainable.
Once your blog is active, you need to write content in a niche. If you don't know how to write content, you can pay freelancers on Fiverr to write content for you.
The more content you have, the more potential to drive traffic to your blog thus, increasing your ad income.
How Much Money Can You Make From Ads?
You can make $10, $100, $1000 and even more. It depends on how much traffic you are getting.
If you're interested to double or even triple your ad income, you can also use the Ezoic tool to improve your earnings.
9. Sell Your Clothes
Got lots of old clothes that are of no use? Then, it's a good idea to purge them using Thredup.
ThredUP is an online consignment store offering to buy your clothes to sell them online.
They accept women's, children's clothing (both boys and girls), handbags, shoes, and maternity. The only problem is they don't take men's clothing.
If you have a large pile of clothes taking up space in your cupboard, you can sell them here to make some quick money.
You won't make a lot, but still, you can make a few dollars enough for your personal expenses.
10. Sell Photography On The Web
There are many online businesses and websites always looking for stock photos for their content.
Even though free stock photos are already available, they're used many times by others. Thus, businesses & brands won't mind paying for fresh ones.
So, if you click great photos that are worth selling, you can upload them on sites like Shutterstock & iStock.
How To Get Started?
Before joining, ensure to read and follow their guidelines.
Then create an account and upload your high-quality photos. Ensure to add a few tags so that users can easily find it by searching.
Once accepted, your photos will be available online for viewing and licensing.
When customers decide to download your photo, they have to purchase a license. This gives them the right to use it for personal or commercial purposes without getting any copyright strike.
How Much Can You Make?
For each sale, you will earn a royalty, which is a percentage of the price paid by the customer.
Your earnings will depend on the number of contents you have in your portfolio. The more, the better.
11. Use Your Referral Link
If you are using any apps having a referral program, then ensure to take advantage of it.
There are many apps paying you cash for bringing in new users via your referral links. This gives you a great earning opportunity if you could make people sign up under your link.
Whether it's social media or YouTube, you can use these platforms to promote your referral links. You can create YouTube videos showing the use of the app and then placing your link in the description for download.
Even you can share it with your friends and families, allowing you to earn more referrals.
Companies like Swagbucks, Vindale Research, etc are good examples of offering referral programs.
While Swagbucks pays 300 SB (equal to $3) whenever anyone joins through your link and makes 300 SB within a month. Whereas Vindale Research pays $5 for each new user joins under you.
12. Use Phone Screen Lock
Are you fine displaying ads on your mobile screen lock that can pay a few dollars every year?
If you don't have a problem, then you can definitely try apps like Slidejoy, Fronto & Perk Screen.
These apps make money by displaying ads on your screen lock and pays you a certain percentage from the total earnings made.
For this, you need to install these apps and keep them active on your phone. Make sure you are not frequently unlocking your mobile, else your account may get suspended. 
Each day, you will receive a few points based on your activity. Once it reaches the minimum points, you can redeem them for gift cards and money.
Besides, you can also view the latest news and other stuff when you slide them in certain directions.
Related Post:
13. Answer Questions
If you are a professional expert in a certain field, you can give expertise to others and get paid for it.
JustAnswer.com is a platform that invites people who love sharing their expertise for helping people. For this activity, they get paid via PayPal every month.
How To Get Started?
Before applying, you must have a social security number, valid identification, certifications, and relevant licenses.
Once you have them, click here and apply for the position to get a background check. During the check, they verify all your credentials with a third-party verification firm.
Once they find everything ok, you will receive a welcome webinar letting you know everything about your job.
They will also provide all the tools you need to earn cash.
How Much Can You Make?
Well, it depends a lot on how many questions you answer, how frequently you answer, and how many of your answers get accepted by clients.
Also, if you are from the fields of Medicine, Engineering, and Teaching, you can expect better pay than others.
Usually, a customer pays around $15-$50 for a question depending on your profession and services you are providing.
Out of the total pay, you start out earning 20% and you can work way up to 50% if your answers get high ratings.
That's why it's important to provide thorough and accurate answers to get high ratings.
14. House Sitting
Imagine you're getting paid for looking after a house for a while.
Sounds easy? Right?
House Sitting is another great gig to make extra money for taking care of someone's house or pet while away.
You may have to do a few chores, but generally, it's easy tasks like watering plants, taking out the trash, etc.
Usually, you only have to watch their house for a few hours & chores are not always included, so it's like doing nothing.
While in their home, you can do your usual work. This is a great opportunity for students looking to make money on weekends. But ensure you don't break things or make their house dirty.
Sites like TrustedHousesitters.com, HouseCarers.com, MindMyHouse.com, and Nomador.com are a few places where you can look for such opportunities.
15. Play Video Games And Stream It Live
Playing & streaming video games online is another great way to make money while sitting idle.
You probably know that there is a huge audience interested in watching people playing their favorite games.
If you love video games & don't mind streaming online, you can definitely make some good side income.
How to Get Started?
Have you heard about Twitch?
That's right! Twitch is a video game live streaming platform where you can create an account and set up a donation button via PayPal.
If your viewers like to support you, they can donate via this button. But it should only work if you have an audience, and it may take a while building them.
You can also use other ways to add more money to your pocket via. Twitch like
selling merchandise.
subscription
virtual cheers.
game sales.
Final Thoughts
It's very difficult to find something that pays money for doing nothing at all. But the listed methods definitely do justice, or I would say close to justice.
All are genuine ways of earning money in your free time & I have used a couple of them to get some freebies.
Now, it's your turn to try them & let me know. If you know any more ways to make money doing nothing? Then please let me know down in the comment section.