When you click the links and ads on this blog, it helps me to pay the bills & keep this site free for you. Thanks for supporting me! For more info, read the Disclosure page.
Are you trying to make a quick buck by getting rid of your old, worn out books? Well, you're in luck because BookScouter is here to save the day!
This unique selling website won't just give you an okay deal – it'll give you an awesome one (with some extra time saved, too)!
If you wanna know more, just jump on in and take a look at my detailed BookScouter Review!
BookScouter Quick Review 2022
What is BookScouter?
BookScouter makes it easy to find the best price for your used and regular books and textbooks. It's like having an awesome agent working for you, gathering all of the buyback book vendors and providing you with the best prices and ratings in one convenient place.
You can easily find the best deal for selling your book. That's because BookScouter algorithm uses the book's ISBN (unique book identifier number), which can be found in the first or last pages, to compare all the vendor's prices and provide you with the best one.
As of now, BookScouter only supports U.S residents, and they don't offer international shipping.
Who is BookScouter For?
BookScouter is useful for three types of people.
Students
People looking to sell old books to make space
Side Hustlers
If you're a student, you can make some extra cash by selling your old textbooks. And if you're a regular person, BookScouter is a great way to declutter your shelves and make a bit of money in the process!
Side Hustlers can make money by buying used books in bulk from Thrift stores or Garage sales, and then make a profit by selling them on BookScouter! (We'll tell you more about that later.)
Is BookScouter Legit?
It is a trusted, reputable website that has been in operation since 2007 and has helped millions of users find the best deals on their books. The website is easy to use and allows users to quickly and easily compare prices from a range of different booksellers.
The great thing about BookScouter is that you can be sure to find only legitimate, popular vendors. Plus, they have a page dedicated to vendors that includes user reviews. Reading these reviews is a great way to get a feel for how reliable and helpful each vendor is.
In summary, you can be confident that BookScouter is a safe and reliable site for finding great deals – no funny business here!
Benefits of Using BookScouter (Top reasons)
1. Save Time Instead of Visiting Several Websites
When it comes to selling your old books, people usually visit different bookselling websites to find the best deals for their books.
This process can be a bit of a hassle since it takes a bit of time to search through multiple websites. But no worries! BookScouter makes it easy – you can save yourself the hassle and get the job done quickly.
Simply search your book, and you'll see a list of over 30 vendors with the best deal and vendor rating on one page in a matter of seconds. Then all you have to do is find the best vendor and sell them.
This way you can save time without visiting multiple sites.
2. Easier To Find The Best Deal
BookScouter is quite a user-friendly website for finding the best deal.
By having all of your deals conveniently listed in one place, there's no need to jump from website to website to find the best one. That makes it much simpler for you to compare and make the best selection!
3. Identify the Best Vendor With Ratings
BookScouter is great because it allows you to see what other real users have to say about each vendor's services. The ratings can help you determine the quality of a vendor before you sell them.
Sometimes, when a vendor has a low rating, it may indicate that they release the payment late or never pay you back. Even if they are offering the best deal, a low rating can be concerning.
When using BookScouter, a good rule of thumb is to consider both pricing and ratings when selecting a vendor.
For example, suppose two vendors offer $5 and $9 for your used book, with ratings of 4.5 stars and 2 stars, respectively. It is preferable to use the first vendor ($5 & 4.5 stars) because they are more reliable.
4. Free Shipping
The majority of BookScouter vendors offer free shipping. They provide you with a prepaid shipping label, which you must download and print before packaging and shipping it to the vendor.
5. Great Arbitrage Opportunity
BookScouter can be used as an arbitrage opportunity if you want to generate extra money every month.
Arbitrage is a type of trade in which you buy and sell an asset to make money from the difference in price between markets. The same chance you have here.
All you have to do is buy books in quantity from a thrift store and sell them at a bigger margin on BookScouter.
However, before you buy them from Thrift Stores, you should first check the price here because most of them aren't worth it. If you buy books without first checking them out, you may wind yourself with a loss.
Although it takes some practice to recognize which books are profitable, you can learn the skill after a few sales.
How Do You Make Money On BookScouter?
We've seen what BookScouter is, who can use it, the pros and cons, and the rewards.
Let us now get into the procedure of selling books to make money.
First, visit the BookScouter official website and enter the ISBN of your book. As an example, I am using a random book with ISBN 978-0136642961.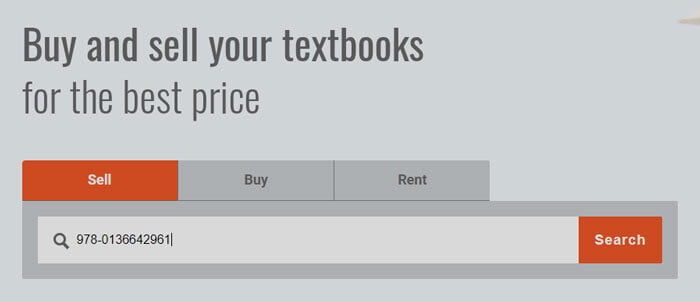 Once I hit the search button, you can see currently there are two deals from BooksRun & Ziffit.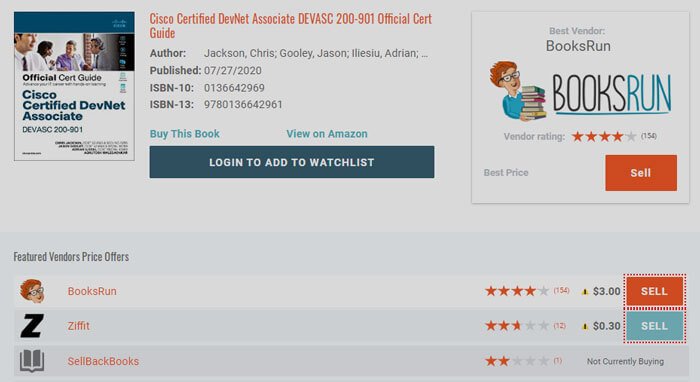 When I check the price and rating, I can easily make out that BooksRun is more trustable with a much better deal than other vendors.
Once I know where to sell, click the Sell button to redirect you to the vendor's website, i.e., BooksRun in my case.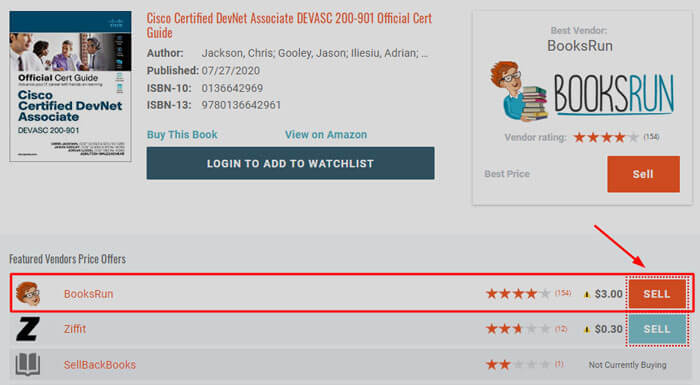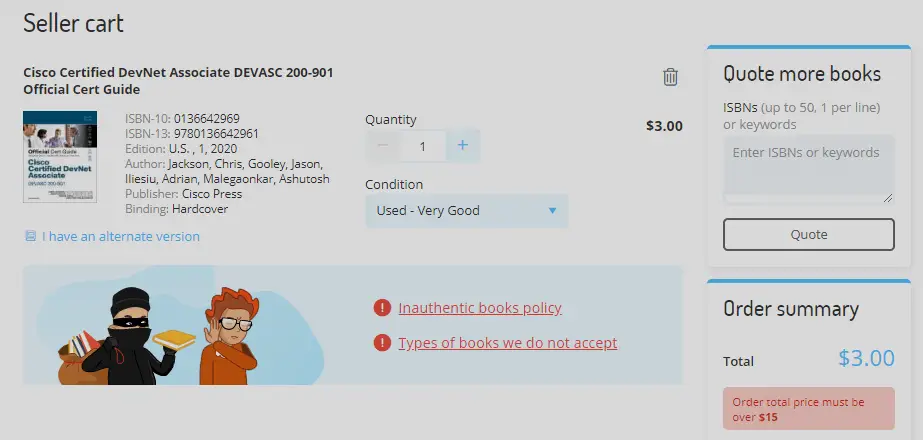 Then follow the shipping instructions and ship your book. Most of the vendors offer free shipping. So keep an eye on it.
Ensure you pack your books pretty well, so there is no chance of any damage. In case your books get damaged, either you get paid less, or the vendor will not buy them.
Once they receive the book, they will credit the amount on your account via PayPal or check. PayPal takes 3 days, whereas a check can take anywhere from one to two weeks.
The thing that stands out is that the whole process has a flaw that has nothing to do with BookScouter. Instead, there is a problem with the vendors.
Most vendors need a minimum order price before proceeding. In my case, I am selling my book to BooksRun.com for $3, but I cannot sell them unless I have a minimum order of $15.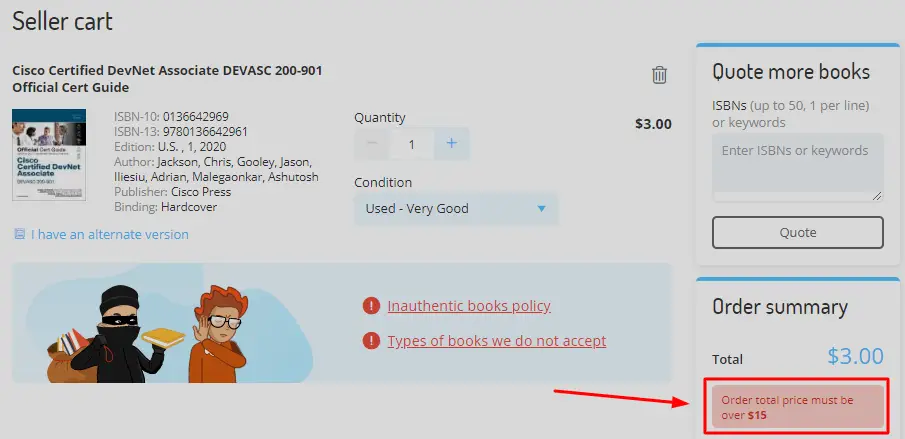 This means I'll have to add more books to raise my order price to $15. It's awful news for anyone hoping to sell just one book. However, selling books in bulk will be no problem.
How Much Does BookScouter Cost?
Usually, a free account is enough for you to sell your books. But if you need extra features, you can buy their pro plan at $29.99.
With the pro plan,
You can find potential deals by viewing the pricing information of the vendors.
You can lookup bulk prices for several books on one page. Though, there are some limits.
You get to access a notification feature that notifies you whenever any vendor is ready to buy your book at your specified price. For example, if you want to sell 10 books at a specific price, BookScouter will notify you whenever it finds a vendor.
You also get access to a buyback tracking feature that allows you to track the books you have sent to the vendors. With this feature, you can save all your transaction information and generate account receivable reports.
Pro Plan is preferable for side hustlers who plan to buy books in quantity and sell them, whilst the Free Plan is ideal for individuals who wish to get rid of extra books in their room.
Tips to Make More Money On BookScouter
Here are a few tips to follow to make the most out of BookScouter.
1. Sell at the Right Time
When there is a significant demand for your textbooks, that is the best time to sell them. It usually occurs at the start of each semester, i.e., August 20th through August 26th and January 7th through January 13th.
If you're planning to sell college books, this is the right time to make a good profit.
2. Use History BuyBack Price Lookup Feature
BookScouter has a tool that shows the pricing history of books, but you can only see it if you sign up.
With this tool, you can look up seasonal prices and trends to find out when the books cost the most. As a result, it will provide you with a clear indication of when to sell them.
The price Lookup tool displays the highest and average price for each day based on all vendors. It also includes a graph for visual illustration.
For example, when I look for a book pricing history, I can quickly discover the best day when it got the greatest bid. that is, July 15th, 2019. Similarly, you may see the price list for each day.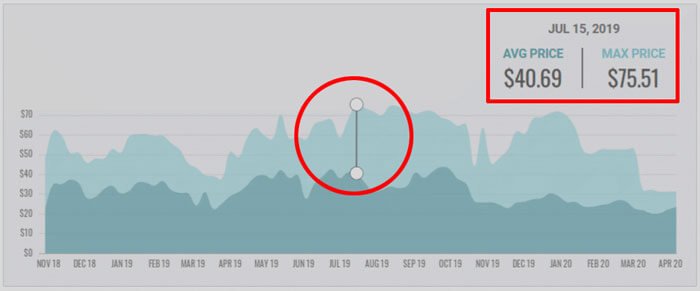 3. Always Check the Price First and Then Buy
This tip is for people who are looking for a chance to do Arbitrage.
Since you're going to buy a lot of books, you don't want to be at the losing side. So, before you buy any book, check BookScouter to see how much it costs.
If the price to sell is less than what you are paying for it at the thrift store. It would be better to give up on the idea and look for other books.
BookScouter Review – Pros & Cons
Pros
BookScouter is pretty straightforward and easy to use.
Though they offer a pro membership at $29.99 that gives access to additional features, you can still use them for free.
It quickly scans the book and finds suitable vendors instantly, saving a lot of time.
Cons
Most of the deals from vendors offer low prices. But you can get a great deal if you sell it at the right time.
BookScouter is only available in the US. 
The buyback book vendors don't support international shipping.
Final Verdict
In conclusion, Bookscouter is an excellent tool for anyone interested in buying and selling used books for a profit.
Not only does it provide a convenient platform to compare prices across multiple vendors, but it also offers an easy-to-use interface and excellent customer service.
The site's unique features, such as the ability to track shipping and payment, make it a great choice for both new and experienced sellers.
Whether you're just starting out or are an experienced pro, Bookscouter is sure to be a valuable asset to your bookselling process.
Now, let me know, what do you think about BookScouter? Drop your comments down below.
Read Next:
Pin it For Later: