Disclosure: This post contains affiliate links. If you buy or sign-up through one of those links, you won't pay a penny more but we'll get a small commission that helps us in running this blog. Read the Disclosure page.
Are you thinking of selling your old used books to make a few bucks? You might have heard about BookScouter.
BookScouter is not your usual bookselling website. Instead, it's a little different and better than most, which can give you great deals and save your time.
Read on for my BookScouter Review to figure out how.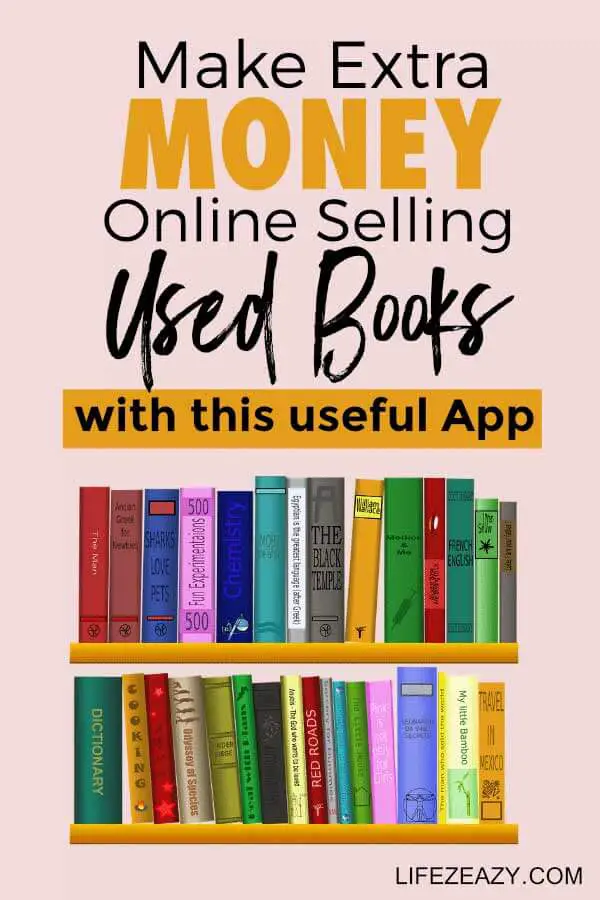 Read More:
What is BookScouter?
BookScouter helps you to sell used textbooks & regular books for the best price available.
It is more like an agent that scouts over 30 buyback book vendors and list them with prices and ratings. 
All the vendors listed offer the best deal for your book, and you can sell them for the best price offered.
For scouting, the BookScouter algorithm uses your book's ISBN (unique book identifier number) found in the first or last few pages.
As of now, BookScouter only supports U.S residents and they don't offer international shipping.
Who is BookScouter For?
BookScouter is useful for three types of people.
Students

Anyone wants to get rid of books for making more space

Side Hustlers
Students can sell the old used textbooks, whereas regular people can use BookScouter to thin out their shelves by selling them in bulk. Both of them can make extra money by getting rid of unwanted books.
With Side Hustlers, they can buy used books in bulk from a Thrift store or Garage sales and sell them in BookScouter to make a profit. (more on that later).
BookScouter Review – Pros & Cons
Pros
BookScouter is pretty straightforward and easy to use.

Free to use. If you need additional features, you can buy their pro membership at $29.99.

It quickly scans the book and saves a lot of time.
Cons
Most of the books have low prices. But you can get a great deal if you sell it at the right time.

It is only available for the US.

The buyback book vendors don't support international shipping.
Benefits of Using BookScouter (Top reasons)
1. Save Time Instead of Visiting Several Websites
Normally, when you want to sell your used books online, you visit different bookselling websites and lookup for the deals. If you find a good one, you sell them. That's what people have been doing.
The problem with this process is that it's time-consuming and you need to browse several websites, which is kinda annoying. However, with BookScouter, you can completely eradicate this problem.
All you have to do is search your book and it will list over 30 vendors along with the offering price and vendor rating on one page. Then you can choose the best vendor & sell them.
To conclude, you can find all the info in one place without visiting several sites. Thus BookScouter saves your time.
2. Easier To Find The Best Deal
When everything is listed on one page, you don't have to keep on switching your tabs to check the best deals site-by-site.
Thus, it becomes quite easier for you to compare the deals and choose the best one.
That's why BookScouter is quite a user-friendly website in finding the best deal.
3. Identify the Best Vendor With Ratings
Another great thing about BookScouter is that they show you the ratings of each vendor. All the ratings are given by genuine users and not some kind of paid rating.
With the help of ratings, you can predict how good their service is.
Sometimes, when vendors have a low rating, it could mean that they release the payment late or even don't pay you back.
A low rating can be an alarming thing even if they are offering the best price. So, a good rule of thumb to use BookScouter is to consider both price and ratings while choosing the vendor.
For example, if two vendors are offering $5 & $9 for your used book, having a rating of 4.5 stars and 2 stars. It's better to go with the first vendor ($5 & 4.5 stars) as they are more trustworthy.
4. Free Shipping
Most of the vendors listed on BookScouter offer free shipping. They provide you with a prepaid shipping label that you need to download and print. Then pack your book and ship it to the vendor.
5. Great Arbitrage Opportunity
If you like to make extra money every month, then you can use BookScouter as an arbitrage opportunity.
Arbitrage is a trade where you buy & sell an asset to make a profit from the price difference between markets.
You get the same opportunity here where you can buy books in bulk from the thrift store at a low price and sell them on BookScouter at a higher price. Thus, making a profit.
But, you need to first check the price on BookScouter before buying them from Thrift Stores because most of them wouldn't be worth. If you simply buy books without checking, you could end up in a loss.
Although it takes a little practice to know which books can sell well, it's possible when you sell a few times.
How Do You Sell Books Through BookScouter?
Till now, we have seen what is BookScouter, who is it for?, Pros & cons and benefits.
Now, let's jump into how you can use it to sell your used books. The process is quite simple.
First, visit the BookScouter official website and enter the ISBN of your book. As an example, I am using a random book with ISBN 978-0136642961.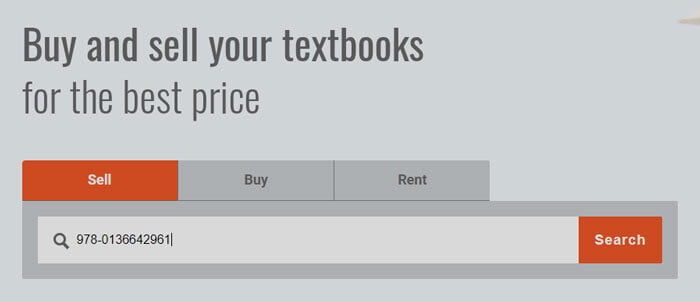 Once I hit the search button, I can currently see two buyback book vendors i.e. BooksRun & Ziffit who are willing to buy my book

.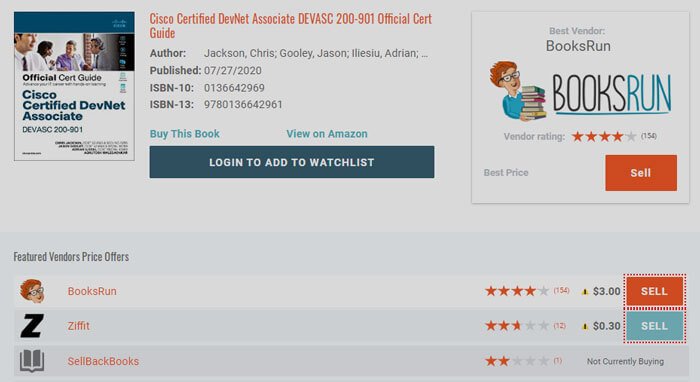 When I check the price and rating, I can

easily

make out that BooksRun is giving me a much better deal as they are offering better prices ($3) & are more trustable

. (four-star rating)

Once I know where to sell, click the "Sell" button to redirect you to the vendor's website i.e. BooksRun in my case.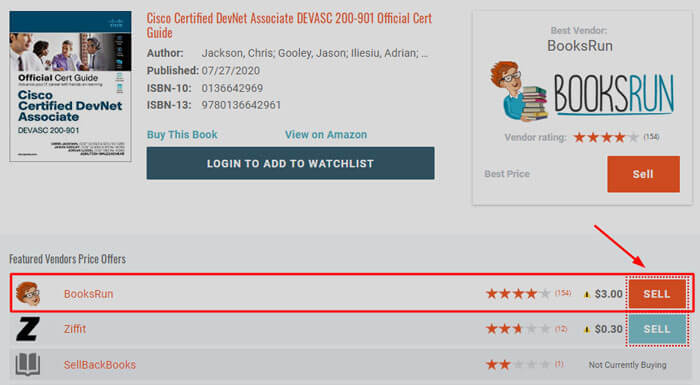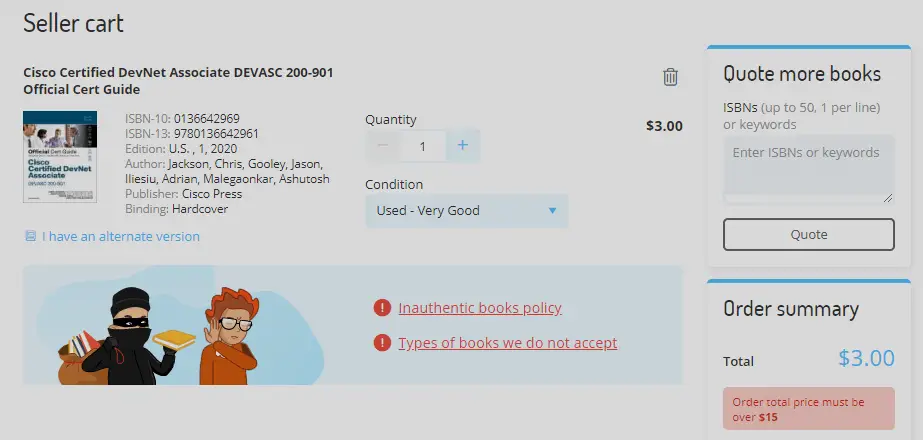 Then follow the shipping instructions and ship your book. Most of the vendors offer free shipping. So keep an eye on it.

Ensure you pack your books pretty good so there is no chance of damaging. If your books get damaged, then either you get paid less or the vendor won't buy it.

Once they receive the book, they will credit the amount on your account via PayPal or check. PayPal takes 3 days whereas a check can take anywhere from one to two weeks.
Now, the interesting thing is, there is a flaw in the whole process and it's not related to BookScouter. Instead, it's related to the vendors.
Most vendors need a minimum order price to proceed further. If you look in my case, I am selling my book at $3 on BooksRun.com but I couldn't sell them unless I have a minimum order of $15.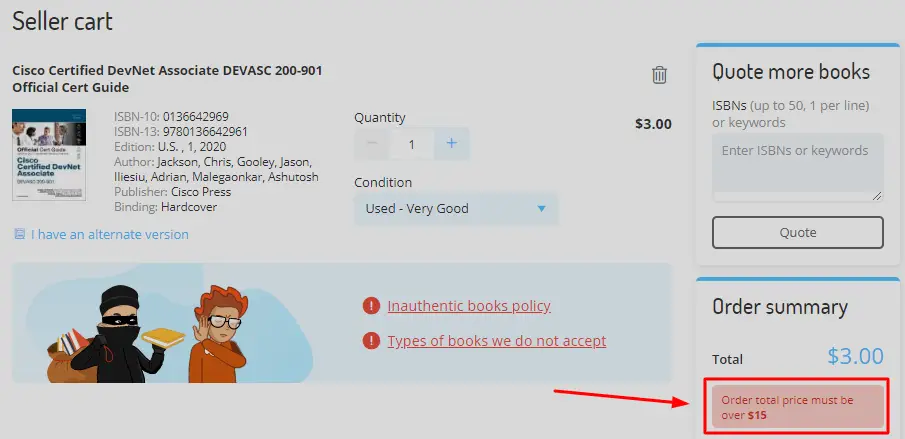 This means I have to add more books to increase my order price until it reaches $15.
It can be bad news for people who are just looking to sell a single book. But, if you are selling in bulk, you won't have any problem.
Tips to Make More Money On BookScouter
Here are a few tips to follow to make the most out of BookScouter.
1. Sell at the Right Time
The best time to sell your textbooks is when it has a high demand. Usually, it happens at the beginning of each semester, i.e. August 20th through August 26th and January 7th through January 13th.
If you are planning to sell college books, this is the right time to make a good profit.
2. Use History BuyBack Price Lookup Feature
BookScouter offers a tool that shows the price history of books & you can only get access to it when you sign up.
With this tool, you can look up for the seasonal pricing and trends when the books had the maximum price. Thus, it can give you a clear idea of when to sell them.
Price Lookup tool shows the maximum & average price for each day considering all the vendors. It also provides a graph for visual illustration.
For example, when I looked for the price history of a book, I can easily see the best day when it had the highest bid. i.e. July 15th, 2019.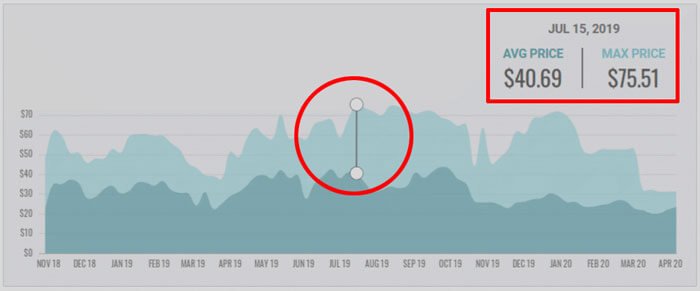 Likewise, you can also see the list of prices for each day.
3. Always Check the Price First and Then Buy
This tip is for those who are looking for an Arbitrage opportunity.
As you'll be buying books in bulk, you don't want to be in loss. That's why before buying any book, make sure you check the price on BookScouter.
If the selling price is less than the price you're buying from the Thrift store. It's best to drop the idea and look for other books.
BookScouter Pricing
Usually, a free account is enough for you to sell your books. But if you need extra features, you can buy their pro plan at $29.99.
With the pro plan,
You can find potential deals by viewing the pricing information of the vendors.

You can lookup for bulk prices for several books on one page. Though, there are some limits.

You

get to access a notification feature

that notifies whenever any vendor is ready to buy your book at your specified price

.

For example, if you want to sell 10 books at a specific price, BookScouter will notify you whenever it finds a vendor

.

You also

get access to a buyback tracking feature

that allows you to track the books you have sent to the vendors.

With this feature, you can save all your transaction information and generate account receivable reports

.
Pro Plan is great for side hustlers who will be buying books in bulk for selling them. Whereas a free plan is good for those who want to get rid of extra books from their room.
Is BookScouter Legit?
Yes, BookScouter is a legit platform to sell your books to make a bit of an extra income.
But if we look, it is just a platform used to compare prices from different vendors at a single place.
It neither buys your book nor sells it by itself. So, whether you face any problem related to payment or shipment, you need to talk to the vendor instead of BookScouter.
However, the good thing is BookScouter lists only legit and popular vendors. They have a separate vendor's page where you can see the list of all the vendors along with the user reviews.
Reading the reviews can give you a clear idea of how trustworthy and helpful vendors is.
To conclude, you can trust BookScouter to find great deals for your used textbooks as it's not a scam site.
Closing Thoughts – BookScouter Review 2020
So, the next time whenever you think of throwing away your books, consider scouting on BookScouter.
Not only you can make some extra money in your free time, but you can also clear up your shelves for new books to come.
Now, let me know, what do you think about BookScouter?