When you click the links and ads on this blog, it helps me to pay the bills & keep this site free for you. Thanks for supporting me! For more info, read the Disclosure page.
As many of us continue to adapt to the ever-changing workplace environment, working from home has become a necessary and welcome change.
For those looking to make the transition to a work-from-home job, the thought of needing to purchase computer equipment can be intimidating and expensive.
Fortunately, there are a variety of jobs that provide necessary equipment to their employees so they can work from home.
In this blog post, we'll be reviewing 26 work from home jobs that provide equipment to their employees.
If you're looking for work from home opportunities that come equipped with all the necessary tools for success, this blog post is for you.
Things to Know Before Applying For The Job
After visiting 26 websites, I noticed a pattern: work-from-home businesses just wanna make sure you have a chill workspace where your fam, kids, and pets can't interrupt you.
Like, no distractions allowed, man!
They want you to have internet that has a download speed of at least 25 Mbps and an upload speed of 5 Mbps. Even though the speed is not fixed, it's still in your best interest to do so!
If you can get it all set up, you're just a few clicks away from using the services of the companies I'm about to mention. So, let's start the post with the first company.
26 Work From Home Jobs That Provide Equipment
Wayfair is a leading online retailer offering a wide selection of home goods from brands around the world.
With over 10 million products from over 10,000 suppliers, Wayfair offers customers an unparalleled selection of furniture, décor, lighting, outdoor products, rugs, and much more.
If you are interested in working for such companies, go to their careers page and search for opportunities by selecting remote in the location box.
Job Position – Various jobs in Sales & Service, Engineering & Technology, Business & Operations, Distribution & Warehousing
Equipment Provided – Home office support contribution

Zapier.com is a web-based automation platform that allows users to connect their apps and services together, making tasks easier and faster to accomplish.
The platform provides a range of integrations between different applications, allowing users to create automated workflows that save time and increase efficiency.
Their application process comprises completing an online form that addresses the role's qualifications. After the recruiter has reviewed your application, they will do a video chat to discuss the rest of the hiring process.
If you further want to know how to work remotely with Zapier, you can check out this guide.
Job Position – Various jobs in Business Operations, Decision Science & Analytics, Design, Engineering, Marketing, Operations, Product, R&D, Support
Equipment Provided – Computer and software setup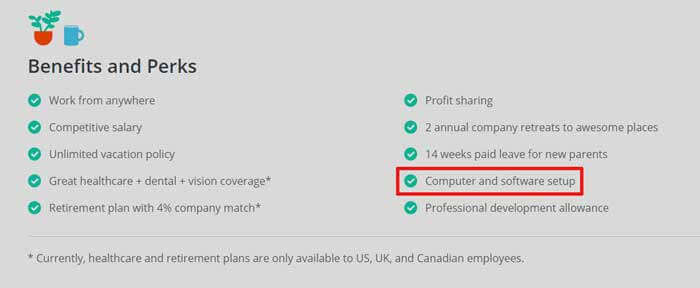 West Marine is a leading retailer of boating supplies and accessories. It features a wide selection of products for all types of boaters, including sailing, fishing, cruising, and watersports.
While working with them, your job will be to answer to West Marine customers through various contact channels, including voice and digital channels.
Job Position – Customer Service Representative
Equipment Provided – All hardware (Laptop, keyboard, mouse) are provided

World Travel Holdings is a leading provider of travel services, including vacation packages, cruises, car rentals, and more. With over 35 years of experience, the company has earned its reputation as the largest seller of leisure travel in North America.
When you join their company, you will receive paid training as well as access to their support team. You can communicate with coworkers, management, and the company via video conferencing, live chat, or intranet platforms.
Overall, if you are interested to join a travel company, World Travel Holdings is an excellent choice.
Job Position – Currently no job opening, but you can check the website from time-to-time to see any vacancy.
Equipment Provided – Provide a computer, monitor, keyboard, mouse, phone, headset, and webcam.

Buffer is an online social media management platform designed to help businesses grow their online presence and increase engagement with their audience.
It offers a suite of tools to help users effectively manage their accounts across the major social media networks and analyze the performance of their posts.
They have a completely remote company from various countries, and they are continually seeking for new members whenever a vacancy arises.
So, keep an eye on their website for any job openings.
Job Position – Customer Advocate (EMEA) and more.
Equipment Provided – Get a laptop + $500 to set up your home office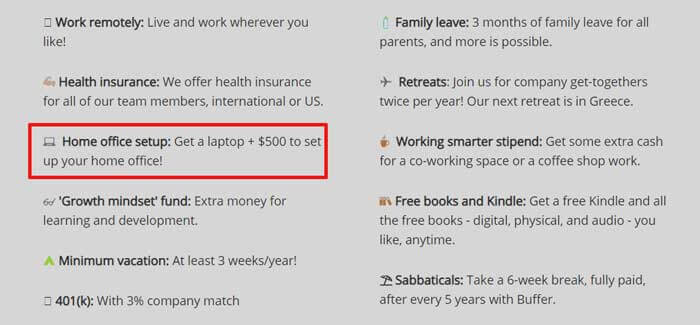 Formstack is a leading online form building and data collection platform that enables users to quickly create custom forms, surveys, and documents.
It offers a wide range of features and integrations that facilitate efficient data collection, form management, and reporting.
The majority of the openings are in marketing, sales, and development, where the chosen candidate will receive several benefits as well as free equipment.
Job Position – Various jobs in Marketing, Development, Customer Experience, Sales
Equipment Provided – They provide the required tools along with a $100 monthly payment for further home setup investment.

Hotjar is a powerful online analytics and feedback tool. It provides valuable insights into visitor behavior, such as how they interact with a website, what they click on, and how they use the website.
When applying for a job, you must answer questions through video, followed by an online interview. If you pass them, you are qualified for a multi-day task.
If you are the best fit based on the results, HotJar will offer you the job.
Job Position: Various jobs in Product & Engineering, Customer Experience, Marketing
Equipment Provided: €2,500 Home office budget or monthly workspace allowance, Laptop of your choice.

Doist is a technology company that creates productivity tools to help teams and individuals work more efficiently and effectively.
Its flagship product, Todoist, is a task management platform that provides users with a simple, organized way to manage their tasks, projects, and collaborations.
To work with them, you must first submit an application, which is then reviewed internally. If Doist believes you are qualified, they will ask you to an interview.
The interview comprises of completing a test project in which they assess your technical and communication talents. If you pass them, you will have to go through two more interviews before being chosen.
Job Position – Various jobs in Engineering, iOS, & Localization
Equipment Provided – Doist will cover the expense of coworking space & provides a recurring budget to purchase the required hardware.

Collage.com is a platform that allows users to easily and quickly create custom products for themselves, friends, and family.
It's simple to use and allows users to choose from a wide variety of products, designs, and images to create a one-of-a-kind item.
Collage.com is continually looking for talented engineers and product designers. If you believe you are the right person for this type of job, you should apply.
Job Position: Various jobs in Engineering & Product Team
Equipment Provided: They'll pay for any equipment that helps you in your work. 

Chili Piper is an innovative website that helps businesses deliver an exceptional customer experience through intelligent automation.
With a modern, user-friendly interface, the platform makes it easy to automate sales, customer support, and marketing processes.
They always have multiple job openings in various fields, and they provide their employees with a lot of freedom and flexibility, including Health, Dental, and Vision insurance.
Job Position – Various job Positions in Customer Success, Engineering, Marketing, People Operations, Product, Sales, & Support
Equipment Provided – Any equipment/software/tech that you need to do your job.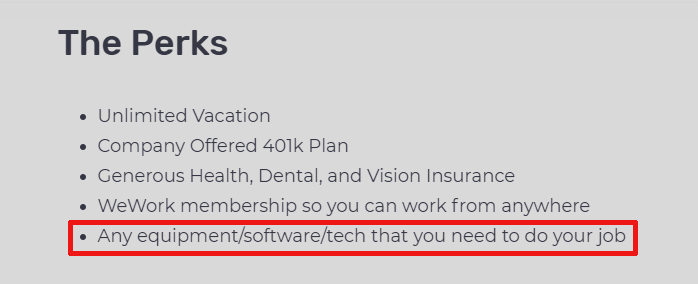 Acceleration Partners is a leading performance marketing agency that helps global brands drive profitable customer acquisition.
They specialize in creating and managing affiliate, referral, and partnership programs that deliver a measurable and reliable ROI.
They provide 100% remote jobs to their employees, along with several benefits.
Job Position – Account Manager for Digital Marketing, Account Manager for Affiliate Marketing, Associate, Recruiting Coordinator
Equipment Provided – Technology allowance where you can buy technology tools or office equipment needed to do the job efficiently and effectively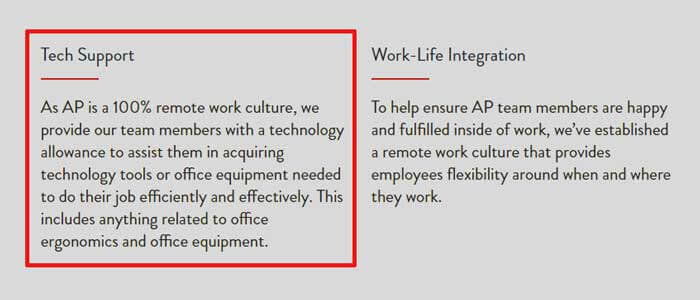 Articulate is a comprehensive e-learning platform that helps businesses and institutions create interactive, engaging, and effective online training courses.
The platform is used by organizations such as Microsoft, Adobe, and the U.S. Army to create interactive courses that keep learners engaged.
They provide work-from-anywhere jobs with healthcare and wellness perks, among other things. You will receive $100 every month under the wellness policy, which allows you to join a gym, get a massage, or practice Yoga.
The following are some of the available job positions as of now. 
Job Position – Content Writer, Content Editor, Customer Success Enablement Manager, Customer Support Engineer, Employee Experience and Program Analytics Manager, Design Thinking, Full-Stack Software Engineer (Integrations/API), Order Management Specialist, Product Designer, QA Engineer, Revenue Accounting Manager
Equipment Provided – Equipment and technology for home office set up.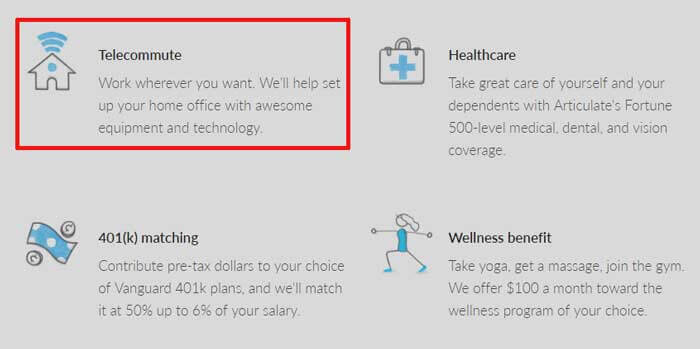 10up is a digital experience agency that combines user experience, technology, and design to create beautiful, effective digital products.
They offer a wide range of services, including web design and development, content strategy, branding, user experience, and digital marketing.
They are continuously searching for self-starters who can give excellent customer service. They currently have many openings in Engineering and Design.
Job Position Available – Senior Web Engineer, Team Lead, Senior UI Engineer, Associate Director of Javascript Engineering (Europe), Senior Project Manager, Senior Javascript Engineer: React, Senior Team Lead, Lead UX Designer, Web Engineer, Accounts Coordinator, Account Strategist (Account Management), New Client Strategist (Business Development), Quality Assurance Specialist, Associate Director of Business Development, UI Engineer, Visual Designer, Creative Director, UX Designer, Systems Engineer
Equipment Provided – They provide equipment allowance

Automattic.com is an online platform that provides businesses, bloggers, and entrepreneurs with the tools they need to create and maintain websites.
It provides tools such as hosting, custom domains, content management, and website analytics.
If you pass their interview stage, you will be required to work on a project with Automattic for two to six weeks.
As a full-time employee, you must provide customer service for WordPress.com for the first two weeks and spend one week in support annually, regardless of position.
If you are looking for an Engineering position, you can read this process.
Job Position – Various jobs in Business Development, Customer Success / Customer Happiness, Engineering, Design, Growth Marketing, Human Resources, Sales
Equipment Provided – Provides hardware and software for the job. Books and conferences are also provided for continued learning. Besides, they also offer home office setup.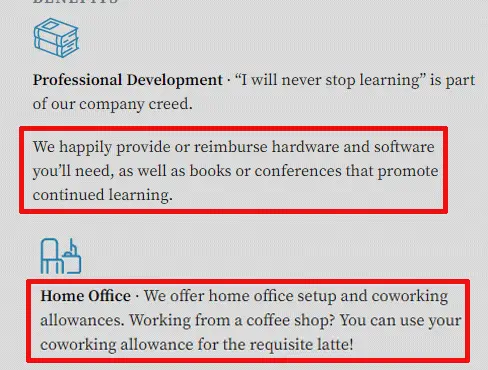 Gitlab.com is an online, open source DevOps platform that provides developers with a suite of tools and services to accelerate software development and operations.
It offers features such as version control, CI/CD pipelines, code review, issue tracking, and project management.
Their hiring procedure includes a pre-screening questionnaire for the role, followed by a screening call. Depending on the feature you are looking for, Gitlab may conduct a technical and behavioral interview.
If you want to know the full procedure, visit this link.
Job Position – Various jobs in Engineering, G&A, Marketing, Product Management, Sales
Equipment Provided – Offers company money to buy any home office equipment.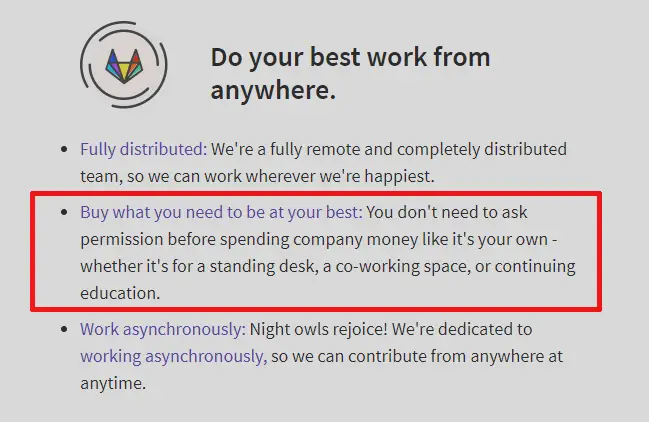 Files.com is a powerful secure file sharing platform designed to enable businesses to efficiently share and store files in the cloud.
It allows users to securely access, store, and manage files on a secure cloud platform, eliminating the need to use physical storage devices.
If you have programming skills, this is a wonderful place to apply for a job because they demand everyone, regardless of position, to know how to code.
Job Position – Business Development, Customer Success, Developers Engineers, Sales
Equipment Provided – A Laptop and $1000 signing bonus for home office set-up.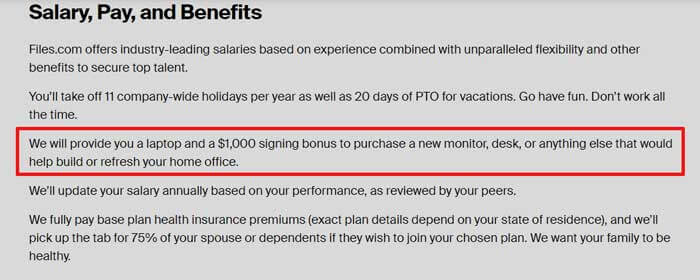 DigitalOcean is a cloud computing platform designed to simplify web infrastructure for software developers.
It offers virtual private servers, storage, load balancers, and other services to help developers quickly launch and scale their projects.
They provide remote and flexible jobs in a variety of fields, as well as other benefits to its employees.
Job Position – Various jobs in Customer Support & Success, Infrastructure, Legal, Engineering, Marketing, Procurement, Product, Finance
Equipment Provided – They provide Mac/Linux/PC along with a headphone worth up to $100.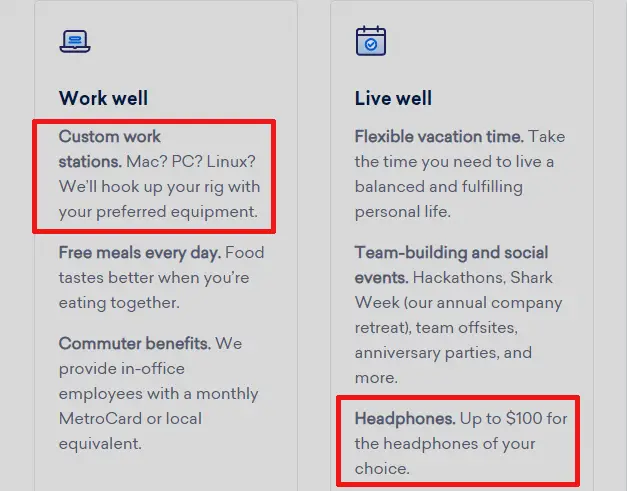 Enterprise Holdings is an American car rental company that is a wholly-owned subsidiary of Enterprise Holdings, Inc.
It offers a wide selection of vehicles for rent, ranging from small economy cars to luxury vehicles, as well as commercial vans and trucks.
Depending on the position, you will receive paid virtual training for up to three to five weeks.
Job Position – Call Center Representatives
Equipment Provided – A phone with a headset and microphone.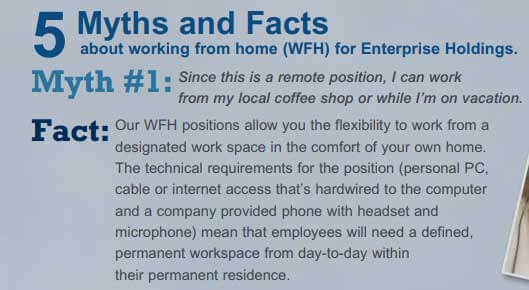 Auth0 is an identity and access management platform. It provides a secure, scalable, and reliable way to authenticate users, protect services, and manage user accounts.
To search job opportunities, go to their career page and select the desired area, then select remote in the location section. This will display the available job positions for which you can apply.
Job Position – Administrative, Customer Success, Data, Design, Engineering, Executive, Finance, IT, Legal, Marketing, People, Product, Professional Services, Sales, Security
Equipment Provided – Provide necessary gears for better results

InvisionApp.com is a powerful web-based prototyping and collaboration platform.
It offers a suite of tools to help designers, developers, and stakeholders to quickly and easily collaborate on projects from concept to completion.
They offer work from anywhere opportunities in various fields along with health, wellness policy & high competitive salaries to its employees.
The following are some of the positions available as of now.
Job Position – Various jobs in Business Operations, IT, & Administration, Data, Design, Engineering, Marketing, Product Management, Sales & Customer Success
Equipment Provided – Allowance for home office setup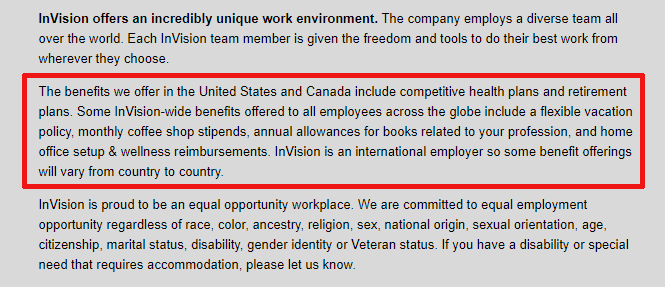 LaCalle Group is an e-learning organization that provides education and industry training to working professionals in order for them to stay current with the latest trends.
Because their business approach is virtual, you can work from home from 8 a.m. to 5 p.m. in your time zone. Here are the job openings and equipment available.
Job Position – Accounts Receivable Specialist (Temporary), Occupational Therapy Learning & Simulation Creator, Radiologic Tech Learning and Simulation Lead, Social Work Learning and Simulation Lead
Equipment Provided – Office supplies & a personal Mac computer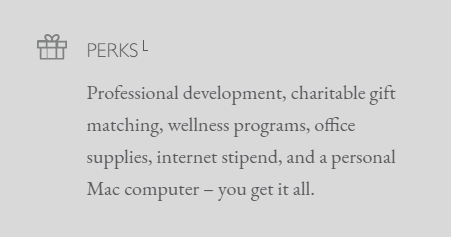 Taxjar is a leading online sales tax automation service that simplifies sales tax compliance for businesses of all sizes.
It is a cloud-based software that streamlines the entire sales tax process, from calculating rates to filing and remitting taxes.
They are a 100% remote company where candidates must pass recruiter, technical, hiring manager/team, and cultural interviews in order to be considered for the role.
Job Position – Various jobs in Engineering, Marketing, Product, Sales, Security, General Applications
Equipment Provided – $250 for home ergo setup.

BroadPath provides transformational outsourcing, managed, and technology services to healthcare payers.
To find preferred jobs, go to their career page and search for positions by selecting remote in the location box.
This will display you all of the available positions, which you can sort by interest.
Job Position – Customer Care Representative, Technical Support, Medicaid Claims Tester, Pharmacy Technician, Call Centre Quality Analyst
Equipment Provided – BroadPath provides a laptop, Bhive camera, USB wired headset, and USB hub.
Trafilea is an e-commerce group that builds direct-to-consumer global brands powered by meaningful purposes.
They now have a large number of work from home job openings in a variety of sectors. You can see them by clicking here, and if something appeals to you? Take the plunge.
Job Position – Various jobs in Creative, Engineering, Product, Marketing & many more
Equipment Provided – Hardware and software, depending on your needs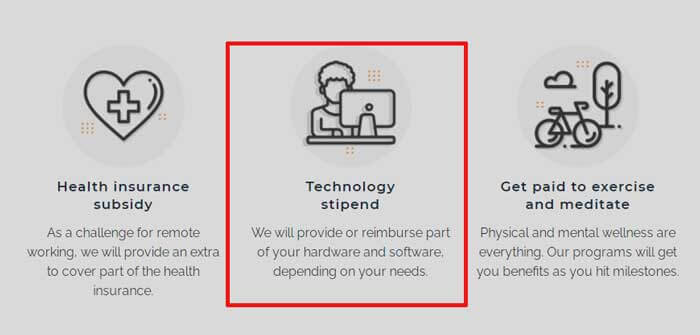 Help Scout is a global remote company that offers help desk software to the companies for providing excellent customer support.
Their team is located in over 80 cities worldwide & you too can be a part of them if you cater to their requirement. 
Job Position – Various jobs in Marketing, Engineering, Product
Equipment Provided – In addition to a laptop and the basics, they fund for your home office, co-working space, personal development, and more.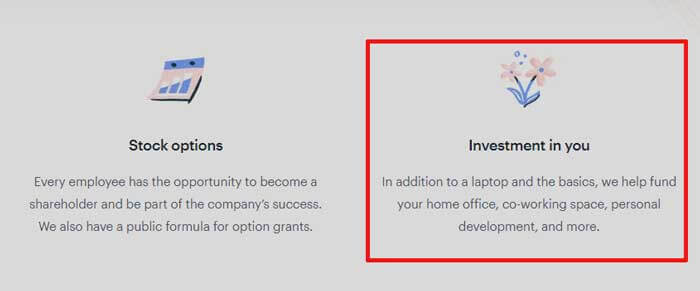 Transcom is a globally known company providing customer care, sales, technical support, and credit management services through contact centers and work-at-home agents.
If you can provide technical support to the customers via chat, text, and social media, you are eligible to apply for the job.
Job Position – Technical Support Advisor
Equipment Provided – Computer with built-in webcam, monitor & headset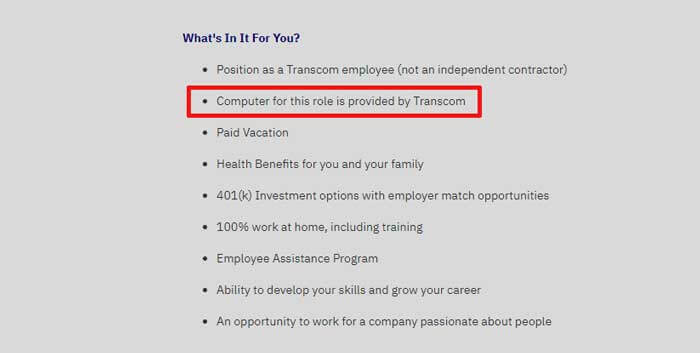 How to Find Work From Home Jobs That Provide Equipment On Job Boards
If you didn't find a matching company from the entire list, check job boards like Indeed, Flexjobs, Jobble, Glassdoor to locate similar online jobs.
Even if you have to spend some time searching job posting sites for the proper companies, it is still not a bad idea.
Who knows, you might find a better work from home job than the ones listed.
This is how you do it.
Enter "work from home jobs that provide equipment" into the search box and hit enter.
This will display a list of jobs related to your search criteria. Filter the results further by date posted, remote, income estimate, job type, location, company, and posted by.
Check the position and read the benefits section to see if they provide any home office equipment. If they are, read everything about the position and apply.
Final Note:
If you think you have found the right company? Congrats!
Now. all you need to do is apply for the job, pass the interview, and start working from home without worrying about spending money on any home office equipment.
However, if you want to explore more ways to make money online, consider reading the following posts.
Read Next:
Pin it For Later: