When you click the links and ads on this blog, it helps me to pay the bills & keep this site free for you. Thanks for supporting me! For more info, read the Disclosure page.
Many people prefer to work from home because they either don't like a 9-5 job or they want to spend more time with their loved ones.
It happens quite a lot of times when you realize that you are working as a robot having no personal life.
People around you are enjoying & traveling to different places and you are just looking at their pictures on social media.
Don't you want to do the same and live a financial freedom life?
A life where you don't have to be caged in a room for getting a salary?
If your answer is yes, then you should definitely start looking for legitimate online work from home jobs where you can make money from the comfort of your home.
There are many companies who are offering such jobs to people who love independence & if you are one of them, then check out these 5 Online home jobs.
Best Online Home Jobs
1. Work As Transcriptionist at GoTranscript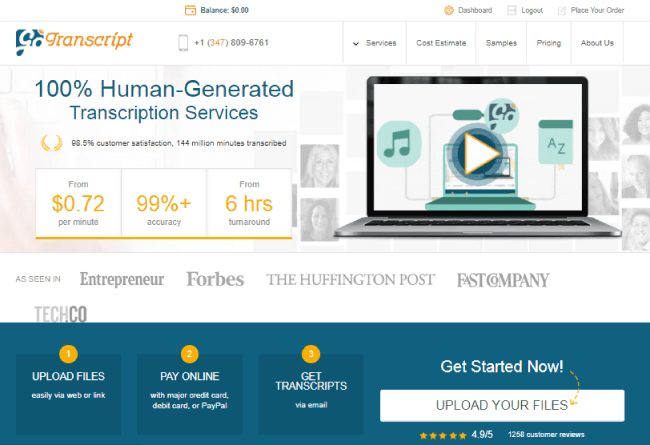 GoTranscript is a professional transcription service website that provides audio & video transcription, translation & foreign subtitles to its clients.
They have transcribed over 144 million minutes and they provide 100% human-generated service.
Because of this, they are hiring people from all around the world for their transcriptionist post & you too can apply.
As a transcriptionist, your job is to type out conversations between people heard in an audio file.
An audio file can be anything from interviews, debate or any sort of conversation where you need to listen and type out what are they are talking.
For each successful transcription, you can make at least $0.72 for a one-minute audio file that can go up depending on the file duration. Usually, longer files pay more.
To become a member, you need to first pass their assessment test followed by an audio file that needs to be transcribed by you.
If you clear both the test, you're hired as a Transcriptionist who can then transcribe any files from his account based on the first-come first-basis.
Once you complete your transcription, they transfer your file to an editor whose job is to check the transcribed file before passing it to the client.
Once everything is fine, your amount gets added to your account which is transferred weekly.
Here are my earnings back in 2016 on GoTranscript. Please note that I use to only work 2-3 days a week.
There is Transcriptionist who are making more than $300 per week just because they are spending more time.
You can check out more Transcription companies here.
2. Fiverr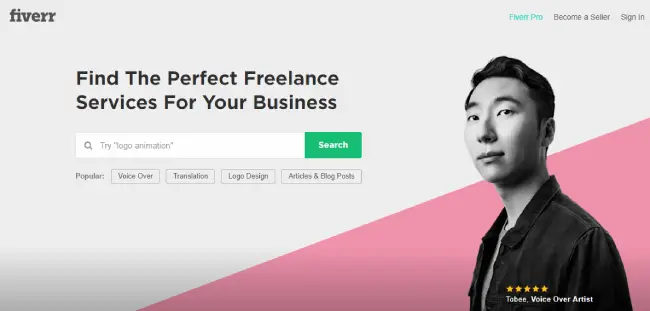 Do you have a skill that can help people in any way, then you should better use Fiverr.
Fiverr is a marketplace for freelancers who can sell their service for at least $5 and go up to two or three digits. It is free to join, and you can sell any service you want even if it sounds weird.
Why I said weird because there are many services that sound like useless but still people are paying for it.
So, that is why Fiverr is for everyone who wants to make money working from home. Initially, you may find it harder to get started but once you have at least 5-10 orders, it will be easier for you.
If you want to learn everything about Fiverr, like the right way to get started, niches that are profitable, how to set prices and other ways to get sales easily, then you can take this course.
3. Customer Service Representative At Service 800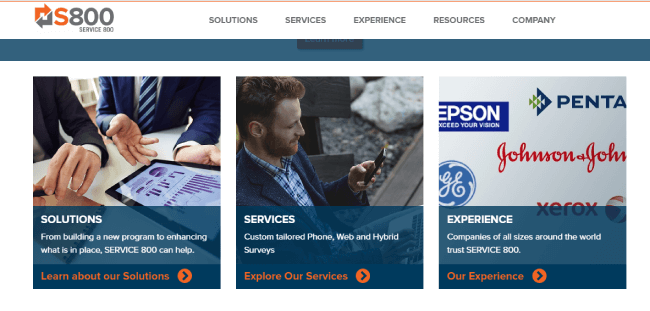 Service 800 is a customer service company which design and launch customer feedback programs.
They hire people from Asia, Europe, North America, South America and some selected states in the US for their Customer Service Representative position.
If you
Love to work from home
Can articulate well verbally and in written form
Have previous customer service experience
Have computer knowledge and telephone skills
Then you can apply for this position.
To join, you need to fill their application form to get shortlisted after which you need to clear their reading comprehension evaluation session & scripting session with a facilitator.
If you are not a native English speaker, then you need to clear an additional native English language evaluation test to get selected.
Once you're hired, your job is to conduct interviews with customers who have recently had a service experience.
For this job, you're paid $10-$12 per hour.
4. Steady
Steady is a place where you can find part time, full-time, work from home jobs, and can join a million user community that helps and share ideas.
This is a great place to explore gig opportunities and find jobs that fulfill your schedule.
Steady also offers various deals known as boosters that are great to make extra money. Deals where you need to do a small task to add extra money to your account.
For example, one of their deal is about spending $25 with a Varo Visa® Debit Card to get $75 in your steady account.
Likewise, there are many other deals that make this platform quite useful for job seekers.
Another great thing which I really like is that it also allows you to track and manage your income & spending activity.
Overall, this is the best place to find work from home jobs.
5. Offer Courses On Skillshare
Skillshare not only offers classes to anyone, but it also gives you a platform to teach others and make money along with it.
If you are good at a skill, be it graphic designing, online marketing, gardening, creating handmade crafts or anything that people would like to learn, you can offer classes to people.
You can create video classes explaining everything step-by-step so that students can easily understand what you are teaching.
For example, if I am teaching blogging, I will create multiple videos in each section. Starting from how to create a blog till how to make money from a blog.
This way it becomes easier for anyone to learn a skill.
Skillshare pays on a royalty system where each month 30%-50% of Skillshare's total Premium Membership revenue goes to a royalty pool for teachers.
Teachers are paid based on the share of the minutes watched by Premium students across the platform each month.
On average, teachers earn $200 in their first month and top teachers are making up to $3000 monthly.
If you want to increase your chances of earning more, ensure you have multiple videos in your classes so you will have a higher watch time.
6. Market Research
The last but not the least is taking online surveys in your free time.
There are many market research companies that want to know the opinion of their audience on a certain topic.
For this purpose, they create online surveys and pays anyone who will successfully complete it.
That's where you use such surveys to add an extra $50-$200 each month. It's just that you need to ensure you join legit survey companies or else, you will keep on waiting for your payment.
There are many survey companies available but the following are some legit ones.
If you want to increase your chances to make more, ensure you join a multiple of them.
7. Blogging
Blogging is by far one of the best online business you can do to make a full-time income.
Not only there are many ways to make money from a blog but you can even make money selling it.
I invested under $100 to create this blog and today, it's worth over $7000 and making quite good money every month better than my previous day job.
So, if you can spend some time writing content, then blogging can be your thing.
As far as I see, the most important thing for long-term success is the ability to create long-form content that is valuable and the number of such contents you can produce.
The more you produce, the more is your chances to drive more traffic and thus making more money via ads and affiliate sales.
If you are a complete beginner and want to start your own blog, then you should definitely read my easy blogging guide.
You can also take blogging related classes on Skillshare (Free 2-months premium access for new users) from where I took classes when I was a beginner.
I also recommend this full-detailed blogging course.
8. Search Engine Evaluator At Appen
Appen
 earlier known as Leapfrog is a search engine evaluation company that hires people from different countries to become their independent agent as a search engine evaluators & social media evaluators.
The positions are available most of the time & you don't need any special expertise to apply for this job. However, there are certain requirements you must have before applying.
The requirements include:
High-speed internet
A person should be 18+
A personal computer running Google's free Chrome web browser, version 45
Excellent web research skills and analytical abilities & many more.
You can read full requirement here.
To join Appen, you need to fill their form followed by an evaluation test to get shortlisted.
As a member, you can make around $12-$15 per hour as a US citizen and the pay varies for different countries.
9. Freelancer At Rev Company
If you are interested in Transcribing, Captioning, Subtitling or Translating jobs, then you definitely need to join REV.
Rev hires people from around the world who can easily make $200 – $1000/month.
But before they hire, you need to pass a few tests related to English and Grammar skills followed by a sample test related to whatever position you are applying for.
As a member, you are paid on the following pay model.
Transcriptionist (type the words after listening to audio or video) – $0.36 – $0.65 per audio minute
Captioner (create timed captions for video) – $0.45 – $0.75 per video minute
Subtitler (Translate the caption from English to other languages by watching videos) – $1.50 – $3.00 per video minute
Translator (Translate documents from one language to another) – $0.05 – $0.07 per word
Click here to apply for these jobs.
10.Various Jobs At The Social Element
The Social Element is a social media agency who hires people from community managers, social media managers, and user-generated content (UGC) moderators.
If you are passionate about creating an engaging online experience, then this job is perfect for you because you will manage social media profiles & may also moderate forums.
To apply, you must have a good knowledge of Facebook. Twitter, Instagram & Pinterest.
If they select you, you can make around $15 per hour.
You can click here to apply.
Final Thoughts
I hope you will surely try these legitimate online work from home jobs to make extra income.
Whatever you try, ensure you give it at least one or two months to see any result. If you can't see any good result, you can try other sites to search for flexible jobs.
Personally, I find blogging to be most reliable work from home job but it does take a lot of effort and proper planning to execute.
But once you set it right, you can make money on autopilot & that's what I am enjoying right now.
So, if you want to add an extra source of income, you should give it a chance. Good Luck!