This post contains affiliate links. For more info, you can read my
Disclosure
page.
Are you looking for online writing sites that pay for writing articles?
If your answer is yes, then you are in the right place.
In today's world, making money from home has become easier, thanks to the internet!
There are many opportunities available online that has the potential to make you rich and in fact, you will be able to quit your 9-5 job as well.
Out of all the online jobs I have researched, there are some of them that have a good potential to make more than a thousand dollars a month.
Freelance writing is one of them that has a huge demand & considered an evergreen job.
If you are good in writing contents that can inspire people, then instead of doing it as a hobby, you should definitely make money out of it.
To make things easier, I have compiled a list of 8 online writing sites that pay you for your work. So, if you really want to start your writing journey, then check out these sites.
>>Read More:
Wanna Make Some Extra Cash in your free time? Then simply sign-up & start using these programs!
1. Swagbucks (Earning potential – $90/month or more. Sign up and get $5 once you've earned 2500 SBs)
2. PrizeRebel (US) (Earning Potential – $50-$100/month)
3. Vindale Research (US) (Earn $1-$5 per survey)
4. Slidejoy (Earning Potential: $3-$10/month or more. Just activate it on your Android smartphone screen lock)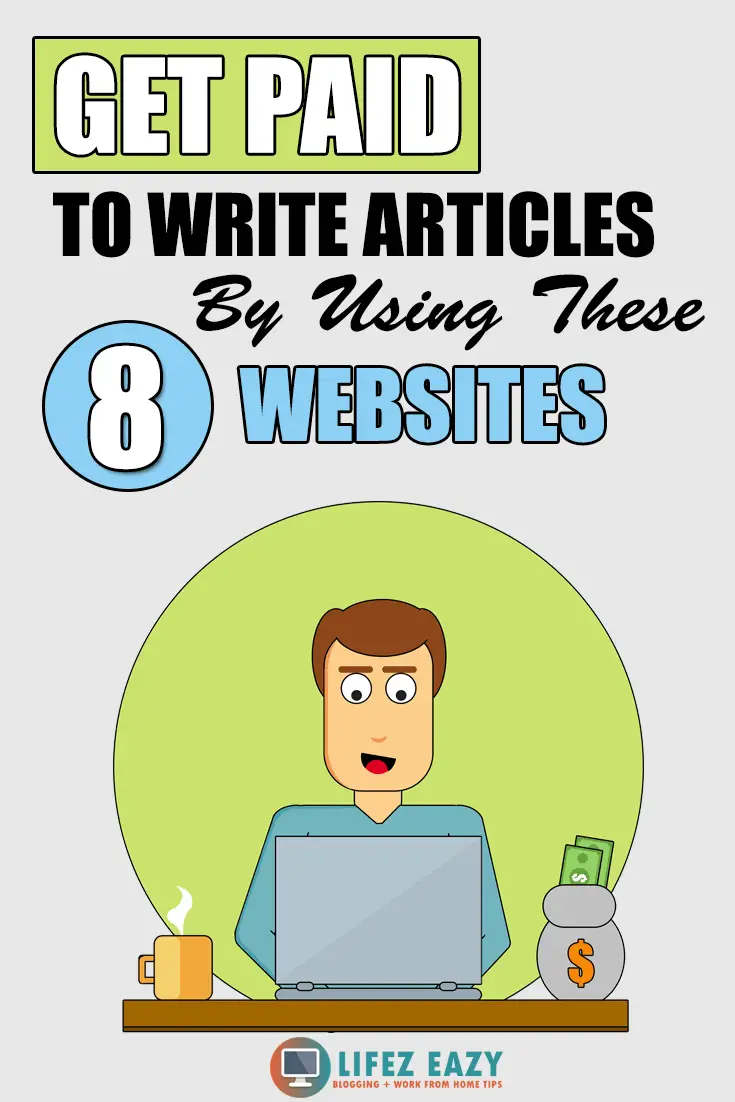 WHAT IS CONTENT WRITING JOB?
It is a kind of job where a writer writes online content on a topic given by his/her client for his/her website.
During this process, the client will describe all his requirement about the topic.
A content writer needs to understand all his requirement and then create a piece of content which satisfies his demands.
WHY CONTENT WRITING JOBS HAVE HIGH DEMAND?
If you don't know, 380 websites are created approximately every minute.
Out of them, there are many website owners who outsource their work to freelancers such as website maintenance, managing SEO & creating contents.
Now, let's focus on content creation. 
You know that contents are very much important for a website to generate income & attract new audiences.
The problem begins when the website owners are either bad writers or don't have enough time to generate new contents. So, to tackle these problems, they hire content writers. 
They pay these writers for every content they write for them.
So, the more websites are created every day, the more content writing jobs are produced each day. 
That makes this job in high demand.
HOW DO I START A FREELANCE WRITING CAREER?
If you are thinking to write on a wide range of topics, then seriously, you need to drop that idea. Instead, if you choose a niche that you have expertise in, then that will help you in a long run. So, identify your niche and become a master in it.

Create a website where you can show your expertise in writing. You can include different writing samples that can be used in promotion & pitching.

Check out different writing job boards and apply to them if you find a suitable one.

Start pitching your work by sending emails to individuals & companies. Also, join LinkedIn where you can start networking with other individuals for more opportunities.
HOW DO I START CONTENT WRITING?
Content writing is a skill which takes time and practice. However, there are certain things which you can do to start writing quality contents:
Before writing on any topic, do thorough research.

Grab good points that you can include in your content

Write a killer headline and first paragraph

Structure your content by including headings, bullet points etc.

Include examples, research statistics or personal experience to make your content more legit

Keep your content as simple as possible.

Include your voice, humor or anything which makes your writing style different from others in a good way.

Check errors such as spelling mistakes & grammar. You can install Grammarly if you're not a native English speaker.

Proofread your content several times. If possible, ask others to read your content so that they can suggest you any grammatical errors which you may have not noticed.

Finish when everything seems good.
Well, these are some points that you must consider while writing contents. If you want to know more about content writing, then check out this awesome article by Quicksprout.
WHAT SKILLS DO A CONTENT WRITER NEED?
A content writer should
have Adaptability

know how to research a topic

have a good understanding of SEO

acquire a unique style of writing that attracts the audience

have a good command in English
WHAT IS THE SALARY OF A CONTENT WRITER?
According to Payscale.com, an average content writer makes around $17.76 per hour and $42,946 per year.
Well, if you gain a lot of experience by doing many content writing jobs, then you can charge more.
DIFFERENT TYPES OF CONTENT WRITERS
According to clearvoice.com, there are 10 common types of content writers in media and content marketing. They are:
Brand Journalist

SEO copywriter/generalist

Digital/UX writer

Conversion rate optimization/lead generation writer

Subject matter expert

Influencer

Social media writer

Advertising copywriter

Technical writer

Grant writer
LIST OF SITES TO APPLY FOR CONTENT WRITING JOBS
So here are some of the best websites to start your content writing journey. All of them are genuine and pays money for your work.
Niche: Blogs & Publication
Amount: Need to discuss
Payment: Paypal
Paypercontent provides articles on any possible topic such as web design, cloud computing, real estate etc. They offer services related to copywriting, article writing & blog writing.
If you have the skill to write compelling & informative articles that can lead to more social shares, then this website is surely your cup of tea.
HOW TO GET STARTED WITH PAYPERCONTENT?
Here, you need to write the contents in a second person point of view i.e. you must use the word "YOU" in your content as if you are having a conversation with a single person.
Writing articles for this website doesn't have to be keyword centric and it should have a length of at least 300 words.
Paypercontent pays twice a month i.e. on 10th and 25th of every month.
You don't need any specific qualification to get selected on this website. As long as you are creative in your writing with proper English, you have a  better chance to make money from this site.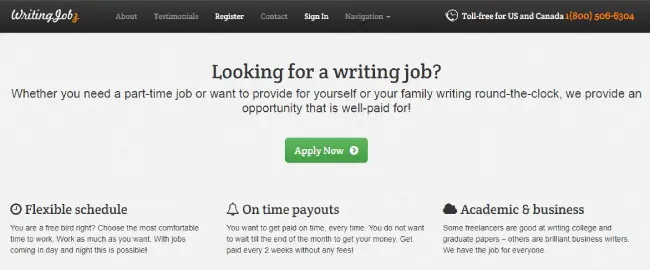 Niche: Multiple Niches
Amount: $9-$15
Payment: Paypal
WritingJobz is yet another online writing sites that pay for writing contents and gives you the opportunity to make money from your home.
This website provides a wide range of writing jobs such as:
Health writing jobs

Business writers

Philosophy writers

Law writers

History writers

Homework writing jobs and much more
So, if you are someone who loves writing about these categories, then you can surely try this website for more content writing opportunity.
HOW TO GET STARTED WITH WRITINGJOBZ?
You will need to register on their website. During the registration process, you need to fill your personal, Educational & Proficiency details.
You will be asked a question regarding why you want to join their website. Make sure to answer it in a way so that you can grab the attention of the HR manager.
By reviewing all these details, you will be notified whether you are selected or not.
Once you are selected, you can work here as per your convenience and can choose any topic you want.
They also offer quite competitive rates which can be from $9-$15 per page depending upon the complexity of the project and deadline.
You will be paid twice every month so you don't have to wait for a month to get paid.
Moreover, this website has been around since 2009 which shows a good reputation for them.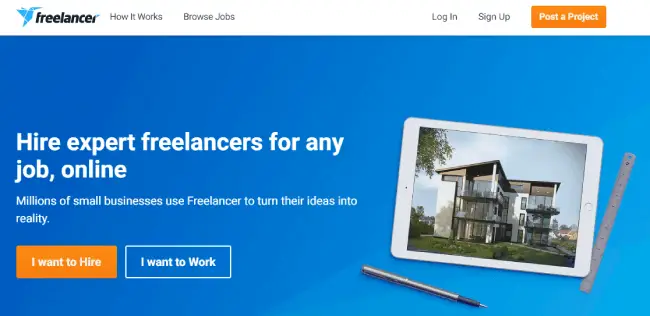 Niche: Nothing Specific
Amount: Depends on the work
Payment: Paypal/Skrill/Freelancer Debit Card
Freelancer is a freelance job website that offers over a wide variety of online jobs. As a writer, this website is a great source of getting writing jobs.
You just need to sign-up and create a great portfolio which shows your expertise in writing.
Once done, start promoting yourself as a writer.
Now, in the beginning, it may be difficult to get writing jobs due to the high competition.
So, what you can do is offer your service at a less rate than the standard rate.  Even though initially you won't make much but it will give you a lot of credibilities.
Once you start getting a lot of writing jobs and gain experience, it will surely make your profile more professional in the eyes of the clients.
Thus,  from that moment, you can increase your price to earn better.
Niche: Multiple Niches
Amount: $10-$100+
Payment: Paypal
Constant-Content is one of the best article marketplaces for content writers to make money online.
It has been around since 2006 and is kinda strict while choosing content writers.
That is why I will suggest that if you have great experience in creating quality content, then you must definitely apply here.
They can pay from $10 up to $100+ for each article depending upon the work & client.
Top content writers who are working with this site has made up to $90,000 a year which is damn awesome.
Here, you can either work alone, as a team or in an expert group which is totally up to you.
HOW TO GET STARTED WITH CONSTANT-CONTENT?
The very first thing you need to do is sign-up to their website. For this, you need to submit your personal details along with your qualification & expertise.
In the next page, you need to answer 5 questions based on English grammar usage & other content creating topics.
To get selected, you need at least 4 correct answers. If you pass this quiz, then on the next page, you need to submit your writing sample on a random topic given by the site.
If somehow, you are not comfortable with the topic, you may request a different one.
Once, you submit all the details, they will notify you whether you are selected or not which usually takes 5 days.
If you are selected, you can link your Paypal account with the website so that they can pay you for your writing work.
Niche: General
Amount: $100
Payment: Paypal/Bitcoin
As the name suggests, this website post all the list-based articles which are a great place for explorers. They publish nearly 3 or more list-based articles every day on their website.
Listverse gets a whopping 8 million visitors each month and has been featured in BBC Radio, Radio Scotland, Alabama Radio & many more.
Having such a huge site with lots of visitors is a great opportunity to make money by submitting quality content. If you don't know, they pay $100 for each article which gets qualified.
HOW TO GET STARTED WITH LISTVERSE?
You don't need to be an expert in content writing. What they expect is that you must be a native English speaker.
Along with that, your writing styles should have a good sense of humor and a love for unusual or interesting things. 
They are looking for contents based on unsolved mysteries, hidden knowledge which most of the people don't know & fascinating knowledge.
If you have something related to these topics, then you can surely create a list post. Make sure that, your article must cover at least 10 list items.
You don't need to include images or videos with your article. However, make sure to link reputable sites so that your facts can be justified.
Simply click here to apply.
Niche: Humor
Amount: $35-$50
Payment: Paypal
College Humor media is an online entertainment company started by two high school friends.
It delivers daily comedic content, including videos, pictures, articles, and jokes, created and/or curated by the CollegeHumor staff.
This site gets more than 15 million monthly page views and generates more than 100 million video views per month. 
HOW TO GET STARTED WITH COLLEGEHUMOR?
To know about the kind of articles they accept, click here
If you love to create such kind of articles, then you need to send your article to [email protected].
Once sent, their editor team will contact you within a few days.
If they like your content or want some changes, their editors will work with you to craft a perfect article. Once, they accept your content, you will be paid $35 for a single page article.
If it has multiple pages, they'll pay you $50. You can check out this page to see their example contents.
Niche: Finance
Amount: $30-$150
Payment: Paypal
If you like writing articles regarding making or saving money, then you can definitely try this website.
Moneypantry is a personal finance website which was created in 2013.
It has been featured in WiseBread, Huffington Post, Forbes, Good Housekeeping, LifeHacker, Country Living, and many other popular publications.
HOW TO GET STARTED WITH MONEYPANTRY?
Moneypantry welcomes both Freelance & Non-Freelance writers. So, if you are not a professional writer, then also you can apply here.
They prefer detailed stories regarding unusual things you did to make or save money.
If you have made or saved a good amount of money by using apps, websites or any other method, then you can create an article mentioning all the strategies that you took to get that result.
Your article should have 1000-2000 words with a proper introduction & a takeaway.
It shouldn't sound like as if you are writing for a magazine. Instead, it should feel like as if you are talking to someone face to face.
To apply, you need to create an HTML version of your post in a simple text file and then email at [email protected].
You must use "MoneyPantry Guest Post" as the subject of your email.
If your post is not in HTML format & you haven't mentioned "MoneyPantry Guest Post" as your subject, then they won't respond you. So, make sure you pay attention to this.
Once sent, they will reply back within 2 weeks. In case, if you haven't heard from them within 2 weeks, then don't mind to send them a reminder.
For each article gets selected, you will be paid between $30 – $150.
Niche: Digital Marketing
Amount: $75-$150
Payment: Paypal
Make a  living writing is a website which is especially for writers who wants to make money as a freelance writer.
It is run by Carol Tice who is an award-winning freelance writer. She started this website back in 2008 and since then, Carol has been able to make a great living with her website.
"Make a living writing" has been named one of the best blogs for writers in 2010, 2012 and 2013. Most importantly, she pays for guest blogging on her website.
HOW TO GET STARTED WITH "MAKE A LIVING WRITING"?
She believes if a blog makes money for its owner, then the guest posters should be paid as well.
To guest post on her blog, you must write content on Digital marketing such as blogging, copywriting, ghostwriting, productivity, marketing success stories and much more. To check out all the topics, click here.
Currently, she accepts freelance writers from Freelance Writers Den members & students/graduates from Jon Morrow's website.
If you don't belong to these programs, then still, there is a chance. You just need to follow her Facebook page where you will be notified about her latest open pitch time.
If your article gets selected, then for each in-depth & longer post, she pays around $75-$150.
ENDING NOTE
If you liked these online writing sites that pay for contents, then don't forget to share this article across social media and most importantly, don't forget to pin it.
If you got more suggestions like these sites, then drop your comment down below.
>>Read Next: Make $10-$90 per project for testing websites and apps