When you click the links and ads on this blog, it helps me to pay the bills & keep this site free for you. Thanks for supporting me! For more info, read the Disclosure page.
Are you a good writer looking for online writing sites that pay for writing articles?
In this post, I am going to introduce 8 websites where you can apply for writing opportunities to make some extra money.
Though there are some requirements to join them, it's not going to be a problem if you know how to write.
While talking about the websites, I will give a little intro about them followed by the instructions on how you can join them. Additionally, I will also answer a few burning questions that you may need an answer.
Why Article Writing Jobs Have High Demand?
Articles and contents are the backbones of a website that ensures to convert visitors into subscribers, buyers, & clients.
It is a way to communicate with the audience to influence and engage with them. Without articles, it will be quite difficult for a website to drive traffic & get any sales.
Due to this very fact, it plays a big role in the success or failure of a website. And that's why businesses like to hire skilled Freelance writers. 
According to MillforBusiness, approximately 380 websites are being created every minute which calculates to approx 5,47,200 websites a day.
Having such huge numbers definitely requires a lot of articles & it's going to give a lot of opportunities to Freelance writers. Thus leading to high demand.

List Of Sites To Apply For Content Writing Jobs
So here are some of the best websites to start your content writing journey. All of them are genuine and pays money for your work.
1. PayPerContent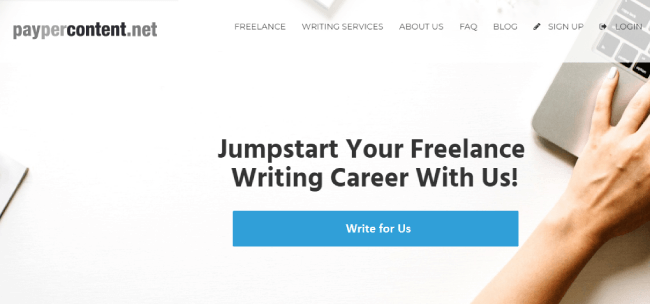 Niche: Blogs & Publication
Pay: You need to discuss
Payment: Paypal
PayPerContent provides online content writing jobs for Freelance writers. They are ready to accept writers who are interested in article writing, blog writing, and copywriting.
If you have the skill to write compelling, informative, and enticing content that leads to more social shares, this website is a good starting point.
How To Get Started With PayPerContent?
Writing content for PayPerContent doesn't have to be keyword-centric, but it should be at least 500 words long.
You need to write the contents from a second-person point of view i.e. you must use the word "YOU" in your content as if you are talking to a single person.
You don't need any specific qualifications to get hired. As long as you are creative in your writing having proper English, you have a better chance to make money from this site.
Regarding payment, Paypercontent pays twice a month, i.e. on the 10th and 25th of every month.
2. WritingJobz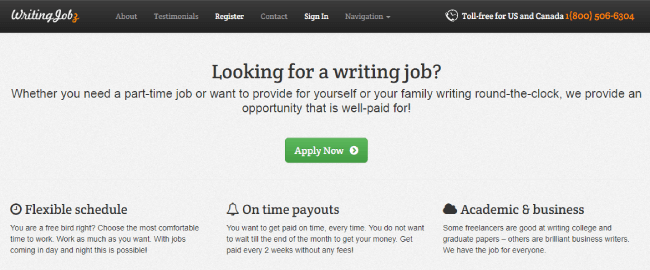 Niche: Multiple Niches
Pay: $9-$15
Payment: Paypal
WritingJobz is yet another online writing site that allows you to make money from your home as a Freelance Writer.
It provides a wide range of writing jobs in many categories such as
Health writing jobs

Blog writing jobs 

Medical writing jobs

Science writing jobs

Sports writing jobs

Academic writing jobs

Ghostwriting jobs and much more
If you are someone who loves these topics and already have some experience in producing engaging content, you can surely knock on the door.
How To Get Started With WritingJobz?
Like other websites, you need to submit an application where you have to fill in details about Native Language, Academic Background, Work Experience, etc.
Once you submit your application, you'll be asked to provide your resume, billing details, working hours, and a sample paper.
In the sample paper, ensure it's well written without having any grammatical errors and poor sentence structure.
Based on your details and written sample paper, WritingJobz will let you know within 5 days whether you're selected or rejected.
Once you're in, you are free to write on any topic you want & you can make $9-$15 per page.
Pay rates depend on the complexity of jobs and deadlines. So don't get surprised if you see a change in the pay rates.
3. Freelancer
Niche: Nothing Specific
Pay: Depends on your hourly or fixed price
Payment: Paypal/Skrill/Freelancer Debit Card
Freelancer is a crowdsourcing marketplace website, which allows businesses & employees to post jobs that freelancers can apply for.
Being a writer, you can bid for writing projects that are short-term or long-term arrangements.
Initially, you may have a hard time getting a project if you don't have experience. For this reason, you have to submit lots of proposals and have patience before getting a gig.
Freelancer is a great option to make money from your writing but getting a project can be a bit hectic. That's why you must build a good reputation with your clients so that they offer you more projects in the future.
Regarding payment, you can fix your rates based on an hourly or fixed price for projects which you can transfer via checks and PayPal.
4. Constant-Content
Niche: Multiple Niches
Pay: $10-$100+
Payment: Paypal
Constant-Content is a writing agency that helps businesses & brands to find writers that can write for them.  
It is active since 2006, having a database of over 100,000 professional writers who've created content for over 50,000 businesses.
They are famous for their strict guidelines for hiring content writers and that's the reason beginner writers may have a hard time. 
Constant-Content can pay from $10 up to $100+ for each article depending upon the requirement & client. Top content writers on Constant-Content are making up to $90,000 within a year.
How To Get Started With Constant-Content?
You need to submit your personal details along with your qualification & expertise.
On the next page, you need to answer 5 questions based on English grammar & other content creating topics.
To get selected, you need at least 4 correct answers. If you pass this quiz, you need to submit your writing sample on a random topic given by the company.
If somehow you are not comfortable with the topic, you may request a different one. Once you submit all the details, they will notify you whether you're selected, which usually takes 5 days.
If you're selected, you can link your Paypal account with the website and start working for them.
Here, you can either work alone, as a team, or in an expert group which is totally up to you.
5. ListVerse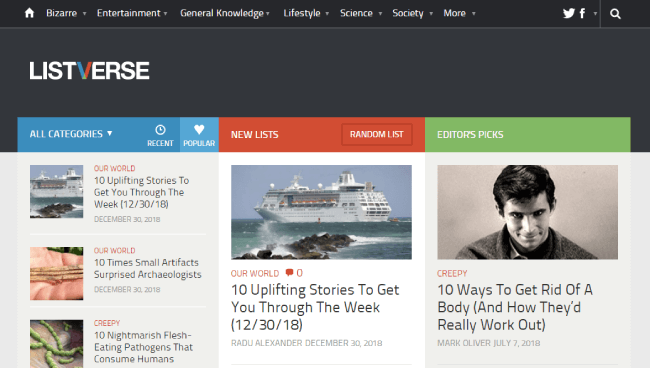 Niche: General
Pay: $50
Payment: Paypal/Bitcoin
As the name suggests, Listverse shares all the list-based articles for people who love exploring new facts.
It gets a whopping 8 million visitors per month and has been featured in BBC Radio, Radio Scotland, Alabama Radio & many more.
Listverse publishes nearly three or more list-based articles every day.  Because of their post frequency, they have a "Submit a List" page where anyone can submit a list-based article to get posted on their website. For each successful submission, Listverse pays $50.
How To Get Started With ListVerse?
To work with ListVerse, you don't have to be an expert in content writing. What they expect is that you must be a native English speaker & your writing styles should have a good sense of humor along with a love for unusual or interesting things.
They are looking for content based on unsolved mysteries, hidden knowledge & fascinating knowledge which most people don't know.
If you have something related to these topics, then you can surely create a list post. Make sure that your article must cover at least 10 list items.
You don't have to include images or videos within your article. However, ensure to link to reputable sites whenever stating any facts.
6. Writers Access
Niche: Not Specific
Pay: 3 cents to $150 or more per word
Payment: Paypal
Writers Access is a place where anyone can hire Freelance Writers, Content Strategies, editors, and Translators.
They have over 35k members and 15k writers who have written blog posts, case studies, white papers, and so on.
Being a member, you can earn 3 cents to $150 or more per word, depending on the complexity of the job, research needed & skills requirement. Their rating system judges your writing skill and offers you a fair price for each job.
How To Get Started With Writers Access?
To become a Writers Access member, you should have residency in the United States, United Kingdom, Australia, Canada, Ireland, or New Zealand.
If you are from the above countries, click here to apply & fill all the required details such as profile details, experience.
You also need to submit a resume, portfolio (blog URL, LinkedIn profile URL, Online Portfolio URL) & take a writing test.
Once you're accepted, they will give you a rating out of 10 based on the strength of your profile, writing samples & test scores.
This rating can either increase or decrease based on your performance.
7. MoneyPantry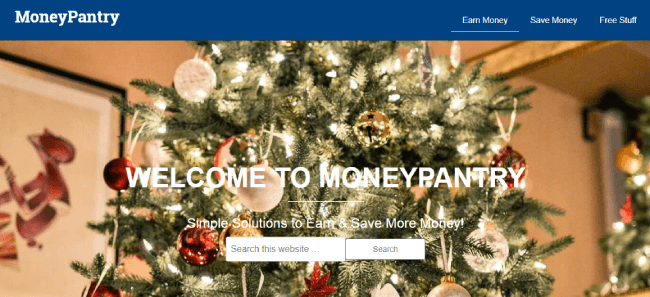 Niche: Finance
Pay: $30-$150
Payment: Paypal
If you love writing articles related to making or saving money, then you can definitely try this website.
Moneypantry is a personal finance website created in 2013. They have been featured in WiseBread, Huffington Post, Forbes, Good Housekeeping, LifeHacker, Country Living, and many other popular publications.
Moneypantry is open for anyone who wants to submit their piece of content and they offer $30-$150 for each successful submission.
How To Get Started With Moneypantry?
Moneypantry welcomes both Freelance & Non-Freelance writers. So, if you are not a professional writer, then also you can apply here.
For content, they prefer detailed stories regarding unusual things you did to make or save money. If you have made or saved money in the past by using apps, websites, or any other method, you can create an article mentioning all the strategies you took to get that result.
Your article should have 1000-2000 words with a proper introduction & a takeaway. It shouldn't sound as if you are writing for a magazine. Instead, it should feel as if you are talking to someone face to face.
To apply, you need to create an HTML version of your post in a simple text file and then email it at editor@moneypantry.com with the subject line "MoneyPantry Guest Post".
If your post is not in HTML format & you haven't mentioned the requested subject line, they won't respond to you.
Writers who followed their guidelines can receive an email within 2 weeks and if you haven't heard from them, then don't mind sending them a reminder.
8. Make A Living Writing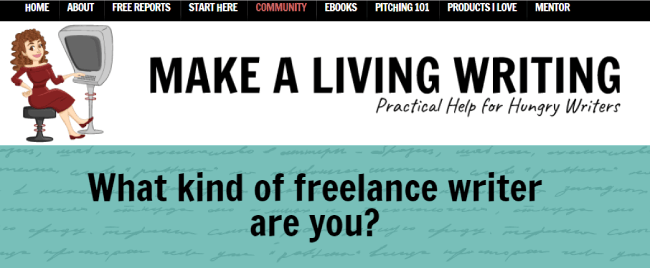 Niche: Digital Marketing
Pay: $75-$150
Payment: Paypal
Make a living writing started in 2008 where it shares tips & practical help for Freelance Writers. It's run by Carol Tice, who is an award-winning freelance writer.
Make a living writing has been named one of the best blogs for writers in 2010, 2012, and 2013. Most importantly, it pays $75-$150 for guest blogging on her website.
How To Get Started With "Make A Living Writing"?
Carol believes if a blog makes money for its creator, then the guest writers should also get paid for the content contribution.
To guest post on her blog, you must write content on Digital marketing such as blogging, copywriting, ghostwriting, productivity, marketing success stories, and much more. To check out all the topics, click here.
Currently, she accepts guest post proposals from current and former Freelance Writers Den members & students/graduates from Jon Morrow's blog mentoring program.
If you don't belong to these programs, still, you can apply. All you have to do is follow her Facebook page where you will get notified about her latest open pitch time.
Tips to Write Quality Contents
Content writing is a skill that takes time and practice. However, there are certain things you can do to write quality contents:
Before writing on any topic, do thorough research.

Grab good points that you can include in your content

Write a killer headline and first paragraph.

Structure your content by including headings, bullet points, etc.

Include examples, research statistics, or personal experience to make your content more legit.

Keep your content language as simple as possible.

Include your voice, humor, or creativity to make your content stand out.

Check spelling mistakes, typos & grammatical errors using 

Grammarly

.

Proofread your content several times. If possible, ask others to read your content so they can suggest any grammatical errors you haven't noticed.
Well, these are some points that you should consider while writing content. If you want to learn more about content writing, then check out this awesome course.
What is The Hourly Pay Of a Freelance Writer?
According to Payscale.com, an average Freelance writer makes around $24.07 hourly.
Final Thoughts
Though there are many online writing sites that pay for writing articles, the listed websites are some of the best.
Just choose the one that suits your requirement and apply to get accepted. If you're a newbie writer, try MoneyPantry, Listverse, & PayPerContent.
If you have some experience and written many writing samples before, try the rest of them. I hope this post has helped you to find some good writing gigs.
If you loved the information? Then don't mind sharing it on Social Media.
Read More: