When you click the links and ads on this blog, it helps me to pay the bills & keep this site free for you. Thanks for supporting me! For more info, read the Disclosure page.
If you're looking for a work-from-home job that pays well and has a bright future, consider becoming a virtual bookkeeper.
Now, who are they, what are their duties, how much money can they make, and how do you become one? I'll go over everything in this post so you know exactly how to become a virtual bookkeeper.
But, before I get to the meat of the matter, let's go over some fundamentals.
What is a Bookkeeper & How is it Different From An Accountant?
A bookkeeper's job is to keep track of all of a company's financial records on a daily basis and organize them in a systematic manner.
They work on the front lines of a business, keeping track of how money flows in and out of a company on a daily basis.
The accountant's job, on the other hand, begins where the bookkeeper's job ends. They are more concerned with the big picture and use the data that bookkeepers collect to generate reports, identify important trends, and forecast.
Even though both accounting and bookkeeping have the same background, there are some differences:
A degree is not required to work as a bookkeeper. You only require a basic understanding of accounting and some prior experience to get into this field. On the other hand, an accountant must have a bachelor's degree to prove their qualifications.
Bookkeepers don't require any certification to work in this job. However, if they want to advance in this industry, they can always take online bookkeeping courses and earn a certificate. Accountants, on the other hand, can get a Certified Public Accountant license. It is a professional title bestowed upon qualified accountants.
The job of a bookkeeper is to handle the day-to-day tasks and keep track of how much money comes in and out of the company. The job of an accountant is to keep an eye on the company's finances and give advice to the business owners about how and where to grow.
Overall, both the bookkeeper and the accountant are important, and they must work together for the good of the whole business.
What Are The Responsibilities of a Virtual Bookkeeper?
Bookkeepers are the unsung heroes of every business/company. They are excellent communicators, both verbally and in writing.
They mostly report to business owners, accountants and managers in order to assist them in making firm decisions.
Their job responsibilities include:
Checking out everything, from cash flow statements to bank reconciliations to profit and loss statements, and making sure everything is correct.
Giving accurate, up-to-date information about a business's finances.
Completing the data entry process.
Maintaining and monitoring financial records, as well as tracking debits, are all part of the job.
Making sure that supplier invoices are accurate and paid on time.
Creating and sending invoices, as well as following up to ensure they are paid.
Collecting transactions.
Completing payroll.
Filing tax returns.
What Qualifications Do I Need To Be a Virtual Bookkeeper?
Unlike accountants, who must have a bachelor's degree in accounting, virtual bookkeepers do not. All you need is a high school diploma or GED & basic accounting knowledge to get started.
This means you can begin working as a virtual bookkeeper immediately after graduating from high school because you will have the necessary math, writing, and communication skills.
To learn the basics of bookkeeping, you can either learn it online or you can enroll in a legitimate course taught by an industry expert.
This will undoubtedly help your professional growth and allow you to stay one step ahead of the competition. You will also BOOST your credibility and confidence if you plan to run your own virtual bookkeeping business in the future.
How Much Can You Make As An Online Bookkeeper?
The salary will be determined by a variety of factors, including education, certifications, additional skills, experience, and so on.
However, to give you an estimate, a bookkeeper in the US earn around $38k per year. This equates to an hourly wage of about $18.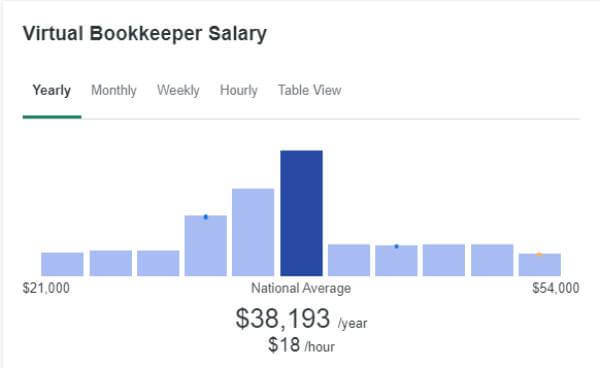 As a beginner, you will not earn this much, but as your experience grows, so will your pay.
Note: The above salary estimate is based on data from Ziprecruiter.com.
How to Become a Virtual Bookkeeper?
Now, here are a few steps to consider if you want to become a remote bookkeeper. All of these steps have been suggested by various bookkeeping expert.
Step #1: Acquire The Necessary Skills
Before you begin this career, you should determine whether you have the necessary skills for the role of a bookkeeper.
The skills required aren't extraordinary, but you should be excellent at them in order to do your job well.
So what are they? Let's find out.
Math Skills: Math skills are a MUST when it comes to bookkeeping. That's because bookkeepers are required to create and maintain accurate financial records for their clients. Even though software programs can simplify most calculations, you still must be able to predict whether the results are reasonable or not, which requires basic math skills.
Computer skills: Because you will be doing your work on a laptop/computer, you must know how to use it. In addition, you should be familiar with accounting software such as QuickBooks.
Time management skills: This skill is essential because it will allow you to complete all of your tasks on time and meet deadlines. Clients frequently rely on financial records to make important decisions. So, if you fail to meet your deadlines, it is the client's business that will suffer.
Attention to detail: If you're not paying attention or focusing, you're more likely to make mistakes in financial records, which can cause problems for the business. Even minor errors can lead to major issues because businesses need to make critical decisions based on them. So, if you lack this skill, begin practicing meditation to improve your focus.
Excellent communication skills: A bookkeeper must be able to communicate effectively both in-person and via email. Though their primary responsibility is to manage financial records, they must also communicate internally to discuss various information, deadlines, and requests. If they have poor communication skills, they may come across as unprofessional.
Spreadsheets: Bookkeepers record financial data in spreadsheets such as Excel. It not only makes their job easier, but it also helps them organize all of the data. They can also enter equations to perform calculations without using a calculator. As a result, knowing how to effectively use a spreadsheet is a must-have skill.
Step #2: Learn the Basics of Bookkeeping
What if I told you right now that you should apply for a bookkeeper position.
Would you be confident enough to do so given that you're new to bookkeeping?
I'm pretty sure you're not!
Why so?
Because you don't know the basics of bookkeeping.
Obviously, you can read a lot of articles and watch YouTube videos to learn the basics, but nothing beats a step-by-step training course.
There are a lot of sites, like Udemy and Coursera, where you can find good bookkeeping courses. There is also a free training workshop that can help you decide if bookkeeping is a good job for you.
Overall, whatever method you choose, make sure you understand the basics and know how to perform the bookkeeping job.
Step #3: Learn Accounting Software
Whatever online job you do, you definitely want to have access to some software that can make your job easier. The same case is with bookkeeping.
Accounting software streamlines the bookkeeping process, allowing you to do your job more efficiently. You will be able to manage income and expenses and keep track of the business's financial health.
Though there are various softwares available, Quickbooks is one of the most widely used software among bookkeepers.
QuickBooks
QuickBooks is an affordable accounting software developed by Intuit that helps in the tracking of income and expenses, saving you time.
Some of the things you can do with QuickBooks are as follows.
Send invoices.
Record the receipt of payment for customers and suppliers.
Inputting bills.
Reconciling and connecting bank accounts.
Payroll facility to pay employees and contractors.
Manage taxes, and much more.
It comes with both desktop software for Windows and Mac, as well as an online version.
I'm sure you're wondering how to use this software or whether you need to pay for another course to learn how to use QuickBooks.
Don't be concerned!
QuickBooks offers FREE training and certification as part of their software. Isn't that cool? 
If that isn't enough, you can also find a plethora of free online tutorials on YouTube as well.
Moreover, as an added bonus, it includes a 30-day free trial plan. During this time, you can test it out to see if it's useful and fits your budget before purchasing either their monthly or annual plan.
>>CLICK HERE TO JOIN THE 30-DAY FREE TRIAL PLAN<<
Step #4: Promote Yourself
Once you're comfortable and confident in your bookkeeping skills and have knowledge of accounting software, it's time to spread your wings.
That's right! You must market yourself so that clients are aware that there is someone interested in providing their service to them.
Now, how are you going to do it? Well, here are some tips.
The first and simplest way to get your message out there is to promote your service on social media platforms such as Facebook and Instagram. You can also create a LinkedIn account, which is a hub for potential clients (the best place to find clients).
Start networking by attending events and business groups to meet potential clients or businesses. 
Create a website that highlights your services and prices. Having your own website boosts your credibility and allows potential clients to quickly determine whether you're a good fit for them. You can even include client testimonials on your website once you've served a few clients to boost your credibility. Though there is a small investment required to create a website, it is well worth it.
Look for potential clients on job boards that specialize in remote bookkeeping jobs. You can also find short and long-term projects on freelance marketplace websites like Upwork, Fiverr, and Freelancer.
Getting your first client is a bit of a challenge if you've never worked in this field before. Having said that, once you get a few clients under your belt, everything will start to fall into place.
Related Post: Best sites to find remote bookkeeping jobs (beginner & experienced)
Step #5: Keep Learning
Because the accounting industry is constantly changing, you must stay up-to-date on the latest industry standards to ensure you provide the best service to your clients.
So, continue to learn new skills that will benefit your bookkeeping career. There is always something new to learn, and there is a wealth of study material available online to upgrade your knowledge.
If everything goes well, you may even decide to create your own bookkeeping course to teach others how to become a bookkeeper. This will provide an additional source of income.
Want to Take a Shortcut to Become a Bookkeeper?
If you are willing to invest money in learning a skill that will return double or even triple your investment over time, you should definitely enroll in a legitimate course.
That's why, I'd like to introduce Bookkeeper Launch, which I purchased myself (read my Bookkeeper Launch review post) to see if the course was worth the money.
If you are unaware, it is a well-known course that not only teaches you bookkeeping skills but also teaches you how to start your very own virtual bookkeeping business from the scratch.
The course has been featured in INC, The PennyHoarder, Woman's World, Entrepreneur and more, which is enough for its credibility.
It not only teaches you the technical aspects of bookkeeping but also teach you on how to start your own bookkeeping business.
When you enroll in this course,  you will learn comprehensive bookkeeping as well as the business skills required to succeed in this career path.
I mean, nowadays everybody wants to start their own business and be their own boss, and I bet, you too want the same. And that is what the Bookkeeper Launch is all about.
You will learn how to start, grow, scale, optimize, & transform your bookkeeping business from scratch even when you're a complete beginner. How cool is that?
Surprisingly, they offer a FREE WORKSHOP to help you determine whether you are a good fit for this job and how much money you can make. (Don't you want to know if bookkeeping is right for you?)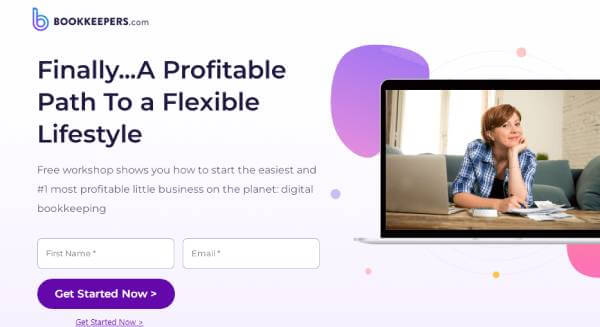 So, if you're interested, you can click the below link to have a look.
CLICK HERE TO ENROLL IN THE FREE WORKSHOP
In case, you want to check out their course, here's the link to it.
CLICK HERE TO VIEW BOOKKEEPER LAUNCH
Final Note:
If you follow these five steps, you'll be well on your way to becoming a virtual bookkeeper. Even if you have no prior accounting experience, you can still become a bookkeeper with the right amount of drive and determination.
Now, please let me know if you found this post useful. If not, please share your issues and I will try to update the post.
Pin it For Later: