When you click the links and ads on this blog, it helps me to pay the bills & keep this site free for you. Thanks for supporting me! For more info, read the Disclosure page.
I'm excited to tell you about Bookkeeper Launch!
In my Bookkeeper Launch review, I'll cover everything about this course so you can know if it's worth it.
You will learn all the topics it covers, what lessons it offers, any extra bonuses you'll get, and so much more.
I've also included a cool video for you that gives you a sneak peek inside the course.
So, if you've been thinking about giving the Bookkeeper Launch program a shot, make sure to read till the end.
Quick Bookkeeper Launch Review
Course Name – Bookkeeper Launch
Creator – Ben Robinson
Pros
You can implement everything you've learned on a fictitious client.
Receive tons of bonuses.
Provides flexible payment options.
Best customer support.
Provides free intro course to test the water.
30-day money-back guarantee.
Cons
The price seems a bit high.
Requires effort to build a client base.
Introduction:
What is Bookkeeper Launch?
Bookkeeper Launch is a tested system for teaching bookkeeping skills and launching your own virtual bookkeeping business.
That's correct! Even if you're a complete novice who has NO IDEA what bookkeeping or running a business requires, this course is for you. 
It is created by Ben Robinson, a CPA who is in the bookkeeping industry for a long time.
The course (now in its fourth edition) has helped over 11,000 students achieve their goal of becoming bookkeepers. Out of which, nearly 75% of them had no prior bookkeeping or business experience. (That's for you if you're a beginner.)
You'll get the latest tools, tactics, and resources to help you soar to success. With an extensive online curriculum, interactive training sessions, and practice assessments, you'll be showing off your knowledge and recall in no time!
Additionally, you are also invited to join the world's LARGEST and most ACTIVE virtual bookkeeping community, where you can interact, learn and share your accomplishments with other students and graduates.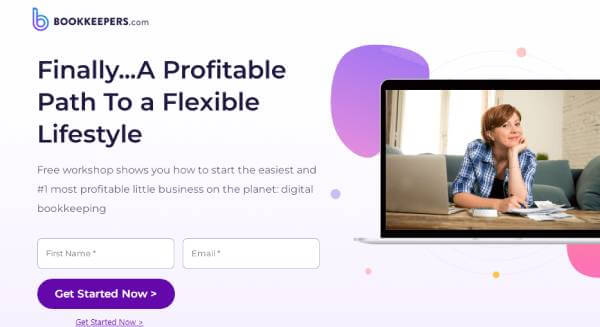 How to Start a Profitable Bookkeeping Business in 90 Days or Less…
Benefits of Enrolling in this Course
1. No Prior Experience Needed To Join The Course
You don't need any experience to join the Bookkeeper Launch course. Even if you lack knowledge about bookkeeping, you can still join the course with confidence.
The content is made for beginners and intermediates to learn bookkeeping principles and practices in a simple and strong way.
It lets anyone, regardless of experience, follow their passion for starting a bookkeeping business.
So, it's a great chance for people from different backgrounds to explore new opportunities.
2. Learn Five Stages of Running a Bookkeeping Business
Bookkeeper Launch is specifically tailored to running a bookkeeping business, providing a positive and uplifting approach throughout the entire process.
From the start, Bookkeeper Launch gives you all the essential know-how to start your bookkeeping business. You'll learn new bookkeeping strategies, effective marketing, and how to get your operations running smoothly. It's a great kick-off!
Then, the second stage is about getting more clients, but not just any clients. It teaches you how to get high-paying clients which can help your business growth and stability.
In the third stage, they guide you on how to build a great team. You know, those amazing people who boost your efficiency and help you achieve more.
The fourth stage is about making your work smoother. They teach you ways to make your services better and your processes more organized.
Finally, the last stage is all about making your clients love you and want to keep doing business with you. This is really important because having loyal clients can mean a steady income and more growth for your business.
In simple terms, they hold your hand every step of the way, helping you crush your business goals.
3. You'll Be Able to Make Educated Decisions
It will teach you how to correctly handle data and draw insightful conclusions from it. This means you'll be able to make sensible decisions based on facts and data for your clients.
Furthermore, you'll get the confidence boost you need to make decisions with conviction. This will help you to forecast what lies ahead for your clients.
Definitely, a nice way to make your clients happy!
4. Get Real Experience in Handling a Client Through Fictitious Client
Bookkeeper Launch goes beyond the typical course learning experience. 
Here's the scoop: instead of just bombarding you with theory and exercise, it gives you an imaginary client to experiment with using QuickBooks. Imagine getting to apply everything you learn to a client's books without the fear of making a mistake!
It's like doing a dress rehearsal for a play – it gives you a taste of the real deal, boosting your confidence and getting you ready to tackle actual clients. And guess what? It makes learning fun and less of a chore.
5. Save Time, Energy & Increase Efficiency With Process Checklists & Templates 
Bookkeeper Launch is the perfect solution for entrepreneurs and small business owners looking to simplify their accounting processes.
Imagine having everything you need at your fingertips to keep your books clean, clear, and updated. Their rich library of resources, filled with checklists and templates, gives you just that.
From basic checklists to more complex templates, Bookkeeper Launch has everything you need to ensure your financials are in order. Here's what you are getting.
1. Process Checklist
Bookkeeping is an intricate process that can be overwhelming for those just starting out. Keeping track of all the different elements involved can be challenging.  
That's why, they've got you covered with 13 process checklists that outline everything you need to know about each process. From pinpointing when to use them, to knowing where they're applicable, and understanding every step that lies in between – it's all laid out for you.
Just take a peek at these fantastic checklists you're about to unlock:
Onboarding process
Clean up process
Reconciliation process
Payroll process & New hire processes
Inventory management process
Sales tax process
Bill payment process
End of month closing process
Client advisory meeting process
End of year closing process
2. Templates
Bookkeeping can be overwhelming, with multiple tasks like writing letters and proposals. Starting from scratch takes time and can be daunting. But what if you had ready-to-use templates?
That's exactly what happened to me when I used Bookkeeper Launch.
They gave me 17 templates that I could change to fit what I needed. Using this tool significantly sped up my work. Just inputting information and making minor adjustments allowed me to finish much faster, saving me valuable time and effort.
That's just like finishing your homework before dinner time, giving you more time to play! Here's a look at the templates that came to my rescue:
Consultation cheat sheet & questions bank
Pricing calculator
Proposal template, style 1
Proposal template, style 2
Proposal template, style 3
Prospect follow up system
Engagement letter template
ACH / Recurring authorization
Bookkeepers financial reports transmittal letter
Tally & rally
Disengagement letter
QBO sample COA excel
QBO sample COA CSV
Bookkeeping business sample COA excel
QBO COA for corporate manufacturing excel
QBO COA for corporate manufacturing CSV
Entity comparison chart
6. Boost Your Credibility with a Certificate of Completion
In the business world, being able to trust someone is super important. One of the fastest ways to earn trust is by showing a Certificate of Completion from Bookkeeper Launch!
This certificate is like your very own gold star. It shows everyone that you're serious about bookkeeping and really good at it.
Having this certificate means you know your stuff when it comes to handling money matters. But earning it isn't easy peasy – you must pass both a knowledge test and a practical test. Scoring 80% on the knowledge test and 100% on the practical test confirms your expertise.
Getting this certificate does more than just make your resume look cooler. It tells people that you're not just any bookkeeper, but a certified professional who can really help their business.
7. Be a Part of an Online Bookkeeping Community
Sometimes things don't go as planned and it can bring us down. But hey, cheer up!
Bookkeeper Launch community offers a supportive network, providing understanding and assistance when you need it most. It's like having a group of understanding friends by your side.
When you join the course, you'll be part of a large and special group of people who are learning about bookkeeping, including both beginners and more experienced individuals. It's the largest online bookkeeping community!
You can chat with supportive and helpful people in this group like a friendly family who are always there for you. So, share your wins and seek assistance.
8. Receive Exclusive & Helpful Bonuses
If you love extra bonuses, Bookkeeper Launch has some. They offer cool extra stuff that can help your bookkeeping and business grow. Here's what you get:
A. Hacks & Facts
This is a treasure box full of amazing bookkeeping tips from successful Bookkeeper Launch students! You get six special lessons that talk about not just the how-tos of marketing and getting clients, but also how to solve problems.
Learning from experienced individuals in business is valuable as they provide insights into problem-solving based on their past experiences. It's pretty neat!
B. Profit Maximizers
This is a special extra bundle about things like accounts payable, receivable, and payroll assistance.
You'll learn all about these topics, and how to set things up. And there's plenty to learn with 26 lessons!
C. LinkedIn
Want to get better at LinkedIn? There's a special treat for you! This extra bundle includes five lessons on how to use LinkedIn like a pro.
The lessons are taught by Melonie Dodaro, who wrote a bestselling book about LinkedIn. Lots of students have found success through LinkedIn, and now you can too.
D. 1099 Blitz
Want to handle your year-end tax forms without any stress? This special bonus can help!
You'll learn great tips on how to fill out the 1099-NEC and 1099 miscellaneous forms, so you can do it right and without worry.
You also get updates about the latest tax season and tips to avoid common mistakes. Plus, you'll get a useful 1099 season checklist and nine lessons full of important information.
Trust me, this bonus is like your best buddy for tax form time!
---
Overview of the Course:
Who Is Bookkeeper Launch Designed For?
Bookkeeper Launch is perfect for those who prefer working from home, setting their own hours, and scaling their business according to their preferences.
Also, if you want to earn extra money without sacrificing family time or hobbies, Bookkeeper Launch is a great option.
If you're someone who values lots of freedom and chances to try new things, then it seems like Bookkeeper Launch has you in mind.
Is Bookkeeper Launch Accredited?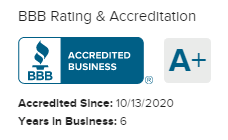 Absolutely! The Bookkeeper Launch course got a big thumbs-up from the Better Business Bureau®, a group that checks if businesses are being fair and honest, on October 13, 2020. It also got the best grade, an A+, from 98 happy students who used it.
This shows that lots and lots of students really enjoyed the course. It's like they're saying, "This course is really good. We learned a lot!" So, it seems like a good bet if you're looking to learn about bookkeeping.
What Topics Are Covered?
The course is split into seven easy-to-follow sections! 
ORIENTATION: Systems Check
DAYS 1-15: Go
Days 16-30: Ignition
Days 31-45: Liftoff
Days 46-60: Ascent
Days 61-75: Acceleration
Days 76-90: Orbit 
Want to know more? Let's explore each section to gain a better understanding of the topics you'll be mastering.
1. ORIENTATION: Systems Check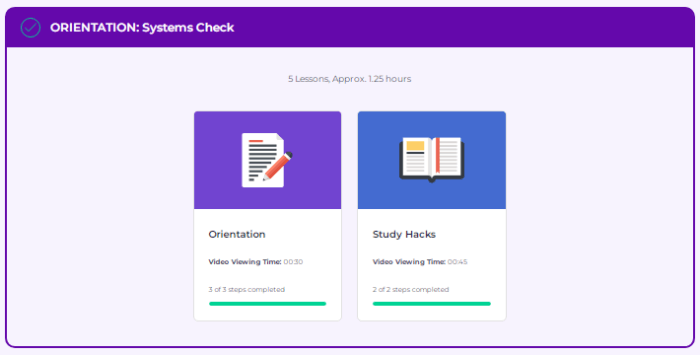 Total lessons: 5
Total time: 1.25 hours
Orientation (3 lessons): You'll get a tour of the Bookkeeper Launch Center and learn everything you need to become a 21st century bookkeeping pro!
Study Hacks (2 lessons): It will teach you some awesome tips on how to learn faster and retain knowledge without spending hours upon hours.
2. DAYS 1-15: Go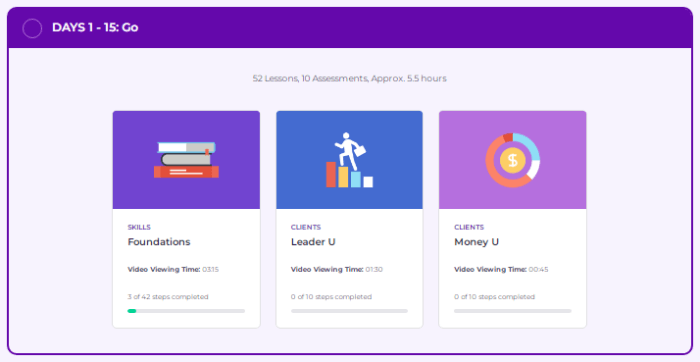 Total lessons: 52 lessons and 10 assessments
Total time: 5.5 hours
Skills Foundation (42 lessons): It is perfect for beginners who want to learn bookkeeping basics. So, if you're a newbie, this is for you.
Leader U (10 lessons): This part is designed to help you think like a leader and recommend some leadership actions you can take.
Money U (10 lessons): This part is all about getting your mindset right for making money and includes some money-making actions you can take.
3. DAYS 16-30: Ignition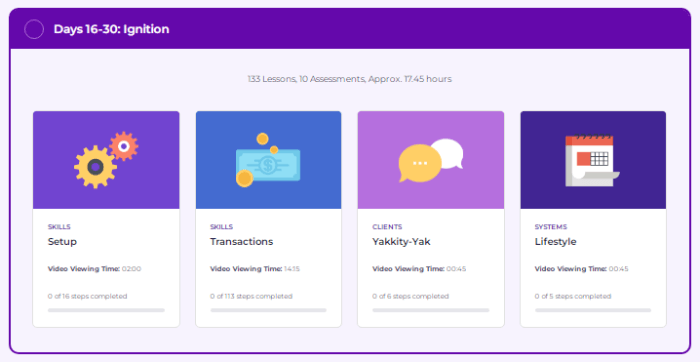 Total lessons: 133 lessons and 10 assessments
Total time: 17.45 hours
Setup (16 lessons): You will learn how to set up and use QuickBooks for bookkeeping! Plus, you get to put all the bookkeeping skills you've learned into practice by setting up an account for a fictitious client. How cool is that?
Transactions (113 lessons): In this part, they'll be talking about transactions that will help you build and understand financial statements to give advice to your clients. It will cover topics like cash receipts and accounts receivable.
Yakkity-Yak (6 lessons): You'll learn what it is, as well as how and where to use it.
Lifestyle (5 lessons): You will discover how to balance your bookkeeping work with your personal life? It's definitely achievable, and it'll help you maximize your time with your family while still managing a successful business.
4. DAYS 31-45: Liftoff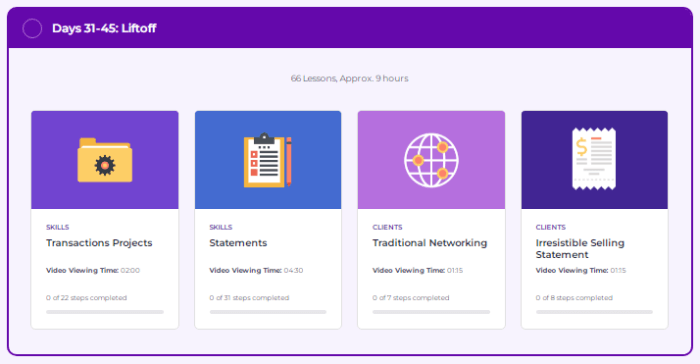 Total lessons: 66 lessons
Total time: 9 hours
Transactions Projects (22 lessons): Here, you will work on a closing project. You will learn how to use spreadsheets and QuickBook to perform tasks such as entering invoices, recording payroll, and bank deposits, among others.
Statements (31 lessons): It will teach you how to review and understand statements. You will also learn how to collaborate with your clients and help them understand their business better. Additionally, you'll discover how to prettify the balance sheet, package contents, presentation, and close the books.
Traditional Networking (7 lessons): You'll dive into the art of building professional relationships. You'll gain valuable skills on how to network like a pro and make meaningful connections in your industry.
Irresistible Selling Statements (8 lessons): This one's a game-changer! They'll show you how to craft your own unique ISS that will make you stand out among other bookkeepers. With these techniques, clients won't be able to resist choosing you for their bookkeeping needs.
5. Days 46-60: Ascent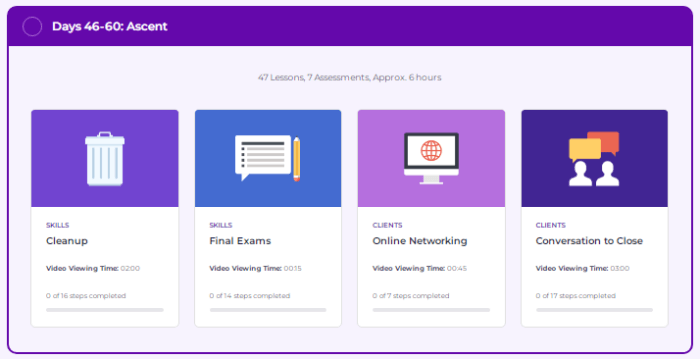 Total lessons: 47 lessons and 7 assessments
Total time: 6 hours
Cleanup (16 lessons): This part is designed to help you understand the entire process of cleaning up your client's book to give them a fresh start. We'll guide you through all the steps involved in putting it into action, and you'll be amazed at how easy it is!
Final Exams (14 lessons): Don't worry, this part is not as scary as it sounds. You'll take a knowledge exam and must pass it with a score of at least 80%. You'll also take a practical exam and pass it with a score of 100%. Once you complete both exams successfully, you'll receive a certificate of completion that you can proudly display.
Online Networking (7 lessons): This is all about how to network online. You'll learn where to network online as well as how to connect with and converse with your clients.
Conversation to Close (17 lessons): What happens after a person contacts you through networking? How do you make that person a client? That is what is being discussed here. It walks you through the process of having an initial conversation with someone about the bookkeeping business, all the way to signing the engagement letter.
6. Days 61-75: Acceleration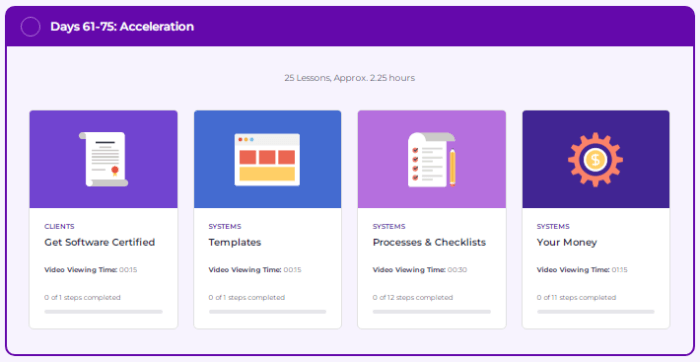 Total lessons: 25 lessons 
Total time: 2.25 hours
Get Software Certified (1 lesson): This part basically tells you to get certified in the accounting software that you like the most. Though they prefer QuickBooks, you can also get certified in other software, like Xero.
Templates (1 lesson): A total of 17 templates that will be required to do bookkeeping can be downloaded from here.
Processes & Checklists (12 lessons): You can download all of the key process checklists here. It has a total of 13 checklists, which include the clean-up process, sales tax process, bill payment process, and so on.
Your Money (11 lessons): You will learn some money truths as well as how to manage and spend your money strategically.
7. Days 76-90: Orbit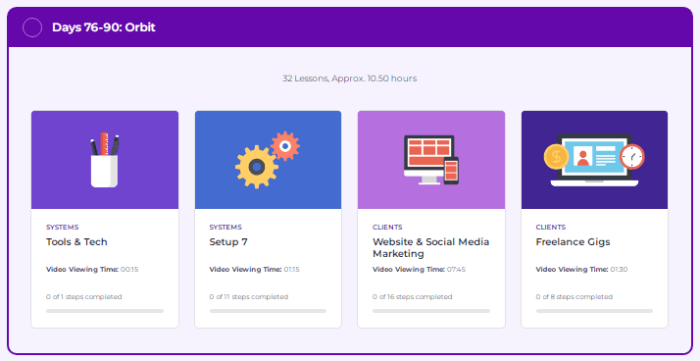 Total lessons: 32 lessons 
Total time: 10.50 hours
Tools & Tech (1 lesson): Learn about all of the useful tools and technology that can help you be more efficient with your time and provide better service.
Setup 7 (11 lessons): You will go over all of the steps you need to take to get your business in order. It includes setting up a separate legal entity, obtaining a tax ID and a business license, opening checking, and merchant accounts, and much more.
Websites & Social Media Marketing (16 lessons): You will learn about website and social media marketing and why they are important. It also includes a website challenge in which you will learn how to build a website from the ground up. Also covered: how to use Google My Business and a Facebook business page for social media marketing.
Freelance Gigs (8 lessons): You will learn how to get freelance gigs and what different avenues you can use to find potential clients online.
Aside from the course content, there are also two missions based on client service. They are as follows:
Mission 1: Serving 1st Client For 2 Months 
Mission 2: Serving 3+ Clients
1. Mission 1: Serving 1st Client For 2 Months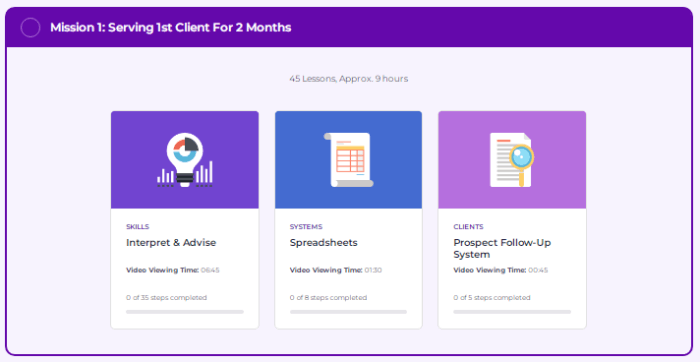 Total lessons: 45 lessons 
Total time: 9 hours
Interpret & Advice (35 lessons): You will learn how to interpret and advise clients to become a trusted advisor. The lessons will allow you to be perceived as a bookkeeping professional rather than just another bookkeeper.
Spreadsheets (8 lessons): You will learn how to work with spreadsheets such as Microsoft Excel and Google Sheets. By the end, you will understand how to use them correctly to benefit your business and your clients.  
Prospect Follow-Up System (5 lessons): Learn how to track, prioritize, and follow up with clients using a simple yet effective system.
2. Mission 2: Serving 3+ Clients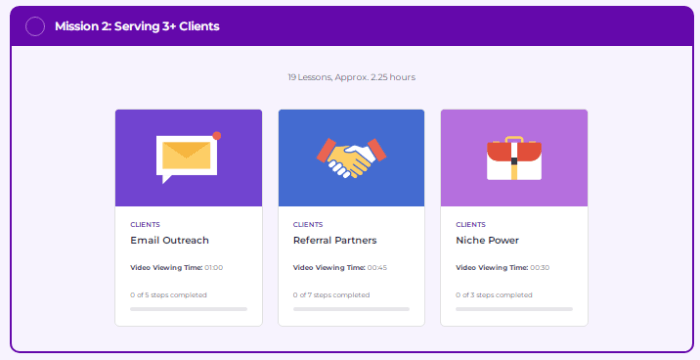 Total lessons: 19 lessons 
Total time: 2.25 hours
Email Outreach (5 lessons): Are you curious about email outreach? Don't worry – they've got you covered! With these tips and easy steps, you can write effective emails and take action on them. Get ready to learn how to craft emails that get results!
Referral Partners (7 lessons): If you want to maximize your success with referral partners, this section is for you. Here, you'll learn what referral partners are, where to find them, and how to build strong relationships. With the information in this section, you can begin leveraging referral partnerships to unlock your potential and drive success.
Niche Power (3 lessons): It's essential to know what you want for your future and that's why finding your niche is so important. For some ideas, Ben has put together his top ten niches that could potentially bring success. Have a look at them and get inspired!
How Long Does it Take To Complete Bookkeeper Launch?
The Bookkeeper Launch course is pretty cool because you can take it at your own speed. It can take approximately 58 hours to complete, so if you stay committed, you can finish it within 90 days.
It's great because there's no rush, allowing you to delve into learning without feeling pressured.
Do Bookkeeper Launch Provide Free Classes?
Yes! The Bookkeeper Launch program has free classes to help you out.
They have a free three-video series that gives you a little peek into why a bookkeeping business is a great idea. The videos also cover common mistakes in starting a bookkeeping business.
Consider signing up for their free classes to know more information and boost your confidence in becoming a bookkeeper.
My review? I'd say give it a shot! It's free and you might learn something to ease the fear of starting a business. Learning new things that can lead to success is always enjoyable, isn't it?
CLICK HERE TO JOIN THE FREE MASTERCLASS
---
Pricing:
How Much Does Bookkeeper Launch Cost?
There are three plans available, each with two payment options: one-time payment or 12 monthly installments.
If you opt for the one-time payment, you'll only need to pay once, but if you choose the 12 monthly installments, you'll have to make regular payments for 12 months.
Here are the plans they offer:
1. Bookkeeper Launch Pro
One installment: $2,499 (save $489).
12 installments: $249 per month
2. Bookkeeper Launch Premium
One installment: $2,999 (save $589).
12 installments: $299 per month
3. Bookkeeper Launch Team
What's The Difference Between Pro, Premium, And Team Plan?
The pro plan includes the following things:
The entire Bookkeeper Launch system.
Two Bonuses
Resource Library access to download templates and checklists.
Access to an exclusive members-only community.
Unlimited access and updates.
In comparison to the pro plan, the premium plan provides the following things:
All the pro plan benefits.
Access to unlimited open mic sessions.
8 group coaching sessions.
Fastest path to success.
Accountability
Led by Ben Robinson
Finally, the team plan provides the following things.
All the premium plan benefits.
Access to the exclusive "Elite" community of bookkeeping entrepreneurs.
2 knowledge licenses for your team members (Bookkeeper Launch Skills).
Access to the Marketing Machine.
Outstanding Processes & People (OPP)
Consider starting with the monthly Pro plan at $249/month to test the waters. It's definitely worth it!
If you're satisfied with the course, continue with 11 more payments. Alternatively, choose the one-time payment to save money.
I know it sounds risky to pay such a big amount without knowing whether the course is good or not.
But don't worry, if you're unhappy, they offer a generous refund, showing their confidence in the course.
What is The Bookkeeper Launch's Refund Policy?
Bookkeeper Launch provides a 30-day refund policy, which allows you to request a 100% refund within 30 days of the purchase date. NO QUESTIONS ASKED!
Please keep in mind that there are no refunds if you upgrade from Bookkeeper Launch Pro to Bookkeeper Launch Premier. 
There is also no refund if you decide to upgrade to other Bookkeeper Launch courses such as Bookkeeper Lab, Bookkeeper Elite, Outstanding Processes & People (OPP), and so on.
---
Students Review
Based on my extensive Reddit research, the majority of Bookkeeper Launch course takers expressed great satisfaction, even those who enrolled years ago.
Most found the course highly helpful and had a positive experience. While a few had minor concerns, it's expected to have some diverse opinions.
Overall, the course garnered significant praise, indicating that numerous individuals benefited and enjoyed their learning journey.
Here are a few Reddit comments.
Reddit Comment 1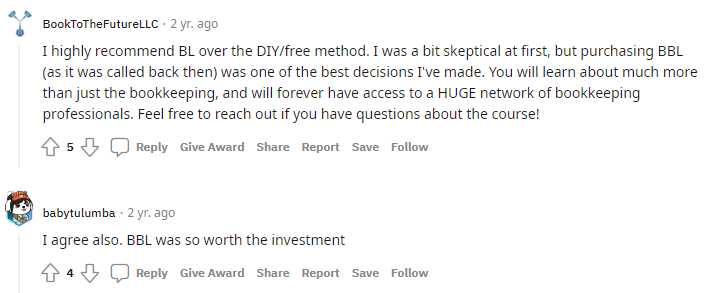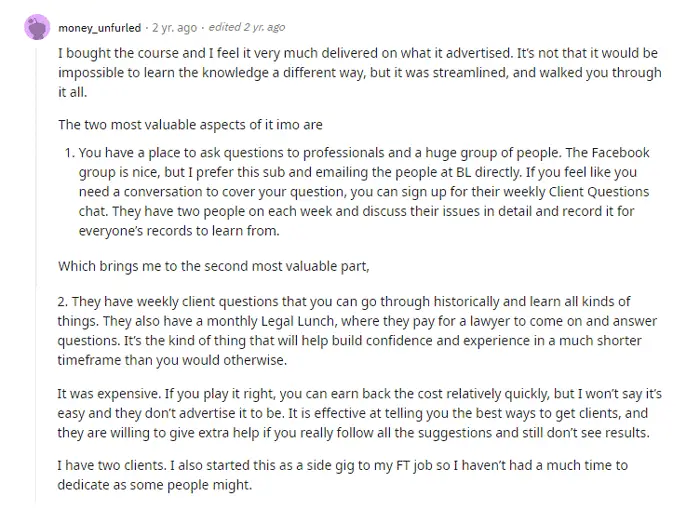 ---
Is Bookkeeper Launch Worth Your Time?
Absolutely yes!
You see, it's a course that's been recognized and given a big thumbs up by a bunch of important folks. It's been talked about in big magazines and websites like INC, Entrepreneur, Lifehack, and Woman's World.
But it's not just about the badges and stars. What's cool is that this course helps you build a bookkeeping business from scratch. It's suitable for beginners and those with some experience. You'll discover new things regardless of your background.
But remember, this isn't magic.You must work hard and be patient. Results may take months to show.
So, if you're ready to put in some elbow grease and be patient, then I would say go for it! You can even get a sneak peek by trying out their free workshop. The rest, my friend, is up to you.
CLICK HERE TO JOIN THE FREE WORKSHOP
CHECK OUT BOOKKEEPER LAUNCH PROGRAM
Read Next:
Pin it For Later: