When you click the links and ads on this blog, it helps me to pay the bills & keep this site free for you. Thanks for supporting me! For more info, read the Disclosure page.
Because the accounting industry is growing faster than any other, there are many job opportunities for bookkeepers today. Some are even starting their own virtual bookkeeping business to supplement their income.
If you are a beginner or experienced bookkeeper looking to provide your services to businesses, this post will introduce you to ten companies/sites where you can find remote bookkeeping jobs.
I've divided them into two categories for your convenience: no experience and experience. As a result, you can scroll through the sections that are relevant to your needs.
By the way, you can also check out my "How to become a virtual bookkeeper" guide to learn the right steps.
Online/Remote Bookkeeping Jobs With No Experience Or Certification Required
Despite the fact that most companies require certification or experience, there are a few places where you can look for bookkeeping jobs as a beginner.
It will be difficult to get your first client. However, once you have one, it will be relatively easy to get more clients.
So, what are the places I'm referring to? Here they are.
Upwork is a freelance marketplace where clients post job openings and freelancers apply. As a result, it is an excellent place to look for bookkeeping jobs, whether you have experience or not.
When you first start out, fill out your profile completely because clients will look at it before contacting you. It doesn't matter if it's done. If your profile description isn't interesting, you might lose a customer.
So, if you want to learn how to work around Upwork in order to get clients, you can check out this Udemy course.
Now, to find bookkeeping jobs, you can use their search bar. Choose a job that piques your interest and submit a proposal.
Due to the fact that Fiverr is an excellent site for finding low-cost freelance services, clients are not too bothered about the experience.
Their only concern is whether the freelancer received positive feedback from customers and a high star rating. If you can provide excellent bookkeeping services to your clients, you'll be hired.
As a result, make sure you have a compelling profile that piques the interest of your clients. As a way to get clients, you should first offer your bookkeeping services at a low price.
After you've served a few clients, you can gradually raise your rate to earn more money.
FlexJobs is the most popular website for finding remote and work-from-home jobs, including bookkeeping jobs.
You can look for work as a paid bookkeeper by paying a $15 monthly membership fee. Even though you need to invest a few bucks here, it is definitely worth your time.
That's because if you get a job opportunity within 30 days of joining, your investment will be well worth it. However, if you're not satisfied with the leads, you can get a full refund within 30 days of purchase.
LinkedIn is the internet's largest professional network, where people sign up to find jobs, connect with others, and strengthen professional relationships.
Just like on other platforms, make sure to create a profile and fill out all of your information. Then, look for clients in the bookkeeping industry and reach out to them.
If you're fortunate, some businesses may also contact you if your portfolio appeals to them.
Companies That Hire For Remote Bookkeeping Jobs And Require Experience Or Certification
They specialize in bookkeeping and serve clients throughout British Columbia and Alberta.
If you enjoy having a flexible schedule and are okay with working 30 hours per week, you will enjoy working for this company.
For this job, you need to have the following requirements.
Experience with payroll, GST & WCB.
Two plus years of client and customer relations experience in a professional service environment.
Fluency with Google Apps, Asana, MS Office, and knowledge of QuickBooks.
Experience with hubdoc, receipt bank, zapier, Jane app, knowify, and touchbistro is a bonus.
Great organizational skills and attention to detail and much more.
Your job duties will include the following:
Preparation of monthly bookkeeping.
Payroll
Keeping managers and other team members informed,
Complete additional ad-hoc duties or assignments & much more.
As a trainee, you will earn between $16 and $18 per hour, with the potential to earn up to $27.50 per hour as a certified professional.
You can apply for the job by sending your professional resume and cover letter to hiring@day2daybooks.com with the subject line "Senior Bookkeeper." 
The cover letter should include how you meet the required qualifications as well as compensation expectations.
Empowered Profit provides clients with bookkeeping, CFO support, and tax strategy consulting services. The company is based in the US and was founded by Amy Bradbury, a female entrepreneur.
Empowered Profit is looking for a part-time, USA-Based, Virtual, Work from Your Home Office Bookkeeper who understands online marketing, loves communicating with people, and is a numbers whiz.
This position will start out as part-time, but if you help the company to grow, it could become full-time within the next year.
To apply, you must have.
Two plus years of experience with Bookkeeping for small businesses.
Held a role that involved internal or external customer support.
A sense of humor, and much more.
Additionally, you have a better chance of selection if you have.
Payroll experience.
Experience using online tools like Slack, Asana, Google Drive, and Zoom.
Experience managing reporting from online shopping cart systems like Stripe, Infusionsoft, SamCart, Convertkit, etc.
Your job duties include:
Updating clients' QuickBooks accounts.
Make projection reports for your clients.
Complete the month-end close process, along with many other responsibilities.
While I was making this video, there is no open position available as of now. However, they do open positions at various times throughout the year. So, make sure to bookmark this site.
ProLedge Bookkeeping Services is an accounting company that serves small businesses throughout Central Texas and beyond. It provides solutions such as accounts payable, receivable, sales tax tracking, and other services.
They are currently looking for senior bookkeepers and staff bookkeepers for their offices in Austin, Dallas, and Houston.
You can make around $28 to $32 per hour as a Senior Bookkeeper and $20 to $24 per hour as a Staff bookkeeper.
The requirement for the Senior Bookkeeper includes at least 5 years of experience as a contract bookkeeper and they must have their own clients, as well as extensive experience working with QuickBooks. Also, being a Certified ProAdvisor is a bonus.
Other requirements include a setup to work from home, willing to drive to clients around the city metro on an as-needed basis. You'd be paid for travel time.
For Staff Bookkeeper, they must have at least one year of experience as a contract bookkeeper and they must have their own clients. The other requirements are the same as Senior Bookkeepers.
Please keep in mind that the hiring process includes an interview, a background check, and training. They are also interested in hiring certified QuickBooks Pro Advisor bookkeepers.
You can get all the information by visiting their career page.
They provide businesses and clients with bookkeeping and CFO services. As a result, they are constantly on the lookout for bookkeepers with four or more years of experience.
Your job as a bookkeeper will be remote and flexible. You will be working with an accounting coordinator and a team lead for each client.
Your responsibilities will include daily bookkeeping and coordinating with the Accounting Coordinator. You can read about all of the responsibilities by clicking here.
It is an accounting and bookkeeping service company that is based in the United States. They offer a variety of virtual jobs to Americans.
The majority of job listings are for accountants, but bookkeeping jobs are sometimes available.
If you can't find any bookkeeping jobs, you can still apply using their general application and they will contact you when a position becomes available.
Their working hours are 8 a.m. to 5 p.m., Monday through Friday.
1-800 Accountant is a virtual accounting firm run by certified accountants that provide bookkeeping, payroll, tax preparation, accounting services, and business assistance services.
They provide job opportunities in America as well as remotely. The majority of the company's positions are on-site, but there are occasional remote bookkeeping positions. 
Enroll in The Free Bookkeeping Workshop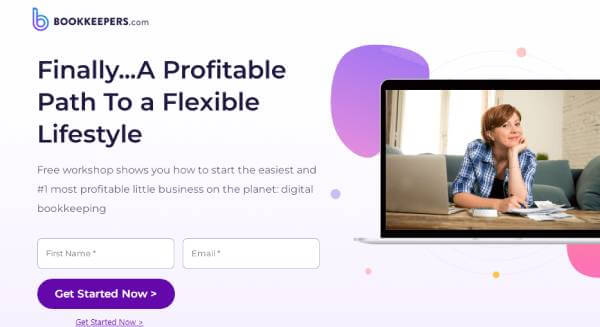 Do you want to advance in your bookkeeping career, earn more money, and start your own virtual business?
Check out Bookkeepers Launch's free Discovery Series to see if you have the right personality and potential to start your own virtual business. Also, understand how much money you can make and how long it will take you.
This workshop will provide answers to all of your questions.
>>CLICK HERE TO ENROLL IN THE FREE WORKSHOP<<
Read Next:
Pin it For Later: