Nowadays, many people are either bored or frustrated with their 9-5 job because they are striving to have an independent life with less stress and enough time to spend with their family & kids.
Though, thinking of something different from the 9-5 job in earlier days was like playing with your career. But due to the rise of the internet, today everything is possible.
With the Internet, you can make a good living with just a laptop & internet. Yes, the Internet has given us a lot of different opportunities to start our very own online business.
Though some of the online business need some initial investment, there are many business models which you can start without any investment.
If you aren't aware of such businesses, then don't forget to read this article till the end. I will be sharing 7 online businesses that you can start right from today itself.
Wanna Make Some Extra Cash in your free time? Then simply sign-up & start using these programs!
1. Swagbucks (Earning potential – $90/month or more. Sign up and get $5 once you've earned 2500 SBs)
2. PrizeRebel (US) (Earning Potential – $50-$100/month)
3. Vindale Research (US) (Earn $1-$5 per survey)
4. Slidejoy (Earning Potential: $3-$10/month or more. Just activate it on your Android smartphone screen lock)
BUSINESS IDEAS WITHOUT INVESTMENT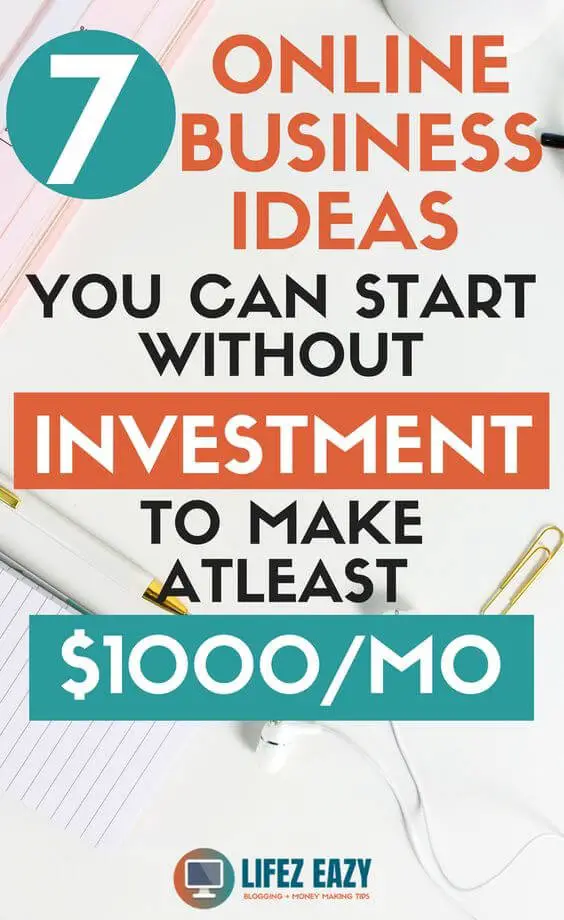 1. FREELANCE WRITING
If you are good at writing or have the writing skills to write engaging contents, then be thankful because you have one of the best skill that can help you to make lots of money online.
In today's generation, lots & lots of website, books, editorial are emerging on a daily basis which requires a lot of quality content writing. Now, most of the business owners don't have enough time to carry out these writing tasks.
Also, they might not be good writers themselves to fulfill such tasks. The easy thing they can do is to hire good writers who can write for them in exchange for money.
Let me tell you, many professional writers are making thousands of dollars every month just by doing this. If you think you are a good writer or have done some writing projects earlier, then why not start using this skill to make money online.
Now, you don't require any money to start this freelancing writing business. There are many websites available online from where you can promote your writing skill to grab good opportunities.
Following are some of the websites from where writers are grabbing different content writing projects:
2. LAUNCH AN ONLINE VIDEO COURSE
If you are good at something & want to teach others the same, then what's better than to create a video course. Yes, there are many people who are making lots of money just by selling such video courses.
Though it takes a lot of work to create one but they surely pay well for a long time. All you need to do is figure out what subject you are good at & are people really interested in it?
If you think it is worth it, then create video tutorials explaining the same. You can divide the whole subject into different section videos. For this, you can use a screen recorder & a good video editor software such as Vegas Pro.
After you have created the same. just promote it within your blog or other websites. If you own a blog then you can create landing pages to attract visitors.
If you don't have a blog, then there are many websites where you can upload them and sell them for money. Here are few of them:
3. VIRTUAL ASSISTANT
Many big online businesses have to manage a lot of different tasks to keep running their business smoothly.
Though they can't manage all the task by themselves, they hire different people known as Virtual Assistant who handles these task for money. The work of these Virtual assistants is to carry out the following task:
Social media promotion

E-mail promotion

Blog posting etc
By doing so, they are paid on a weekly or monthly basis.
So, if you are good at these things, then you can create a portfolio mentioning your skill and promote it on Social media.
If you can create a small website where you can showcase your achievement then it further increases your chances to get hired.
Moreover, you can promote your portfolio on Upwork, Freelancer websites as well.
4. CREATE E-BOOK & SELL THEM
It is similar to selling video courses but the only difference here is that you need to create e-book instead of videos. If I compare both of them, then e-book creation is a lot easier if you are not good at making videos.
All you need to do is write an e-book on whichever topic you like. Whether it is a novel, marketing guide, storybook, you are free to write anything.
After creating such books, you can sell them either through your blog (e-book must be related to your blog niche), Amazon or through your YouTube channel (e-book must be related to your YouTube channel niche).
I know people who sold more than 1600 copies through their YouTube channel, blog and made more than $10k. It is still paying them well.
Do remember, it takes only a few weeks of work to create such e-books, but it pays forever. One of my friends made a simple e-book on Affiliate Marketing (beginner level) and sold it through his YouTube channel for just $4.
Today he has sold it over 2000 copies and made more than $8000. It is still selling well. Literally, he didn't even invested a single penny but only a few hours of work and look, its money on autopilot.
5. SEO CONSULTING
SEO is a million dollar business and it has a great demand among different online businesses. Basically, SEO consultant optimizes websites to make it more search engine friendly so that it can receive Google traffic
If you don't know, search engine traffic is the most engaging & profitable traffic which accounts for more sales, e-mail sign-ups & money.
So, if you know all the tricks & trade of SEO, then you can surely provide such services to online business owners. SEO Consulting business pays well and you can literally make thousands of dollars per month.
Learning SEO is not tough though. You need at least 4-6 months to learn enough SEO to offer services to others. 
So, if you are really interested in starting such a business, then you can read my beginner level search engine optimization guide to get started.
If you are serious about opening an SEO consulting business, then I prefer you to take free courses on Skillshare.
With just a sign-up, you can access Skillshare for 2 months for free. Which means you can take any number of courses within that 2 months.
6. AFFILIATE MARKETING
This is one of the easiest business you could start without even spending a penny. For those of you who don't know what affiliate marketing is, it is a way to earn money by selling others product. For each sale you make, you will get some commission.
Starting an affiliate marketing business can be free or may take some initial investment. If I talk about investment, then you need to create a niche based website which will cost some bucks. Here you can sell your products by promoting them through your contents.
If I talk about a free method, then you can create a niche-based YouTube channel where you can promote your affiliate product. But before that, make sure that your videos are getting enough views from YouTube.
If you want to learn how to start Affiliate marketing, then check out my newbie Affiliate marketing guide.
7. START A YOUTUBE CHANNEL
This is the easiest business you can start. Many people are only aware of making money from YouTube through ads. But there are many other ways you can use YouTube to get paid well.
Be sure, to grow your channel well dealing with a specific niche so that you can start making money from your videos.
If you don't know how to start a channel, then be sure to check out my beginner guide to create a mindblowing channel on YouTube.
When you have created your channel, I would suggest making videos on popular topics in whatever niche you are in. As your subscribers & views grow with your videos, you can monetize your channel with Google Adsense.
Along with that you can side-by-side suggest different affiliate products in your video's & description as well which will make an additional income.
There will be also a time when you will start getting sponsored videos opportunities that can include more money in your pocket.
You can see there are many ways to make money from your YouTube channel without any investment. So give it a try.

FINAL NOTE
These are 7 businesses which you can start without any investment. Though, initially, you won't see much result as nothing is easy in this world.
The only thing which can assure you success is hard & smart work. Keep on educating yourself about whatever business you choose.
That will surely guarantee you success. If you liked this article, then don't forget to share it. Cheers.