This post contains affiliate links. For more info, you can read my
Disclosure
page.
Are you looking for Website Testing jobs to make some extra money in your free time?
If you are? Then you can find a list of 10 Website testing platforms that are hiring testers around the world.
If you're good at reviewing sites & can express your thoughts with confidence, then this job will be a perfect side hustle for you.
Moreover, you can make $5-$10 per test or even more just for expressing your views.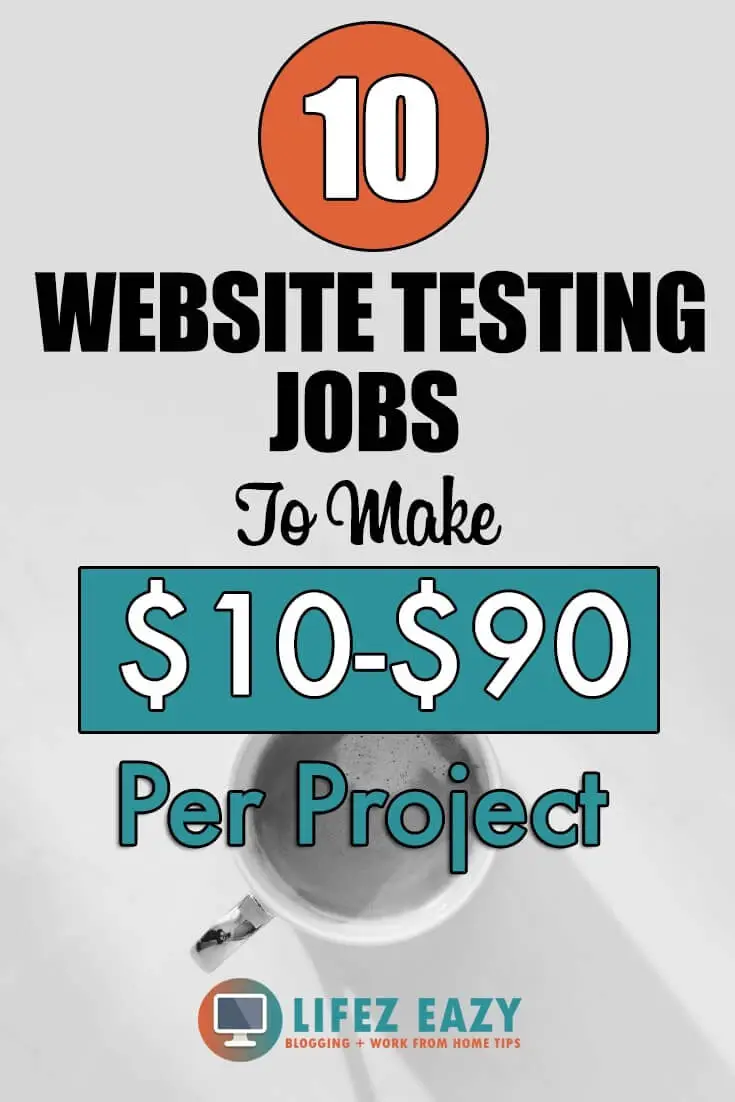 What Is Website Testing?
As the name suggests, Website testing is a procedure where you need to test a website or web application in terms of functionality, usability, interface, compatibility, performance or security wise.
Basically, customers want to know how user-friendly their website is.
So, to find out, they look for website testers via website testing platforms to help them out through market research.
With the help of outputs given by website tester, they try to improve their website or web application to offer better user experience.
Read More:
>15 Companies offering Proofreading jobs to make $45 per hour
>Start making money by watching videos online
>8 legitimate Survey sites that pay real money
What Does a Website Tester Do?
A website tester's job is to visit the website or web application that assigned to him/her & share their experience to give detailed feedback about likes and dislikes.
They can also give suggestions about what they can improve to make it more user-friendly.
If a customer has assigned some specific tasks, then the tester has to follow that.
What Are The Requirements For Online Website Testing Job?
Most of the website testing platforms have the following requirements:
Fast Internet connection
A microphone (you can find cheaper microphones on Amazon. Here is one)
Webcam ( Check out this one)
Screen Recorder (Most of the platforms provide screen recorder software. You just need to download them)
Skype (Not necessary, but few platforms need you to have a video conference with the customers)
You should speak fluent English (Some websites will accept your native language as well)
Most importantly, you must have confidence when you're speaking out your thoughts
How Much Do Website Testers Get Paid?
A website tester can make at least $5-$10 per test on an average. However, there is some website like Userlytics that can pay up to $90 per project.
What Is The Duration Of Website Testing?
Most of the website testing duration is up to 20 minutes. However, there are a few platforms where it can extend over 20 minutes.
How Long Will It Take To Receive Payment?
Usually, you'll receive a payment within one week after completion of work. However, there are some websites which pay on a monthly basis.
Payments are done via PayPal or bank transfer. Some of them also offer Amazon gift cards.
Make some extra cash just by Testing Websites. Find out how?
Click To Tweet
10 Online Best Website Testing Jobs From Home
1. User Testing
User testing is the most popular website testing platform on the internet. They offer user interface design testing jobs for different websites and mobile application.
Your task will be to give your honest opinion/review about websites & mobile apps assigned to you.
How To Use User Testing?
The registration process is quite simple. All you need to do is fill up your details such as personal details, demographics.
After that, you'll get a sample job which you've to perform and submit. Once your sample job is approved, you'll start receiving testing jobs via email and you can also check new testing jobs every day posted on their website.
Payment
As a Tester, you can make $10 for each testing job you do which will require you to record a 20-minute screen recording video by answering four follow-up written questions.
You can also make $60 for a live video conference call with a customer at a scheduled date and time.
Payments are done daily for tests completed seven days earlier.
2. UserTest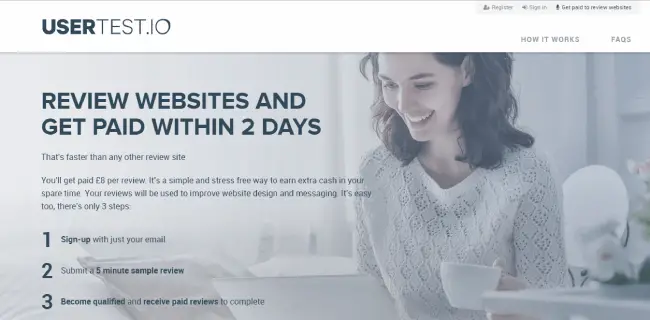 UserTest is a website review site where you get paid to review websites. Being a member, you must review sites by explaining your experience such as likes or dislikes while browsing the site.
You can also suggest improvements to improve the user experience.
How To Use UserTest?
To register, you need to enter your email address & then fill up all your details.
After that, you need to submit a 5-minute sample review using a screen recorder where you will complete a series of activities which will be checked by the UserTest officials.
Once done, submit it and wait for 2 weeks to know whether you're hired.
Payment
For each review you do, you'll get paid £8 ($10.40) within 2 days of completion of the job. The mode of payment is PayPal.
3. Userlytics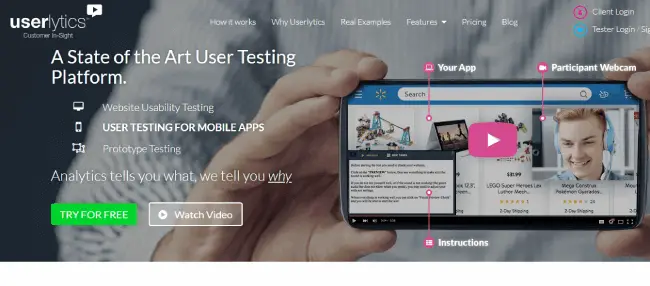 Userlytics is a remote user testing platform where customers can do website usability testing, Prototype testing & Mobile apps user testing.
Many big companies have worked with Userlytics such as Google, NFL, Dunkin Donuts, American Airlines, BCG.
How To Use Userlytics?
You need to enter your email address to receive a confirmation mail with a link.
Once you click it, they will redirect you to Userlytics where you need to fill up your profile details.
When you've completed it, you will automatically move to your Userlytics dashboard.
Now, to receive a test invitation, you need to completely fill up your profile so that the Userlytics can suggest the right projects for you.
Once you receive a project, you can speak your thoughts and opinion along with answering a few questions.
If they like your opinion, you'll get paid.
Payment
Here, you can make $5, $10, $15, $20 or more depending on the test project you take.
According to this site, some of their projects also pay up to $90 just for expressing your opinion while navigating the web.
4. Whatusersdo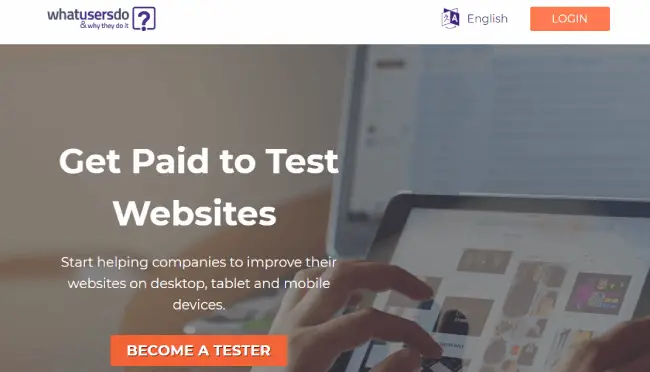 Whatusersdo is another great testing job site that pays extra money to work from home.
Here, you'll get paid for giving feedback about websites which helps companies to improve their websites on desktop, tablet & mobile devices.
They also offer quarterly competitions and offers.
How To Use Whatusersdo?
The procedure is pretty simple. You need to sign up and then take a practice test using a screen recorder.
If you pass the test, you'll get hired.
Once you're hired, you'll get emails related to the available testing jobs which you can take to make money online.
Payment
You will get paid £/$/€5 per test via PayPal on the 25th of each month.
You will also receive 3-5 tests per month and you can even make more money if your performance is good.
This means good performance can give you more testing jobs per month.
5. Analysia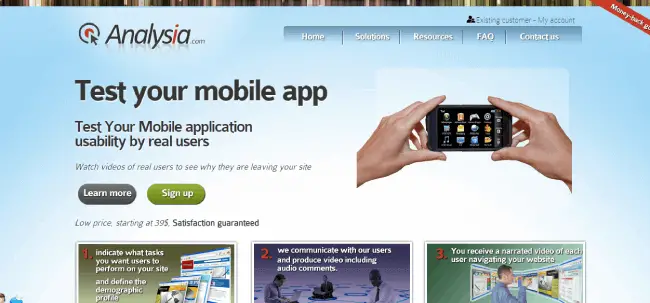 Analysia is a usability testing website where different websites are tested based on user experience.
As a member, they will ask you to share your website experience either on a desktop, Android, iPhone, Blackberry or iPad (depending on what you have).
For each successful feedback, you'll get paid.
How To Use Analysia?
If you want to join Analysia, then there is good news. You don't have to give any test to qualify for this site.
Unlike other websites where there is a possibility of getting rejected if you fail their practice test, here, you don't have to worry about it.
All you need to do is simply register with the website and start taking testing jobs via email.
Website Testing usually takes 10-15 minutes where your audio and screen will get recorded via screen recorder.
You can expect a few a test per month. However, it also depends on your profile because some test requires a specific profile.
So, if you are lucky, you can expect more test every month if your profile matches with their requirement.
Payment
You'll get paid $10 for each test you complete. All the payment are done via PayPal.
6. uTest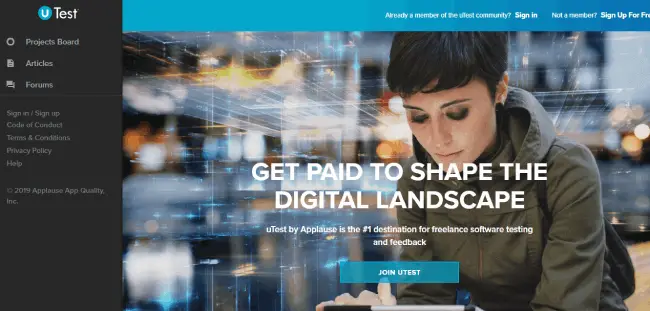 uTest is an Applause network website for website & app testing.
Various companies use this website to test their website and app to find flaws and how can they improve it for better user experience.
How To Use Utest?
The registration is same just like I discussed in other websites.
You need to enter your email address to sign-up and then enter your personal details, devices which you will use for testing, years of experience, expertise, skills, etc.
After submitting all the details, you need to give an audition test where you need to show your skills.
If you pass the test, they will hire you to take paid projects.
You can always find ongoing projects/jobs in the project board section.
Payment
uTest doesn't allow its user to share their payment. It is against their policy. However, it doesn't mean that the website is not worth your time.
Because of their strict policy, it shows that the website is more authentic and pays well.
7. Userfeel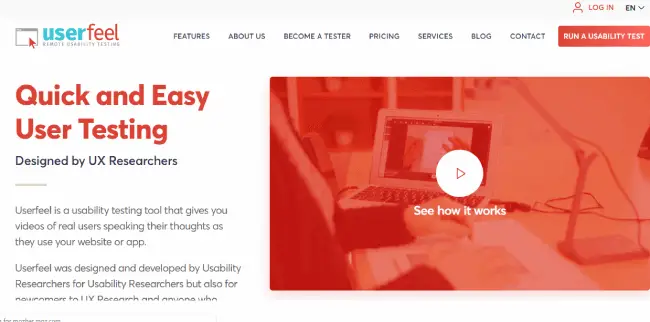 Userfeel is a remote usability testing website where you are given a scenario to perform certain tasks.
For example, they may ask you to find a specific product from an online store and then you need to go through the checkout process.
Such activities give a general idea to the customer about the user experience on their website.
How To Use Userfeel?
The best part of Userfeel is that you can review websites in your own native language as there is no language barrier.
The test will be sent to you based on the language that you have set while signing up.
While registration, you must give a qualification test to check whether you have a good microphone and are you good in sharing your thoughts while completing tasks.
Once you're accepted, you can take paid website testing jobs. But, before taking such tests, they may ask you to take one or more screener question to see whether you're a good fit.
Payment
For each test you perform, you'll get paid $10 via Paypal or Amazon Gift cards.
You will receive your payment after they approve your review which takes about one week after the test.
8. TrymyUI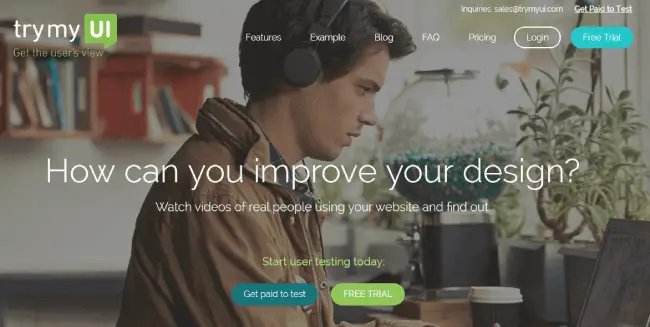 TryMyUI is a remote usability testing website which pays you for your honest feedback related to your experience with websites and apps.
It basically aimed for letting designers and coders see the obstacles in their website or app that real people run into.
How To Use Trymyui?
The process starts with registration. You need to use your PayPal email address while signing up.
After filling up all the details, you need to take an eligibility test. Once you pass the test, you will start receiving emails as notification for the available website testing jobs which are based on your demographics.
Here, the jobs are based on a first come first served basis. So, make sure you are quite active in checking your emails.
You can do testing by recording your screen along with your voice narration. Plus, you also need to fill out a written questionnaire.
Payments
You will get paid $10 per test (20-minutes long) if it's accepted by the customer. Payments are done on every Friday via PayPal.
9. Testing Time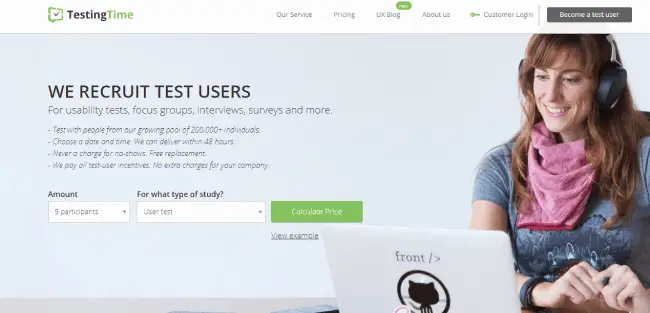 TestingTime is a Swiss start-up which recruits test users for user and market research.
They offer both remote testing & on-site testing with clients. With Testing time, you get to test future digital products such as apps & websites.
How To Use Testing Time?
First, you need to register yourself with this platform by filling up your profile details.
Make sure you fill all your details correctly because based on this information, you'll get testing jobs that perfectly matches your profile.
Once all the registration process is over, you will start getting website testing jobs via email if available.
Please note that these testing jobs are based on the first come first served basis. So, you need to make sure you keep an eye on your emails.
While taking the project, you must answer a few questions and then you can schedule the date & time for performing your test.
At the agreed date & time, you'll take part in a guided usability test either with the client in person or via Skype.
Payment
With Testing time, you can make up to €50 per test depending on the length of the session.
You'll get paid within 5-10 days via PayPal or Bank transfer.
10. StartUpLift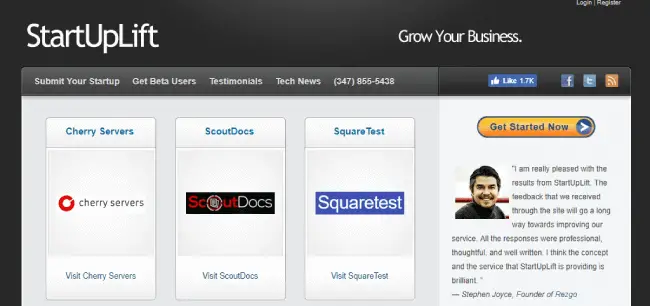 Startuplift is where the customers can submit their website to analyze certain tasks done by its users.
The users who are performing these tasks will get paid if customer approves their work.
How To Use StartUpLift?
First, you need to register with this website.
Once registered, they will assign you a website testing job where you need to visit the website and then complete assigned tasks along with sharing your thoughts and provide insightful written responses as feedback.
If the customer likes your feedback, you'll get paid.
Payment
For each feedback accepted by the customer, you'll get paid $5 via PayPal. The payments are done every week on Monday.
Ending Note…
So, these are my 10 recommended online website testing jobs from home. If you are someone who is looking for side hustles that can add some extra money on a monthly basis, then these testing jobs will be a good choice.
Make sure that while you are giving feedback about a website or app, you must be quite confident about your thoughts and always try to give an honest opinion.
To make more cash, ensure that you're registered with every website so you have better chances to take more testing jobs each month.
That's it! If you like this post, then please show some love by sharing & pinning it.
Cheers.