When you click the links and ads on this blog, it helps me to pay the bills & keep this site free for you. Thanks for supporting me! For more info, read the Disclosure page.
Hey there! Do you love browsing the web and providing your honest feedback? Well, there is a good news for you! You can actually get paid for testing websites – how cool is that?
It's an easy way to earn some extra money while doing something you genuinely enjoy. 
In this article, I will discuss what this job is all about. We'll go over why you should consider this job, the benefits as well as the best websites to find these jobs.
So, you won't want to miss out on this opportunity to get paid for testing websites.
The Benefits of Getting Paid for Testing Websites
Flexible working hours: You get more flexibility to work anytime from anywhere. You also get to choose your working hours, which gives you time. to pay attention to other commitments like studying, a job, or giving time to your loved ones.
Financial rewards: If you love getting extra money for spending a couple of minutes testing websites, then website testing jobs are surely a financial reward job.
Variety of websites: You'll have the opportunity to work on different websites, from small to large. This is a great way to get experience working with different websites and users.
Learning experience: You will learn how different websites work, how users interact with them, and what impact can happen if the website isn't designed well.
Fun experience: Website testing can be an enjoyable and fulfilling experience for users. You can try out new technologies and assist website owners in enhancing their products. You may feel a sense of accomplishment when your suggestions are considered.
What Is Website Testing? 
A. What Is Involved in Website Testing? 
Website testing includes checking the site's functionality, compatibility, usability, security, and load time. 
It includes manually entering data, performing transactions, and verifying that the website is responding correctly. 
You may also perform cross-browser tests, use automated tools, and conduct user surveys.
B. What Does a Website Tester Do?
A website tester's job is to check the website or web application and share their experience regarding their likes and dislikes.
They suggest what the client can improve and what steps they can take to make it more user-friendly.
If the client has assigned some specific tasks, then the tester has to follow those as well.
C. What Are The Requirements For An Online Website Testing Job?
Most of the website testing platforms have the following requirements:
Fast Internet connection
A desktop or laptop with Windows 7 or a newer version.
A microphone (You can find cheaper microphones on Amazon. Here is one)
Webcam (check out this one)
Screen Recorder: (Most of the platforms provide screen recorder software. You just need to download them)
Skype (not necessary, but few platforms need you to have a video conference with the customers)
You should speak fluent English (some websites will accept your native language as well).
Most importantly, you must express your thoughts with confidence.
D. What Kinds of Tasks Must You Complete When Testing Websites? 
Depending on the client's requirements, the tasks can vary. However, here are some common tasks you may need to complete:
Verifying that all links on the page are working correctly
Checking that the page displays correctly across different devices and browsers.
Making sure that the page loads quickly and efficiently.
Testing the site's usability and user experience
Ensuring that the site is secure and free from any potential vulnerabilities.
Checking for any potential bugs and errors.
Verifying that all forms and inputs are working properly
Testing the site's responsiveness and performance.
Testing the site's compatibility with third-party applications.
Checking for any potential accessibility issues.
E. How Much Does a Website Tester Get Paid?
The average pay for a website tester is around $5–$10 per test, but there are opportunities to earn more with certain companies like Userlytics. 
Some testers have reported earning up to $90 per project with Userlytics. So, website testing jobs won't make you richer, but they can be used to make extra money in your free time.
How Can You Get Paid for Testing Websites? 
A. Join a Website Testing Platform
Many online companies offer website testing jobs that you can do on your own time and at your own pace. Here are some legit companies that you can join.
1. User Testing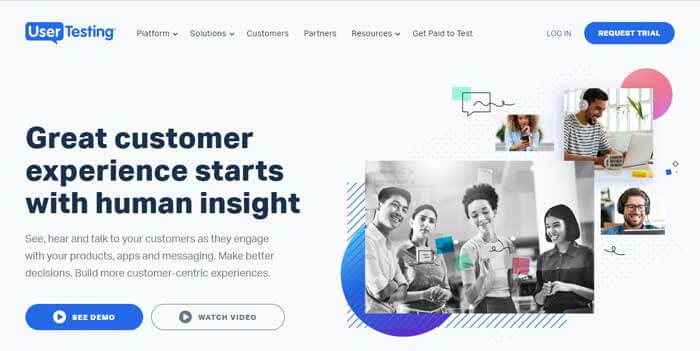 User testing is the most popular website testing platform on the internet. They offer user interface design testing jobs for different websites and mobile applications.
Your task is to give your honest opinion or review about the websites and mobile apps assigned to you.
How to Use User Testing
The registration process is quite simple; you need to fill out your personal and demographic details.
After that, you'll get a sample testing job that you have to perform and submit. Once your sample job is approved, you'll start receiving testing jobs via email, or you can check them out on their website.
Testing jobs requires you to record a 20-minute screen recording video by answering four follow-up written questions. Once done, submit it and wait for the customer's approval.
If they're satisfied with your review, you get paid.
How Much Does User Testing Pay?
As a tester, you can make $10 for each testing job you complete and $60 for a live video conference call with a customer at a scheduled date and time.
They make daily payments for tests completed seven days earlier.
2. UserTest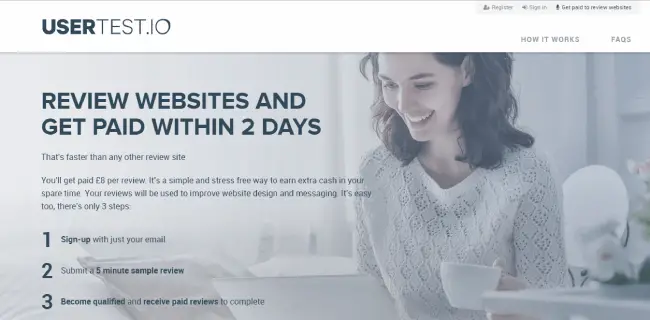 UserTest is a website review site where you get paid to review websites.
As a member, you must review sites by explaining your experience, such as your likes and dislikes while browsing the site.
You can also suggest improvements to improve the user experience.
How do I use UserTest?
To register, you need to enter your email address and fill out all your details.
After that, you need to submit a 5-minute sample review using a screen recorder, where you will complete a series of activities that will be checked by the UserTest officials.
Once done, submit it and wait for 2 weeks to know whether you're hired.
How Much Does UserTest Pay?
For each review you do, you'll get paid £8 ($10.40) within 2 days of completion of the job via PayPal.
3. Userlytics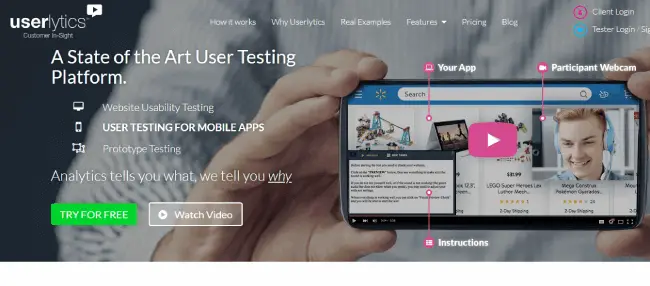 Userlytics is a remote user testing platform where clients can do website usability testing, prototype testing, and mobile app user testing.
How to Use Userlytics
You need to enter your email address to receive a confirmation email with a link.
Once you click the link, it will redirect you to Userlytics, where you need to fill out your profile details to move automatically to your Userlytics dashboard.
To receive a test invitation, you need to completely fill out your profile so it can suggest the right projects.
Once you receive a project, you need to express your thoughts and opinions about the web application, along with answering a few questions.
If they like your opinion, you'll get paid.
How much does Userlytics pay?
You can make $5, $10, $15, $20, or more depending on the test project you take.
According to this site, some of their projects also pay up to $90 just for expressing your opinion while navigating the website.
4. Whatusersdo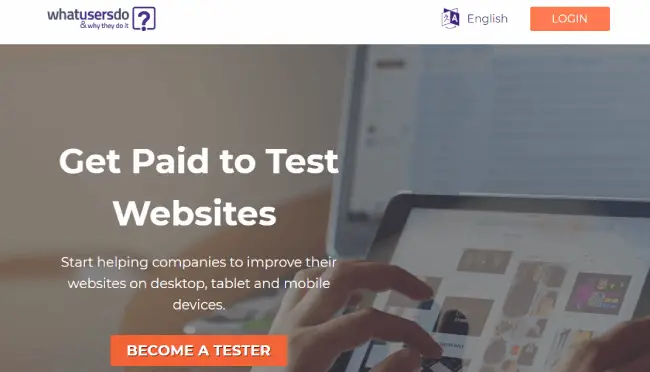 Whatusersdo is another great testing job site that pays money for giving feedback about websites that helps companies improve them on desktop, tablet, and mobile devices.
How to Use Whatusersdo?
The procedure is pretty simple. You need to sign up and take a practice test using a screen recorder.
If you pass the test, you'll get hired to take testing jobs via email to get paid.
Usually, you will receive 3-5 tests per month, and you can increase these numbers if you perform well.
Furthermore, you can take part in quarterly competitions and offers to earn more.
How Much Does WhatusersDo Pay?
You will get paid £5 per test via PayPal on the 25th of each month.
5. Analysia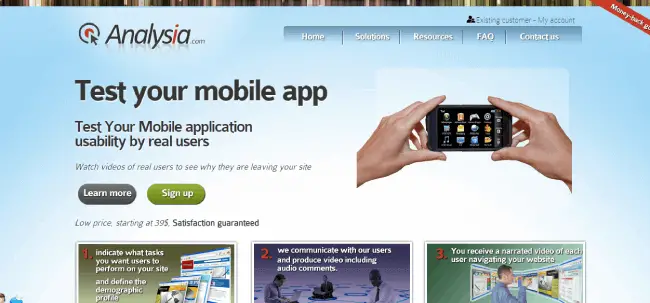 Analysia is a usability testing website where different websites are tested based on user experience.
As a member, they will ask you to share your website experience either on a desktop, Android, iPhone, Blackberry, or iPad (depending on what you have).
For each successful review, you'll get paid.
How to Use Analysia?
If you want to join Analysia, then there is good news. You don't have to give any sample tests to qualify.
Unlike other testing websites, where there is a possibility of getting rejected if you fail their sample test, here you don't have to worry about it.
All you need to do is simply register with the website and start taking testing jobs via email.
Website testing usually takes 10–15 minutes, during which your audio and screen will be recorded via screen recorder.
Talking about the testing job frequency, you can expect a few tests per month. However, it depends on your profile and demographics.
If you are lucky, you can expect more tests per month if your profile matches the requirements.
How Much Does Analysia Pay?
You'll get paid $10 via PayPal for each test you complete.
6. uTest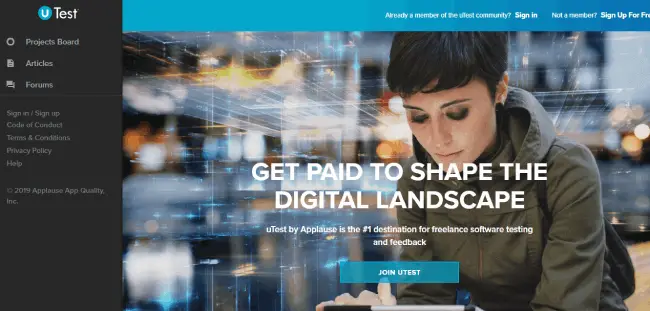 uTest is an Applause Network website for website and app testing.
Various companies use this platform to test their websites and apps to find flaws and solutions related to improving the user experience.
How to Use uTest?
The registration process is the same, just as I discussed for other websites.
You need to enter your email address to sign up, followed by your personal details, devices, years of experience, expertise, skills, etc.
After submitting all the details, you need to give an audition test where you need to show your skills.
If you pass the test, they will hire you to take on paid projects.
You can always find ongoing projects and jobs in the project board section.
How Much Does uTest Pay?
uTest doesn't allow its users to share their payments. It is against their policy. However, it doesn't mean that the website isn't worth your time.
Because of their strict policy, it shows that the website is more authentic and pays well.
7. Userfeel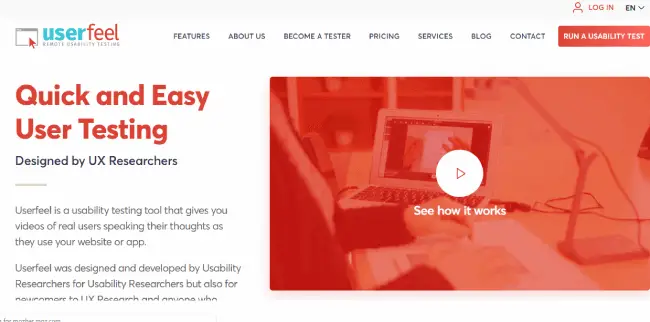 Userfeel is a remote usability testing website where you need to perform tasks based on a scenario.
For example, they may ask you to find a specific product from an online store and then go through the checkout process.
Such activities generally show how user-friendly the platforms are.
How to Use Userfeel?
The registration process involves creating a profile and taking a qualification test to check whether you have a good microphone and are good at sharing your thoughts.
Once you're selected, you can review websites in your own native language after answering one or more screener questions to see whether you're a good fit.
The test will be sent to you based on the language you selected while signing up.
How Much Does Userfeel Pay?
For each test you perform, you'll get paid $10 via Paypal or Amazon gift cards.
You will receive your payment after they approve your review, which takes about one week.
8. TrymyUI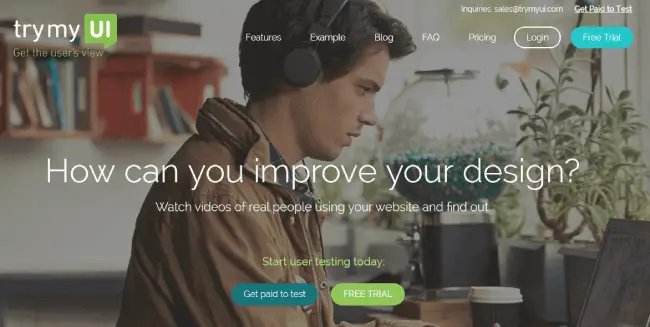 TryMyUI is a remote usability testing website that pays money for your honest feedback related to the website and app experience.
It is a great platform for designers and coders to see the obstacles in their website or app that real people run into.
How to Use TrymyUI?
The process starts with registration, where you need to use your PayPal email address while signing up.
After filling out all the details, you need to take an eligibility test. Once you pass that test, you will start receiving emails as notifications for the available website testing jobs based on your demographics.
The jobs are based on a first-come, first-served basis. So, make sure you are quite active in checking your emails.
You can test by recording your screen along with your voice narration, which also includes filling out a written questionnaire.
How Much Does TrymyUI Pay?
You will get paid $10 per test (20 minutes long) if it's accepted by the customer. Payments are made via PayPal every Friday.
9. TestingTime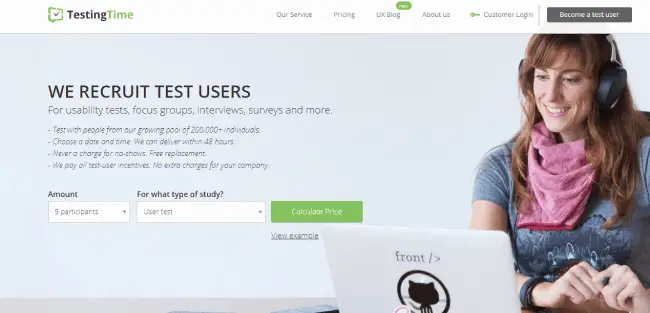 TestingTime is a Swiss start-up that recruits test users for user and market research.
They offer both remote and on-site testing for clients, and as a tester, you get to test future digital products such as apps and websites.
How to Use TestingTime?
You need to register yourself with this platform by filling out your profile details.
Make sure you fill out all your details correctly, because based on this information, you'll get testing jobs that perfectly match your profile.
Once the registration process is over, you will start getting website testing jobs via email if they are available.
Please note that these testing jobs are based on a first-come, first-served basis. So, you need to make sure you keep an eye on your emails.
While taking the project, you must answer a few questions, and then you can schedule the date and time for performing your test.
At the agreed date and time, you'll take part in a guided usability test either with the client in person or via Skype.
How much TestingTime pays?
With testing time, you can make up to €50 per test, depending on the length of the session.
You'll get paid within 5–10 days via PayPal or bank transfer.
10. StartUpLift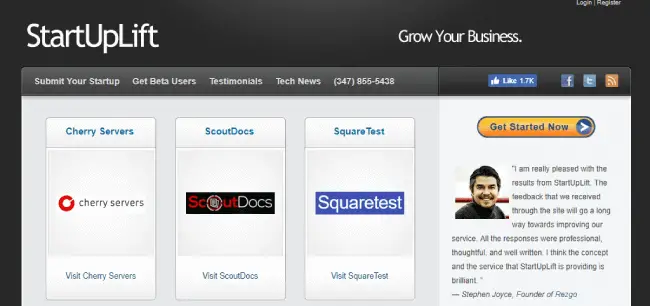 Startuplift is where customers can submit their website to analyze certain tasks done by its users.
The users who are performing these tasks will get paid if the customer approves their work.
How to Use StartUpLift?
You need to register with this website using your email address.
Once registered, they will assign you a website testing job where you need to visit the website and complete assigned tasks, share your thoughts, and provide insightful written responses as feedback.
If the customer likes your feedback, you'll get paid.
How Much Does StartUpLift Pay?
For each piece of feedback accepted by the customer, you'll get paid $5 via PayPal. The payments are done every week on Monday.
11. Testbirds
Testbirds is a website testing company founded in 2011 in Munich, Germany.
It offers different types of testing services for websites, including functional, performance, usability, and compatibility testing.
The company has a total of 25,000 testers from over 100 countries.
How to Use Testbirds?
You need to create an account, choose the type of website tester you want to be, and complete your profile.
Then, look for available jobs and apply. Testbirds will provide you with all the details on how to complete the test. Follow these instructions and submit your results.
How Much Does Testbirds Pay?
Testbirds pays its testers based on the number of tasks they have completed. Your earnings depend on the type of testing and the complexity of the task.
Generally, testers can earn anywhere from 20 euros to 15 pounds per task. There's usually a fixed amount for your test report and an additional payment for every bug or defect you find. If you find serious technical bugs, you'll earn even more!
All the payments are done via PayPal.
12. Loop11
Loop11 is an online usability testing service that helps you analyze the user experience and identify usability issues on your website.
With Loop11, you can conduct remote user tests, create user surveys, and measure customer satisfaction.
Loop11 also offers advanced analytics and reporting features to help you make data-driven decisions about your website.
How to Use Loop11?
To become a paid Loop11 tester, one must complete a 5-minute qualification test that requires access to a webcam and microphone in order to record participation. At the end of the test, basic information is requested so that Loop11 can contact applicants in the future.
How Much Does Loop11 Pay?
Loop11 claims to pay above-average wages, but I couldn't find anything mentioned on their website.
However, I found a few Reddit posts where the users said that they pay around $2.50–3.50 for a 30-minute survey, which is, to be honest, less than what other companies pay.
13. Validately
Validately is an online research platform designed to allow companies to collect feedback from their customers quickly and efficiently.
It offers a range of features, such as user testing, live interviews, surveys, and diary studies, to help companies make better decisions.
With Validately, companies can quickly gather customer insights, iterate on product designs, and optimize user experiences.
How to Use Validately?
The available jobs are based on a first-come, first-served basis. So, you must act quickly to accept it.
To begin, open the email and click on the link given.
Then, you need to use a microphone and their Chrome extension to record a video of your testing process, explain what you are doing, and give feedback. Once the test is approved by Validately, you will receive compensation.
How Much Does It Validately Pay?
Validately pays testers between $5 and $25 per test, depending on the length, with some tests paying more. Payment is made via PayPal.
B. Become a freelance website tester
You must have an understanding of how websites function as well as experience dealing with browsers and operating systems to become a freelancer. You should also be able to recognize website problems quickly.
Once you have a firm grasp of the fundamentals of website testing, you can start looking for clients. Networking with web developers is a great way to find potential clients, as is joining online marketplaces like Upwork and Freelancer.com.
You can also browse job boards like Indeed, Craigslist, and Glassdoor for website testing gigs.
Before completing the job, you need to understand the client's requirements so that you can complete the test accordingly.
Ensure you have all the required tools to complete the job before testing the website.
After completing testing, provide the client with a detailed report of issues and suggested fixes. Once the report is accepted, send an invoice for the work.
Overall, website testing can be a profitable freelance opportunity to make extra money online.
Conclusion:
Testing websites can be a lucrative way to earn money online. It offers high-paying gigs and is ideal for detail-oriented individuals with a passion for the internet.
Additionally, testing websites can provide a valuable learning opportunity about website functionality and usability.
If you possess the necessary skills and want to earn extra cash, testing websites may be the perfect solution for you.
Read More:
Pin This For Later: