When you click the links and ads on this blog, it helps me to pay the bills & keep this site free for you. Thanks for supporting me! For more info, read the Disclosure page.
The modern world has made it easier than ever to break into the exciting and rewarding career of being an editor. With the right knowledge and skills, anyone can become a successful editor; however, it can be tough to know where to start.
The Knowadays Becoming an Editor course is one of the resources available to aspiring editors, as they claim to provide valuable insight into the industry, guidance on how to hone your skills, and knowledge of the tools of the trade.
In this review, we'll look more closely at the "Knowadays Becoming An Editor" course.We'll be covering what the course offers, who it's for, and what users can expect to get out of it.
By the end, you should have a better understanding of whether this course can help you on your path to becoming an editor.
What is Knowadays?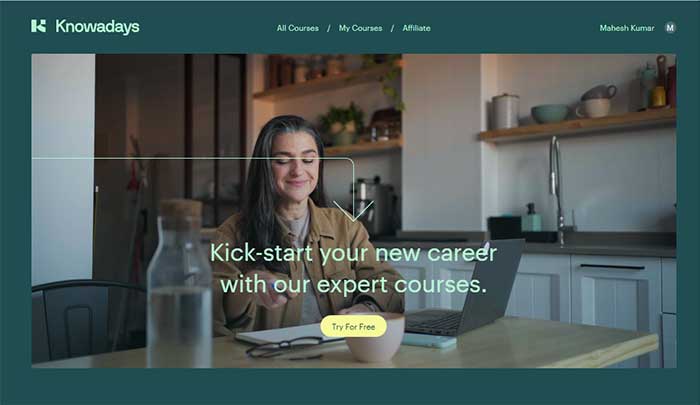 Knowadays is the perfect digital training program for anyone interested in learning the skills of proofreading and editing.
Written and designed by experienced professionals, the program brings a wealth of understanding and expertise to the table.
Becoming a Proofreader and Becoming an Editor, their most popular course, was made with the help of the team at Proofed, which has been offering professional proofreading and editing services since 2010.
Knowadays was officially launched in 2017, and since then, it has been helping those looking to pursue a career in proofreading and editing.
The demand for digital proofreading and editing is ever-growing, and their program is designed to arm aspiring freelancers with the tools and knowledge they need to provide high-quality services to their clients.
Who is the Becoming an Editor Course for?
Knowaday's Becoming an Editor course is designed for everyone looking to become an online editor and/or copy editor.
Whether you're just starting out in the field or you're an experienced professional looking to brush up on your skills, this course can help you reach your goals.
Additionally, if you're a proofreader looking to advance your career into the editing world, this course is the perfect place to start.
Overview of course content
This course was created by industry insiders to help you develop the skills and knowledge you need to become a successful freelance editor.
With convenient, self-paced learning, you can hone your editing skills with quizzes, practical exercises, and detailed case studies.
The course has a total of seven modules with 31 lessons, two module quizzes, three practical exercises, five case studies, and one final assignment.
It delves into the fascinating world of editing, taking you through the process from start to finish. You'll learn line editing, comprehensive editing, and more, so you can make sure every document you work on is perfect.
But it's not just about honing your editing skills—this course also takes you through the different types of writing you might encounter, from academic to creative to business documents.
You will learn how to master the art of working around structure, content, and style and have the right knowledge to work effectively with academic writers, creative authors, and even business clients.
You'll gain insight into the world of editing fiction and non-fiction, children's literature, and other types of creative writing, and you will also get to explore the world of business writing, from formal and technical business writing to commercial copies.
To top it all off, you'll gain a strong foundation of knowledge that will equip you to handle any editing task with ease and confidence.
Benefits of enrolling in this course
1. Quality and comprehensive course material
With seven modules having 31 lessons, you are going to learn everything about the editing process and how you can refine written material.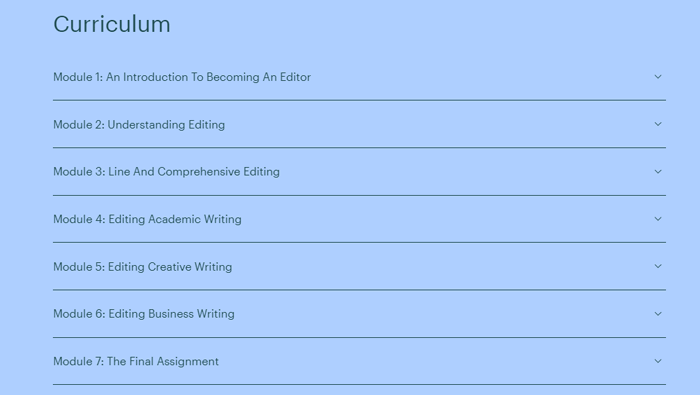 The course is focused on three writing styles, namely academic, creative, and business writing.
With academic writing, you'll learn the ins and outs of working with academic writers and publishers, as well as how to edit academic documents for structure, content, and style.
For creative writing, you'll learn how to work with authors and publishers, learn about book manuscripts, narrative structure, voice, and lots more. Plus, you'll learn to edit fiction and non-fiction, children's literature, and other creative writings.
Last but not least, when it comes to business writing, you'll gain skills for working with business clients and learn how to edit formal, technical, and commercial writing.
All these modules on writing style are followed by a case study and a final exercise that will show how much you have understood and learned from the course lessons.
There are many more topics taught in this course, which you can see by looking at its table of contents.
Overall, I really like the course content, and it is an invaluable resource for anyone wishing to pursue a successful career in editing.
2. Guaranteed working opportunity
When you're done with the course material, you'll have to take a final assignment. This will show how much you've learned from the course.
You need to put in your best effort to score distinction, that is, 80% or more. If you do this, you will get the chance to work at Knowadays partner company, Proofed, which is a well-known company.
This is a fantastic opportunity to gain experience in the field of proofreading and editing and to develop your knowledge and skills.
Working with Proofed will allow you to gain invaluable insight into the world of professional editing and hone your craft. You will also have the chance to network with other professionals in the field and gain an understanding of the industry.
This is a great opportunity to build upon your existing knowledge and learn from the experts. Working with Proofed will give you the chance to gain a competitive edge in the world of proofreading and editing and to set yourself up for success.
3. Knowadays has CPD certification
CPD stands for "continuing professional development." It indicates that the learning activity met the necessary Continuing Professional Development standards and benchmarks. The learning value has been thoroughly examined to ensure its integrity and quality.
Knowadays courses are CPD-certified, which means they have been reviewed and evaluated by an external team to ensure high-quality and trustworthy content.
With CPD certification, you can rest assured that the content you are reading is accurate, informative, and highly valuable. It is a great way to show trustworthiness and reliability.
Overall, you won't be paying for some bogus course. That's for sure!
4. Receive one-on-One support from expert tutors.
After completing the final assignment, you will be offered the opportunity to schedule a one-on-one call with a tutor to discuss your results and next steps. 
During this call, the tutor will provide valuable feedback on how you can further improve and develop your skills. It's an amazing opportunity to explore your progress in detail and get some personalised advice to propel yourself towards success.
It not only allows students to have all of their questions answered, but it also provides them with personalised support and guidance.
Besides, students can also contact the tutor team via email if they have any questions. The tutors are available to provide additional support and assistance to help you get the most out of your online course.
With their expertise and guidance, you'll be able to take your learning to the next level, improving your skills and knowledge in no time.
5. Money-back guarantee
If you're not happy with the course, don't worry; your money isn't going anywhere!
Knowadays offers a 14-day money-back guarantee from the date of purchase, so you can rest assured that your money won't go to waste if you decide the course isn't right for you.
Whether you have consumed 20%, 50%, or even 100% of the course, if you request a refund within 14 days, you will receive a full refund.
But if you ask for a refund, you won't be able to use the course, get help from a tutor, or get updates in the future.
Overall, Knowadays wants to make sure you have the best learning experience possible, and if it isn't what you expected, they will refund your money. So, you have nothing to lose!
Drawbacks of enrolling in this course
If there are some positive sides, there are some negative sides as well. That's the same for this course as well.
Here are two drawbacks that I felt needed to be addressed.
1. No video content
Surprisingly, all the course content is in text format, which is not a problem, but a lot of the concepts are better demonstrated than explained in words.
I'm not saying that it's a major issue, but I do wish they could have added a few videos where they could have demonstrated how to edit, as that would have made it much easier to understand how to make the most of the software.
It could also have been useful to have some audio lectures to explain the more complex topics. This would have made it much easier to follow along and would have made the learning experience much more enjoyable.
However, that's not a major problem as the text content does its job pretty well in explaining the content.
2. Need more practice material
The practice material for editing that they have provided is incredibly useful, but it would be even better if there was even more material to work with.
We all know that practice makes perfect, and having more material to work with would be a great way to make sure that we are mastering the skills provided in each module.
But I'm sure that they will take this into account for future upgrades and provide more practice material to make this course even more comprehensive.
What is the cost of the "Knowadays Becoming an Editor" course?
This course costs $499, but don't let that put you off. They understand that it can be a lot of money to invest in learning something new, which is why they offer a free trial plan.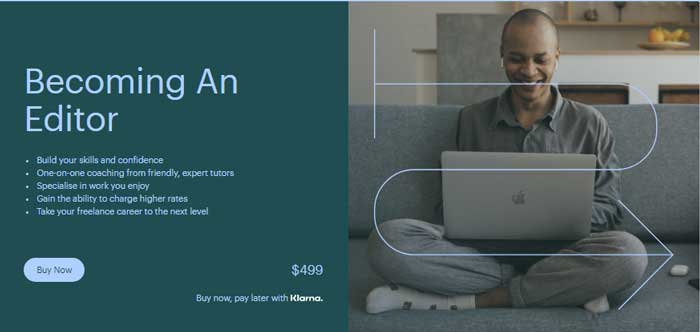 With the trial plan, you'll get to explore a few of the lessons from the main course without having to commit to the full cost.
This is a great way to get a taste of what you're getting into, and you get to check out the content and teaching style to make sure it's the right fit for you. And, if you decide it's not for you, then you haven't lost out financially!
So if you're considering this course, don't forget to take advantage of the free trial!
Final conclusion:
To sum up, the course "Knowledge Becoming an Editor" is an excellent option for anyone looking to break into the editing industry.
The instructor's expertise, detailed instruction, and support are invaluable tools that can help you develop the skills and knowledge necessary to become an editor.
Whether you're a novice or a seasoned professional, the course provides a thorough overview of the editing process and teaches you the fundamentals of the craft.