When you click the links and ads on this blog, it helps me to pay the bills & keep this site free for you. Thanks for supporting me! For more info, read the Disclosure page.
Receiving payments from Amazon Associates US can be a confusing and complicated process for non-US citizens. There is a lot of information to be aware of, from processing times to taxes and currency exchange rates.
Fortunately, Amazon makes it easy for non-US citizens to receive payments from their Associates program using Payoneer.
In this blog post, I will provide an overview of what Payoneer is, how it works, how you can create a Payoneer account and how to link it with your Amazon Associates account.
If you will follow this post, you will be able to receive payment from Amazon Associates as a non-US citizen within a few days.
So, if you're ready, let's get started.
What is Payoneer?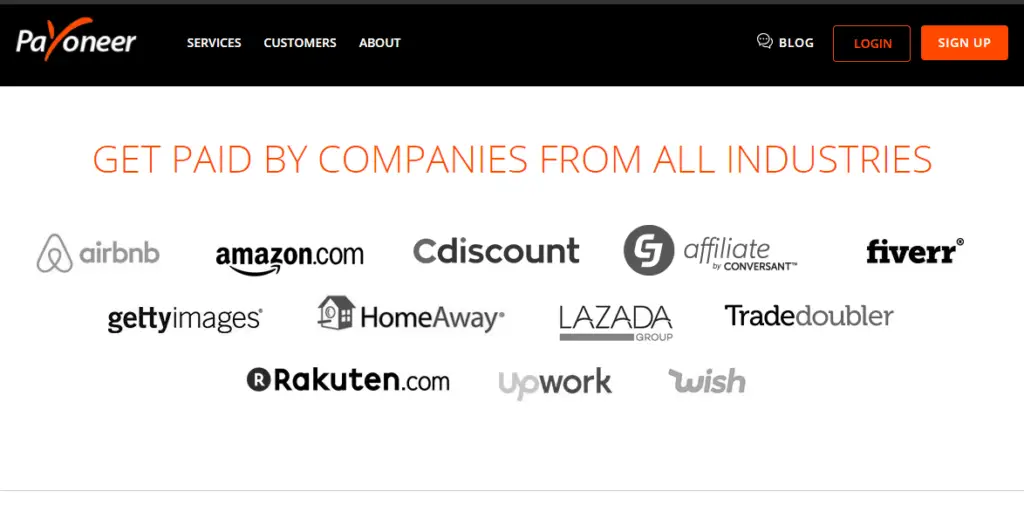 Payoneer is a global payment solution provider that enables businesses to send and receive payments in more than 200 countries around the world.
The service utilizes a user-friendly platform, offering businesses access to a range of payment options, such as bank transfers and prepaid cards.
Payoneer also offers its users access to a global network of partners, enabling businesses to easily transfer funds, receive payments, and access services from partner companies.
Overall, Payoneer is a reliable and easy-to-use solution for businesses looking to expand their global payment services.
How Payoneer Works?
Payoneer's payment service provides you with a personalized collection account number, allowing you to receive payments via ACH transfers from U.S. companies and SEPA transfers from EU companies.
Joining Payoneer is an easy and convenient way to receive your Amazon payments. Upon sign up, you will receive a virtual U.S account where you can transfer your Amazon payment. Your funds will then be securely transferred to your local bank account within 4 business days.
Here is the first payment proof I received from Amazon Associates on my Payoneer account.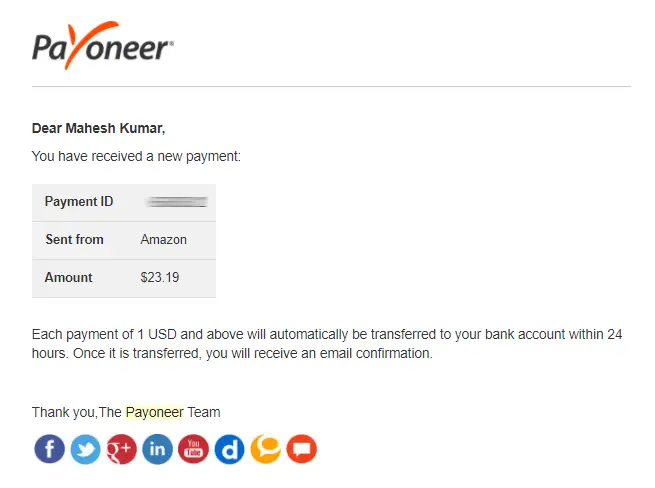 Also, here is the email I received when my funds were transferred to my local bank account.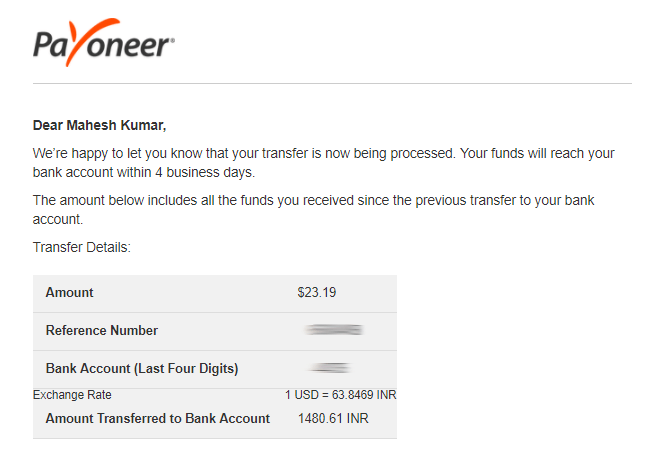 How To Open A Payoneer Account?
Sign up for a free Payoneer account as an individual or as a business by clicking here.
The first step is to enter your personal information, which includes your first name, last name, e-mail address, and date of birth.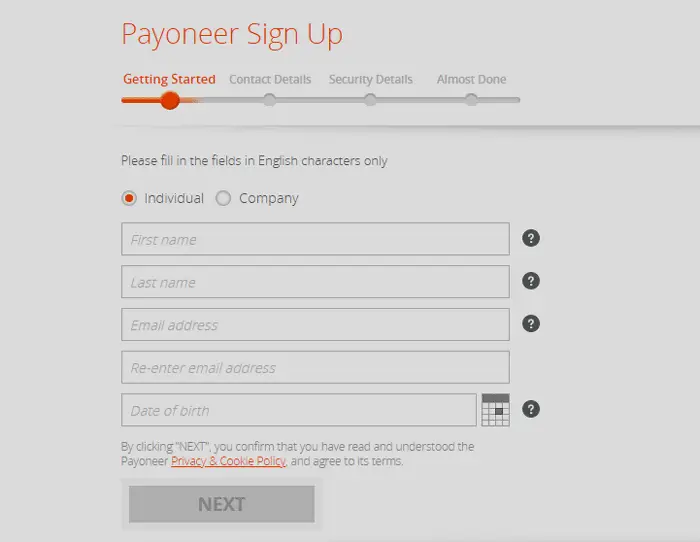 The second step involves entering your contact information, which includes your country, city, address, Pincode, and mobile number.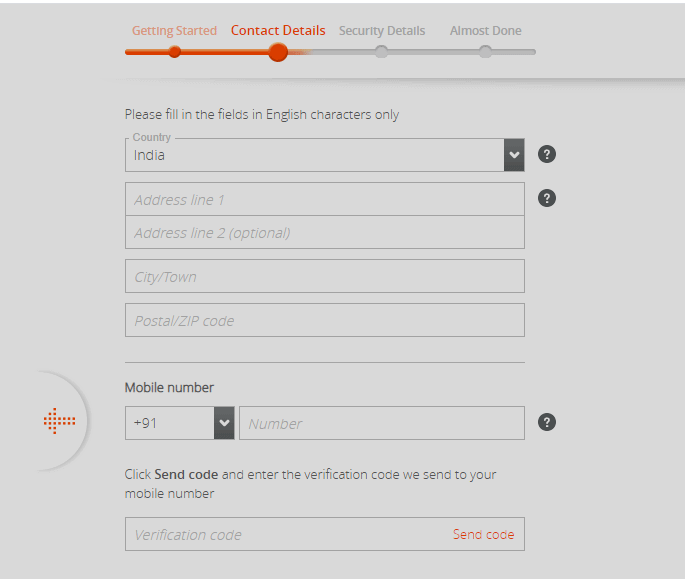 In the third step, you must enter security information such as your username, password, security question/answer, and ID details. The specifics of your ID will be determined by your country. It could be your national ID, PAN number (in India), or something else.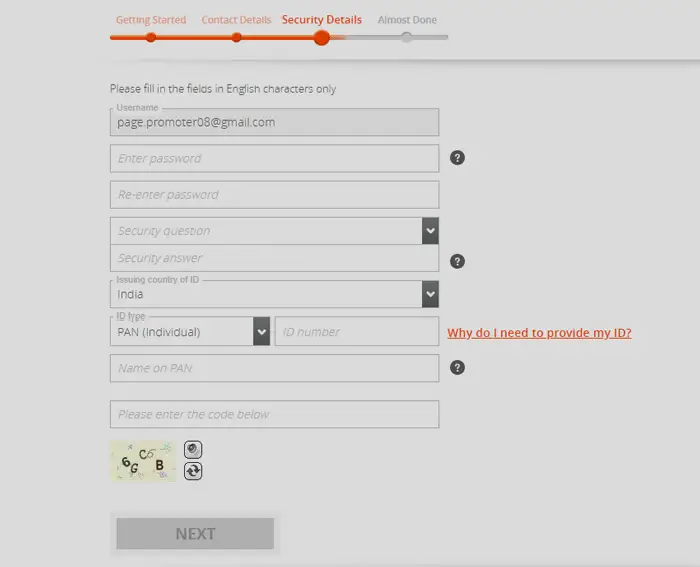 The final step is to enter the information for your local bank account where you want the payments to be deposited. It includes account type, currency, bank account name, and so on.
Once you've completed everything, submit it for review. Payoneer will verify all of your information and approve your account within a few days.
Once accepted, log in to your account and add two more security questions for added protection. Also, enter your purpose code.
Now, go to the Global Payments Service section and scroll down to the USD section to see the details of your virtual account, which will be used to receive the payment.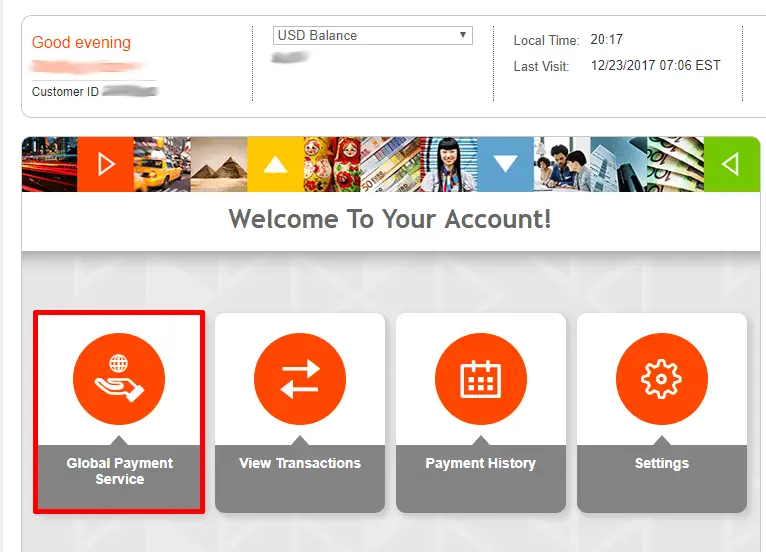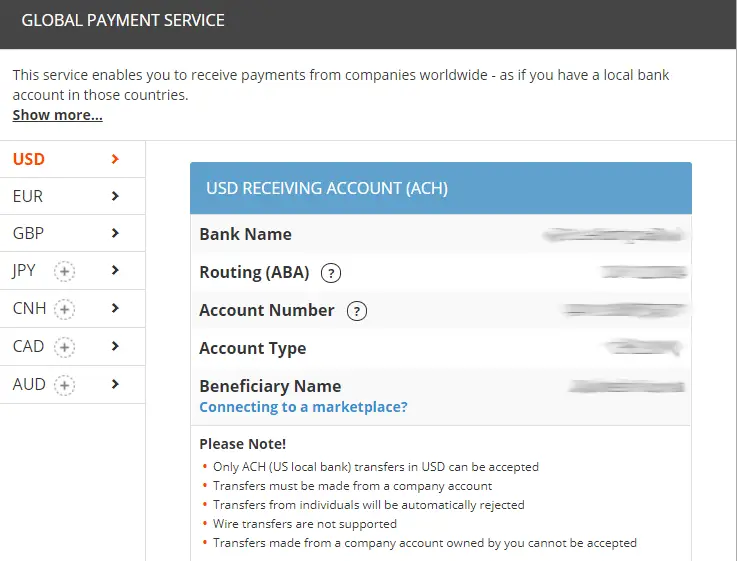 How To Link Payoneer Account With Amazon Affiliate Account?
Before you begin, please ensure that your Amazon Associates account tax details are complete so that it does not appear incomplete. After that, proceed with the steps below.
Visit your Amazon Associates account & click account settings.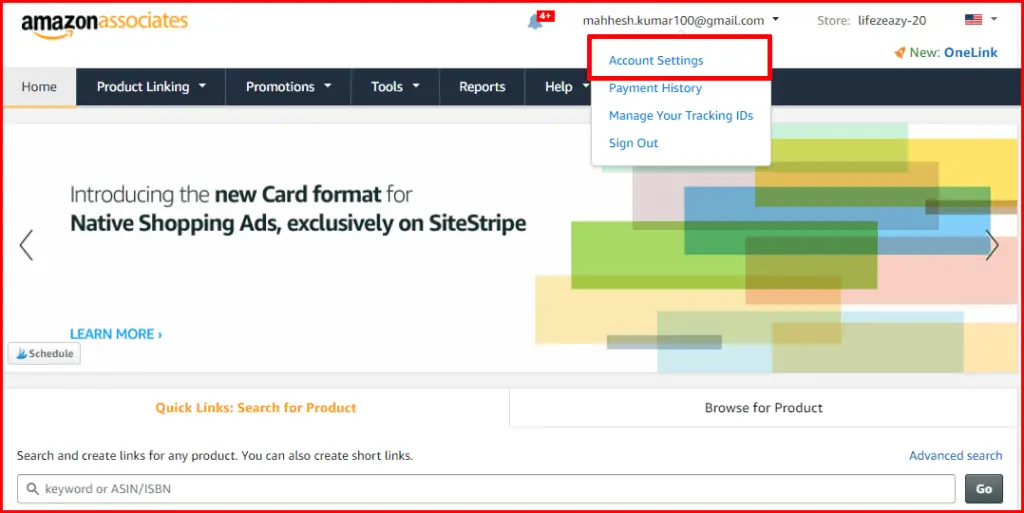 Under Payment & Tax information, click on the change payment method. You can also see the tax status as completed, which I mentioned earlier.
You will be given three payment options. Select the "Pay me by direct deposit" option.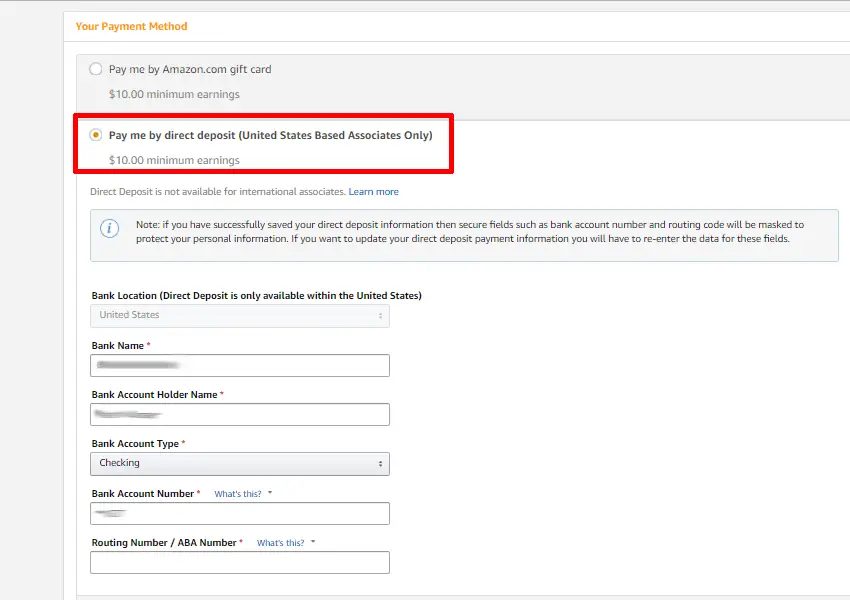 Enter your Payoneer virtual US account information here (created earlier). Simply copy and paste to fill them out. Once finished, save it to complete the process.
That's it; Amazon will now transfer your funds to your Payoneer account on a monthly basis. The money is then automatically transferred to your linked local bank account.
When you receive a payment, allow at least 4-7 days for the funds to be credited to your local bank account.
The minimum payout amount to receive payment is $10. As a result, make sure you're earning at least $10 per month.
Over To You
In conclusion, Amazon Associates US payment via Payoneer is a great option for those who are looking for an easy and secure way to receive payments.
With the low fees, quick payments, and reliable customer support, it is the ideal choice for anyone who wants to make money with Amazon Associates US as a non-US citizen.
With the right setup, you can easily receive your payments via Payoneer and enjoy the convenience of managing your payments with ease.
Read Next:
Pin it For Later: