Have you ever wanted to make money fast or at least wants to add some extra bucks in your pocket?
Well. I know that you just said YES. I mean, who doesn't love some extra cash?
You know many of us are always active on the internet either watching videos or playing some online games.
But guess what if you utilize this time and do some online activity, you can easily add $100-$200/mo which isn't that bad.
Having a source of extra income is always a great way to pay your bills or do some extra shopping. 
So, if you are into it then following are some of the websites and apps that you can use to make money right from today itself. These are legit and doesn't require any special skill.
Some of them will even credit few dollars on just sign up itself. So, if you are ready, then let's jump into it.
10 WAYS TO MAKE MONEY FAST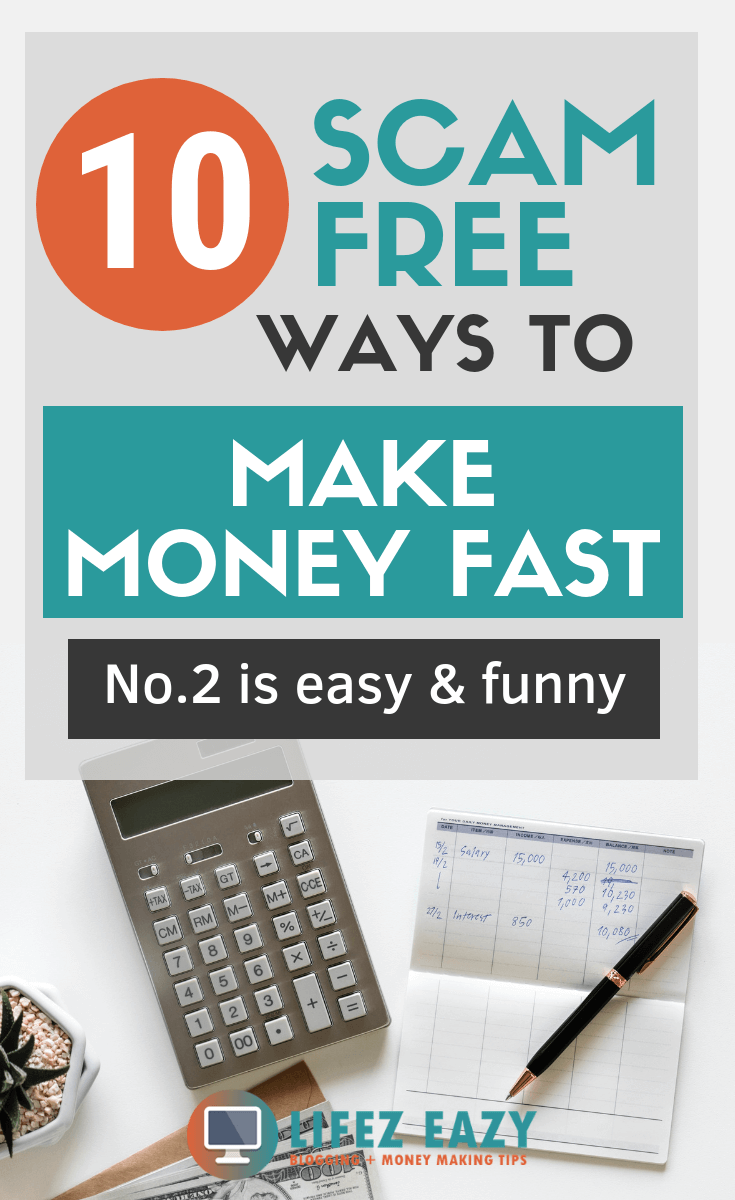 This post contains affiliate links. However, I only suggest those products that are trustable. If you buy or sign up anything using my link, I get a small commission which helps me to keep this blog running. For more info, you can refer my Disclosure page.
1. DO TASK USING TASKRABBIT
If you want to make money fast, then you can join TaskRabbit. Using this app, you can do some small as well as big task to make some hot cash.
It is a website where people pay you to do tasks. Following are some of the popular categories where people usually need some help
Handyman

Cleaning

Delivery

Moving

Furniture Assembly

Personal Assistant
You need to sign up for TaskRabbit as a Tasker. After you are approved, you are notified by the companies regarding the available task in your area via their app.
You can choose your suitable task and after completing it, you need to submit the invoice directly to TaskRabbit. They will collect the payment from the client which will be paid to you on weekly basis.
Sometimes, you can also get tips from the clients which add some extra bucks in your pocket.
2. GET PAID FOR BEING SOMEONE'S FRIEND
I know it sounds weird, but it's actually true. You can get paid by being someone friends for a period of time. There are people who need company or want somebody to see a movie with them. You can be that friend.
All you need to do is sign up in RentaFriend.com and make an attractive profile. People who are interested in your profile will contact you and then you can decide the price, time & activity.
You can charge $20-50/hr. It's a nice way to make some cash on weekends if you are free. So, if you are interested, then definitely go for it.



3. TAKE SURVEY ONLINE
If you spend a lot of time on the internet, then why not take surveys to make some extra bucks. Taking the survey is one of the easiest ways to make some pocket money.
However, make sure to give honest opinions while taking surveys. You will be paid via PayPal or Payoneer. Following are some of the best & genuine survey sites:
You can check out these sites in detail below.



4. SAVE MONEY WHILE SHOPPING ONLINE
If you shop a lot online, then you can save a lot of money which otherwise would be wasted. Like, if you spend $100-$200 per month on online shopping, isn't it be great that you get a small % of cashback of your spending money?
This will save a lot of money from your online spending and you can use it to buy some other stuff. There are various apps that you can go for.
You can learn more about it by reading the detailed post below.



5. MAKE MONEY FROM THRED UP
Thred Up is a website where you can sell your clothes and make some cash out of it. However, Thred Up only accepts specific brands of clothing from people and then resell them.
Although, one thing you should remember is that it doesn't pay a lot. So, this is only useful if you want to make some pocket money bucks.
However, if you have a huge pile of clothes that you are planning to throw or giving it to your relatives for free. Why not you make some cash out of it?
6. GET $5 FROM SWAGBUCKS
I know you might be familiar with Swagbucks. But, if you aren't, then let me tell you that it is one of the most popular websites to make money online.
There are many ways through which you can use Swagbucks to make money on a daily basis. It includes:
Filling surveys

Playing games

Searching

Online shopping

Watching videos
You can use my link to sign up for Swagbucks to get $5 bonus instantly.
7. FIND GIGS ON CRAIGLIST
Craigslist is a classified American advertisement website having different job sections. It has a gig section where people are looking for help. You just need to visit craigslist website and then move on to your city page. There you will find this section.
You can follow different gigs in the following categories:
Computer

Creative

Crew

Domestic

Event

Labour

Talent Writing
Just check out which one is suitable for you and apply for the same. You can get paid $50-$200 or even more depending on your gig. However, you may sometime find weird gigs as well. So, search carefully.



8. SELL ONLINE VIDEO COURSES
If you are good at something and can teach others the same, then why don't you make tutorial or instructional video courses and make money from them.
There are many people out there who earn $1000/mo through their online video courses. Though, there is some effort while making these courses, but then its money on auto-pilot.
If you think that you can teach something & can make awesome video tutorials for it, then I will definitely recommend going for it.
Following are some of the best websites where you can post such courses:



9

. TRANSCRIBE AUDIO FILES
If you have a good listening skill, then you definitely need to go for transcribing. All you need to do is hear audio files and write it down on a text pad.
Audio files can range from 3-10 mins. Sometimes, it can be a 1-hour audio file as well. The longer the audio file, the bigger money you will be rewarded.
You can definitely make more than $300/mo. Few of my friends are full-time transcribers and they make a good amount of money from it.
One of the best websites you can go for is "GoTranscript". After joining, you can start transcribing the audio files and you will be paid on weekly basis.
You can read below article to learn more in detail.



10. SELL GIGS ON FIVERR
If you are good at photo editing, making intro videos, making music or anything, you can join Fiverr and start providing your service.
Fiverr is a marketplace where thousands of freelancers share their gigs and make money out of it. The baseline price for a gig that you can offer is $5.
You can also create a YouTube channel to promote your gigs in front of millions of people. In this way, you can get a lot of gig orders which thus helps you to make more money.
OVER TO YOU – MAKE MONEY FAST
That's it. If you read it till here, then you are definitely interested in making money online. I would say to give these options a try and see whether you can make some extra money.
I mean you have nothing to lose but definitely, have chances to earn some pocket money.
Do let me know which one are you going to try first in the comment box.
Also, if you liked this article, then don't forget to share. Cheers.