When you click the links and ads on this blog, it helps me to pay the bills & keep this site free for you. Thanks for supporting me! For more info, read the Disclosure page.
If you have been thinking about how to make money on TikTok live? This guide will outline three methods used by a Popular TikToker.
Now, I agree TikTok is not a better place for monetization compared to YouTube. But people can still make money if they follow the right strategy.
Even though you won't become rich overnight or won't churn in a lot of cash, it is still better than earning nothing. So, before I discuss what those methods are? Let's talk about who's behind them.
Who is Behind The Methods to Make Money on TikTok Live?
Now, I'm not going to claim credit for the method I'm about to teach you. I know I could have explained everything as if I were an expert, but that's not how I work.
I enjoy giving credit to those who deserve it while also educating my audience. That's why I'm mentioning Joseph here.
JJoseph Henry, also known as DoseofJoseph, is a social media influencer with over 930k followers on TikTok. Though he later sold his account, he recently started another one having over 8k followers.
He's pretty good at TikTok marketing, which has helped him make a lot of money. The method you will read here is the exact strategy Joseph uses to earn money from TikTok Livestream.
If you want to contact him, here is his TikTok username: @doseofjoseph.
What Are The Requirement To Make Money on TikTok Live?
There are two requirements, the first of which is a necessity and the second of which is advice. I'm sure you're wondering, "What does it all mean?"
So, to clear the air, let's get right to the requirements.
You must have at least 1,000 followers to use the live feature. For new accounts or those with fewer than 1,000 followers, the live option is no longer available. So before attempting these methods, focus on increasing your followers if you haven't already.
If you expect to make money, 1,000 followers will not get you far. You will be able to come to live, but your chances of making any decent money are slim. As a result, before you try the methods, make sure you have at least 5k-6k followers.
If you can meet these two basic requirements, you will be able to earn money while going live on TikTok.
How to Make Money on TikTok Live?
Before I get into the methods, especially the first two, you should understand how TikTok's coin system works.
People purchase coins in bundles ranging from 100 to 10,000, which they can then use to buy and send virtual gifts to the live streamer.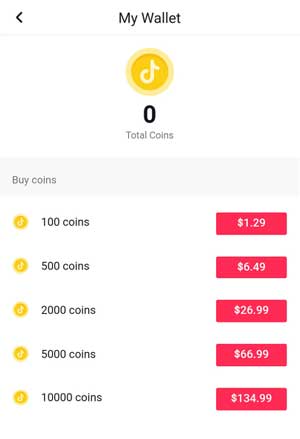 Here is a list of items they can purchase with coins:
TikTok – 1 coin
Panda – 5 coins
Italian Hand – 5 coins
Love Bang – 25 coins
Sun Cream – 50 coins
Rainbow Puke – 100 coins
Concert – 500 coins
I'm Very Rich – 1000 coins
Drama Queen – 5000 coins
Once you've received these gifts, you can turn them into diamonds. All diamonds are worth 50% of the value of coins.
For example, if you received the "I'm Very Rich" emoji (worth 1,000 coins), its 50% will be 500 diamonds. As each diamond is worth 5 cents, the total amount will be $25. Unfortunately, TikTok keeps 50% of what you earn, which means you can only keep $12.5.
I understand that the entire system is strange that allows you to only rake in a few percentages. Regardless, you'll be paid just for coming live.
I hope you understand the entire coin system concept; if so, let's look at Joseph's first method.
1. Incentive Game Method
Going live and asking for donations from your audience sounds cheesy and appears more like begging.
Imagine yourself in a live stream where you are asking your followers to donate coins, and all you saw was unfollows. It hurts pretty bad, isn't so?
That's the reason you should do things differently with the same goal in mind. The way Joseph pulls out the same thing brilliantly is by offering incentives to his followers for coins.
The incentives can be a shoutout where he calls their name, a live duet on his profile, tagging them, or giving them advice on how to grow their account.
The final incentive works well if you have a sizable following; otherwise, no one will take your advice seriously.
When you apply this strategy, your audience will definitely be interested in the incentives you offer. If they do, they will gladly send you gifts in exchange for shoutouts, advice, and live duets, which you can then convert into cash.
Now, reminding your audience about the incentive table on a regular basis can become tiresome. So, what you can do is tape a piece of paper to the wall next to you that contains all of the incentive information.
Or…
Better use TikTok's green screen filter, where you place the details as the photo and get green-screened into it.
With this method, you're giving your audience a reason to spend their money on you. Furthermore, it is a win-win situation in which you receive money and they receive benefits.
2. Guessing Game Method
This method is kind of similar to the previous one, but here you won't ask for any gifts.
Joseph describes it as a guessing game in which you think of a number between 1 and 50 and your followers guess the number. If one of them correctly guesses the answer, you will give them a shoutout and even ask your followers to follow them.
People enjoy such games because it gives them the opportunity to receive free shout-outs, which directly increase the viewer count.
When your followers see that you are promoting them for free, some of them will undoubtedly send you gifts to express their gratitude.
This strategy works well because it portrays you as someone who wants to help your followers. You will also gain new followers in the meantime.
If the number game sound boring? You can also replace it with emojis, where you think of an emoji and they guess it.
3. Merchandise Method
Many TikTokers use this method to promote their merchandise live. If you have a merchandise store where you sell T-shirts, caps, cups, and so on, you can promote it while going live.
However, before you promote, make sure to include a link to your store in your bio. If you can't find the option to add a website, share the store link by saying it aloud or writing it on a piece of paper during the live session.
For promoting your store, you can either show your products directly or talk about your web store with your audience. It encourages them to look around, and if they like your items, you will almost certainly see some sales.
Though there is a lower chance of success with this method, it is still worth a shot. Furthermore, if you have a large number of followers, you can expect better results.
How To Withdraw Money Once You Earn From TikTok Live?
To transfer money from TikTok, your account must have at least a $100 balance.
Once you've collected the required amount through gifts, you can transfer the funds by linking your PayPal account to TikTok.
Though it can take up to 15 days for the money to arrive in your account, it usually arrives within 1-2 days.
Conclusion:
So, this is how you can make money on TikTok Live.
Your earnings will be determined by the number of followers you have. The more people who watch your live stream, the more likely you are to make more money.
As a result, I will advise you to post high-quality content on your account in order to gain more followers.
If you like the methods, please let me know which one you're going to try first. Also, for more information, visit Joseph's website.
Read Next: