When you click the links and ads on this blog, it helps me to pay the bills & keep this site free for you. Thanks for supporting me! For more info, read the Disclosure page.
The days are gone when you have to struggle to make extra money because nowadays, there are many online opportunities that you can easily join to make a side income.
Whether you are a student, unemployed, or a 9-5 employee, you can always take advantage of online side hustles to add an extra source of income and the best part is, it's absolutely free to start.
One such side hustle is delivering food to the customers and getting paid for it. This is a great side hustle for those people who love driving.
According to Statista, the Online Food Delivery segment revenue amounted to US$107,438m in 2019 and is expected to grow at a rate of 8.8% annually worldwide.
This is great news because the food delivery companies are growing quite well which means more jobs to offer.
If you are someone who wants to know how to make money delivering food, then check out 8 best Food delivering companies hiring people.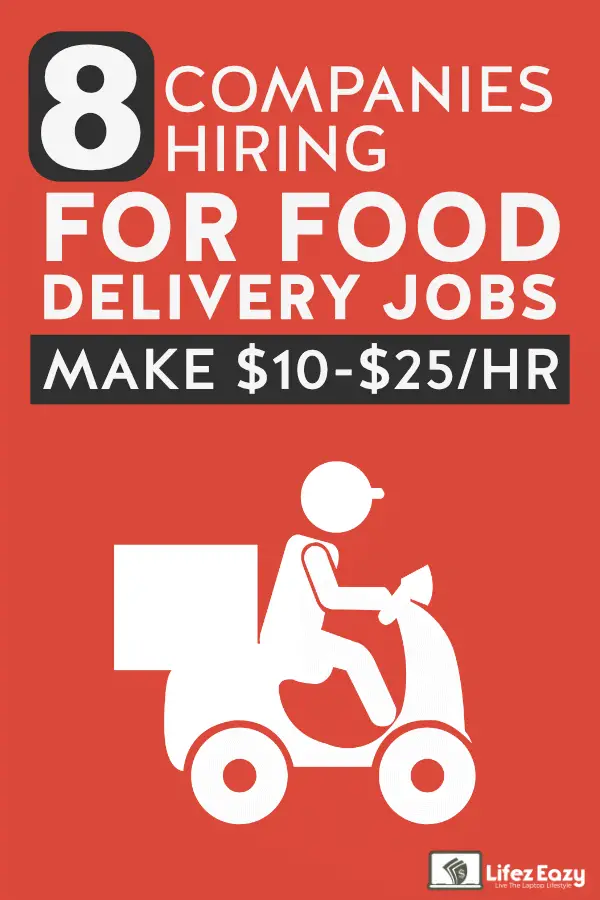 Can You Make Money Delivering Food?
The answer is yes, you can! 
There are several food delivery programs available online that you can join from the comfort of your home.
They sure have a few requirements but it's easy to get in. Just make sure you have a valid driver's license and insurance.
How Much Money Can You Make Delivering Food?
Well, it totally depends on your region, demand for service, and your efficiency.
If one person is making $20 an hour, it doesn't mean that you too going to make the same because the above factors play a major role.
However, as I have seen, the pay range is anything between $10-$25 an hour plus 100% tips from the customer.
You can even increase it further if you work at peak hours i.e. during lunch and dinner times.
How Does Food Delivery Apps Make Money?
Food delivery apps mainly make money from partnering with restaurants to get commissions, delivery fees charged to the customers, and subscription charges who subscribe to their apps.
All the restaurants seen in the food delivery apps are their collaborating partners who are on pre-defined commission rates based on the order size.
Delivery fees can be a percentage of the order price or a flat fee depending on the distance.
A part of this fee is shared with the delivery driver thus, both of them (the company and the delivery driver) make the profit.
Best Apps To Make Money Delivering Food
1. DoorDash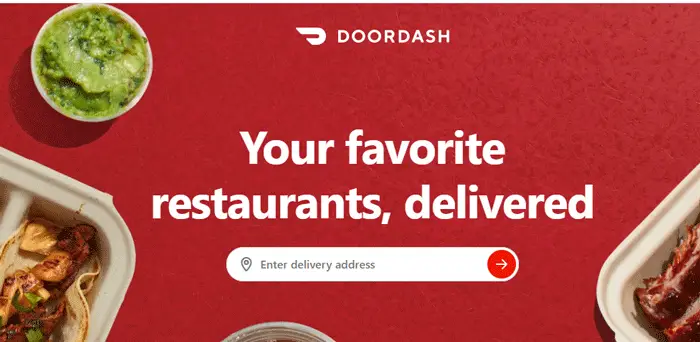 DoorDash is a food delivery app that lets people like you and me deliver food from restaurants to customers.
There are many restaurants that don't have an in-house delivery system because of this they're always looking for dashers (delivery drivers) who can do this job for them.
Being a Dasher, you can work as a delivery guy for them to get paid for it.
DoorDash is available in over 4000 cities in the US, 80 cities in Canada and Australia.
How To Join DoorDash?
To become a Dasher, you should be at least 18 years old, and have a driver's license and valid insurance.
When you apply, they perform a background check before accepting you as a Dasher and you receive your starter kit within a few days via mail.
How Much Can You Make With DoorDash?
Dashers make anywhere from $10-$25 an hour and additionally can keep 100% tips from the customer.
To know more, you can read my complete DoorDash review.
2. Postmates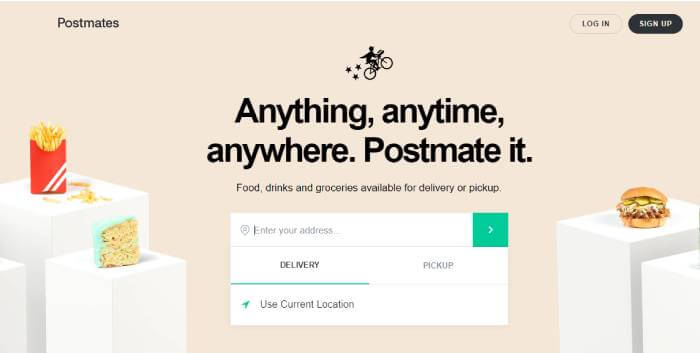 Postmates is another delivery app that hires delivery drivers to not only deliver meals but also deliver grocery & liquor orders.
Basically, they are not just restricted to food orders which is a good thing as this gives you more opportunities to make the deliveries.
Postmates is only available in certain cities in the US.
How To Join Postmates?
To become a Postmates driver, you should be at least 18 years old & have a vehicle such as a car, bike, or scooter with a valid license of at least one year.
They also perform a background check before accepting anyone.
How Much Can You Make With Postmates?
The pay varies from city but is said to be in the range between $14-$25 an hour.
If you have a great work ethic and a positive attitude, you may even earn tips on top of your delivery pay.
3. GrubHub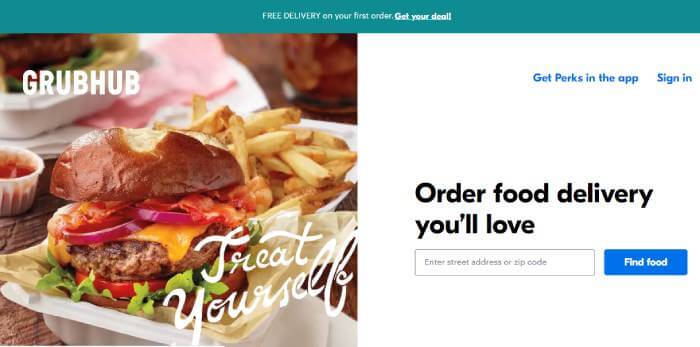 Grubhub is one of the leading online mobile food ordering and delivery marketplace in the US.
They have partnered with over 140,000 takeout restaurants in over 2,700 U.S. cities and London.
How To Join GrubHub?
They accept drivers of at least 19 years old and have two years of driving experience with a valid driving license.
Like other food delivery companies, they also perform a background check before accepting anyone.
How Much Can You Make With GrubHub?
The pay is usually good and you can make $3.25 per delivery, plus $0.50 per mile driven according to their website. On top of that, you also get 100% of customer tips.
4. Uber Eats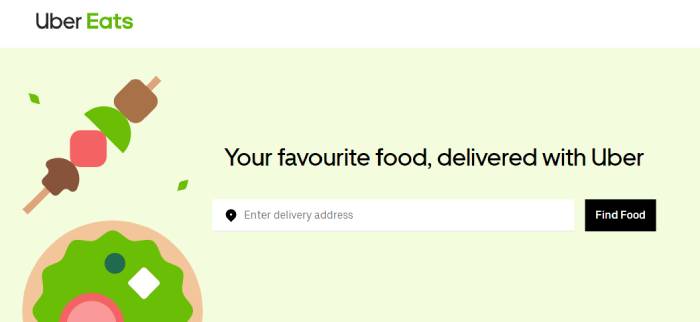 Uber Eats comes under Uber which is a platform to make money driving people to various locations.
On the other hand, Uber Eats pays money to drivers for delivering food orders to customers.
Like many other food delivery apps, it notifies you about available orders that you need to accept and you can even set schedules with Uber Eats like DoorDash.
How To Join Uber Eats?
To become an Uber Eats delivery driver, you should comply with the following requirements.
You must be at least 19 years old.
Your car must have a 2-door or 4-door car made after 1998.
Scooters must have a 50cc motor.
A government-issued ID.
At least one year of driving experience, if delivering by car.
These requirements may vary with the cities but all of them are standard requirements just like other food delivery companies.
How Much Can You Make With Uber Eats?
Uber Eats drivers can expect to make around $8 – $12 per hour after factoring in vehicle expenses. Plus, they also get customer tips.
Delivery pay can be more in peak hours i.e. during lunch and dinner times & you get paid per delivery.
The best thing about using Uber Eats is that you are qualified to do both the job i.e. Uber Eats delivery and regular Uber rideshare rides.
This gives you a great opportunity to earn more.
5. Favor Delivery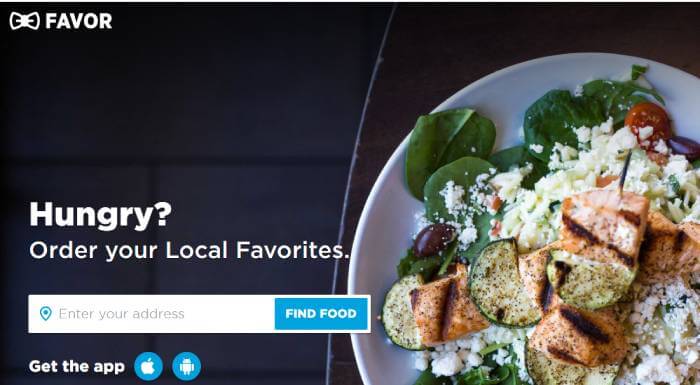 Favor Delivery is a company that delivers anything from food orders, groceries, dry cleaning, etc & it operates in a variety of U.S. cities.
They call themselves a personal assistant and not delivery drivers. The people who deliver these orders are known as Runners.
How To Join Favor Delivery?
To join Favor, you should have to be 18 years old or older and have reliable transportation. You also need to have a clean driving record.
Once you're hired, you get to set your own schedule and you can work part-time or full-time.
How Much Can You Make With Favor Delivery?
All the scheduled hours have guaranteed earnings & most runners average between $10 to $18 per hour, according to their website.
You also get to keep 100% of the customer tips.
6. Instacart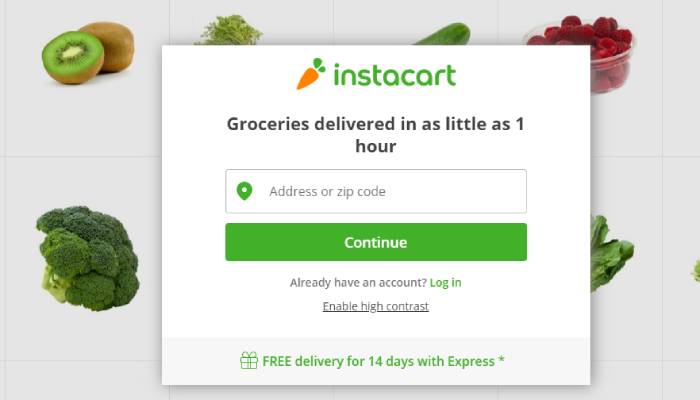 Instacart is a platform that connects customers with shoppers who shop & delivers groceries to their home.
You join them as an independent contractor & can even set your own schedule.
There are two types of jobs offered by them i.e. Full-service shopper and In-store shopper.
Full-service shoppers are those people who shop and deliver groceries to the customer's homes & they receive all the customer orders via the app.
In-store shopper only has to shop for the customers but they don't have to deliver it. Their job is to shop and stage the order for the pickup.
They also receive orders through the app and work as an independent contractor with their own schedule.
How To Join Instacart?
Before joining Instacart, you should comply with the following requirements.
You must be at least 18 years old.
Eligible to work in the United States.
You should have consistent access to a smartphone. (iPhone 5 / Android 4.4 or newer)
Ability to lift 50 lbs with or without accommodation.
Access to a vehicle (only for Full-service shoppers)
How Much Can You Make With Instacart?
Instacart advertises that the shoppers make up to $25 an hour.
However, according to Glassdoor, shoppers actually make anywhere from $7-$20 an hour, with $11 an hour being the average.
7. Caviar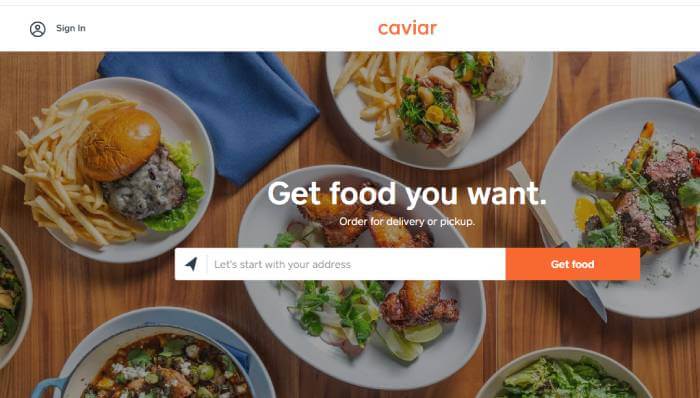 Caviar is a food ordering platform that connects people with the best local and independent restaurants in the US where they can order and get food delivered to their homes.
For pick-up and delivery, they are always seeking Couriers who get paid for delivery.
As a Courier, you can set your own schedule & can always see the earnings, pickup, and drop-off locations for each order before you accept it.
This gives you the advantage of deciding which job to choose and which one to ignore.
How To Join Caviar?
To join Caviar, you should be at least 18 years old and must have a vehicle (car, truck, bike, scooter, or motorcycle) along with 2 years of driving experience.
They also perform a background check based on the San Francisco Fair Chance Ordinance and similar laws of other jurisdictions.
How Much Can You Make With Caviar?
Caviar advertises that the Couriers earn up to $25/hr along with 100% of customer tips.
It also gives an option to receive payouts through Cash App. This means each amount paid after delivery will get instantly deposited into the Cash App which makes it easier to keep track of your payouts.
8. Shipt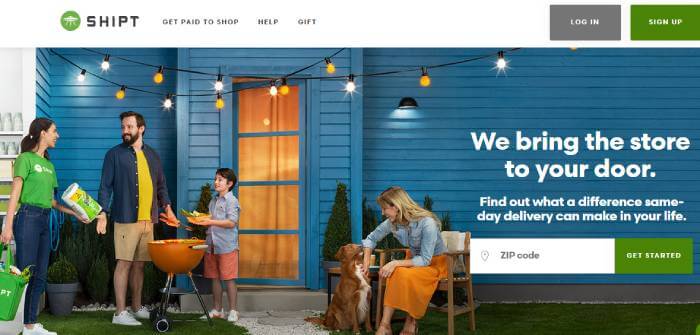 Shipt is a membership-based grocery marketplace that delivers fresh foods and household essentials to your home.
It is a place where you can get paid for grocery shopping and you can do it either part-time or full-time.
How To Join Shipt?
There are a few requirements needed to become a Shopper. Requirements like:
18 years of age or more.
Valid U.S. driver's license and auto insurance.
A reliable vehicle (1997 or newer)
Knowledge of produce selection.
Insulated cooler bags.
Ability to lift 40 pounds.
iPhone (iOS 10 or newer) or Android (5.1 or newer) smartphone.
Once you apply, you need to give a short interview before getting accepted.
How Much Can You Make With Shipt?
Shipt shoppers earn up to $22/hr or more shopping according to their website.
They issue the paychecks every week.
How To Make The Most Money Delivering Food?
Well, your earning depends a lot on your region. So, if your city doesn't provide many orders, you'll likely make less and if it's the opposite, you can expect great pay.
The best thing you can do is join multiple food-delivering jobs so you can make the most out of it in your working schedule.
Sometimes when you don't get enough orders using only one app. So if you are on 3-4 of them, you can definitely take more jobs in an hour thus making more money.
I will definitely prefer DoorDash, GrubHub, Postmates, and Uber Eats if you are going to use multiple of them.
Conclusion – How To Make Money Delivering Food
If you are 18+ and have transportation with a valid license and insurance, then you can surely join these food delivery jobs to make extra money.
Though there will be a few expenses from your side like gas and transportation maintenance, you will be on a profitable side if you work at peak hours.
Let me know what you think about this side hustle. Have you already tried them?