When you click the links and ads on this blog, it helps me to pay the bills & keep this site free for you. Thanks for supporting me! For more info, read the Disclosure page.
Are you interested in making a nice side income every week for delivering food?
If you are? This DoorDash Driver review will help you.
According to TechCrunch, DoorDash dashers (delivery boy) made an average of $17.50 per hour figure in 2018, which is excellent as a side hustle.
If you are a student or a person looking to add an extra source of income, then food delivery jobs are not a bad idea. That's because it is flexible & you can work on your schedule.
I know many questions are running in your mind whether it is worth your time, is it really profitable, or is it just another scam?
Well, all your confusion will get cleared once you go through this DoorDash driver review. So, grab a cup of coffee and make yourself comfortable.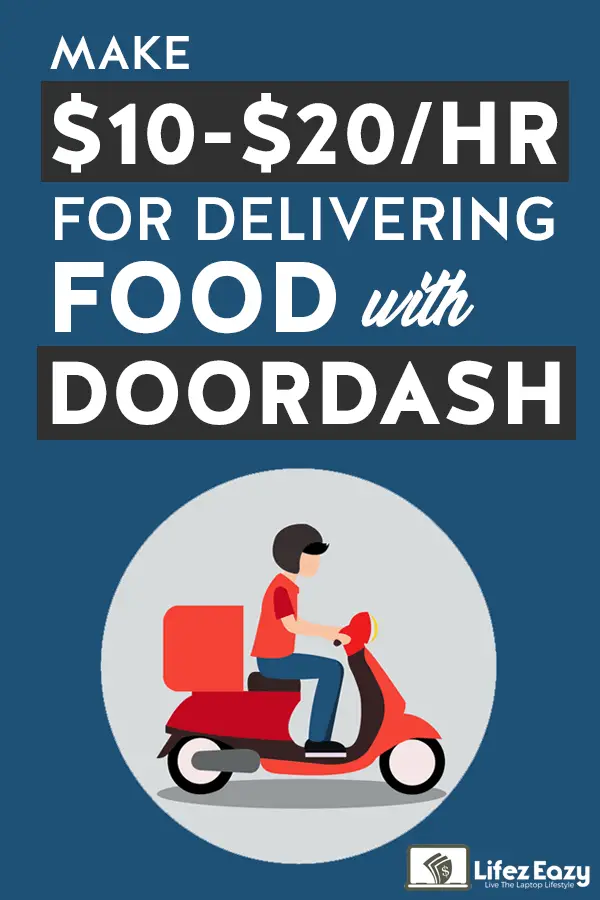 What is DoorDash?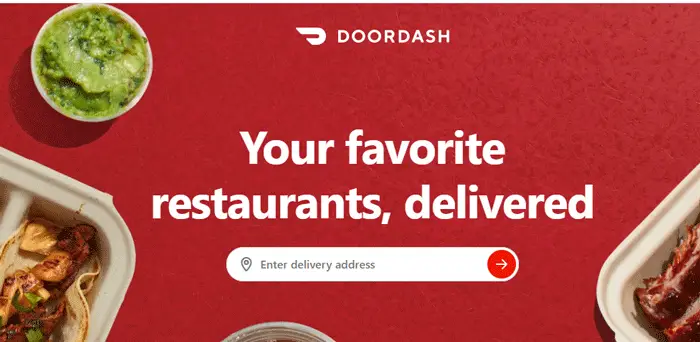 DoorDash is an On-Demand logistics based startup that acts as an intermediary between food merchants and the customers. 
Their service gets ordered products from local food merchants & restaurants delivered at their doorstep. This allows you to work as a Dasher (delivery boy) whose job is to deliver food from the merchant to the customers. 
How To Get Started With DoorDash?
Before joining them, you need to make sure whether you pass their minimum requirement which includes:
minimum age of 18 years or more.

Should have any vehicle like a car, scooter, or bicycle in selected cities.

driver's license and insurance (if you are using a Car)

Social security number (only in the US)

consent to a background check.
If you fulfill these requirements, you can click here and sign-up for an account. type
While signing up, you'll be prompted to disclose your mode of transportation, so they know how you will deliver orders. If you are using a car, you need to share the model of your Car and submit your license. Once done, DoorDash will perform a background check at no extra cost to you.
If you pass, they will accept your application, and your account will get activated within 1-2 weeks (generally 3-5 days). You'll also receive a starter kit within a few business days via mail.
What Will Be Included in The Starter Kit?
Your starter kit will have:
A DoorDash insulated bag to keep food warm during dashing.

A Red Card, which is a credit card used to pay for DoorDash orders when prompted by the app. This card is not linked to your bank account.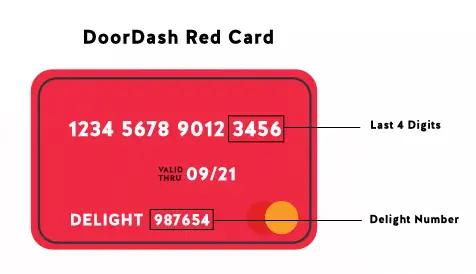 Once you receive your starter kit, open the DoorDash app & activate your account. To activate your Red card, you need to use the last four-digit and delight number.
How Does DoorDash Driver Works?
We can summarize the entire process in just 4 steps.
1. View The Available Orders
DoorDash will send you available orders as notification that you need to accept within 45 seconds. You can view the total distance and pay before accepting them.
2. Accept Orders
Once you accept the order, you can use your phone to get directions to the restaurant where you have to swipe in the app to confirm that you reached.
3. Pickup & Drop Off
Swipe once again when you pick up the delivery to let both the app and the customer know you are on the way. Then follow the direction using the app to deliver the food to the customer.
Sometimes, you will also find notes from the customer to help you find their home. You can also communicate with them via text or phone call in case you are having trouble finding their home.
4. Complete The Order & Start New One
When you deliver the food, swipe in the app again to confirm, so you can move on to the next orders in line.
What Cost Do You Cover?
DoorDash hires you as an independent contractor which means you have to manage a few expenses on your own.
You should manage expenses such as vehicle gas, phone data, vehicle insurance and wear or tear on your vehicle.
How DoorDash Pay Works?
The DoorDash pay model depends on base pay, promotion, and tips.
1. Base Pay
Base pay is the base contribution for each order that ranges from $2-$10 depending on the estimated time, distance, and desirability. Usually, orders that require you to travel long-distance, take more time & are less popular with dashers.
2. Promotion Pay
Promotion is the additional payment you receive for orders that meet specific criteria such as peak pay, challenges, and drives.
a. Peak Pay
Peak pay is usually available during the busy time i.e. during lunch (not every time) & dinner. It adds up to your base pay.
b. Challenges
Challenges are the extra incentives paid based on completing a certain number of deliveries in a set amount of time. For example, DoorDash will pay an extra $20 for completing 15 deliveries in a week.
c. Drives
Drive pay is the extra money added (where applicable) when you deliver orders in time.
3. Tips
Tips are what you receive from the customer for your timely delivery & friendly customer behavior. Being a Dasher, you can keep 100% of tips along with the base pay and promotions.
To conclude, your total earnings are the sum of Base Pay, Promotion & Tips where you'll always earn base pay. However, Promotion and Tips vary by delivery.

Regarding the payment, Dashers get paid on a weekly basis for all the deliveries completed in the previous week.
How Much Do You Really Make With DoorDash?
On the DoorDash website, they advertise that you will earn anywhere from $15-$25/hour.
But is this true? Will everyone earn the same numbers if they decide to become a Dasher?
To be precise, your pay depends on
The complexity of orders

How many orders you have completed in your working city?

Are restaurants taking a lot of time to prepare orders?

Are there any busy hours? Etc.
So, it is hard to answer a fixed amount. There are many dashers satisfied with the pay, and there are some who are not much satisfied. Maybe they expected more. amazing
When I read through Dasher's experiences, I read both the positive and negative. One user from Indeed.com says that he has delivered over 1000 orders & on average, he makes $20 an hour regularly from his v6 car at the expense of $5 of gas. Overall, he is pretty much satisfied.
Another dasher reported that he is making less than $10 an hour. Some also said that they are making enough to pay their bills, and others are not at all satisfied.
So, like every money-making program, it has its pros and cons. The best way to find out whether it is profitable to you is to try it out and see where it goes.
Another splendid thing about DoorDash is that they are rapidly adding more cities and more restaurants under their belt. This means more users and more potential to earn.
Is DoorDash Available In My City?
DoorDash is currently available in over 4000 cities in all 50 U.S states, over 80 cities in Canada, and Melbourne, Australia. It is still in a growing phase.
What is the Dashers Reward Program?
Dasher's reward program is a pilot program that rewards the best dasher at the end of the month. Qualifying dashers will receive special benefits on the 1st of each month only if they meet the following criteria.
Customer rating of at least 4.7

Completion rate of at least 95% (Number of orders completed after accepting it)

The acceptance rate of at least 70%. (It is the percentage of the jobs you accept relative to the number of jobs DoorDash offers to you)

100 completed deliveries during the last month

At least 200-lifetime deliveries completed
As this is a pilot program, it is available in a few regions.
Tips To Use DoorDash Efficiently
The following are some tips based on several experiences.
Always choose your orders nearby unless it is paying good enough. For example, if there is an order paying $7 for 10 miles distance and another order paying $5 for 2 miles distance, it is best to choose the second one.

Time is money. You should know your zone well so you can save time by following shortcuts.

Always work in peak hours i.e. lunch and dinner time. That's when you can expect more orders.

It is better to schedule your dashing activity in advance.

You can even accept more than one order at a time. For example, if you have accepted an order from one restaurant, and there is another one from the same place, you can complete both of them at the same time. This helps you earn more in less time.

Avoid taking orders from restaurants that are slow & mean to dashers.

Avoid spamming text to your customers. Only text them when you will be late.

Make sure that your vehicle is clean because nobody wants to see a dirty vehicle delivering their food.

Friday to Monday is the most profitable day. So ensure you use these days wisely.

You can request extra pay in case a customer incorrectly gives the wrong address, and you are already there.

Track your expenses & mileage for taxes.
DoorDash Pros & Cons
Pros
Free to join.

You can still join DoorDash even if you don't own a car.

You can set your own schedule. Work anytime you want.

Surge pricing gives higher pay (vary by region)

Most of the customers are polite and well-behaved.

Be your own boss.
Cons
A lot of time is spent waiting around at restaurants for orders.

Surge pricing is only available during peak hours i.e. Dinner and sometimes lunch.

You have to bear your own expenses for gas and wear or tear of your vehicle.

You must pay your taxes at year-end as an independent contractor.
Other Alternatives To DoorDash
DoorDash may be best for certain regions where you can get a lot of orders. But you'll struggle to get orders from a few areas.
In such scenarios, it's better to use similar apps or alternatives that do the same job. Basically, there are 3 best alternatives to DoorDash that you can use along with it. 
Should You Become a Dasher?
It's a great side hustle, but definitely not for everyone. If you are looking for a decent-paying side gig, you'll definitely enjoy DoorDash.
There are many things you should consider before making your last decision to join them. Like, if you know your area well with all the way around your city, you will definitely find it easier to deliver your orders on time.
Dashing depends a lot on your common sense because many times, you have to make decisions on the spot. Be prepared to face some situations where you will be asked to deliver food on the 30th floor. You may also have to park your vehicle a block away from the delivery spot that will suck your time. So, it's better to avoid them if the pay is low.
Some areas will have a lot of scope for deliveries whereas others will have a few. But on the brighter side, it's not a tough job to make good money as part-time.
If you are someone who loves driving, you'll definitely enjoy dashing. It's one of the genuine jobs that will pay out what you put in. All you need is proper time management, a good work ethic, and discipline. DoorDash won't let you down, but you need to do your part.
Conclusion – DoorDash Driver Review 2020
With flexible schedules and several perks, DoorDash is a good option for those who want to make decent money on weekends or even weekdays.
I won't suggest you do it full time, but if you are looking for a source to make extra money along with your job or studies, then DoorDash is no doubt a great option.
Having said that, if you made up your mind in becoming a Dasher, good luck to you.