When you click the links and ads on this blog, it helps me to pay the bills & keep this site free for you. Thanks for supporting me! For more info, read the Disclosure page.
If you came to know about this platform and probably, thinking about joining them? This Survey Rewardz review post will help you to make a decision. 
While reading the post, you can find out whether it is a legit site, and how much money can you make?
So, if you are interested to know more about Survey Rewardz, I hope you get all the answers to your queries.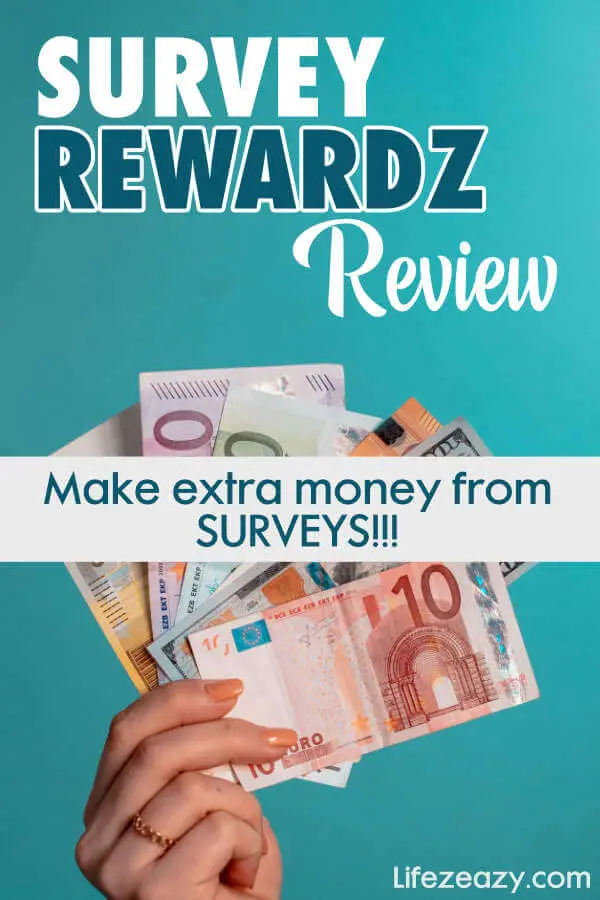 Read More

What is Survey Rewardz?
Survey Rewardz is a survey panel site owned by Points2Shop, LLC, that pays its members for taking part in online market research surveys.
Like other programs, they do not offer any videos, trial offers, shopping cashback, games, or any tasks. The only way you can make money is by taking surveys.
Some of the survey panels working with Survey Rewardz are Samplicio, OnePoll, Cint. 
Survey Rewardz Sign-up Process
You can join Survey Rewardz either using your Facebook account or email address.
While signing up, they will ask you some personal questions used for providing you the best surveys that fit your profile & demographics.
Please note that there is no sign-up bonus for registration. Unlike other survey panels, you will not get anything, and you have to start with zero.
Once you are done, you can start taking surveys available on your dashboard.
How Do Survey Rewardz Works?
Once you are logged in, you can see available surveys on your dashboard along with the payout amount.
Most of them pay less than $1, which takes around 15 minutes to complete. Occasionally, you can also find some surveys paying $2-$10.
The good thing about Survey Rewardz is the frequency of surveys, which is much better than the other survey panels.
When you take a survey, they redirect you to the original company, where you need to take a screening test to get qualified.
In the screening test, you have to take a few questions that decide whether you are compatible with the survey or not. In case if you are not? You can enter another online survey.
What Are The Options For Payment?
Most of the survey sites have a minimum payout amount that takes months to reach. But with Survey Rewardz, you don't have to wait that long because the amount is only $1.
When you hit your first dollar, you can redeem it in the following ways.
PayPal –

 $1.00 minimum, $0.10 fee if under $10

Amazon Gift Card –

 $5 minimum, no fees

Pre-Paid Visa Gift Card –

$5.00 minimum, fees vary.

Dwolla – 

$1.00 minimum, $0.25 fee if over $10.00

Mailed Check – 

$5.00 minimum, United States only
After cashing out, they take about a week to process the transaction and send out the money. In the case of Checks, you need to wait longer.
Make More Money From The Referral Program
Apart from taking surveys, you can also refer people to make more money.
If you refer someone through your referral link, you get $3 as a bonus, along with 15% of their lifetime earnings. But it is only applicable when your referral makes at least $3.

To promote your link, you can use your YouTube channel or Facebook page. Besides, you can also share it with your family & friends.
Improve your Quality Score
When you signup, Survey Rewardz rewards you with 100 points known as Quality Score. These points show your overall performance & honesty.
Whenever false or wrong answers are detected from your side while filling surveys, they will dock these points.
So, if you want to receive better-paying surveys, ensure to maintain them.
Now, how do Survey Rewardz test your honesty?
They sometimes ask you the same question multiple times as a way to test whether you are being honest. So, if your answers don't match with the previously given answers? You will lose points.
A lower point impacts your frequency of surveys, and probably you can get block from future invitations. However, if you maintain a good score, you will receive more surveys.
Survey Rewardz Complaints
I haven't found a lot of complaints, but still, some users were complaining about a few things highlighted below.
1. Hard to get qualify for Surveys
Well, rejection is a common problem in almost all survey sites, which I honestly don't like.
Many users have complained that they are not able to pass the screening test because of getting disqualified midway.
Now, I have already highlighted the reasons behind it in my secrets to qualify for surveys post. You can check that out along with tips on how to pass most of the survey.
2. No Referral Program
Referral programs are one of the best and fastest ways to reach the minimum payout. Sadly, Survey Rewardz doesn't have one.
It isn't a problem for people having no presence on social media, but it is definitely bad for others. So, if you have a good following on such platforms or have a YouTube channel? It can be a problem for you.
Pros & Cons
Pros
You only need $1 on your account to redeem for PayPal cash. This is actually quite good compared to other survey panels having a minimum payout that can take months to reach.

Offers a lot of surveys.

Before taking any survey, you can see the payout amount.

They will not send you emails regarding surveys. This is a good thing if you hate getting dozens of emails.

Lots of Payouts options.

Most surveys are short under 15 minutes.
Cons
Most of the time, you can get disqualified while taking a screening test.

Survey Rewardz takes a small fee while redeeming.

It doesn't offer other methods to make money.

The only way you can know more about Survey Rewardz is by joining the platform. As a non-user, you can't find enough details.

No sign-up bonus.
Survey Rewardz Review Verdict – Is It A Legit Or A Scam Site?
Well, it is a legit site that guarantees to pay its members.
By just completing 3-4 surveys, you can redeem your earnings, which is kinda hard in most survey panels because of the high threshold amount.
Even though Survey Rewardz is a legit site, don't expect to make a full-time income as you can only make extra money. 
If you do not mind a few dollars per month, that can get you food or pay small bills, you are definitely going to enjoy Survey Rewardz.
I hope my review post gave you a clear insight that will help you to make a decision. If you are looking for more survey sites with better payouts, you can click the link.