When you click the links and ads on this blog, it helps me to pay the bills & keep this site free for you. Thanks for supporting me! For more info, read the Disclosure page.
If you have been mesmerized looking at the sign-up bonus of KashTree, I think you should read this KashTree review before joining.
I came to know about this website two months ago when I was looking for some new GPT sites.
Even though I smelled a scam by just looking at the site, I still wanted to be sure about my doubts.
That's the reason I joined them and did some thorough research on KashTree and found many loopholes.
In this review post, I will discuss what KashTree is, how it works, & why I think it is a scam site. So, make sure to read till the end.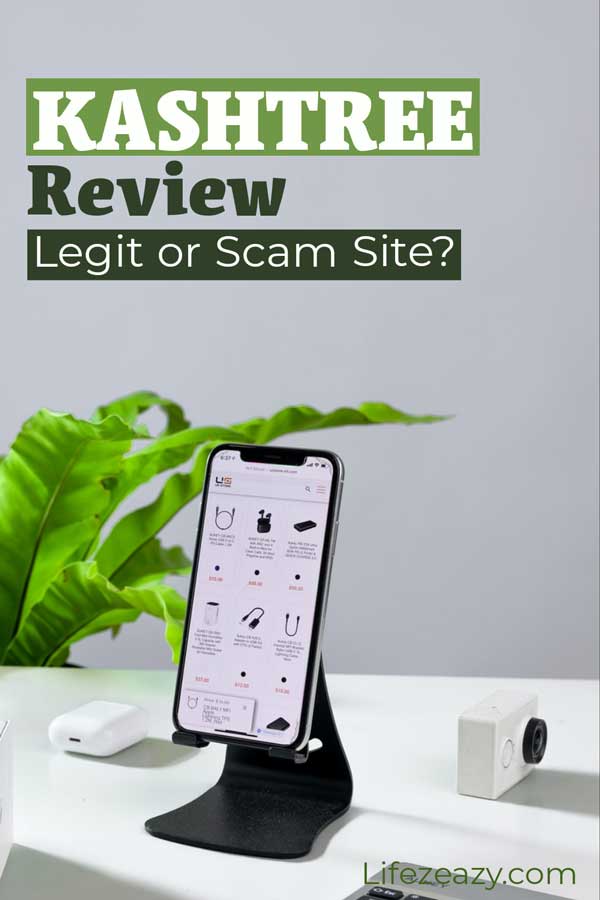 Read More:
What is KashTree?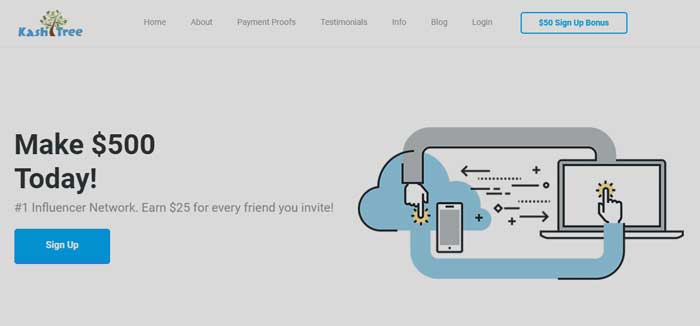 KashTree was founded in 2015 with an aim to provide a platform where anyone can make money using social media.
They claim themselves as an Influencer network, having paid over $44 million to over 300k members till now. Not only that, but KashTree also claims of having coverage from popular sources like Fox News & Forbes.
Overall, they try to portray themselves as a legit platform where people like you, and I can make some easy money doing pretty simple tasks.
Even though it all sounds so good, is it really true? Are they really what they are trying to portray themselves.
Or…
Is it just another scam site looking to make money from people instead of paying them? Well, we will find that out.
How KashTree Works?
When you create an account, KashTree rewards you with $50 as a sign-up bonus. Yes, you heard it right.
Along with the bonus, you can find several other options that help you to hit the minimum payout of $200 within a couple of months. Here are the ways they listed.
1. Refer & Earn
KashTree has a unique referral system where not only can you earn money for each referral, but you also get paid for clicks. 
For each click to your referral link, $2 gets added to your account & $25 for a new referral. Sounds unrealistic, right?
You can also make use of banners provided by KashTree to promote them on social media.
2. TaskWall
In the taskwall, you can complete different tasks such as taking online surveys, playing games, installing apps to earn $40. Each offer is allowed to try only once.
3. YouTube Submission
KashTree pays you a $50 bonus for uploading a promotional YouTube video using a title, description, & tags provided by them.
In the video, you can talk about your experience, how much you made, what you like, etc. with the sole focus of promoting them.
If they approve your video, you will win $50 as a bonus. 
4. Instagram Submission
Just like YouTube, you can also make $10 by creating an Instagram post talking about them. 
Surprisingly, you can submit a post every 48 hours, which means you can earn $10 every time you promote them on Instagram.
Pretty unrealistic, right?
5. Facebook Submission
Same as Instagram, where you get paid $10 for a Facebook post & you can submit a post every 48 hours.
6. Twitter Submission
Get paid $10 for tweeting about them every 48 hours.
Is KashTree a Scam Site?
Even though it looks like a legit site with all the claims and offers they are promoting, KashTree is far from reality.
I always suggest people looking to make money online to do some research before joining any site. That's because not only will they steal your info you will also waste your time.
With KashTree, I have noticed several red flags, which proves they are in this game not to pay money, but to dupe its members.
While doing some research and reading several user's experiences, I have jotted down a few points that uncover why KashTree is a suspicious site.
Red Flag #1 – Fake History
KashTree claims they started the website in 2015, which pretty much shows they are in the business for a few years. However, the problem is they are lying.
Now, you might think, is there any proof for my claim?
Well, before I reveal the proof, let me introduce to a cool website known as Whois Lookup, where you can see the creation date of any domain name.
Using this website, I did a little research to know the truth. To my surprise, they bought the domain name in 2019, as seen in the below screenshot.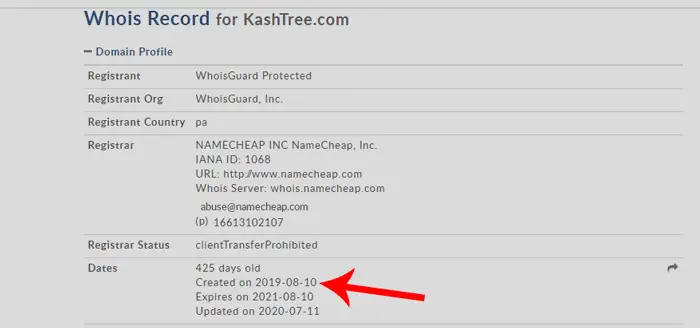 So, now the question is why they have to lie about the year?
That's because they want to look authentic. Nobody is going to trust a website claiming to pay $44M that came just a few days or months ago. It doesn't reflect the authenticity of whatever they are claiming.
So, maybe that's one of the reasons they came up with this gimmick to fool people and persuade them to join their platform.
Now, it doesn't end here because they have also lied about their member's testimonial.
Red Flag #2 – Fake People, Fake Testimonial
If you check out their Testimonial section on the homepage, you can find three members sharing their experience claiming to make over $13k with KashTree.
Though I don't believe them, I can't simply point fingers at them without any proof.  That's the reason I decided to check the testimonials to know its authenticity.
For this, I downloaded the member's photo and did reverse image searching to see whether they were used anywhere.
That's when I discovered two sites – Smart Dollaz & Viralcashpay using the same KashTree design/model and members testimonial to dupe people.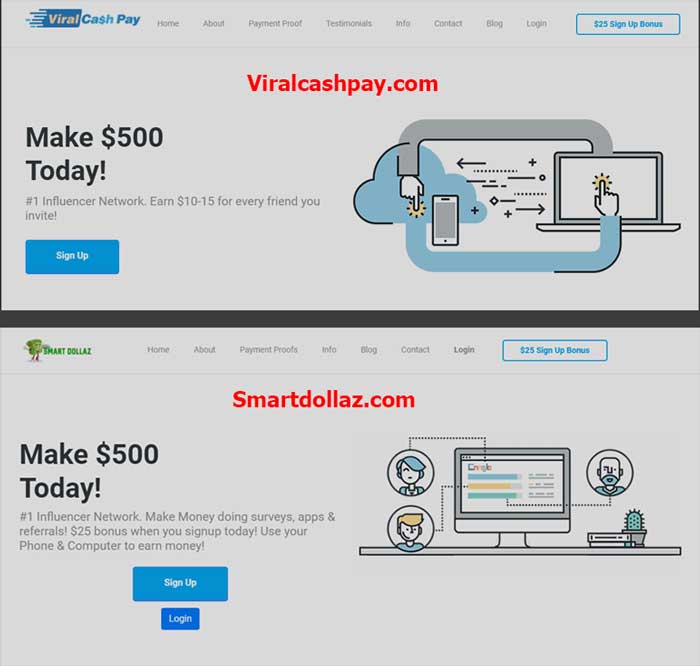 Now, I could have stopped my research after finding these two sites but still, I needed more confirmation to back up my claim. 
So, I further checked out my reverse image Google result and found the same pictures floating all over the internet.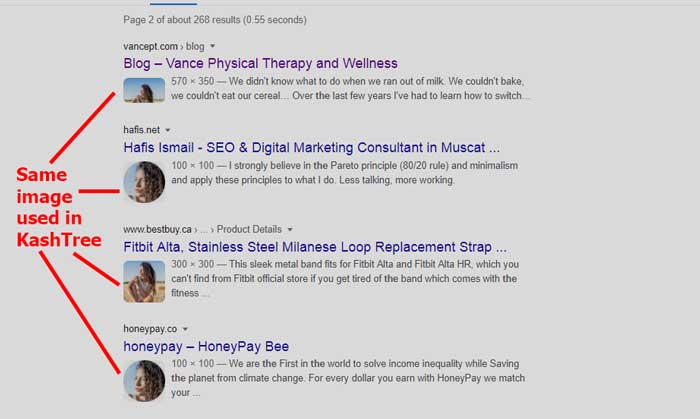 On one website (infyone.com), I find the same girl's picture with a different name, and there were many such websites.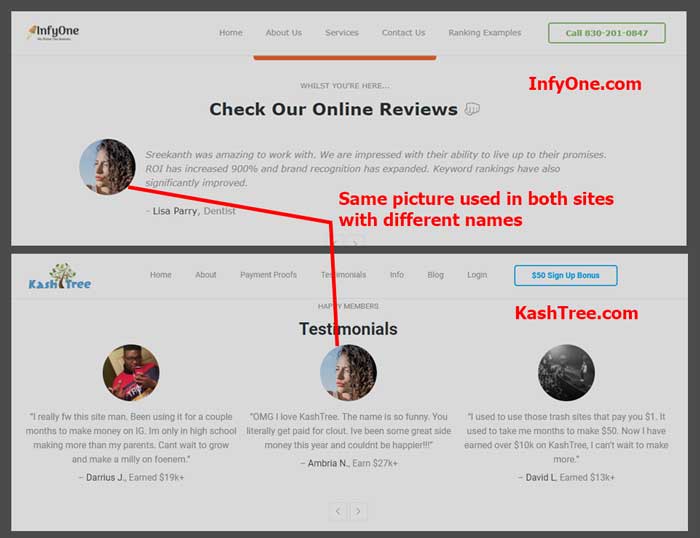 So, clearly, KashTree is using some stock photos to trick people into thinking they are some real members with real testimonials. But, we just caught them!
Red Flag #3 – Fake Payment Proof
If you take a look at their payment page, you can find a lot of screenshots of people getting paid by them.
Even though it may appear as legit, they are fake screenshots probably created using photoshop as there is no payment gateway mentioned.
To verify, I took one payment screenshot and did a reverse image search to know whether it is used before. Surprisingly, I found the same image used on a website called GiftPrizes started in the same year.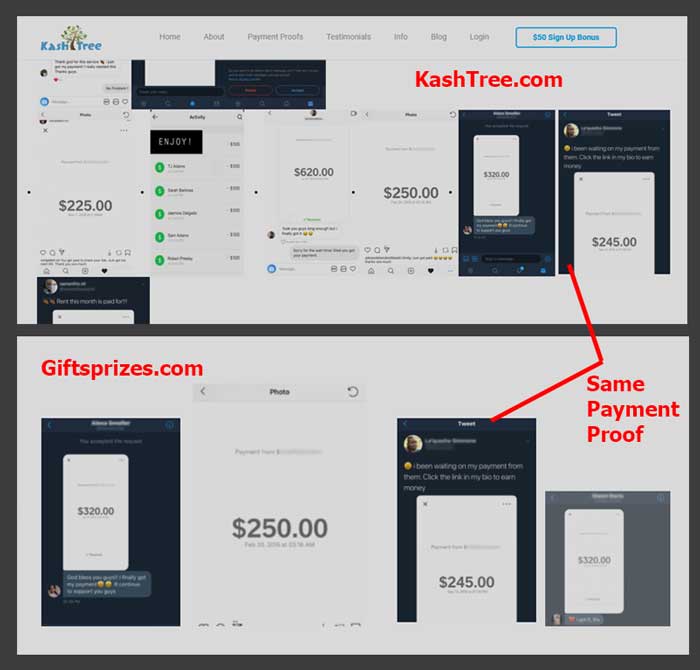 I also went overboard and did some digging on YouTube and Reddit to know whether any member got paid from them. And as usual, I didn't find a single comment where people received the payment.
Some users claimed they were rejected due to fraudulent activity while redeeming the earnings even though they didn't do anything. 
I read the same reasons from multiple users, which draws the overall conclusion that they will never pay you even if you are honest with them.
All the payment screenshots are created to lure people to sign-up for their platform. So, instead of wasting time on KashTree, it's better to focus on legit platforms like Swagbucks.
Red Flag #4 – Fake Promotional YouTube Videos
As discussed earlier, KashTree offers a $50 bonus to its members when they upload a promotional video on YouTube using their readymade title, description, & tags.
I am pretty sure many people might have signed up for their platform after watching these videos. But little do they know that these videos were only made to earn those 50 bucks.
That's the reason you can see a lot of videos where the users claim to make money from KashTree but in reality, they will never receive those earnings to their bank account.
So, if you have binged such videos, don't take them seriously as all of them are just trying to earn bonuses and referrals.
Red Flag #5 – Dead Social Media Accounts
When I tried to check their social media accounts, both Instagram and Facebook page is deleted.
When I clicked their YouTube channel link, it took me to a dead channel where the last video was uploaded one year ago. 
I also tried to contact them through their email address but didn't receive any reply.
So, I guess there is no way to contact them, and all the social media links/email address is just a showpiece. 
Imagine hitting the minimum payout amount after working for 1-2 months only to know you can't receive money & there is no way to contact them. Hurts, right?
Red Flag #6 – User Complaints Cheated By KashTree
Now, let's see some screenshot of users who got cheated by KashTree. They all were denied payment either because of fake fraudulent activity or without any reason.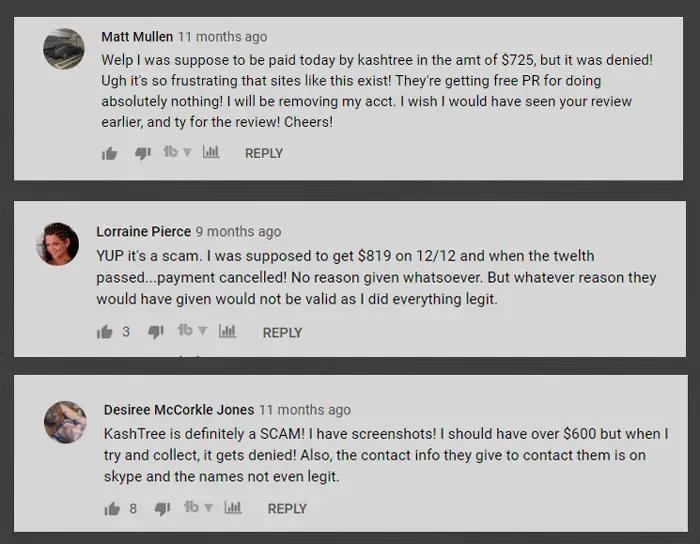 Red Flag #7 – Irritating Pop-up Referral Message
This one is not actually a red flag, but I think it is kinda fishy behavior from the KashTree side. 
I noticed that whenever you log in to the dashboard, they keep pushing the referral link onto your face. It seems like KashTree is desperate to get new referrals so that they can carry on with their malicious activities.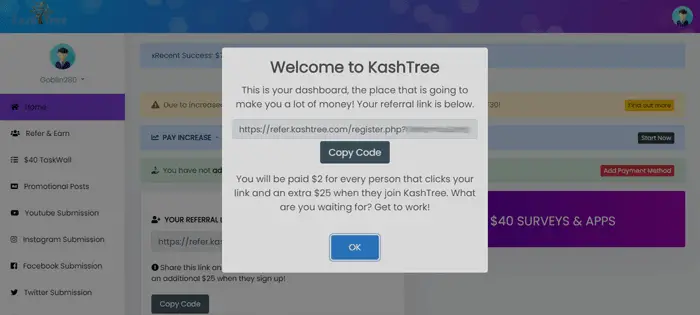 I have used many GPT sites before, and nowhere I have seen such pop-up referral messages that seems like, they are dying for new members.
So, for me, that is a red flag.
Red Flag #9 – Fake Coverage Claim
As discussed earlier, KashTree claims that they have been covered in Fox News & Forbes which is untrue.
When I did a Google search with the keywords like KashTree Fox News & KashTree Forbes, I couldn't find a single article about them.
So, clearly, they are lying just to sound more professional to build authority in the eyes of the audience.
How KashTree Scam People & Why They Do it?
The whole purpose of KashTree is to make money from its users without paying them anything. Even though you will see dollars getting add up to your account, it is just numbers. So, beware!
Talking about the offers, they are run by data harvesting companies. These companies are interested in collecting your personal information so that they can send you spam emails, junk emails, cold calls, etc. 
You will notice that whenever you try to complete an offer, they will redirect you to a third-party site where you have to fill in your personal details.
Moreover, when you complete a task or offer, third-party companies do pay the money, but it directly goes to KashTree. That means whatever you see in your dashboard is nothing but fake money.
Overall, I would recommend staying away from this site if you don't want your details to leak to some weird companies.
Final Verdict – KashTree Review 2020
In the end, I want to tell you, don't blindly join any platform just because they are advertising a high bonus.
Making money online is not easy and neither hard. Websites like KashTree that promise heavy bonuses are just trying to dupe you.
So, it is always a better idea to do some research before joining them so you don't waste your precious time.
I would recommend going for Swagbucks, PaidViewpoint because I actually got paid by them. Moreover, you can find more legit sites to make extra money online.
To conclude everything, stay away from KashTree as it is a 100% scam site looking to make money from your hard work.