When you click the links and ads on this blog, it helps me to pay the bills & keep this site free for you. Thanks for supporting me! For more info, read the Disclosure page.
If you are thinking of deleting your Qmee account but do not know how to do so? This step-by-step post will guide you through the entire process.
But before we jump to the main segment, let us have an introduction.
What is Qmee?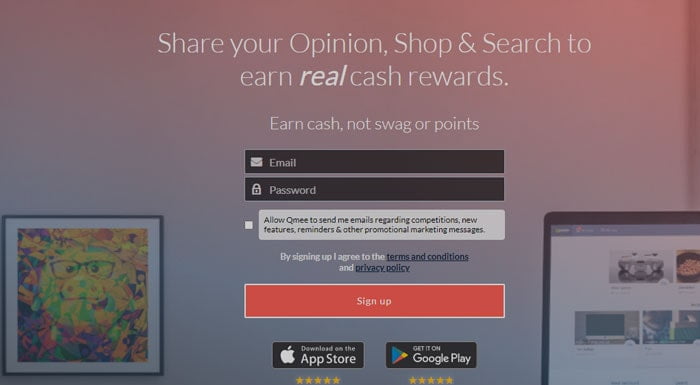 Qmee is an online rewards program where you can earn cash by completing surveys & performing online searches. Qmee also helps you to save money while shopping from your favorite stores. 
To use Qmee, you can either install their browser addon or the mobile app.
Why Would Someone Want To Delete Their Qmee Account?
There could be many reasons, but the most prominent one is getting rejected by online surveys. I have seen it frequently that most of the surveys on Qmee end up getting disqualified.
I won't say it is Qmee's fault because the survey you see on their site is coming from different companies. They are solely responsible for whom to accept or reject. So blaming Qmee is not a good idea.
Another common reason is the email spamming by the company. Now, you can solve this problem by marking their email address as spam and unsubscribing from their notifications.
But if you still want to delete it for other reasons? Check out the step-by-step method discussed in the next section.
P.S. – If you like to know a method to qualify for online surveys more often without getting rejected, click on the link.
How to Delete Qmee Account?
Unlike other programs where you can find an option to deactivate your account, Qmee works differently.
Instead of clicking a link that says "Delete", you have to write an email to the support team requesting them to close your account. This process may take some time, such as one week, but that is the only way to get things done.
Here is the step-by-step process for better understanding.
Go to your email account registered with Qmee and click on the compose email option.

Enter support@qmee.com in the To section & add "Request to delete my Qmee account" in the subject.

Now, write an email explaining why you want to close the account, along with providing details such as profile/user name and registered email address.

Now, wait for seven days to get a response. In case you didn't receive any reply, ensure to send them a polite reminder.
Check out the following screenshot of the sample email.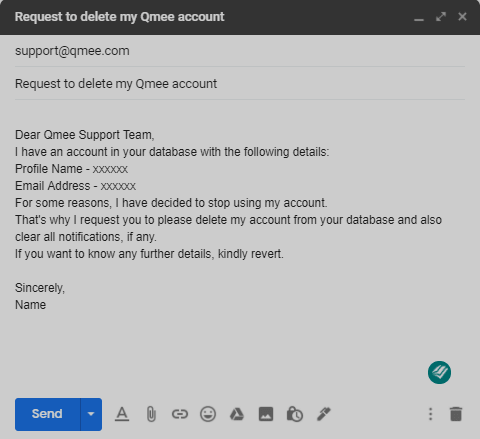 For convenience, I have written the whole script down below so you can copy & paste it.
Dear Qmee Support Team,
I have an account in your database with the following details:
Profile Name – xxxxxx
Email Address – xxxxxx
For some reason, I have decided to stop using my account. 
That's why I request you to please delete my account from your database and also clear all notifications if any.
If you want to know any further details, kindly revert.
Sincerely,
Name
Conclusion – How to Delete Qmee Account
Now that you are saying goodbye to Qmee, it is a splendid chance for you to explore new opportunities. Check out the following recommended posts: