When you click the links and ads on this blog, it helps me to pay the bills & keep this site free for you. Thanks for supporting me! For more info, read the Disclosure page.
Today, I will introduce 10 best apps to save money on groceries.
If you love discounts and cash backs on online or offline shopping, then you'll definitely love these apps.
Moreover, they are free to use & some of them also offer bonuses just for joining them.
So, if you're curious to know what apps am I talking about? Then let's explore them.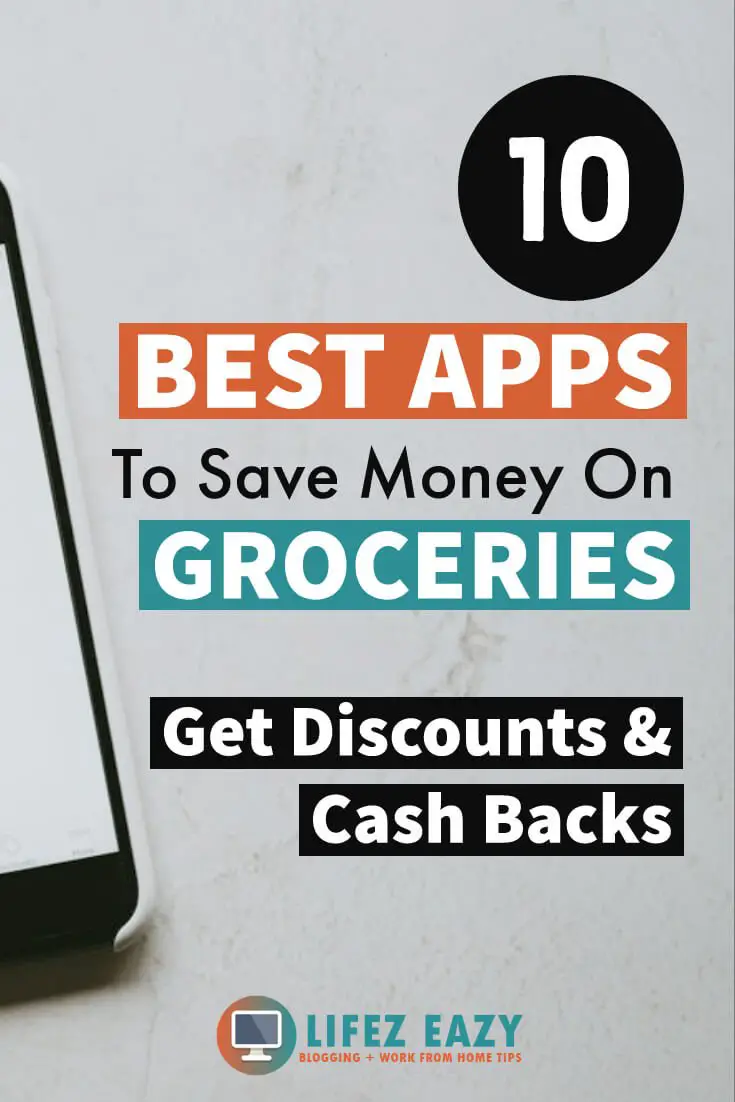 Best Apps To Save Money On Groceries
1. Ibotta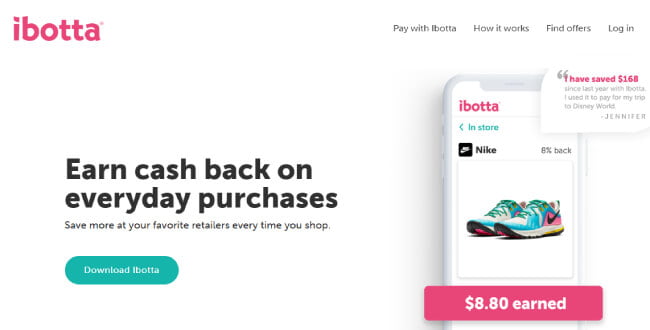 Ibotta is a free app that lets you get cash back rebates on store brands.
Ibotta has offers for thousands of products that you can buy at your local grocery stores such as Walmart, Target, and many other retailers.
It offers real cash back instead of points on your purchases which can be withdrawn to PayPal cash & gift cards.
How To Use Ibotta?
Before shopping, unlock cash back rebates on products using their app.
Buy those products at a store near you.
Verify purchases on the Ibotta app by taking a photo of your receipt.
You'll get cash back in less than 24 hours
Read More:
> 5 ways to make money online from home
> 4 Apps to make $100/month
2. Fetch Rewards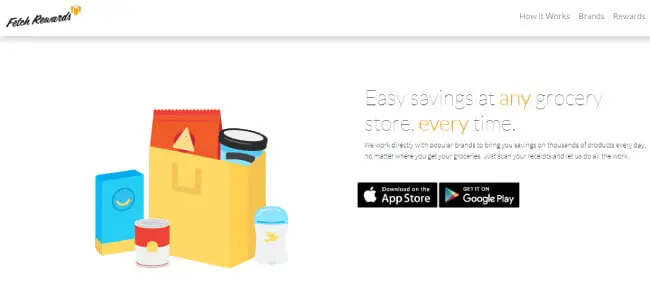 Fetch Rewards is a free mobile app that gives you cash back for taking pictures of your grocery receipts.
Unlike Ibotta where you need to buy products from a specific store to earn rewards, here, you can buy specific products from any grocery store you want as long as your offer appears on the receipt.
For scanning your receipt, you earn points that can get redeemed for gift cards to popular retailers such as Amazon, CVS, and Target once you reach 3000 points ($3)
You can make an average of 250 – 2000 points per offer.
How to Use Fetch Rewards?
Click here and join Fetch Rewards
Browse offers to see the reward points on products
Once you're done shopping, scan your receipt using the app so that the store name, items purchased, date of purchase, total amount and store address are easily visible.
They will include your cash back points in your account.
Collect a minimum of 3000 points to redeem it for prizes.
3. Shopkick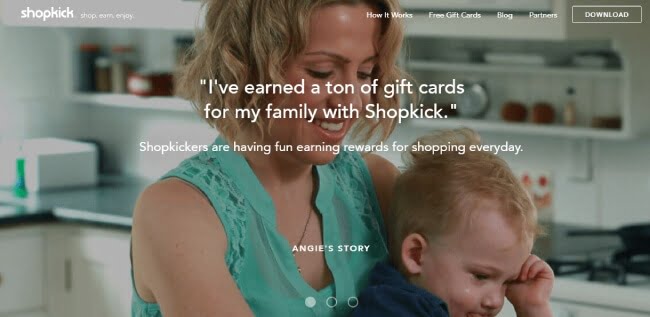 Shopkick gives the users an opportunity to earn gift cards by shopping at their favorite stores.
It partners with thousands of popular stores and restaurants to provide you with best offers that you can redeem on the site.
You can earn points by doing the following activities
Opening the app at preferred stores to earn points
Scanning items in the store
Scanning receipts where you've purchased select items
You can redeem these points for gift cards from Amazon, Walmart, Target, Walmart & much more.
Sadly, they don't offer the PayPal option for redeeming.
How to Use Shopkick?
First, you need to install the app. You can click here for the same.
Now, follow the activities I mentioned above to earn points known as kicks
250 kicks make $1 and you need at least 1,250 kicks for redeeming $5 gift cards.
4. Makeena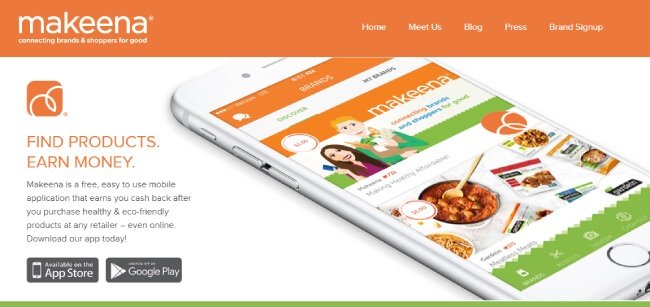 Makeena is an app that earns you cash back after you purchase healthy & eco-friendly products at any retail store online and offline.
For every product, you can get cash back from $0.25 – $3+ and you can redeem them once you've collected $20 in your account.
This app is like Ibotta. The only difference here is Makeena only offers healthy and eco-friendly products good for the body.
How to Use Makeena?
Install the app by clicking here.
Find products you're planning to buy and them in your shopping list on Makeena app.
Now, purchase the items from retail stores.
Scan the bill receipt with Makeena app to get cash back within 24 hours.
5. CoinOut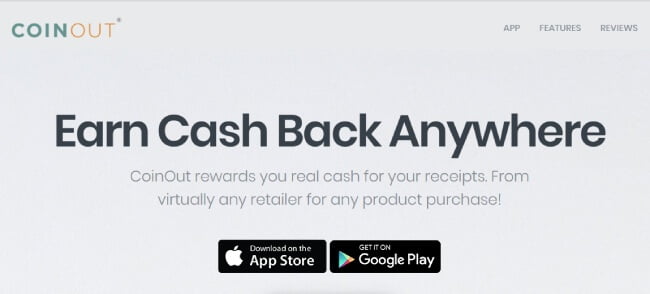 CoinOut is another best app to save money on grocery where you can get cash back while shopping online and offline.
They accept all retailers so you just need to scan your receipt to get paid.
In case of online shopping, you can shop from Walmart, eBay, Groupon, etc to receive cash back.
Surprisingly, they don't have any minimum payout. This means even if you save $1, you can redeem it for PayPal, Bank Transfer or Amazon gift cards.
How To Use Coin Out?
Install this app from here.
Shop from any retailer and scan your receipt using this app. Coinout will add your cash back in your account.
You can also shop online from their preferred partners to earn cash back.
Redeem it anytime for suitable prizes.
6. GrocerEaze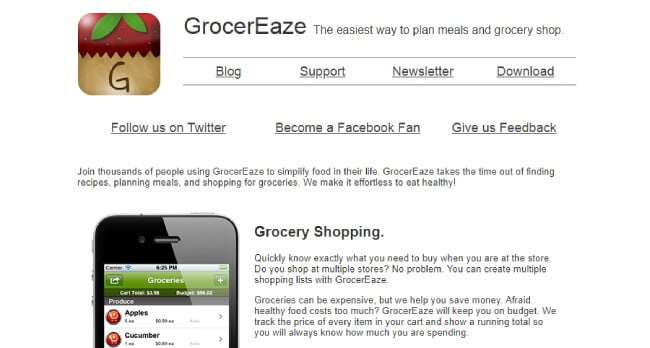 GrocerEaze is a different app than the rest of the apps I mentioned here.
This app will basically keep you on a budget by tracking all the prices of items in the cart and showing a running total so that you know how much you are spending.
It lets you create a shopping list within the app that automatically updates its current prices. This way you will always know the current price of any item & you can easily track your spending.
Other Features of GrocerEaze
When you buy all the items from your shopping list, GrocerEaze automatically moves it in your pantry. This way, you will always know what are the items you have in your home while shopping next time.
It also suggests you different recipes based on the items available in your pantry. If there is something missing in your pantry, you can add that item in your shopping list by just a click.
You can also maintain meal planning with this app.
7. Coupon.com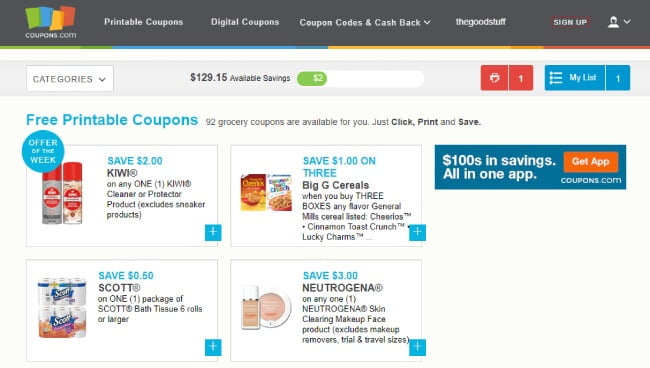 Coupon.com provides both printable and digital coupons so you can save money while shopping grocery items.
There are two ways to receive discounts on items.
You can print grocery coupons from coupon.com & hand it over to the cashier to receive discounts.
Or you can add a grocery store's loyalty card in your account to add coupons. This card will then give you discounts while scanning at checkout.
If you don't have a loyalty card, you can add coupons to your Coupons.com account which can give cash back when you take a photo of your receipt to verify the purchase.
They also have a coupon code section that gives you savings at hundreds of different retailers.
8. Checkout51
Checkout51 is a similar app like Ibotta where you can search deals and opportunities for cash back in your grocery stores near your area.
Here also you need to scan your receipt to receive cash back on the grocery items you purchased.
Once you collect $20 in your account, you can cash out and they'll mail you a cheque in your home address.
How To Use Checkout51?
Install the app from here.
Browse offers and buy products from any store.
Upload your receipt using Checkout51 app.
They'll confirm your purchase and credit your amount.
Redeem it for a check once it reaches $20.
9. Ebates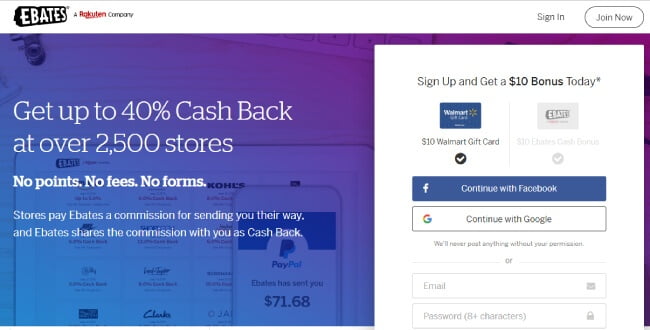 Ebates is an American cashback company headquartered in San Francisco, CA.
You can either access Ebates via their official website or through their smartphone app.
It offers coupons & cash back up to 40% from over 2,500 online retailers when you shop at these stores through Ebates.com.
Your discount amount will show up in your Ebates account within seven days.
Once your cash back has been in your account for at least 60 days, you'll get paid via PayPal, check or gift card.
Ensure to install Ebates browser extension that will notify you discounts on your browser itself.
How To Use Ebates?
Click here & join Ebates.
Select any store & click on the Shop Now Button. (You can see all the discounts store is offering)
Simply make a purchase and you'll be credited with your cash back within 7 days.
10. Grocery iQ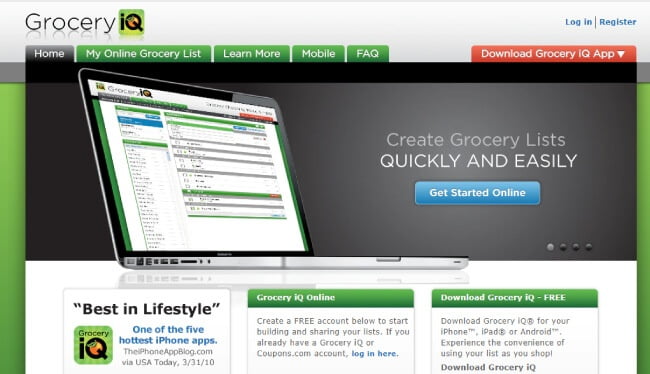 Grocery iQ is an app that helps to make shopping easier for buying groceries.
You can create a shopping list within the app using its database of products & you can even find coupons to save money on these products.
Grocery iQ allows you to scan the barcode of products you are interested in & you can also find grocery stores that are nearby using the app.
It also remembers the aisles in the store, saving you lots of time.
Ending Note…
So, these are the 10 recommended best apps to save money on groceries.
Let me know what you think about these apps in the comment section.
Also, if you want to share this post with your followers, ensure to share and pin this post.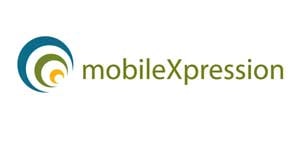 This app will pay you to do nothing. Just by installing and letting it learn about your online habits, you can earn AMAZING gift cards. The longer you leave it running, the more gifts you'll receive.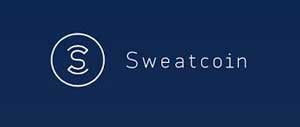 You can earn exciting rewards simply by walking. Install this app on your smartphone and start walking or running to earn rewards.