This post contains affiliate links. For more info, you can read my
Disclosure
page.
Yes, you heard it right. Making money with a blog is rewarding and it can help you make thousands of buck every month.
If you can make thousands of bucks every month, then you can surely travel to your favorite destinations without even worrying about your boring 9-5 job.
Having such financial freedom, you can feel like a free bird and can call yourself "Your Own Boss". You can work according to your schedule & guess what, no one is your boss who would yell at your mistakes.
It feels amazing, right?
There are bloggers who were once broke and didn't have a nice paying job.
Guess what they did? They started their own blog and worked so hard that today they can easily buy a car with their one month salary. Not kidding.
But to be honest, it isn't easy as it looks from outside. If you will start your blog just for the sake of money, then I am sure your journey will be so much difficult.
I will advise that before you even think about starting a blog intending to make money, just check the following points whether it is compatible with you:
Are you willing to work for at least 6 months every day?
Will hundreds of failure motivate you to quit blogging?
Can you write 5000 words article on your topic?
Do you feel like quitting your blog if you don't make a penny for straight 6 months?
If your answer is Yes, No, Yes, No. Then, congrats you are compatible with blogging because these are the problems you will face while practicing it.
Now I am assuming you have already started a blog but don't know how to make money from it. So, if that is the case, then in this post, I will highlight 7 different ways you can use to make bucks from your new blog.
But, before I reveal those methods, let me tell you some points you should consider if you want to achieve your money making goals.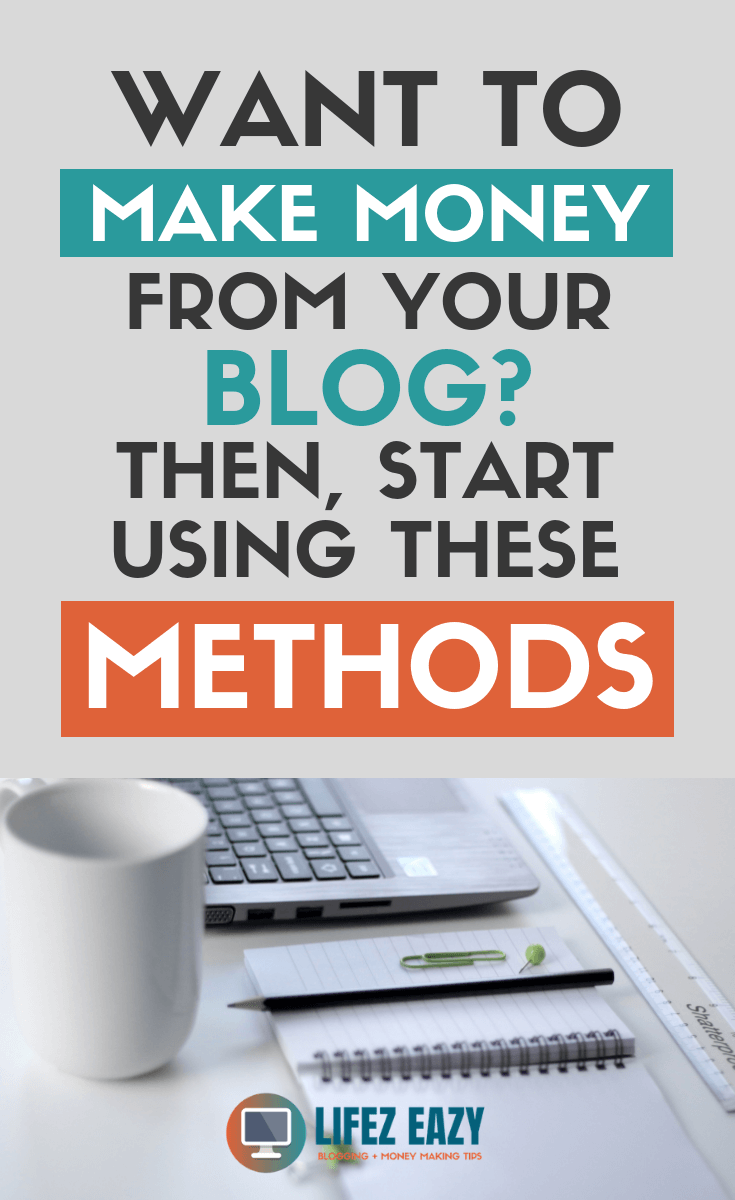 Things to do before making money from your Blog
Before you even think of making money from your blog, you need to know certain things that can guide you well in the moneymaking process.
Starting a blog and expecting money to roll in will never happen.  It can only happen in dreams but not in reality. To make money, you need to work hard but I would say you need to work smart.
There are certain things you must know and that's what I will talk here.



1. Create High-Quality content that readers are interested to read
Instead of writing on random topics, write on such topics that your audience cares.
You should at least have 10 high-quality content on your blog before even thinking about making money. Now, here high-quality content means the long descriptive type of contents.
This must also include evergreen articles.
For example, "starting a blog" topic will never be old because every year millions of blogs are being created.  In such a scenario, it is an evergreen topic.
That's why include them in your content building strategy.
Such types of articles will always drive traffic to your blog when being promoted consistently.
2. Start collecting E-mail address from the beginning
After you have written high-quality contents, include freebies related to your topic so that your readers can download it.
You can provide anything such as a checklist, stock photographs, e-books or any email course that your readers can access in exchange for their email address.
In short, you need to collect the email address of your readers from the beginning and this can only happen when you offer them some great helpful free products.
These email addresses will play a crucial part in making money for the long run. You can promote your products, affiliate products to them via emails which they are more likely to buy from you if they trust your opinion.
You should definitely learn about E-mail Marketing for this.
3. Include Affiliate links in your post
(If you are new to affiliate marketing, then don't worry I will talk about it in a couple of minutes)
Now, this is the step you should always follow while writing contents.
Whenever you write any problem-solving contents, find products related to it that can help your audience to solve the same problem quickly.
If you found any such products, then join their affiliate program and then include affiliate links in your content. In this way, you can help your audience and make money at the same time.
4. Concentrate on multiple streams of income
If you want to make a consistent amount of money from your blog, You need to concentrate on multiple sources of income.
I will advise you to never solely depend on any one source because what if one day it gets shut down?
So, it is a good practice to generate multiple streams of income from your blog which I will discuss in a few moments.
In this way, if either of them gets shut down, you can still make money from other streams & can run your blog with no difficulty.
5. Build a healthy relationship with your audience
Always pay attention to making a healthy relationship with your readers and bloggers can achieve this if they offer them good articles that can solve their problem.
Always put your audience first over money because if you don't have an audience then obviously you won't make any money.
A good way to build trust is to offer them solutions for free. Help them a lot so they trust you and your opinions.
In this way, after some time even if you suggest them affiliate products, they will be happy to buy from you. (No doubt that product must be valuable)
6. Blogging is not a get rich quick scheme
Always remember the above point because it takes time and effort. So, if you think that you will get rich in no time, then sorry blogging is not for you.
I always thought the same when I started blogging, but then I realized that it's more like a business and you need to keep work hard to make consistent money.
As far as my experience goes, a good way to speed up the process is by investing in blogging courses.
Let's have a scenario, you got to learn all the strategies of blogging when you blogged for one year.
During this one year, you got both the success & failure. But eventually, you learned all this within a year.
But now, there is another blogger who invested in a good blogging course at the very beginning and learned all the strategies within a few days.
After that, he applied all those tactics on his/her blog within that month and saw the result in the next 1-2 month.
Now there is you who saw the same result in a year and there is this blogger who saw the same result within 1-2 month. See, it makes a difference.
I know it's a bit difficult to invest in such courses if you are money conscious. But believe me, you won't regret because you will make twice or thrice your investment in no time.
So, if you have enough money, then you can check out these awesome blogging courses which can help you speed up the blogging process.
7. Follow successful bloggers in your niche
It's a great move to follow successful bloggers from your niche (Well, you can follow me as well, just kidding :p).
I will recommend you subscribe to their blog so that you can observe how they do e-mail marketing. How they promote various products through emails as these are the same thing you will do in email marketing.
Also, check out their blog and observe how they promote products via their content. How their blog is designed and what freebies they are offering to their subscribers.
You can also find out what affiliate products they are promoting from their blog. On an overall, it is a great tactic to learn more about blogging.
To help you further, I have a free eBook which will guide you in building a thriving blog that can easily drive massive traffic and then you can monetize those traffic to make money.  
This is a free guide which you can grab right now from below.
Different ways to make money with a blog (For Beginners)
Now let just discuss the main topic of this article i.e. the different ways to make money from your blog.
You can apply these strategies when you have enough content and traffic. If you are lacking both of them then start working on these two first and then implement the below strategies.
(You can implement some of them from the beginning itself)
1. Run Ads
This is the easiest method that you can implement on your blog to make money.
In short, it is just like making money in your sleep because all you need to do is run ads on your blog and if someone interact with those ads i.e. either they view, click or take action, you will make money out of it. Quite simple right?
However, you need to have a good amount of traffic to make a decent income. If you already getting at least 1000 visitors per day, then you can surely think about putting ads on your blog.
Now, for running ads, you need to apply for ad programs. There are many programs available on the internet but the best among them is Google AdSense which also runs on YouTube videos.
You can apply for the same to get accepted. But before applying, you need to make sure that you have these things
High-quality contents
About, Privacy policy & Contact pages
Simple blog responsive design
Provide your personal contact detail such as email address & social media handles so that anyone can contact you
When you have set-up all these things, then apply for the Google AdSense program.  You can expect to get accepted within a few days or weeks.
If you are accepted then it's well and good. But in case, if you are rejected then don't get upset because there are different Google AdSense alternatives on the internet.
One of them is Media.Net which comes under Bing and Yahoo ads. The approval for Media.Net is quite easier than Google AdSense.
So you can try this alternative.  Also if you are accepted in Google AdSense, then also you can apply for Media.Net to make extra money from both of them.
There is one more ad company known as Mediavine which is even much better than both Google AdSense and Media.Net.  They pay much better than the other two.
However, getting accepted into Mediavine is a bit difficult.  You need to have at least 25,000 sessions per month before getting accepted and this can only be achieved when you have enough traffic.

So if your blog gets 25,000 sessions per month then it's better to apply for Mediavine.
2. Affiliate Marketing



If you don't know what affiliate marketing is? then it is a method through which you can make money by selling others product.
Suppose, there is a product which you really like and want to suggest it to others. So, instead of suggesting them, you first joined the affiliate program of that product.
After getting accepted, you shared your affiliate link with others. Now, whoever clicks your affiliate link and buys that product, you make some commission. This is known as affiliate marketing.
It is considered one of the best way to make money from your blog.  There are bloggers who are making thousands of dollar per month just by doing affiliate marketing. 
Though, Affiliate Marketing is a big topic in itself. so you can refer my guide to learn more about it.
>>Read On: Easy Affiliate Marketing Guide For Beginners
3. Paid Reviews (Sponsored Post)
If your blog has a good consistent amount of readers who are taking action such as buying your suggested products, subscribing to your blog etc, then you can make money by doing reviews of different products.

You can do this in 2 ways:
If your website is already well known, then advertisers will themselves contact you to promote their product in your blog.

The second option is you can join websites where different advertisers are looking for bloggers for a sponsored post.
I guess the second option is appropriate for you otherwise you won't be here.
Now, there are certain websites from where you can connect with different advertisers who are looking for reviews such as:
Linqia (This is for US and Canada bloggers who should at least have 2,500 monthly visitors)
Paid reviews are a good way to increase your monthly income but always make sure to support good products.
Your reviews must be honest.  For example, if a product is not good and you are promoting that product in a positive way, then this can impact the trust of your readers.
If it happens, then your readers may not buy anything from you which is a big NO. So always make sure to choose good products and share your honest reviews.
4. Sell your own Digital product
If you wanna make long-term income then selling your own digital products will be the best option. 
Why? Because you can earn 100% commission, unlike affiliate products where you get a certain percentage of commission.
Now, you can either create an e-book, printables, video course, stock photos, etc.
The thing is if you are good at something in your niche which can help your audience in solving their problem, then you can definitely create and sell your own digital products which can help your audience.
However, before you even think of creating such products, make sure you have enough proofs to justify it.
For example, if you know how to boost blog traffic, then you can create an e-book which showcases different tactics that can be used to improve blog traffic.
For proof, you can show your blog traffic analytics that can justify your product. This will make your audience believe that your product is really worth the money & hence they would love to invest in it.



5. Sell Physical products
This is also similar to the previous one but here I am talking about physical products which you can sell by creating an E-Commerce site. 
There are various eCommerce themes which are available that you can use on your blog to make it look like a professional E-Commerce site.
Also, you need to install the WooCommerce plugin which makes sure that your site functions like one of them. Apart from this, if you are already selling products on eBay or Amazon, then you can promote those online stores in your blog as well.
You can write different contents targeting those physical products and then direct your audience to your online eBay or Amazon store. In this way, you can make some good money by selling such products.
6. Provide Services
This is a different way to utilize your blog to make chunks of money. Here instead of providing any digital or physical product, you can provide your own services just like you do in Freelancing.
In freelancing, you promote your service in either Fiverr, Freelancer types of websites. But here, you need to do the same on your blog.
For example, you can offer website designing, website creation service, Graphic design, SEO service, be a  virtual assistant, etc.  There are plenty of services that you can go for if you are good at it.
For each service, you can charge a good sum of money. Some of the services can even pay you on a monthly basis as long as they are getting the benefit. It's like a recurring payment.
So, find out what you are good at and start providing your services.
7. Create a Membership site
Now, this is another great way to make a lot of money if you have a good audience base.  Here what you need to do is instead of giving your articles or courses for free, you can set up a Membership Site.
What this will do is if someone wants to access your article or course which obviously must be valuable,  then they first need to pay for the membership and then they can access your course.
Make sure that the content is not normal like you write for your blog. It should be much valuable so that you can put a price tag on it.
As an example, you can create a "start a blog" video course where you teach all the steps required in the building, growing and making money from your blog.
Now, if anyone wants to access this video course, he must buy your membership. Once they paid for it, they will receive a username & password which will be used to access your membership site.
This is a great way to earn money on a monthly basis as long as your audience is getting benefit from it. 
Conclusion – Make money with a Blog
 I have mentioned some of the best ways you can utilize your blog to make money. Though, at first, you won't see much results. But, keep on working as nothing is easy.
Your main goal must be to increase your traffic. If you have a nice flow of traffic, then you can monetize those traffic using all these methods.
If you don't know how to increase your traffic, then make sure to check the below article. Also, show me some love by sharing & pinning this article.
You might also like: