In early days, if you wanted to learn something new there were only schools.
But today, you can find educational institutions & experts in almost every field are offering their full programs and individual courses online to share their knowledge with worldwide audiences.
But the problem is, both educational institutions & individual experts who want to offer their courses online need to create their own website, and it becomes quite difficult to get traffic.
In such cases, there are now so many platforms that are completely dedicated to offering online courses.
Some focus on a specific niche while others include courses in a wide variety of fields.
Whatever you are interested to learn, chances are you can find courses related to it in these listed educational course sites.
From the beginner levels all the way to intermediate and advanced, there's something for everyone.
So, without wasting much time, let's begin.
10 Websites to learn anything online for free
All of them provide free online courses with a few restrictions.
Some offers free courses within their trial plan and others offers them with no conditions.
You can even get certificates for completing your course which is great for your academics. But you need to pay a little fee for it.
1. Skillshare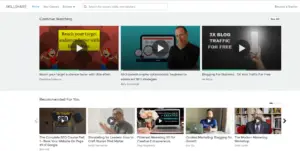 This has to be my favorite one. Skillshare is an online community based on video courses. It provides you with thousands of courses on absolutely any topic.
Whether it is cooking, freelancing or building a website, it has got your back. They stack it up with detailed video courses which can range from 10 minutes to over 6 hours of long classes given by experts in their respective fields.
Skillshare divides the whole video course into several videos arranged as chapters because of which you don't feel bored while watching it.
In this way, you can always resume your videos without even remembering the last timestamp.
You can even download classes from their official app to watch them offline. I have been a fan of Skillshare and have taken many courses in SEO, Social media marketing & much more.
However, if you are planning to take any course, then check the user reviews. Reading positive reviews about a course is a great sign to take that course.
Also, Skillshare is a paid platform which means you need to invest in their Pro membership that cost $15/month or $8.25/month for a yearly plan.
But the good news is, you can get free access to pro membership for the first 2 months to test Skillshare out.
This means you can take an unlimited number of courses for the first 2 months paying no dime if you sign up for their free trial plan. (I watched almost 30 courses during the trial period).
So, if you really want to try Skillshare for 2 months that too for free with no strings attached, then definitely go for it.
Read More:
>10 Secret Educational Websites to increase your knowledge
>17 Cool Skills you can learn for free to increase your Skillset
>Learn any new skill from Skillshare to make money online
2. Udemy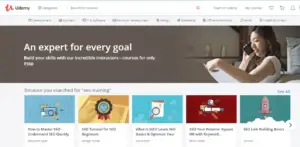 Udemy is an online education site that is incredibly popular and valuable resource.
You can search through over 55,000 courses in many topics and download the Udemy app to take your learning experience through mobile for easy quick lessons and study sessions when you're on the go.
Udemy has free and paid courses which start as low as $12.
If you are an expert looking to create and launch an online course of your own, you can also become an Udemy instructor and take advantage of their mass user ways to attract students number.
3. Coursera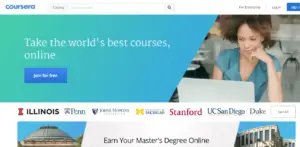 If you are looking to take online courses from over 140 of the country's top universities and organizations, then Coursera is for you.
Coursera has partnered with big universities such as Duke, Stanford, John Hopkins, to offer universal access to the world's best education.
You can find home-based courses over 2,000 paid and unpaid courses in over 180 fields related to business, accounting, data science, or entrepreneurship courses with official certification.
It is good if you are looking to learn the fundamentals & theoretical part of different subjects.
Coursera also has a mobile app available so you can learn at your own pace
4. edX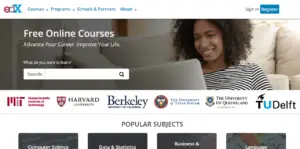 edX is similar to Coursera, but it has fewer courses compared to it.
EDX offers access to higher education from over 120 Educational partners including Harvard, MIT, Berkeley, the University of Maryland, the University of Queensland and others.
You can find courses in language, computer science, psychology, general biology, marketing & much more.
This is a great platform for high school level education or to earn a credit for University.
Credits are official credential from the institution signed by the instructor to verify your achievement.
5. Lynda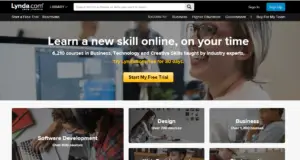 Lynda is a popular educational hub owned by LinkedIn for professionals looking to learn new skills related to business, technology and creativity.
They have over 6,200 courses that falls under categories like animation, audio, music, business, design development, marketing, photography, video and more.
When you sign up with Lynda, you get a 30-day free trial to try their courses.
Once your trial ends, they will charge you either $20 a month for a basic membership or $30 for a premium membership.
Also, if you ever want to deactivate your membership and then come back afterwards, Lynda has a reactivate feature that restores all your account data including all your courses, history and progress number.
6. Codecademy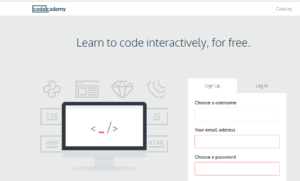 If you are looking to learn to code online, then Codecademy is the best place to start with. It offers many courses on HTML, Javascript, CSS, Python, PHP, Ruby, etc.
Codecademy provides free courses you can use to enhance your coding skills. Each lesson has various coding exercises to practice right inside your web browser.
This means you need not join any institution or spend any money anywhere if you are looking to learn such things for free.
I have interacted little with Codecademy & I am planning to learn HTML soon.
7. Open Culture
If you are on a tight budget but still looking for a quality education content, you better visit Open Culture.
They have a library of 1,300 courses with over 45,000 hours of audio and video lectures that are totally free.
You will have to spend a bit of time scrolling down through the single page that includes all 1300 online courses links.
But at least they are all organized by category in alphabetical order which makes searching easier.
Many of the courses available on Open Culture are from leading institutions from around the world including Yale, Stanford, MIT, Harvard, Berkeley.
You can also find
700 free audiobooks
1000 MOOC (free certificate courses)
800 free ebooks
200 free text books and much more.
8. Tuts Plus
Tuts Plus is for those who want to develop creative and technical skills.
Besides its vast library of how-to tutorials, courses are available in design & illustration, code, web design, photo & video, business, music & audio, 3D and motion graphics.
It has over 28,000 tutorials and over 1260 media courses with new courses being added every single week.
Unfortunately, there are no free trial but the membership is still affordable at just $29/month.
9. Udacity
Udacity is committed to bringing advanced education to the world in the most affordable, moderate and successful ways possible.
Udacity has around 200 free online courses that is a part of their paid micro-credentials known as Nanodegree for students to learn the skills are in high demand by industry standards.
They guarantee to offer their paid education training at a low fee compared to traditional schooling.
This is an outstanding platform to check if you are planning on working in technology.
You can find courses in Android, iOS, Data Science, Artificial Intelligence, web development & much more.
10. Alison
Alison is an online learning resource that offer free high-quality courses, education services and community support to ten million students from across the world.
They design their resources for absolutely anyone looking for a new job, promotion, college placement or a business venture.
You can choose from a variety subjects to pick from over 1000 free courses designed to provide you with a certificate and diploma level education.
However, not every course will provide a free certificate and you have to eventually pay a little fee to buy your certificate.
They will also require you to take or re-take on assessments to score at least 80% to pass.
Once you cleared, you will officially become Alison Graduate.
Ending Note…
So, these are my top 10 picks that are providing free online courses.
Let me know if you have tried any of them & also suggest me other sites like these.
Have a nice day.