When you click the links and ads on this blog, it helps me to pay the bills & keep this site free for you. Thanks for supporting me! For more info, read the Disclosure page.
You are probably one among several who want to know–Is Swagbucks Worth it?
Being a Swagbucks user, I can definitely say it is worth it as long as you enjoy doing online tasks. Swagbucks will not replace your day job but will surely add decent money to your account if you are consistent. With a variety of earning opportunities, it is one of the best GPT sites around.
I know you might think, well, what is the proof?
That is what I will share here, so you can decide whether it is really worth your time. But before I get into the business, let's talk about Swagbucks in a nutshell.
What is Swagbucks?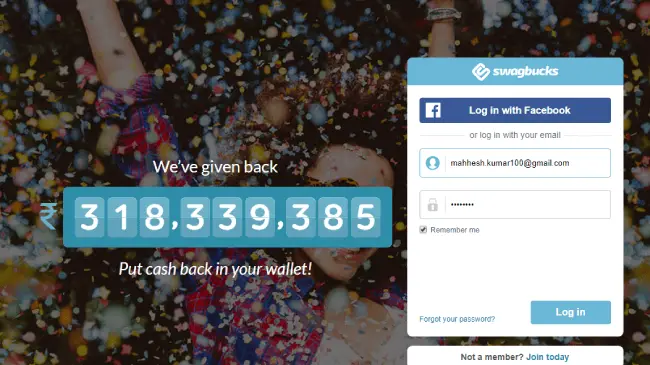 Swagbucks is an online reward program that paid over $500 million in cash and rewards to its members.
With plenty of earning opportunities to offer, Swagbucks is no doubt a great place to make extra money in your free time.
For completing each task, you earn SB (Swagbucks points) that can be redeemed for PayPal cash & gift cards once you hit the minimum payout. 
Overall, it's one of the popular sites that has been around for quite some time.
5 Reasons Why I Think Swagbucks Is Worth It
Reason #1 – Swagbucks is a Legit Site
Before I discuss other reasons, I want to tell you I got paid by them. Not once, but eight times as of now.
Here is the screenshot of all my wins.
I redeemed a $5 PayPal voucher for the first time & then I went for Flipkart (Indian E-commerce company) gift vouchers worth ₹500 each ($6.80). 
I wanted to go for $5 PayPal, but sadly, it got discontinued. So, I went for gift cards as they require fewer points.  Though in the beginning, it took me some time to collect SB's, it became easy once I got the grip.
So, the point is – if you have any confusion about whether Swagbucks is legit or worth your time, these rewards are enough to clear your doubt.
Reason #2 – It Offers Several Ways To Earn SB
Another reason Swagbucks is worth your effort is – it doesn't just depend on surveys, as they have plenty of features in their arsenal to earn points. So even if you despise a specific task, there are others to keep you engage.
Here is the list of earning options you can grab with Swagbucks. Please note that depending on your demographics, you may not have access to all of them. 
Online surveys – Complete online surveys and get paid around 30-70 SB or more. 
Watch videos – You can either watch videos on their official site or install the Swag TV app to view them directly.
Web searching – Use their search engine (powered by Yahoo!) to do regular searches to earn SB.
Print coupons – Print the coupons found in your dashboard to earn free points. Even if you just save them as a PDF file while printing, you can still receive the points without really printing them.
Daily poll – Swagbucks daily post a random poll that rewards 1 SB.
Play games – Swagbucks offers a couple of flash-based games that give points for every other time you start a play session. Each game provides a maximum of 10 points daily.
Complete daily goals – They have a daily goal, where you have to earn a specific amount of points by completing offers to receive bonus points.
Swagbucks codes – Periodically, they post bonus codes on their social media like Twitter, Facebook, Instagram. Using them, you can earn extra points.
Online shopping – Make a purchase from the listed stores (Walmart, Groupon, Macy's, etc) to earn a few SB per dollar spent.
Try Products/Services – For signing up for a trial plan for specific products and services, you can easily bag plentiful points. However, sometimes they require you to shell out some money on trial subscriptions to earn the reward. In such cases, only move forward if you're genuinely going to use the service else try only those that are free. 
Install Apps – You can also install & open apps or keep them active for certain days to receive points.
Refer friends – Refer new people and earn 300 SB when they make the same amount within 30 days. Besides, you will also receive 10% of their lifetime earnings as long as they are active.
Reason #3 – Swagbucks Has Low Minimum Payout
I always prefer reward sites and even survey sites that offer low minimum payout just because I cannot wait. I do not have the patience to wait for months to receive my payment when the site has high cash out.
This might not be your case, but I think it makes the platform boring, which results in losing interest.
Just imagine, on one website, you can redeem every week or month because of a low minimum payout while the other site takes 5-6 months to reach the cashout. Isn't the first one will be your choice?
That is why Swagbucks deserves the attention because you can redeem a $3 Amazon gift card for just 300 SB. Sadly, it isn't available in my country so I have to collect at least 800 SB for Flipkart instead. Nevertheless, if you are from America, 300 SB is enough to earn your first reward.
As far as PayPal cash is concerned, you need to collect 1,000 SB for a $10 PayPal voucher, which may take some time. But as long as you are daily active on Swagbucks, you're good to go.
Reason #4 – Referral Program Can Boost Your Earnings
As I discussed earlier, they have a pretty good referral program that can add some decent points if you have several referrals under your bucket.
If you look at my referral list, I have over 800 of them doing the job for me. Though it took me a lot of time to gain them, it still worth the effort.
Currently, I don't even spend any time on Swagbucks, yet I can redeem a gift card once in 3 months. All the credit goes to the referral program and my referrals. As a matter of fact, it could have been once every month had Amazon gift cards were available in my region.
I know you might think there is no way you can rake up such a number. But, I will say you can if you have a blog or at least a YouTube channel. Even if you don't have access to both of them, you can use a simple method that I followed earlier to gain referrals.
All you need to do is redeem a couple of times and take screenshots of all your earnings. Then go to any social media platform or forum where you can find interested people.
Join them & start talking about Swagbucks by posting your earning screenshots along with your referral link. I have seen people taking action when they see proof. It makes them think that if you can earn money, they too can.
However, if you keep on praising something with no evidence, you will not be able to convert them because they do not believe you. That's why this method is effective.
To cut to the chase – their referral program has the potential to double or even triple your earnings which makes them a worthy option.
Reason #5 – Earn $3 to $5 Without Actually Watching Videos
Unlike other sites like InboxDollars, you can earn points by videos without watching them.
That's right.
You don't have to interact with them because playing videos in the background will automatically add points to your account.
Just imagine – a user from another reward site has to watch all the videos to earn cash while you can do the same thing without watching them on Swagbucks. This makes room for you to spend more time on other essential tasks, like checking out your emails or surfing the web.
Moreover, if you want to do the same thing on your smartphone, install their Swag TV app & leave the videos playing to rake points.
As far as earning is concerned, according to Swagbucks, users can apparently earn up to $3 to $5 a day by just watching videos, which is not bad.
A Few Things To Consider Before Signing Up 
I know you might be hyped to join Swagbucks, but there are a few things you should know before proceeding.
1. It Won't Make You Rich
Swagbucks won't replace your day job. Even though you will make some decent money, it can't be considered as a full-time earning.
That's why if you have built such high hopes in your mind, I will suggest you should instead try blogging as Swagbucks will disappoint you.
2 Disqualification Problem
Most surveys could end up getting disqualified. This means that even if you have completed each question in a survey, you won't probably earn the reward if you don't belong to the target group.
Personally, I don't like surveys as I find them boring. Even so, I sometimes try them whenever I am free. Though I don't succeed most of the time because of my demographics, I still complete a few of them by following some survey completion tips.
Also, Swagbucks pays 1 SB for each survey you attempt. So, even if you get rejected, you can still add 1 SB to your account.
Not a bad thing, right?
If you are just like me who isn't much dependent on surveys, you will enjoy your time on Swagbucks.
Final Thoughts – Is Swagbucks Worth It?
I hope you got your answer. I won't say it is the best site to make extra money, but surely, a better option among several other GPT sites.
Many members earn money from Swagbucks that helps them pay their bills, and even teenagers use it to earn cash as pocket money.
If you want to add a few dollars or new gift cards once every 1-2 months? I will definitely recommend them.
So, what do you think about Swagbucks? Let me know in the comment section.
---
Do you want to make even more extra cash? Be sure to try the following ideas!
READ NEXT: