This post contains affiliate links. For more info, you can read my
Disclosure
page.
"In this article, I will be doing "Databack App Review" where I will explain whether this app is legit or not."
Have you ever thought that spending your internet data on different apps can give you some Paytm cash?
I know it sounds little absurd. But, yes it is possible!
You can make a few rupees each month by just using your internet data normally on your smartphone.
However, it won't happen automatically unless you are using Databack app. 
Now, there might be so many questions running on your mind about this app. But don't worry, all your confusion will get cleared when you read this review till the end.
So, if you're darn excited to know more about this app, then let's begin.
>>Read More:
TABLE OF CONTENTS
What is Databack App?

How do Databack App works?

Different ways to collect data

How to register on Databack App

Other offers to earn Paytm cash

How to redeem your Paytm cash?

Pros

Cons

My Personal Experience

Conclusion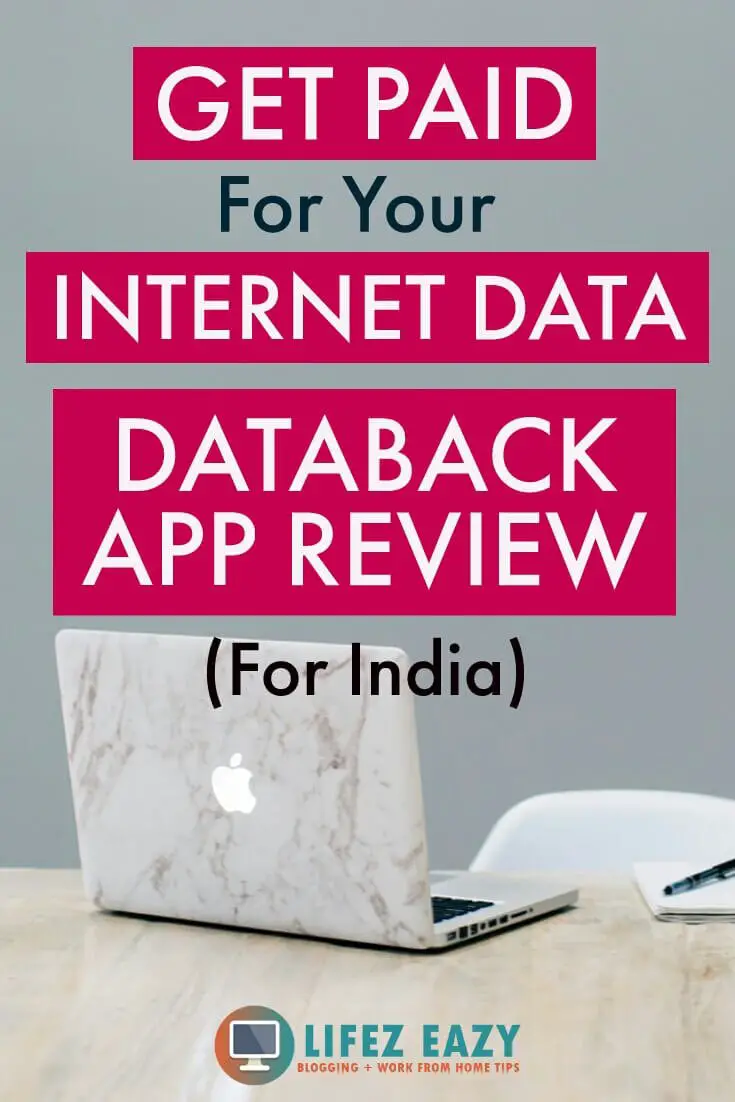 WHAT IS DATABACK APP?
It is an app that refunds a part of your internet data used by other apps. Using this refunded data, you can exchange it for a mobile recharge or for Paytm cash.
This app is similar to any cashback app like Ebates which gives cashback while shopping online.
The only difference is, here you get data instead of money.
HOW DO DATABACK APP WORKS?
When you activate this application, it will refund a part of your mobile data that's being spent on running different apps.
For example, if you are using an app for 30 minutes, you may spend around 50 MB.
This means those 50 MB gets deducted from your internet pack. However, if you have activated Databack app, then a part of those 50 MB gets refunded back to your Databack wallet.
So, in this case, you may get a refund of 5 MB that gets stored in your app account.
Once you have collected 350 MB's, you can exchange it for a mobile recharge or Paytm cash worth ₹6- ₹7.
DIFFERENT WAYS TO COLLECT DATA
There are multiple ways available in this app through which you can collect more data on a regular basis. Let's see all of them.
1. Using multiple apps daily
If you are using apps like YouTube, Instagram or any other application on a daily basis, then a part of data consumed by these apps will be refunded back to you.
You can always click on the refund button (Rocket icon) to collect your refund data on your wallet. Usually, you can get up to 30 MB daily. However, it depends on your usage.
2. Spin the wheel
 There is a spinning wheel which can be used to get extra data twice a day. Usually, you can get up to 50 MB per day if you're lucky.
3. Watch Videos
You can also watch videos related to different apps which will reward you 2 MB per video. You can watch as many videos as you want with an interval of 1 minute.
However, I have noticed that when you save around 30 MB in a day (either using apps or watching videos), then you can't save further data. 
4. Refer others
This is the best option to gain more data. All you need to do is refer others with your referral link. Once they register using your link, you will get 25 MB.
After that, if they open and use the app for 5 days, you will get another 25 MB in your wallet. Moreover, when they take a free recharge using this app, you get another 50 MB.
So, on an overall, you can gain 100 MB by referring to a single person.
STEPS TO REGISTER ON DATABACK APP
Use this link to download the app to get 5 MB bonus.

Once downloaded, install the app.

Databack will ask for the "autostart" permission. Click on the "Allow" button.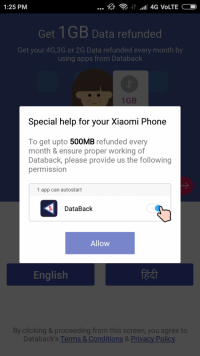 Now, simply turn-ON the autostart option for this app.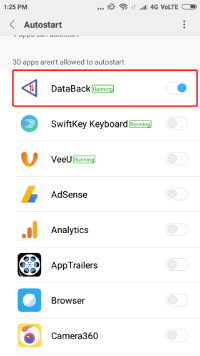 Once done, hit the back button and you can see a confirmation box. Just click Yes.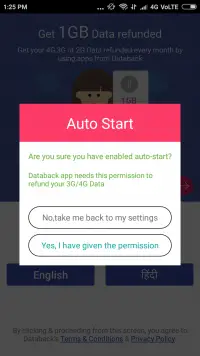 Once done, you need to choose your preferred language.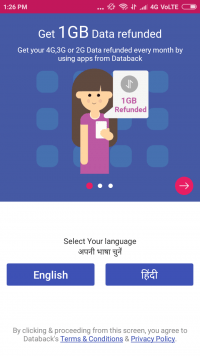 Then enter your personal details such as name, email address & mobile number to verify your number. You will receive an OTP through SMS which will be automatically added.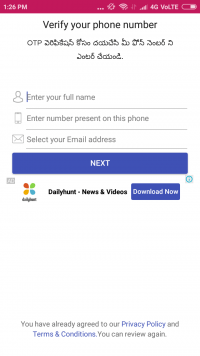 Next, you will land on the home screen where you need to give permission for "App usage access". To do so, click on OK.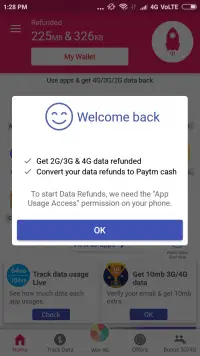 It will take you to a screen where you need to turn ON the "App usage access" option for Databack. Once done, hit the back button.
That's it. This was all the sign-up process that you need to do.
Next, just go to your profile tab by clicking on the top left button (3 horizontal lines) & fill-up your profile details. Also, go to your email inbox and confirm your email address to get an extra 10 MB.
Once everything is done, you can see 15 MB in your wallet. Now, start using your mobile normally to get data refund on a daily basis.
OTHER OFFERS TO EARN PAYTM CASH
Apart from getting data, there are many offers running on this app that gives you the chance to earn Paytm cash. Here are the three ways:
1. Play Quiz & Win ₹50
There is a quiz game which runs every hour. It consists of 20 questions (very easy) with 4 options. For each correct answer, you get +10 points and -5 points for wrong answers.
After every hour, a winner is chosen based on the high score who is rewarded ₹50. If there is a tie, then the winner is chosen randomly.
So, if you win on a particular day, then you will be able to play this game on the next day. If you don't win, you can try this quiz every hour i.e 24 times a day.
2. Daily Contest
You can also enter the daily contest which can reward you Paytm cash. All you need to do is follow their instructions.
It can be either installing apps from their offers section or referring maximum people in a day.
Whoever is the winner will be rewarded a certain amount of Paytm cash.
3. Win 

₹10 talk time
In this, you need to refer two new people who must register on Databack app with your referral link in a specific amount of time (usually 8-10 hours). 
If everything went well, you will get a recharge of ₹10.
HOW TO REDEEM YOUR PAYTM CASH?
You can only redeem your data once you collect 350 MB in your Databack wallet. For each 350 MB, you can either
Get a free emergency recharge (2G, 3G, 4G & Talktime recharge)

Claim Paytm cash (₹6-₹7)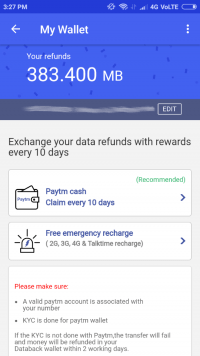 You can only redeem it every 10 days which makes it 3 times a month. To claim your Paytm cash, you need to chose the Paytm cash option.
Once selected, a box will appear which will ask for your Paytm mobile number. (make sure your Paytm number or account is KYC approved otherwise transfer will fail)

Simply enter your mobile number in this box and hit OK.

You will be given two option for Paytm cash. One will be for ₹6 & other will be for ₹7 (recommended).

Select ₹7 option and click ok.

Next, you need to install & sign-up any two apps from the Databack recommended app list.

Simply choose any two apps & install them. After that, register in both of them.

Once done, your Paytm cash will be approved and your money will be added in your Paytm wallet within 30 minutes. 
PROS
You can redeem every 10 days

Gets instant money on your Paytm account

Don't require much effort to collect 350 MB
CONS
You won't make much money

Need to install & register any 2 apps while redeeming for ₹7 Paytm cash which is kinda annoying
MY PERSONAL EXPERIENCE
As far as my experience goes, if you are thinking to make a lot of money, then this app is definitely not for you because you will be making only a few rupees each month.
Now, it doesn't mean that the app is waste. Actually, it is good because you are getting paid for your data. Even if it is just a few rupees, it's actually better than nothing.
When I installed this app, I just wanted to know whether it is legit or not because I heard so many stories that the app is fake and many of them didn't receive any money on their Paytm account.
So, to make things clearer, I took the challenge to try it out.
I installed the app and started using my mobile normally. I was using YouTube, Instagram, Facebook, Games etc every day as I would always use.
With these activities, I was getting around 30 MB data every day which was getting saved on my wallet.
After 2 weeks, I was able to collect 380 MB. Let me tell you, I didn't participate in any offer nor I watched any videos to gain data.
All the data I collected was just by using my mobile normally. 
Now, after I reached my threshold data, the big question was "Will I actually get paid?"
So, to clear my doubt, I choose to redeem my data for ₹7 Paytm cash & let me tell you that I actually got paid within 30 minutes. Here is the screenshot.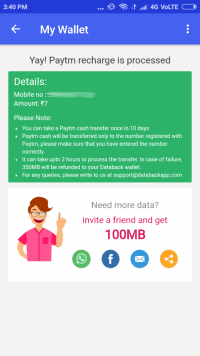 Though, while going through all the process, I disliked their app installation & sign-up requirement.
However, it only took me 2-minutes but still, I felt that it's unnecessary.
But the good news is, I got free money for exhausting my data on different apps. Moreover, when I got my cash, I uninstalled those apps which I installed while redeeming.
CONCLUSION – DATABACK APP REVIEW 2019
So, overall, I will say that the app is legit and it does pay. However, don't think to make a lot of money.
If you are ok to receive a few rupees in exchange for your internet data every month, then go ahead and use this app.
If you liked this review, then don't forget to share and pin this article.
>>Read Next: Start making money by learning a new skill
Summary
Reviewer
Review Date
Reviewed Item
Author Rating