Are you new to blogging?

Don't know how to get started?

You may have come across different blogs all over the internet & you might be thinking "Well! Heck yeah, I could start my own blog". This is where I was when I was getting started with blogging.

Talking about myself, I started this blog on 18th June 2017. To be honest, I was a complete noob at blogging. But, to be frank, this is the best decision I made in my life.

Well after 7 months, I have started earning a good income from my blog. Moreover, I can live my life on my own terms & be my own boss.

There are many reasons to start a blog. Some of them want to share their passion & others look it as a business. No matter whatever your reason is "NEVER QUIT ON YOUR BLOG". 

Here are the top bloggers with their income & you can predict the capability of blogging.
Moz | SEO – $4,250,000/month

TechCrunch | Technology – $2,500,000/month

Gizmodo | Design & Technology – $325,000/month

Shoutmeloud | Online Marketing Niche – $50,000 / month

In this article, I will show you how to start a profitable blog from scratch. 

Don't worry, you don't need to be a tech savvy to start a blog. It's pretty simple & quick. I will guide you on how to start a profitable blog with Siteground in under 10 minutes after you have decided your niche.

Let's start with beginning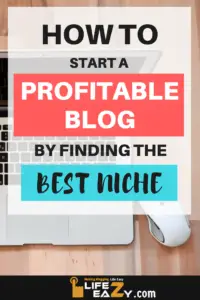 This post contains affiliate links. For more info, you can refer my Disclosure page.

1. Choose Your Niche

This is the first thing you need to decide. You should exactly know what you are planning to write about. Even though this can be a challenge for some people, but don't worry I will help you to sort it out.

When I started blogging, I had many things on my mind like writing about troubleshooting computers & mobile, music etc. That is why I choose my domain name as "Lifez Eazy" because it fits in every niche so that I can target different topics. But believe me, it wasn't a wise decision to start a multi-niche blog.

Hopefully, I understood this early and now my blog only targets "Online Marketing Niche"

Why I prefer single niche over multi-niche?

Nowadays, new bloggers want to go for multi-niche because they think that they can target more audience & earn a lot of money at the same time.

Multi-niche are good and there are people who are running multi-niche blogs and cashing out a lot of money. However, I suggest that if you are a beginner, it's better to concentrate on a single niche because multi-niche blogs require double effort.

Also, there are few disadvantages that you may encounter while running such blogs. Some of the problems are
You will have a broad audience and not a niche based audience.

SEO is difficult for a multi-niche blog.

Making Money is difficult

Difficult to manage

Such blogs have high bounce rate which is not good for SEO (Bounce rate is the percentage of visitors who come to your website and leave without viewing any other pages on your website) 

So you should consider all the above factors while deciding.

After you have decided that you will go for a single niche, it's time to decide it.

Step 1 – Write Down Top 3 Niches

Now, you may be confused because you have a lot of topics that are going through your mind while deciding the best one.

To solve this problem, write down all the topics on a piece of paper that you would love to blog. Out of that, choose top 3 topics which you consider are important than the others. Now, it's time to analyze these topics.

Step 2 – Explore Sub Topic / Sub-Niche For These Topics

It's time to explore all the sub-niches related to your topic so that you get an idea about the sub-niches which are targeting your main topic.

To do that, head over to Google and type Forum: "Your topic". For example, If my main topic is "Gardening",
then I will search as Forum: "Gardening".

This will pop up all the forums related to your topic. Open it and explore all the sub-categories that people are discussing as shown below. Write down all the categories in an excel sheet. (Do it for 5-6 forums)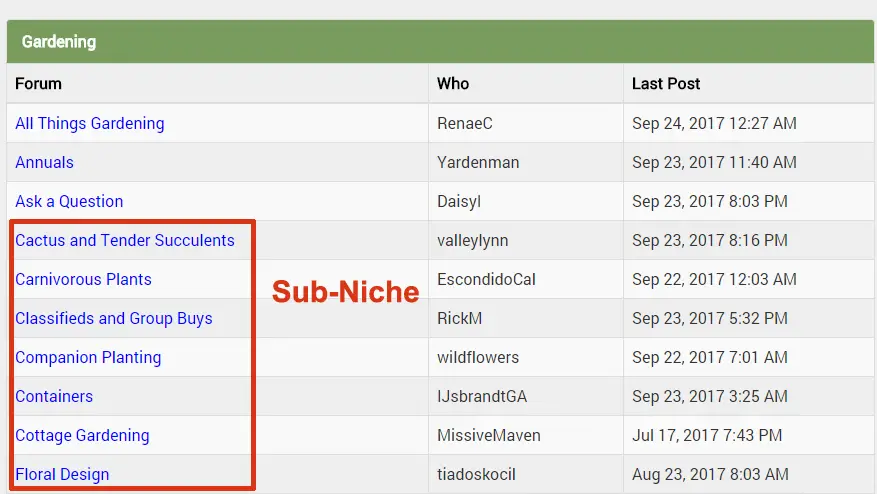 You can also target the problems which people are facing in your niche. To search those problems, type forum:forum URL"Please help"

Now here, forum URL is the URL of your topic forum & you need to type problem questions such as why is it, need help, please help, what is the, how is the, when can I etc.

You can see below example for your reference.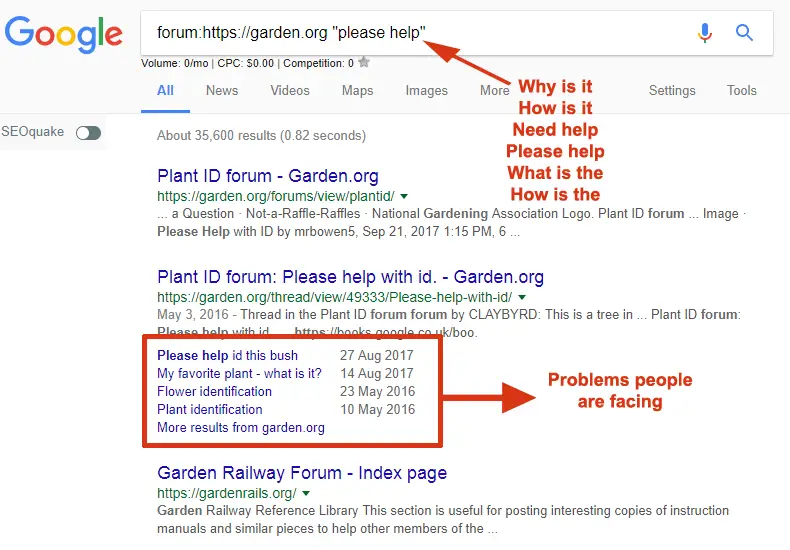 You can do the same with Quora as shown below. Please note that you need to change Forum to Site as shown.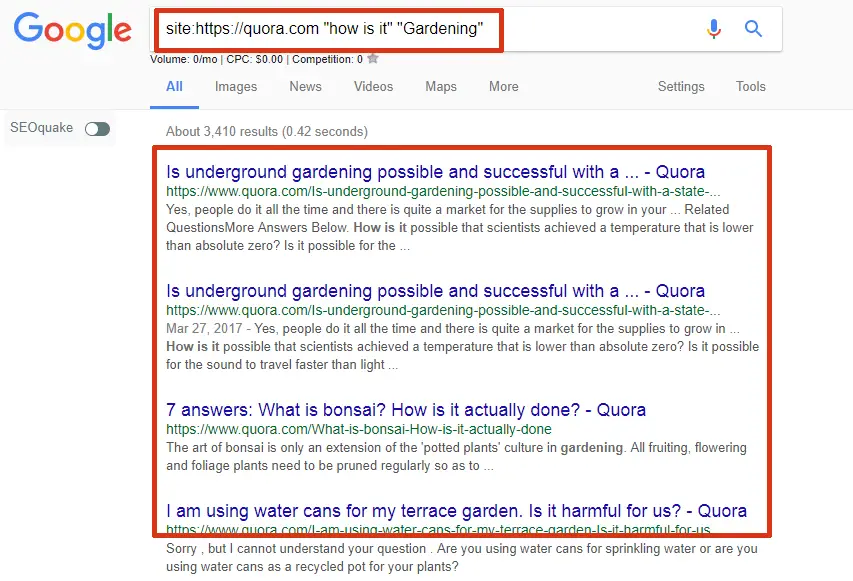 Rinse & repeat the process for other main topics as well & record them on an excel file

Step 3 – Explore Social Media

The purpose of this step is to find out whether your topic is active on social media. To do this, go to Facebook and write your topic in the search bar and have a look at all the groups that are related.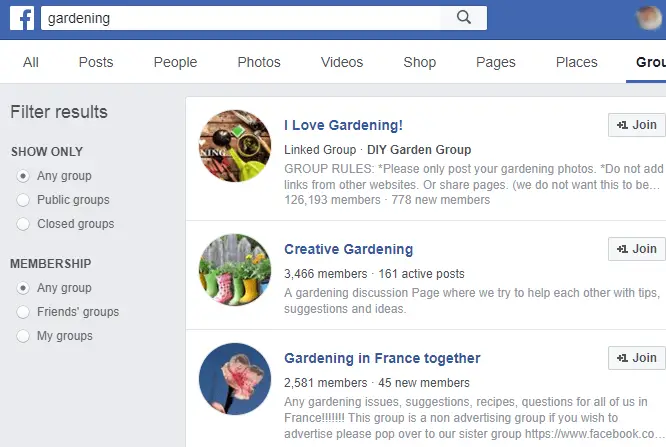 See their member quantity & post quantity. If the group is open, you can simply check out their latest post to see whether they are active or not

If it is closed, you can still make out by the number of the post and members, it is having. Do the same for all the subtopics as well.

This will give you an idea whether your chosen topic is active on the internet or not. If it is, then it's a green signal.

Do the following for other main topics as well & record them in excel.

Step 4 – Check Competition

In this step, you need to check the competition for all your topic keywords along with their subtopic keywords. Look out for those topics which have high search volume with low competition.

You can find out all these info on any keyword research tool. I use Jaaxy keyword tool because it gives exact search stats not only from Google but from other search engines as well. You can also use Google keyword planner, but results may vary because it mostly shows ads competition.

Anyways, do this for other main topics as well so that you have a clear understanding of the competition for your niches.

Step 5 – Ask Questions

After gathering all these information for all the 3 topics. Now, it's up to you to decide which niche topic will be best for you.

In order to find out, ask some questions to yourself.
Does your ideal niche is active on the internet? (got info from Forums, Quora & Social Media)
Is people are asking a lot of questions about your ideal niche that need to be answered?
Is your ideal niche likely to buy products? If so, then are these products solve a specific problem? (got info from asking all the problem-related questions in step 2)
Are there enough topics to create a lot of content on your ideal niche? (by looking at your subtopics & problems)
Do you enjoy writing a long post of more than 2000 words around this niches and wouldn't get bored?

Out of 3 topics, one topic will surely be a winner that answers all these questions in a positive way & are will be better than the other 2 topics.

If you got one, then you finally found a profitable niche that
You love & can write for a long time

Have many subtopics to write about

Have an audience which is active

Knows all the problem that the audience is facing & hence you can provide suitable solutions for it.

Knows which products your audience will buy & you can make an income out of it.

Thus, this is how you find a profitable niche that rocks. Next up, we will look how to set up a profitable blog from scratch.



2. Choose A Blogging Platform

You will need a blogging software to run your blog. I would recommend going for WordPress blogging platform. Now there are 2 types of WordPress. One is free (wordpress.com) & another one requires hosting (wordpress.org).

If you are serious about blogging & want to have a profitable blog, then I highly recommend WordPress dot org. You should avoid free blogging platform services like Blogspot or WordPress dot com. Why?

Because
You won't be controlling your blog content.
Your blog could be shut down at any time for any reason.

So, I recommend you to use WordPress dot org platform with SiteGround (I will discuss below why you should choose SiteGround ) because you will actually own your blog & can monetize your content. Also, you will have full freedom of customization and blog design.

So now the question comes. Why should you choose Wordpress.org platform?

Because
Most of the websites are hosted on the same. As you can see below chart from Neil Patel dot com where he discusses various blogging platforms, most of the users are using WordPress.org.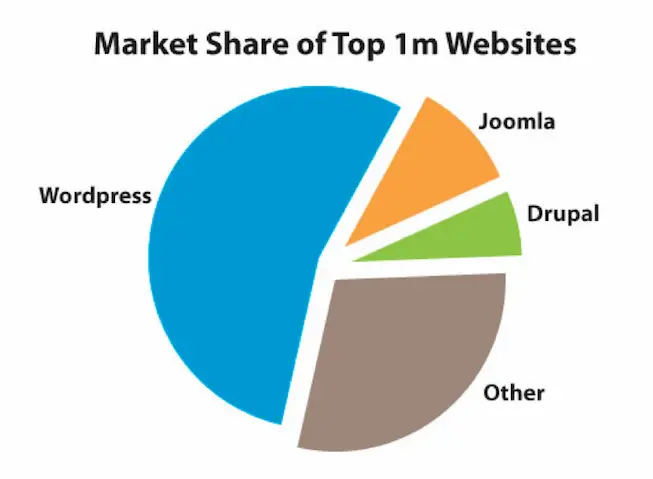 You have thousands of plugins & themes to choose from (both free & paid).
WordPress is Google friendly. So you have better chances to rank on Google.



3. Choosing A Domain Name 

Now choosing a domain name is a fun part. You can be creative in doing so. But before deciding your domain name, think about what your blog is about?

Is it about a niche or is it about you or are you trying to create your own brand? For example, a niche blog domain name – Backlinko.com (SEO related blog). If it about you, then the example for the same will be Yourname.com.

But, if you are into creating your own brand, then the appropriate example will be Shoutmeloud.com ( a blog about online marketing). Try to understand above factors & choose accordingly.

So you have made your decision, that's great. But before that, you need to give importance to certain points while creating a domain.
If possible, try to include your niche name along with other words. For example smartpassiveincome.com ( a blog about making an income through online marketing)
Try to make your domain name as short as possible so that there will be less chance for misspelling.
I would recommend going for a .com domain extension.
Avoid hyphens & numbers because that may confuse people.
Check all the social media whether the chosen name is available for creating profiles.

After you have decided your domain name, it's time to purchase it. I personally bought my domain name from GoDaddy because they provide domains with great discounts and you can get a domain name at a very cheap cost for the first year.

However, I would recommend you to purchase it for multiple years because in this way you can save a lot of money rather than renewing it for every year.

Click Here To Create Your Domain Name

If you don't know, how to register a domain name with Godaddy? You can read this guide which will show you the required steps for registering a domain name.



4. Choose Your Blog Hosting

Now that you have picked your domain name, its time to choose your blog host. I recommend going with Siteground if you want a good blog host at cheap price with excellent service.

You will be amazed to know that WordPress themselves recommend Siteground as one of the best blog hosts to run a WordPress blog. Not only WordPress, there are thousands of other bloggers who recommend Siteground, including myself.

Why I love SiteGround?

The fact I love it because of the following reasons & test we conducted.
A poll was conducted on Facebook regarding the best web hosting platform. All the major web host was listed on it. You can see below screenshot for the final result.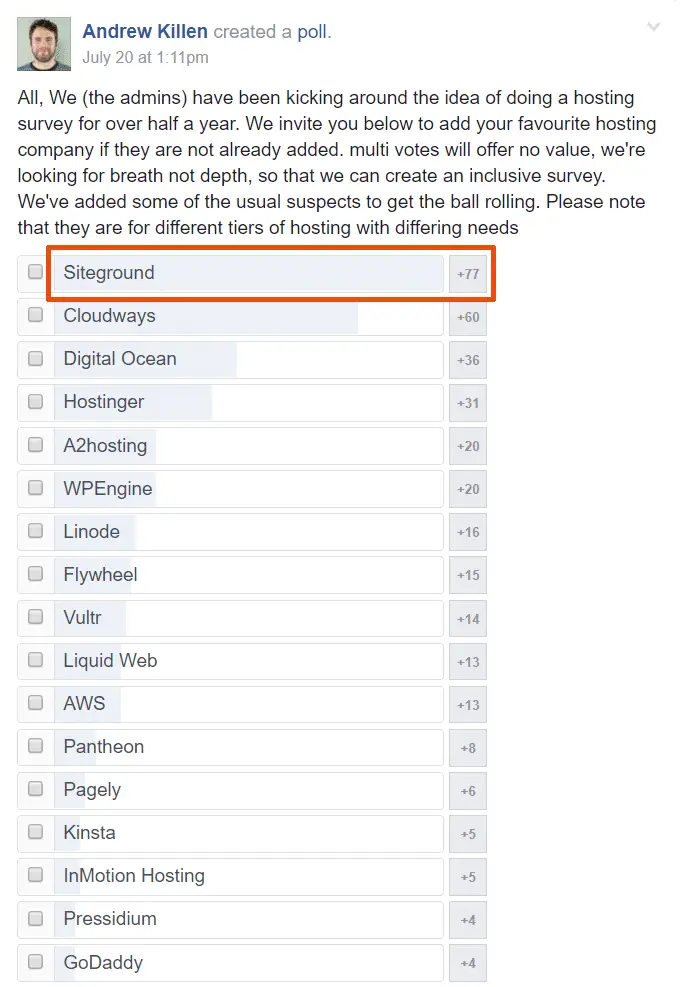 Uptime is just perfect. We experienced an uptime of 99.998% by conducting an uptime test on Uptime Robot website (Original Uptime is 99.998% but it rounds off to 100%. if it is more than 99.995%.). What this means is your website will be staying up & running smoothly without any server down problem.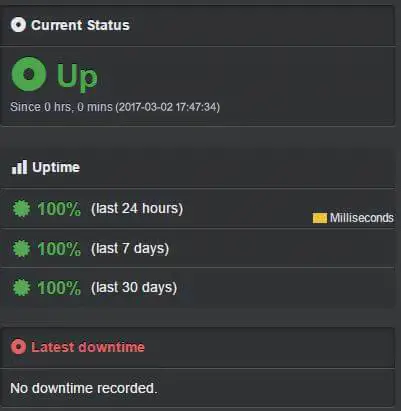 In terms of loading time, we conducted a test on Pingdom website. The average loading time was found to be 482 ms which is higher than the average loading time of 1052 ms. Also, the loading speed was consistent as we didn't encounter any slow & spikes. You can see the below report.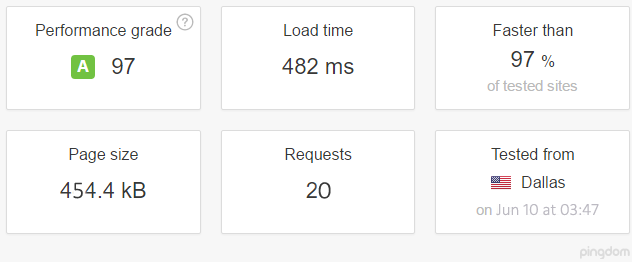 They have 24/7 support for all of your questions. If you are facing any problem or have a question in your mind, you can ask Siteground tech support team. It doesn't matter if it is day or night, they are always available to solve your query.
If you go for GrowBig plan and higher, then SiteGround will provide you with SuperCacher which makes your blog 4x more faster, able to handle up to 100 times more hits & better user experience.

As you can see, starting your blog with SiteGround gives you a lot of features. Also, Google just loves fast loading sites which means your content will be ranked better in comparison with other slow loading sites.

There is one more advantage with SiteGround which I really like. I will reveal that soon. So, just wait a little bit. Anyways, let's start with SiteGround. You can read my full review of SiteGround here

Click Here To Start With SiteGround



5. Sign Up For Website Hosting

SiteGround offers 3 plans – StartUp, GrowBig, and GoGeek. If you are a newbie who has no experience with blogging & want to try it by keeping expenses low, then I recommend going for Startup Plan.

However, If you want the best performance for your blog or if you are planning to have more than one website (which you'll probably do), then I highly recommend going for the GrowBig plan. Plus, you will have access to SuperCacher (because everybody hates slow website).

Finally, if you already got an existing site with high traffic or running an E-commerce website, then I highly recommend for GoGeek plan. Not only you will get out of the world performance but you will also get more priority support from the SiteGround tech support team.

If you use my special link, you will save 60% on the regular price.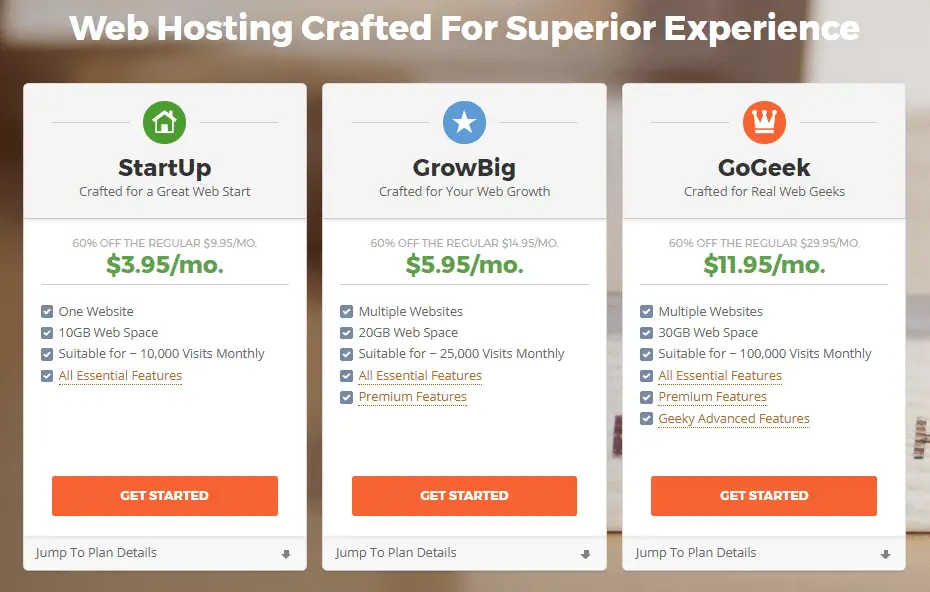 You can take advantage of this special discounted price for longer than one year. That's right, I recommend that you choose 2-year or a 3-year plan so that you can save a good amount of money & you won't have to worry about any hosting bill for the next 2-3 years.

Alright, choose your appropriate plan & click get started. This will take you to another page where you need to choose a domain name.

Choose Your Domain Name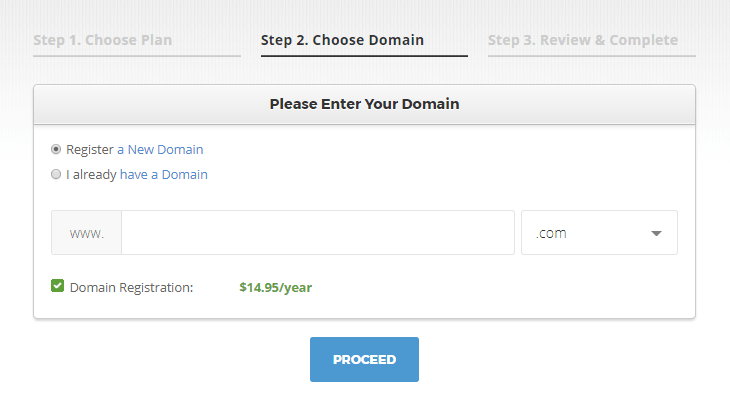 As you can see above screenshot, you have 2 options. You can either register a new domain with SiteGround or use an existing domain name.

I prefer never to have your domain name & web host with the same company. It's better if both of them are bought from different companies.

Why is it so?
If you ever want to transfer your web host, then you'll probably have to move your domain name as well. Transfering of domain names is annoying, time-consuming, and confusing.
You get added security. If ever your website gets hacked (It should never ever happen to anyone), not only hackers may destroy your website but also they can transfer the domain away from its web host. So, if your domain is separate from its web host, hackers may access your files, but your domain will be safe (assuming you aren't using the same login and password)

So, type in your domain name and click proceed.

Enter Account Info

Fill out your account & client info.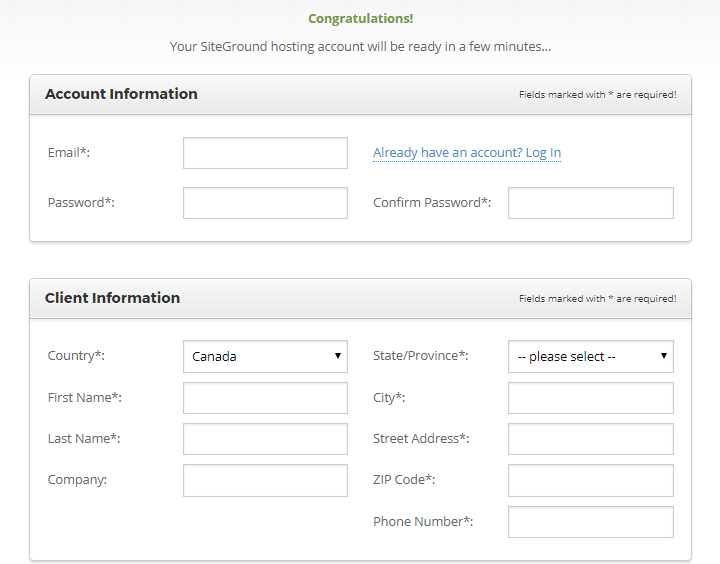 Next, fill your payment & purchase information. As I already mentioned, make sure to choose 12 months or longer period to get the most benefit.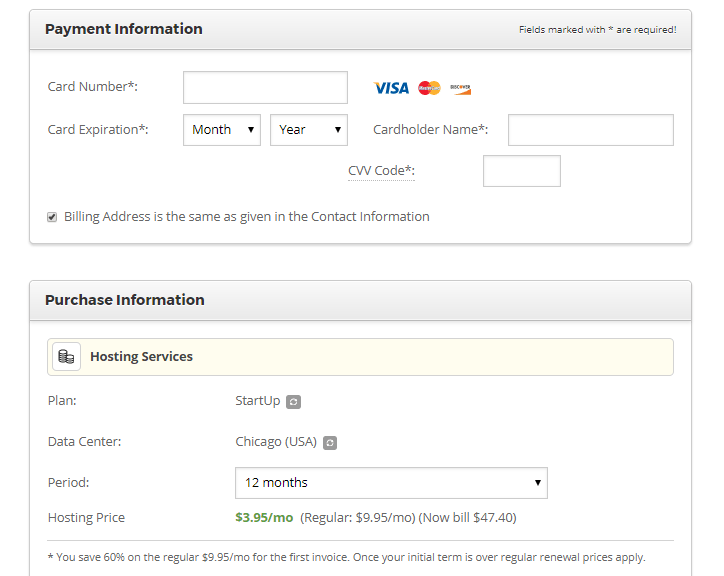 After you are done, next is the extra services that you can either choose or ignore.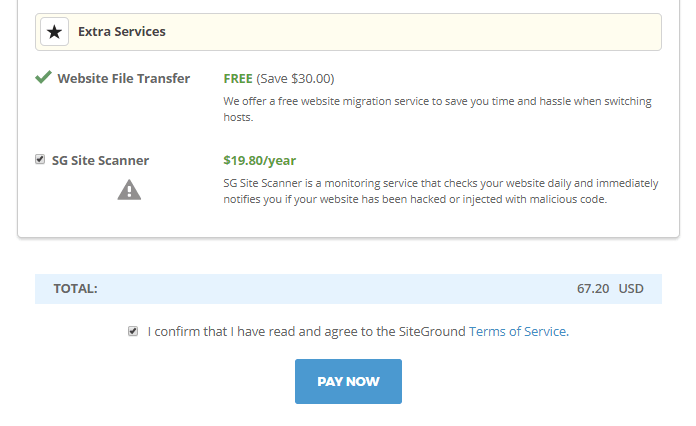 Make sure to check the terms & conditions checkbox & finally click on Pay Now. That's it, Congratulations! Now you have a hosting for your blog. Pretty easy right?

Alright, you are pretty close now. One last thing you need to do is to install WordPress on your blog.



6. Install WordPress

Remember, I told you about an extra feature with Siteground? Yes, it's time to reveal that. Well if you are a total mess when it comes to tech, then don't worry SiteGround will install WordPress for you absolutely for free.

All you need to do is go to "live chat" and talk to a SiteGround representative. Ask them whether they can set up your WordPress site and send over your login details.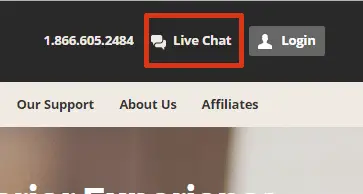 That's it. They will install WordPress for you and in about 15 minutes you'll  have access to your new blog. Time to celebrate!

But, if you want to do it manually, then follow following steps
First, go to the "My Accounts" tab and click on "Go to cPanel".

Next, click on "WordPress" in the Autoinstallers section.

Click on the blue "Install button".

After install, fill in the information on the next screen.

Choose Protocol – Normally keep it http://

Choose Domain –Select your domain name.

In Directory – Leave it blank.

Site Name – Enter your site name

Site Description – Describe your blog here.

Admin Username – This will be used to log into your blog. You can also use an email address as well.

Admin Password – Create a strong password. It will be used to log into your blog backend i.e. blog dashboard.

Admin email – Enter your email address

Choose Theme – We can change it later

Click Install & BAM you're done. To log into your dashboard, type URL "Your domain name/wp-admin" & hit enter.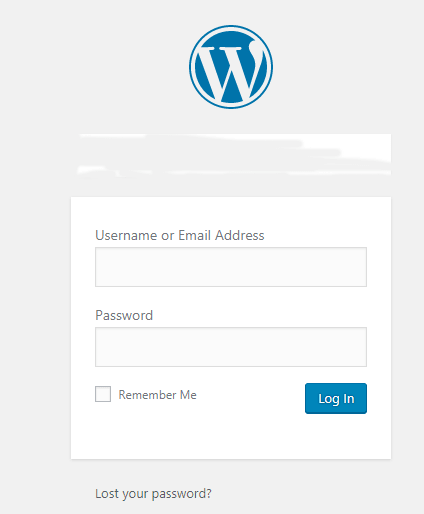 You now can see your login box. Simply enter your username (or email) & password & then you are good to go. Now, you're 100% done in setting up your blog. So, go ahead and create good contents. Before you create valuable contents, I will give you few suggestions that would help you on your blogging journey.

7. How To Make Money From Blogging
Now, this is the part I guess you all were waiting for. Who doesn't want to make money out of there blog? But before you start trying to make money from your blog.  You need to consider few things.
Write helpful content. Instead of focusing to make money, your first priority should be helping your readers. You should focus on solving problems of your readers & making their blogging lifestyle easy. If you are not good at writing, you can try HireWriters where just for $1.50, you can get a 150-300 word article & 700-1000+ word article for $5.
Join Facebook groups, Pinterest board groups, Linkedin groups & other social media sites which are related to your niche or blog topic.

Once you are doing the above things, you can start monetizing your blog by following ways
Display ads on your blog

Write sponsored content

Affiliate Marketing

Selling your own product & services

The best among them is affiliate marketing. The main source of my blog income comes from affiliate marketing & I suggest you do the same. I recommend reading this guide: Affiliate Marketing for Dummies. 



My Important Suggestions For Blogging
Choose a clean & SEO optimized theme. You can find themes in your Appearance > Themes.
Install Yoast Plugin which will guide you to On-Page SEO.
Install Grammarly which will take care of your grammar & spelling mistakes.
Make sure to install the Social Warfare plugin which will create social media share buttons on your post.

Create content having more than 700 words.

Start implementing affiliate links from the start.

You can check out my favorite blog tools & resources that I use to manage my blog.
Wrapping Up

Well, congratulations. You finally know how to start a profitable blog by finding the best niche. Now I am pretty sure that you are excited to start your blogging journey. I hope you will follow all the instructions mentioned in this article and implement it. 

If you like this article, then don't forget to share it. Cheers.