When you click the links and ads on this blog, it helps me to pay the bills & keep this site free for you. Thanks for supporting me! For more info, read the Disclosure page.
Who doesn't want to make money on the internet these days? And what could be better than starting a blog?
If you want to make money by sharing your thoughts on a topic, this post will teach you how to start a blog from scratch.
But, before we get into the meat of the matter, I'd like to share how I got started blogging.
My Story: Why Did I Quit My 9-5 Job and Start Blogging?
If I have to answer this question in one sentence,
"I wanted to be my own BOSS!"
Prior to starting a blog, I was doing a regular 9-5 job like most of us. 
For the first few months, I was ecstatic about my job because it meant I'd have a paycheck each month. But within a year, things started to get stale.
I was starting to get bored and was eagerly awaiting the weekends to take a break from work.
In a nutshell, I was fed up with my job and wanted a change of pace that would allow me to earn more money and have more freedom.
This is when I came across someone on Quora who was living a nomad lifestyle, thanks to blogging. He was making far too much money, but he was also having a great time traveling around the world.
This really piqued my interest, and I finally decided to start a blog after quitting my job.
Caution – Don't be a stupid like me! Only quit your job once your blog is established and you're confident enough to earn a full-time income from it.
Though I struggled a lot in the first year of blogging because I didn't have a plan, things began to improve after that.
Now that I'm a full-time blogger, I earn more money than I did at my previous 9-5 job.
I can take leaves whenever I want.
I'm able to work whenever and wherever I want.
I am free to work as many hours as I choose.
Even when I'm sleeping, my blog makes money. In fact, as I write this, I'm making money.
Here are a few screenshots from my earnings.
If you too dream of the same life, blogging can really MAKE IT HAPPEN!
Whether you want to work from home or want to have an additional source of income, blogging is one of the best ways to make money online.
In this guide, I will show you how to create your own blog in a matter of minutes, as well as some popular ways to monetize your blog.
But before we begin, let's understand what exactly a blog is.
What is a Blog?
A blog is a website that continuously publishes regularly-updated content (called "blog posts") about one or multiple topics. They are arranged in reverse chronological order, so the new posts come first.
The main difference between a blog and a website is that a blog is updated on a regular basis, whereas a website is not. 
If that's clear to you, let's dispel some blogging myths that may be preventing you from starting one.
5 Blogging Myths Dispelled
There are a few myths floating around the internet that are preventing many people from starting a blog.
If you're one of them, I'd like to dispel five blogging myths that will undoubtedly inspire and boost your confidence.
#1. Starting a Blog Costs a Lot
When it comes to starting a blog, there is no need to be concerned about spending a lot of money.
You only need a domain name ($10 to $15 per year) and a web host ($2.49 to $15/month) to get started. That's all! Nothing extra!
There are other costs that you can avoid as a beginner. However, once your blog starts making money, you can always invest money on different services to make your blogging life simpler.
#2 You Need to be a Good Writer
Believe me! I was a terrible writer (and I'm still not a pro, lol). If you read my old post, you'll cringe.
But what's funny is that despite my mediocre writing, I still made a few affiliate sales in the first year. Isn't that interesting?
I was thinking, do people really buy things after reading my average post? Haha!
But, to be honest, it boosted my confidence and convinced me that I can make money.
So the moral of the story is that you can still start a blog even if you are a mediocre writer. However, I recommend that you use a grammar checker such as Grammarly or ProwritingAid when writing content.
It will clean up all of the errors in your writing, making your content much more readable. PROBLEM SOLVED!
#3 You Must Post Every day
Many people who are considering starting a blog may have a full-time job or other commitments that prevent them from posting on a daily basis.
However, believe me when I say that it is not necessary to post every day. Some bloggers post twice a week, while others only once a week or once a month.
The point is, whatever schedule you choose, make sure you stick to it on a regular basis. If you post every Sunday of the week, make it a habit to do so.
Furthermore, rather than focusing on quantity, you should concentrate on quality. Take your time and write posts that are both interesting and of high quality.
That is the only thing that matters!
#4 You Need Tons of Traffic to Make Money
To make money from a blog, you will undoubtedly require traffic. But if you think you need a lot of traffic, you're wrong!
There are blogs that make more money from other blogs that receive more traffic than they do.
What is the key?
By driving engaged traffic (People who are genuinely interested in what you have to say.)
How well you convert them into earnings (better monetization strategy)
So, if you have this misconception that is preventing you from starting a blog, it's time to let it go.
#5 Blogging is for Only Extroverts
Likely, you've come across examples of successful bloggers using social media to promote their products and themselves.
Based on their candor and openness, you might be tempted to conclude that blogging isn't for you.
However, even if you're more of an introvert and aren't interested in any of these activities, you can still blog.
I am an introverted person who dislikes being in front of the camera. Even if you look at my YouTube channel, you'll notice that the videos are screen recorded with AI voice.
Nonetheless, I am still blogging and making full-time income.
So, if being an introvert is holding you back, don't despair; you can still start a blog right now.
6 Steps to Start a WordPress Blog
So, now that you've dispelled all of the myths and negativity surrounding blogging, it's time to get started on your own blog.
Step 1: Select a Main Topic/Niche
Before you begin a blog, you should decide on a main topic or niche for which you will write all of your content and share your thoughts.
It could be any hobby or a subject in which you are well-versed and enthusiastic.
For example, my blog is primarily about finance, and I primarily share tips on how to make money online. Other blogs cover topics such as home decor, fitness, lifestyle, etc.
So, choose a topic that piques your interest and move on to the next step. If you have a lot of ideas racing through your head, just ask yourself these questions.
Will I enjoy the niche for the next several years?
Can I write several blog posts targeting the same niche?
Will I get bored writing blog posts of over 2,000 words?
Does this niche have problems that can be solved by offering products (affiliate products)?
These questions will assist you in narrowing your options and selecting the best niche. You can read my post on how to choose a niche if you want to do more research on choosing the right topic.
Step 2: Pick a Blog Name
Next, choose a blog name that is related to your niche.
For example, 
Laptopmag.com – All about laptops
Gardendesign.com – All about gardening
Menshealth.com – All about men's health
Similarly, use your creativity to come up with a unique name that you can also promote as a brand. When coming up with a name, don't forget to include your niche or a synonym.
By the way, make sure to check all of the major social media platforms to see if the name is available. Otherwise, you won't be able to create a social media account with that name.
Step 3: Check the Availability of your Domain Name
Once you've decided on a blog name, it's time to see if there's an availability of the domain name with the same name.
If you're not familiar with the term, it refers to a blog's web address. For example, the domain name of my blog is lifezeazy.com.
Now, I recommend that you purchase a domain name with the ".com" extension because it is the most popular. 
However, if your target audience is from your own country, it is preferable to use your country's extension.
in – India
co.uk – UK
au – Australia
You can search for a domain name on Bluehost by clicking here. If the desired domain name is not available, experiment with spelling, as I did with my domain name. (The original name is "Life's Easy.")
Can I Choose a Free Domain Name?
Many free domain names with extensions such as .tk, .ml, .gq, and so on are available. If you're not serious about blogging and just looking for experience, free domains are fine to use.
However, if your main goal is to earn a full-time income, paid domains are the best.
In my opinion, using a free domain name to save some money is a bad idea. It's better to pay for a domain name than to use a free one with no guarantees.
That's because
They provide bad extensions (used by scammers).
Free domains provide poor security due to which your site is at risk of malware.
Sometimes they display ads on your blog to earn money from your traffic.
As a result, it is always a better idea to go with paid domains to avoid future issues.
Step 4: Buy a Web Hosting Plan
To put it simply, a web host provides storage space on a web server for your blog's files.
Consider it a plot of land (web host) on which to build a house (website). As a result, in order for your house to remain stable, it is important to purchase quality land.
That's why before you put money down, there are a few things you should look for in a web host.
What Should You Look for in a Web Host?
You must choose a web host that satisfies the following factors. So, don't try to avoid it. I mean, you don't want your visitors to hit the back button, do you?
It should provide better security to reduce the risk of being hacked.
It should provide frequent backups so that you can recover your site if something goes wrong.
A better support system is required because you will need help with your hosting issues. Your site's user experience will suffer if your web host's support staff does not promptly respond to your emails.
It should have a faster loading time because no one wants to visit a website that takes forever to load. Slow sites are also ignored by search engines like Google, resulting in less organic traffic.
It should have no to fewer downtimes because websites can go down for a variety of reasons. A trustworthy web hosting service equates to less downtime and higher user satisfaction.
Which Web Host is Recommended?
According to my experience (I run multiple sites), there are three web hosts that I highly recommend, as do other bloggers. They have all the qualities that I discussed earlier.
Bluehost – $2.95/month for 12 months – within 30 day refund policy
A2 Hosting – $6.99/month for 12 months – within 30 day refund policy + you will receive a prorated refund of the unused service after 30-days.
You can choose any of the two web hosts based on your budget. They all have positive reviews and a refund policy. So you're not out of luck if you decide blogging isn't for you after a few days.
Steps to Buy Bluehost Shared Hosting Plan
The steps for purchasing a web host are the same for everyone. However, make certain that you select the basic plan under "Shared Hosting" if you're on a tight budget.
That's the best and cheapest plan for new bloggers who want to explore the blogging world without emptying their pockets. 
For the time being, I'll show you how to purchase a web hosting plan on Bluehost.
Click here to be taken to the following page to see all the shared hosting plans. To change the currency of the prices, use the top-right menu option.
Click the select button on the basic plan that says $2.95/month.
Now, enter the domain name you have in mind under "Create a new domain" and proceed further.
Fill out all of the information on the next page. You can choose between a 12-month and a 36-month plan. Keep in mind that a longer-term plan reduces the monthly cost. If you're looking to save money, you can select the 36-month option.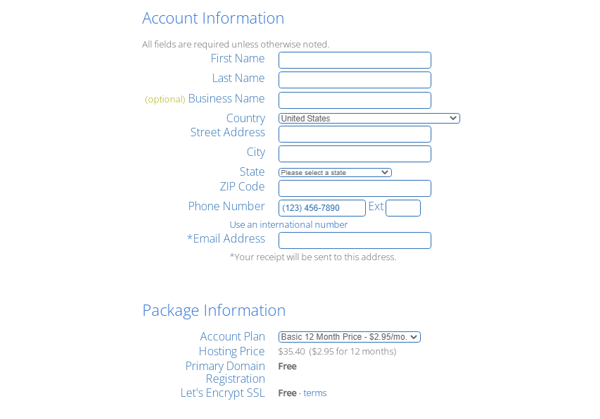 Next, under package extras, uncheck everything except "Domain Privacy + Protection" and then enter payment details for the payment.
That's all! Congratulations! You've finally purchased a domain name and a web host. 
Following the purchase, there are a few minor steps to take, such as creating a password for your blog and so on, all of which are simple and straightforward.
You can find all of the information in the email from Bluehost.
Step 5: Choose a WordPress Theme
Once you have done all the hard work, it's time to install a WordPress theme on your newly created blog.
A theme is used to change the layout and design of your website. Themes alter the appearance of your site, including the layout, typography, color, and other design elements.
If you're on a tight budget, you can go with a free theme, as WordPress has a plethora of them.
However, if you want a premium theme with more customization options and better customer support, I highly recommend GeneratePress.
I'm using the same theme on this and my other blogs for the following reasons:
It is lightweight, allowing your site to load faster. (This is critical for SEO).
It is affordable.
It is very user-friendly for beginners. This means you won't have to scratch your head to customize your site.
It has one of the best customer support teams available to assist you whenever you have a problem.
So, pick a theme that you like and install it on your blog.
That's it! You have completed all the technical aspects and now, all you need to do is start creating awesome content.
Step 6: Start Writing Contents
Now that you've finished creating your blog, it's time to start writing content about your niche. You can share your ideas, thoughts, and opinions on a variety of niche-related topics.
If you're having trouble coming up with topic ideas, you can look to other blogs in your niche for inspiration. You can also go to Pinterest and search your niche for more content ideas.
How Do Bloggers Get Paid?
When you have a blog, you can make money in a variety of ways. Here are a few common ways to make your first dollar.
1. Display Ads
This is the most common and straightforward method of monetizing a blog, and it pays well if your blog has a lot of traffic.
All you have to do is apply to an ad network, get approved, install the ad codes on your blog, and then sit back and watch the money roll in.
It's simple and doesn't require any special strategy to make money. Here are some of the most popular ad networks that you can join.
Google Adsense – Good for beginners. No traffic requirements.
Ezoic – Even though there are no traffic requirements, I recommend that you have at least 10,000 pageviews per month. By the way, I am using Ezoic on this blog.
Mediavine – It is simply one of the highest paying ad networks. Their requirement is 50k sessions in the last 30 days.
AdThrive – This is another high-paying ad network. Their monthly pageview requirement is 100,000.
Related Post:
2. Affiliate Marketing
Affiliate marketing is another great option if you want to promote and sell different products.
If you are unfamiliar with it, it is the process of earning a commission by promoting the products of another person or company by using a customized link (affiliate link).
So, simply look for affiliate products in your niche and begin promoting them through your content. You'll earn commissions if your audience clicks on the affiliate link and completes the required action, like buying, signing up, etc.
If you want to learn more, you can check out my affiliate marketing guide.
3. Sell Your Own Products
You can also create and sell your own products, such as ebooks, online courses, and printables, to your target audience.
Many well-known bloggers earn thousands of dollars per month by just selling their courses through their blogs.
4. Sponsored Post
When your blog gains popularity and traffic, you can expect to be approached by companies interested in having their product or service featured on your blog.
They are willing to pay you a big amount for this, but in exchange, you must write a post promoting their products.
You can expect sponsored post opportunities as your blog grows and begins to generate revenue.
How Do I Start a Blog With No Money?
Free blogs are excellent for gaining blogging experience, but they are not a viable option for making money through blogging.
For example, you can create free blogs on Blogger, but you will not be the sole owner of them. This means that the company has the right to terminate your blog at any time they want.
In short, having a free blog is akin to working for a company where the boss can fire you at any time. On the other hand, having a paid blog is similar to running your own company where you are the boss.
Another disadvantage of a free blog is that your domain name will appear amateurish. Consider the domain name yourblog.wix.com. It neither looks nor sounds good. Isn't that right?
So, the point is that you can start a blog for free, but it won't be as sustainable as starting a paid blog.
Final Words:
Thanks to blogging, I was able to quit my boring job and pursue a career that I am truly passionate about. 
The best part is that you can work from home, which allows you to spend more time with your family while earning more money.
So, if you're looking for a second source of income or want to work from home and earn a full-time income, blogging is the way to go.
Read Next:
Pin it for Later: