Do you want to travel to new exciting places without worrying about your 9-5 job?
Do you want to record and capture those exciting moments without worrying about your office work?
Now you might be thinking is it really possible? Well, to be frank, Yes. 
With blogging, you can do all these things without worrying about your 9-5 job. You will be dumbstruck to know that while you were enjoying your life somewhere, your blog will be making money for you on autopilot.
Yes, on autopilot. Though, you need to build your blog that way to see the money rolling to your bank account. Because simply starting a blog won't get you anywhere.
You need to have a proper plan to execute your blog properly so that it has a maximum chance of getting success early.
But all this can only happen when you start a blog. So, if you don't know where to start from. You can follow this article step-by-step to exactly know what all things you need to do.

WHAT YOU'LL NEED
DOMAIN NAME – The URL address of your future website (For example, lifezeazy.com)
WEB HOSTING – The hosting provider who will host your website and store its data
BLOG THEME – A Website design that can be installed on your website

BREAKDOWN OF TOTAL COST
DOMAIN NAME –

 $12-$14.95 per year for most domains. You can buy cheap domain names with discount either from GoDaddy or Namecheap
WEB HOSTING – If you go for Siteground, you need to pay $3.95 per month for the first year which makes it $47.40 for 12 months. However, please note that $3.95/month is only valid for first time purchase. So, make sure you go for more than 12 months i.e 24 or 36 months for maximum saving if you are comfortable with it.
THEME – Well, there are plenty of free themes available in WordPress. But they have some limitations. Whereas Premium themes give you full customization freedom & they cost around $15-$70. You can always go for Elegant themes if you want to launch your new blog with a premium theme.
So. if we calculate the cost of domain name & web host i.e $12 + $47.40, then you can start your online website for just $59.40. On the other side, if you are interested in buying any premium theme, then the total cost would be around $74.40.
I know it might be expensive for some of you, but don't worry you can make more than that within a year from your website.
If you are thinking how much you can make within a year? then you can make either $100/month or $500/month or maybe $1000/month as well. (which I am going to teach here)
Next, we will look at all the necessary steps that must be taken to start a profitable blog. So, if you are excited, then let's just jump into it.



TABLE OF CONTENTS

If you feel lazy to scroll down, click on below links to go straight away to that section.
5. Log In to your WordPress Dashboard
HOW TO START A PROFITABLE BLOG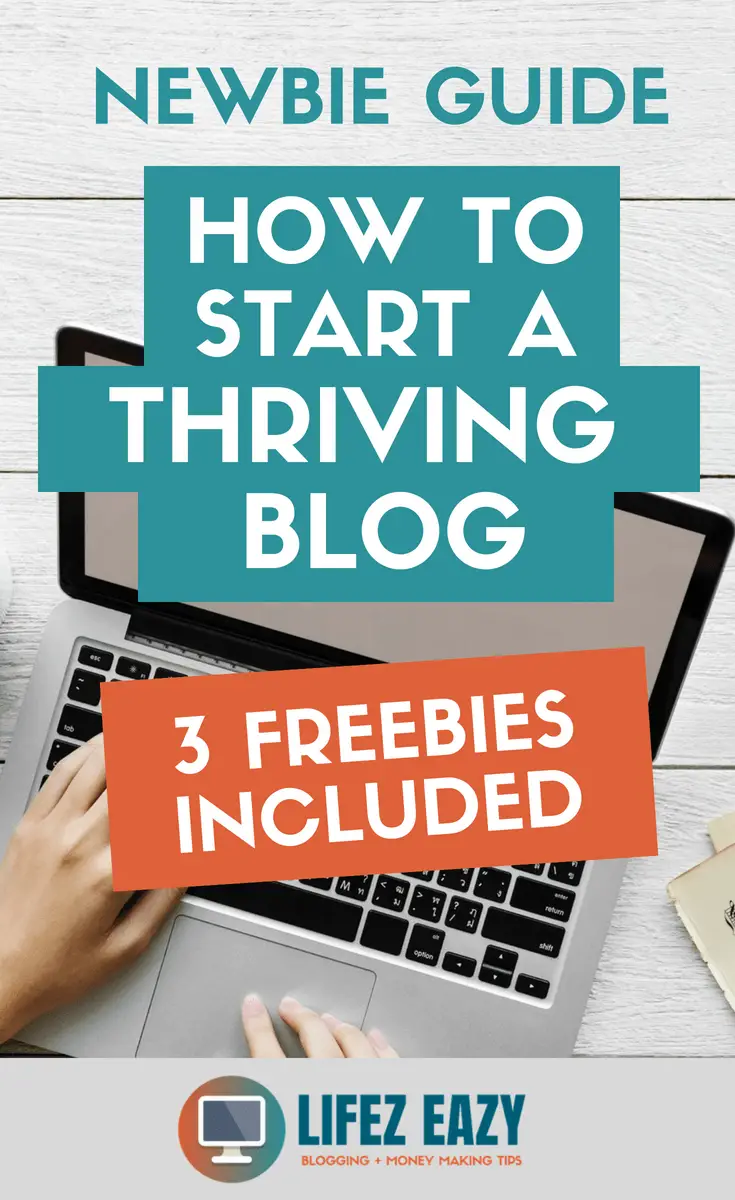 This post contains affiliate links. However, I only suggest those products which are trustable. If you buy or signup anything using my link, I get a small commission which helps me to keep this blog running. For more info, you can refer my Disclosure page.



STEP 1: CHOOSE A BLOGGING NICHE
I have seen many people who start a blog just with the intention to make money but end up giving up on their blog soon.
Why? Because
They were more behind the money rather than their own interest.

They thought blogging is just about writing contents
which are not the case. If you want to make sure that you can generate enough traffic and sales, then the first step is to choose a niche that has the high potential to get success.
To make it short, you need to decide a few things already in your mind while picking up a niche.
Pick a niche that guarantees to make money online

Along with the above point, make sure that you are interested in that particular niche as well

Make sure the niche has lots of audience & problems so that you can write problem-solving contents on them

If you have a feeling that you will get bored by the selected niche, then drop the idea and move on to another niche.
If you follow the above points, then you will surely find a great niche. I have a free guide where I mentioned some of the best niches that have a great audience and you have a great potential to make money online.
You can download that guide by clicking on the below image.
If you want to further make sure whether the particular niche is great or not, then check out my personal strategy to evaluate any niche whether it will be profitable or not.

STEP 2: CHOOSE A DOMAIN NAME
After you have chosen a niche, its time to pick up a domain name. Domain name is nothing but the URL address of your blog.
This is what people will write on their web browser to reach out your blog. Here are my few tips for choosing a domain name:
Try to include your niche name along with other words. It gives a little SEO favor. For example, smartpassiveincome.com which is a blog about making an income through online marketing
Try to make your domain name as short as possible so that there will be less chance for misspelling if someone wants to reach out.
Go for a .com domain extension.
Avoid hyphens & numbers because that may confuse people.
Check all the social media websites to see whether the chosen domain name is available for creating handles. This is because you will need to brand your blog in all these social media.
If you have decided on a domain name, then visit GoDaddy website and secure a domain name if it is available. In case, if it already occupied, try something else.
Check out this step-by-step guide for purchasing a domain name from GoDaddy.
However, If you want to buy a domain name from Namecheap, then surely go for it. What I will suggest is to compare your domain prices in both of them (GoDaddy & Namecheap) and see which one is cheap.



STEP 3: SETTING UP A WEB HOST
Choosing a good web host is the most important part when getting started with blogging. If you are really into making money from your blog, then go for a self-hosted blog.
Having a self-hosted blog gives you the power to own all your content and blog which is not possible if you go for Blogspot, Wix, WordPress.com etc.
There are many web host available online that promises many things but falls short. Never get into the trap of cheap web hostings because either their service is crap or their speed might suck.
I have used multiple web host such as Bluehost, Hostgator etc. But quickly changed my mind due to a lot of downtimes problem. Currently, I am using Siteground (for my other blog) and A2 Hosting (for this blog) for past 8 months without any problem.
They both are awesome and delivers much greater speed. However, I personally like Siteground due to its lightning loading speed, greater customer support & awesome uptime.
You can get hosting for just $3.95 per month through my link.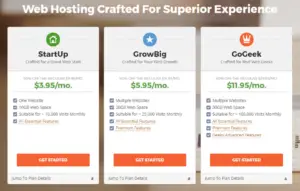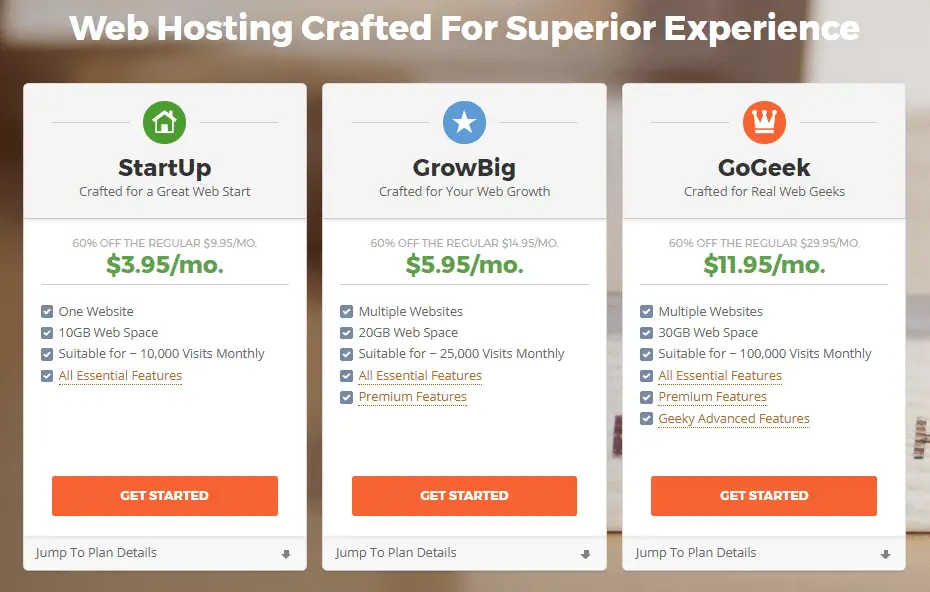 When you click my link, you will land on the above page. Currently, there are 3 plans for shared web hosting.
If you are just getting started, then Startup plan will be the most suitable for you. However, GrowBig & GoGeek are most suitable for those bloggers who have bigger sites with great traffic.
So, choose whichever is suitable for you & click on "Get Started".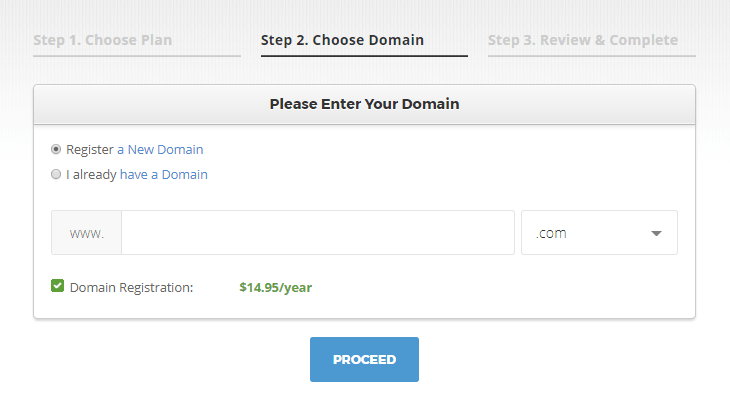 Now, as you already purchased a domain name from GoDaddy or Namecheap, so you don't need to register a new one. Therefore, select "I already have a Domain" option and click Proceed after entering your domain name.
Next, you need to fill Account, Client, Payment & Purchase information. It is pretty easy to fill it up. However, while filling the Purchase information, go for a 36 months period plan to make the most out of the discount price.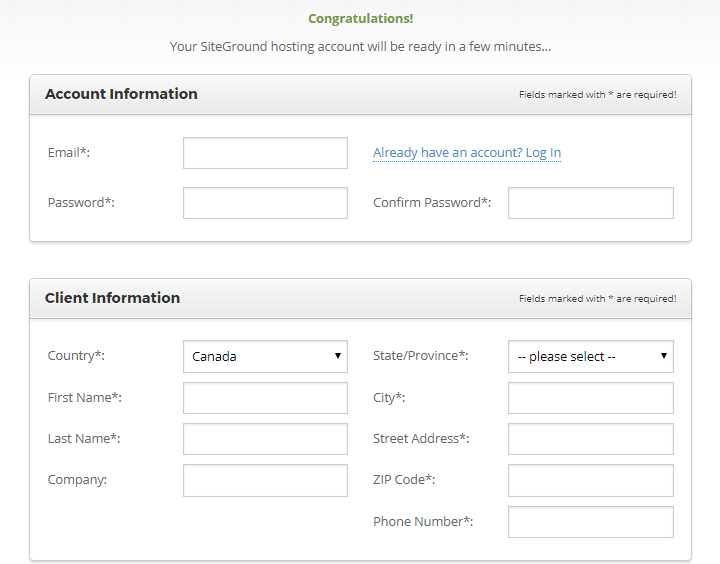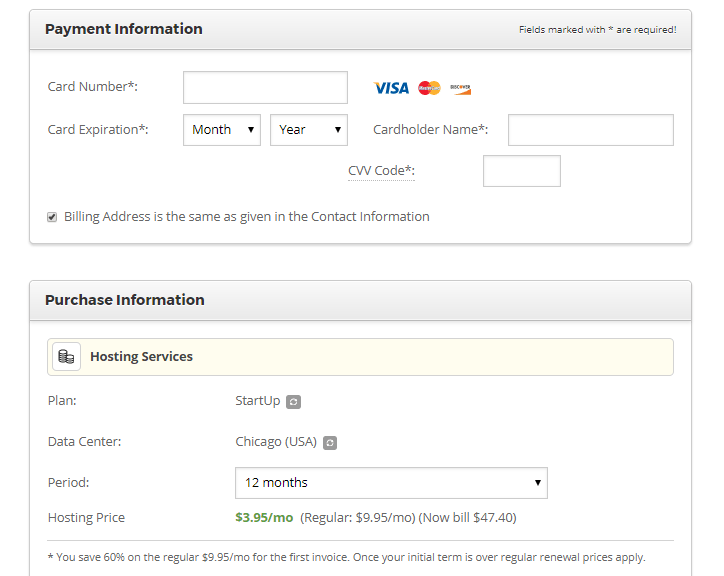 However, if you don't want to pay that much, you can either go for 12 or 24 months period plan. You will also get a site migration service for free.
Once you fill this information, click on Pay and its done. Congrats, you finally own a self-hosted blog. But it doesn't end here because now you need to install WordPress on your blog.



STEP 4: INSTALL WORDPRESS
Installing WordPress is pretty easy and it's a 5-minute job.
You just need to login to your Siteground account.
Then, simply click the "My Accounts" tab and then click the red button that says "Go to cPanel" as shown below.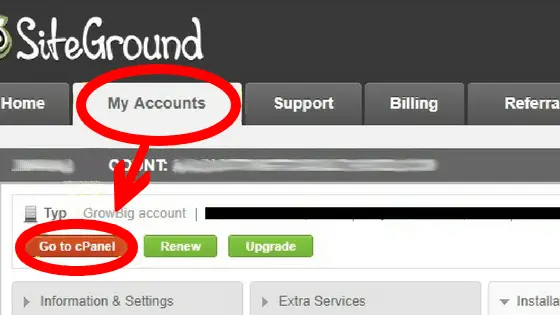 Then scroll down until you find the "WordPress Tools" Section, and click "WordPress Installer".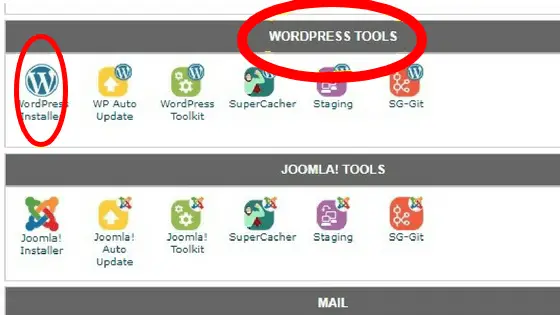 Hit the blue "install button". After that, you will be brought to a page where you will need to fill in some information.
You need to fill up the following information:
Choose Protocol: most likely it is: http://
Choose Domain: The domain name you chose earlier should be in the drop-down menu.
In Directory: you can leave this blank.
Site Name: choose a site name, you can change this later.
Site Description: choose a site description, you can always change this later.
Admin Username: choose a username. You will use this when you log in to the WordPress dashboard of your blog. So do remember it or better write it down somewhere.
Admin Password: choose a password. You will use this when you log in to the WordPress dashboard of your blog. So do remember it or better write it down somewhere.
Admin Email: Enter your e-mail address.
Choose a Theme to Install: You can install a theme. However, if you don't want to install it right now, you can always install a free or paid theme when you log in to your WordPress dashboard.
Click Install



STEP 5: LOG IN TO YOUR WORDPRESS DASHBOARD
Aren't you excited to log into your dashboard for the first time?
Now, to log in, type URL "www.domainname.com/wp-admin" & hit enter. For example https://www.lifezeazy.com/wp-admin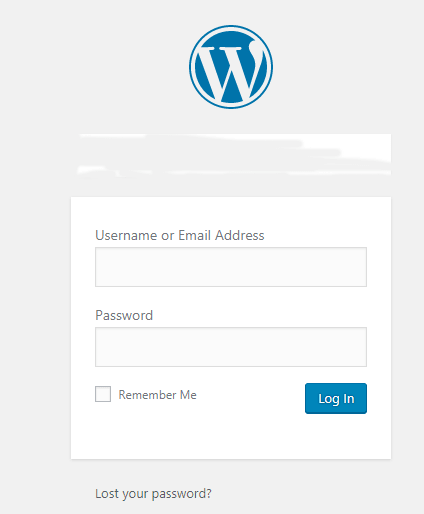 You can now see your login box. Simply enter your username (or email), password & click on Log in. 



STEP 6: SET UP A BLOG THEME
So till now, you have bought a domain name, web host and installed WordPress. Great.
Now, its time to set up a blog theme which makes your blog look professional and beautiful as well. There are tons of free themes available on the WordPress. 
Choose any of them & install it. However, before you choose any theme, you need to pay attention to a few things.
Make sure you can customize theme color

If you want to have a sidebar, then make sure your theme has one.

Sometimes you want to publish a few pages which don't need sidebars like this one. If your business demands such pages, then make sure your theme has the feature to customize page template.
Well, sometimes it is very difficult to find free themes which fulfill all these demands. In such cases, it's better to buy a premium theme which has more customization option with cleaner codes.
You can go for Elegant themes as they are one of the best WordPress theme provider.
To install any theme on WordPress, go to Appearance > Themes. Then click  "Add New" which can be found at the top. Here you can find a number of free themes. Simply choose anyone and install it.

If you have a premium theme, then you can find an "upload button" at the top. Click it and upload your premium theme & then install it.
That's all you need to do to set-up your theme. Quite easy, right?
Next, you need to learn how to write a blog post so that you can share beautiful contents with your audience.



STEP 7: HOW TO WRITE A BLOG POST
This is where you can attract lots of readers by writing valuable contents. To write your first article, go to the left menu and click post. By default, you will see a "Hello World!" post. This is a default post that appears on every newly setup blog.
Simply delete it by clicking on "trash" option.
Now to write a new post, click on "Add New" which you can find there itself. You can also add a new post by going to your left menu & clicking on Post > Add New as shown below.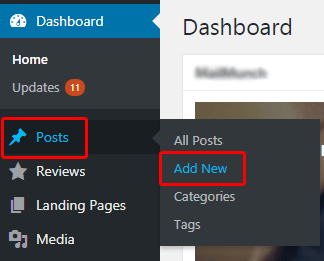 You will be now prompted to a post creator screen where you can enter the title of your post and then begin writing the content.
There are a few steps that must be considered while writing any post. If you aren't aware of it, then do click the previous link to learn about it.
If you need to add pictures to your blog post, then click on Add Media button and upload the picture from your computer. See. it's that simple.
You can also refer my SEO guide that you can incorporate into your blog post to make it more search engine friendly.
You can also download my free blog post checklist that can be referred while writing any content. This will help you to never miss any important steps.
So, by now you have done all the things required to start a blog. But what about making money? That's exactly we will see next.



STEP 8: WAYS TO MONETIZE YOUR BLOG
Well, having a blog is one of the best feelings. But what if it makes money for us. There are many bloggers out there who make a heck lot of money from their blog.
I started making money from my blog from the very next month i.e. the 2nd month. Though it was only $3 it gave me the confidence that I can make money.
Currently, I earn a good amount of money from my blog which helped me to leave my 9-5 job. Making money from a blog is great because:
You don't have a location boundation and can work from any part of the world.

Never worry about 9-5 job

You are your own boss

Parents can spend more time with their kids.
There are a heck lot of ways to make money from your blog. But right now, I will discuss the most popular ones.
I suggest before you start monetizing your blog, make sure you have 10-15 blog post ready with you and have some decent traffic.
So without any further ado, let's see some of them.



1. AFFILIATE MARKETING
Affiliate marketing is my favorite way to make money from my blog. Most of my income comes from it. If you don't know what it is?
Basically, you promote someone else product or service on your blog or social media through a link. If someone makes a purchase through your link, you earn a commission.
So, here the key factor is, the more targeted traffic you have, the more chances you have to increase your affiliate marketing income.
You can read my affiliate marketing guide that teaches you how to get started.



2. CREATE A PRODUCT
Having your own product is considered the best method to make money from your blog. There are many blogs out there who make most of their money by selling their own product.
Though it is much time consuming to create your own product, but it's definitely worth the time. There are basically two types of product that you can go for
Physical product

Digital product
A physical product can be anything like a T-shirt, mug, painting etc. It all depends on your niche.
Digital product includes e-books, online courses etc. Create which one is best suitable for your niche and start selling through your blog.
3. OFFERING SERVICES
If you are good at something in your niche, why don't you offer services for the same?
There are many services you can provide via your blog. For example, If you are good at SEO, you can provide SEO auditing services.
If you know how to market a blog and drive tons of traffic, you can offer the same to other bloggers. This is a great way to add an extra stream of income.
On top of that, you can promote all these services from your own blog at no start-up cost. Isn't that great?
4. ADVERTISEMENT
This is the easiest way to monetize your blog and make a good stream of income. Though, it is only worth when you have a decent amount of traffic.
The way it works is when you run ads on your blog and if someone clicks, views or purchases anything from ads, you get a small commission. This increases when you have a great traffic.
There are many bloggers who earn more than $2000/mo just by running ads. That's a lot of money which is on auto-pilot.
There are many advertisement companies available on the internet, but the one which is on top is Google Adsense.
Getting approval for Google Adsense is bit tough but possible if you have unique contents. Other than that, there are many other Adsense alternatives as well. You can read about them to know more:
5. SPONSORED POST
If you don't know what it is? A sponsored post is the blog/social media posts that contain promotional information about a brand's product or service.
There are various brands that are looking for bloggers who can promote their product in a blog post. A good place to find such brands is Linqia.
Linqia matches bloggers with brands for sponsored post opportunities. This is a great way to increase your blog income.
The great thing about Linqia is that the average payment for campaigns is $200+ and you get paid within 10 days of completing the campaign.
If you go for it, then my only request will be to never promote a product that doesn't provide any value to your audience. Rest all is great.
OVER TO YOU
Starting a blog is definitely not a "get rich quick" scheme. It requires dedication and patience. If you are ready to invest much time and effort into your blog, you will definitely taste success.
You must look at your blog as a business and should be ready to invest your money whenever it's needed. Lastly, never give up on your blog because sooner or later you will surely see the desired results.
That's it. I hope this guide has surely helped you. If you got any questions, feel free to drop your comment below. 
>>Read Next: 7 tips to improve your blog traffic gradually