When you click the links and ads on this blog, it helps me to pay the bills & keep this site free for you. Thanks for supporting me! For more info, read the Disclosure page.
Looking to try Earnably, but doubting whether it will work out for you? Check out this Earnably review to take a closer look at this GPT site.
Like many other sites, Earnably is one popular name that promises to reward its users for completing simple activities. But do they stand true to their claim? Are they a legit site that really pays?
Well, before we explore this site, here is a quick review for you.
What is Earnably?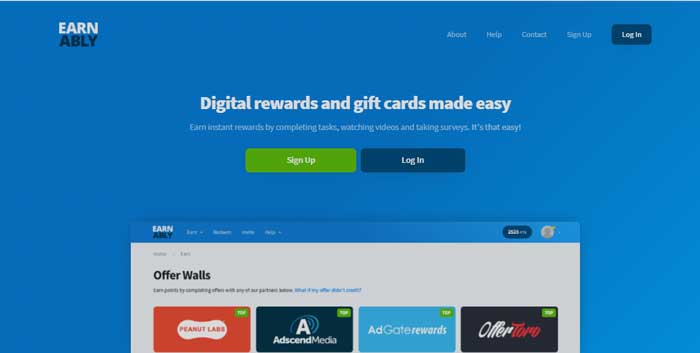 Earnably is a GPT site similar to Swagbucks & PrizeRebel that allows you to earn points for completing offers & surveys, watching videos, installing apps, & referring new members.
Each point is worth $0.01 which can be exchanged for rewards such as PayPal cash, Amazon gift cards, and more once you hit the minimum payout.
Though everything seems great from the site architecture to earning options, there are some pros and cons that we're going to discuss down the line.
Is Earnably a Legit Site?
Yes, Earnably is a legit site & they do reward you for completing tasks as long as you are following their terms and conditions. You may feel that a few offers won't credit points immediately, but that's normal for some ad partners. Several users already had a positive experience with them, which in no way shows, they are here to scam you.
If you check TrustPilot (a consumer review site), Earnably got a whopping 4.6 ratings from 540 user reviews. About, 76% of users had an excellent experience, while only 5% had an unpleasant experience.
However, please note that you can't make a living from Earnably as you should look it upon as a way to make extra cash that can pay your bills.
How Much Can You Make From Earnably?
Earnings depend on various factors such as your demographics, how much time you spend, whether the offers match your background and preferences.
So, if one person is earning over $3 an hour, it will be a different case for you. Still, I will say that you can easily redeem your first payout within a day as they have a low minimum threshold amount.
By just completing a bunch of medium-paying offers successfully, you can simply get hands-on your first reward within a few hours. However, the reward may take up to three days to receive in your account.
Ways To Make Money With Earnably
After creating an account, you will see a bunch of options on your dashboard. Clicking on the earn option in the navigational menu will show all the earning ways that Earnably offers.
1. Offer Walls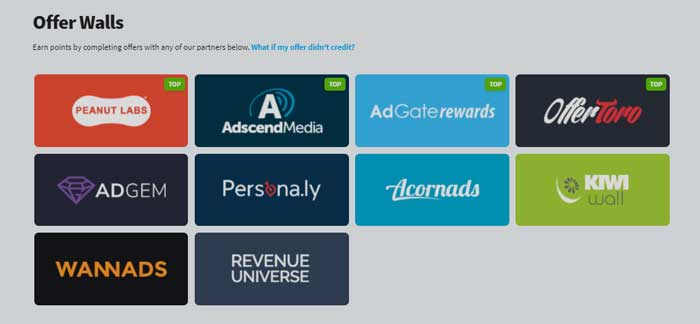 Offer walls comprise a list of offers and tasks needed to complete in order to earn points.
When you explore this section, you will find various advertising partners linked here such as – Adscend Media, Peanut Labs, Offer Toro. If you have used a GPT site before, you will be quite familiar with them. 
Each partner offers a combination of offers like surveys, installing apps, taking a quiz, etc that credits points to your account automatically when you complete them.
In case you don't see any points in your account, even after completing the offers, you need to contact the partner support team with your user ID to resolve the issue.
2. Daily Surveys

This is where you can take part in daily surveys and get paid for completing them successfully. 
When you visit this section, you will find different survey partners like SurveyTime, OpinionSurveys, YourSurveys, Theoremreach, etc.
Before completing any survey, you have to take a profile-based survey so that they can suggest suitable ones matching your background and personal details.
For completing each one of them successfully, you can earn from 5 points to over 80 points.
Please note that some surveys won't credit points right away as the company needs to review all the answers manually. In such a case, wait for one or two days to see the points to your account.
To ensure you have a better chance to qualify for a survey, read my survey qualifying guidelines post to get an idea.
3. Watch Videos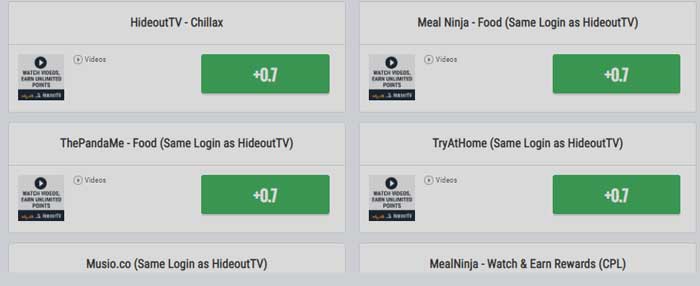 When you visit this page, you will see video suggestions from HideoutTV, Meal Ninja, ThePandaMe – Food, TryAtHome, Musio.co. Earnably also displays a message that says you will receive 0.7 points for every three videos you watch.
So, when you click the video option, it will take you to the respective websites and there you need to watch videos to earn points.
But before getting started, creating a HideoutTV account is necessary because that's where your points are going to be stored. Once you accumulate at least 9 points in your account, you can exchange them for 0.7 Earnably points.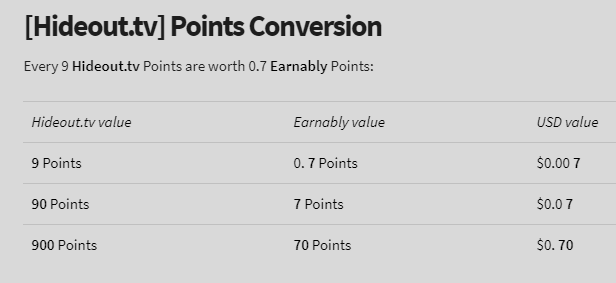 Now, the videos are not short as they range from 2 minutes to over 5 minutes. Though some videos can be one minute long, most of them are not.
So, that's kind of annoying if you're not interested in watching random videos. Also, you can't play them in the background while switching tabs on your browser.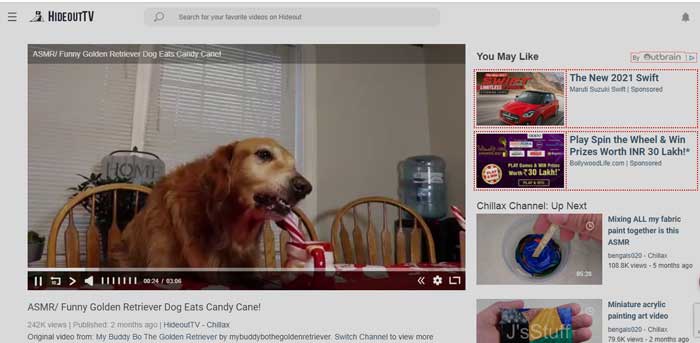 However, you can surely play the videos while doing other tasks not related to your browser, such as watching videos in a player, working on software, & so on.
To be honest, I don't like the video feature for earning points because not only the videos are too long, but they also consume data. I mean, I wouldn't invest so much of my time for earning just a mere 0.7 points by watching three long videos.
However, if that's not a problem for you, ensure to play them in the background while you are watching a movie on a video player or doing any task that doesn't involve your web browser. This way you can earn points without getting bored.
4. Apps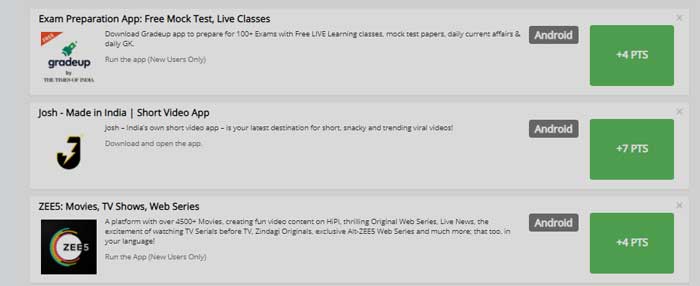 If you love trying new apps, this section might be ideal for you because all you have to do is – install, run the app, or sometimes reach a level (with game apps) to earn points.
Before getting started, you need to update your device (iPhone, Android, or iPad) here so that Earnably can suggest suitable apps. Also, ensure to read the guidelines before installing them so you don't miss any steps while completing the task.
Each task pays around 1 to 400+ points where low points are usually for just installing and running the app while higher points involve more steps.
To get started, you can either send the app link via email to your smartphone, or scan the QR code. This will take you to the playstore where you have to install and open the app (as per the requirement). Once done, you will see the credited points to your account within two to three minutes.
It is a great option for new users who haven't tried these apps before. But if you did already, you may see fewer opportunities.
5. Promo Codes
Promo Codes allows you to earn points by just entering a code in your code section. 
Now, code can be of two types-
Bonus codes will add a specific percentage of bonus on top of every offer you complete. 
For example, when I added a code recently, I got a 3% bonus for 12 hours. This means I will receive a 3% increment on every offer I complete.

On the other hand, Point codes instantly credit free points into your account when you activate them.
Earnably provides codes at the start of the month and furthermore throughout the month. You can find them on their email newsletter, Twitter, Facebook, & Instagram page.
6. Referral Program
Their referral program allows you to earn 10% of your referral earnings for a lifetime. Sadly, it doesn't include promo code & other bonuses but you will get a share for every point they earn by completing offers.
As long as you have a lot of people to refer who are interested in earning online, the referral program will be effective. Else your only hope is earning through offers.
In such a case, create a YouTube video and drop your referral link in the video description for promotion. If you are lucky to get some views, you will surely score some new referrals.
How Does Earnably Pay?
You can either exchange your points for PayPal cash or gift cards.
For PayPal, you will need at least 125 points for a $1 card while you can also go further up to $100.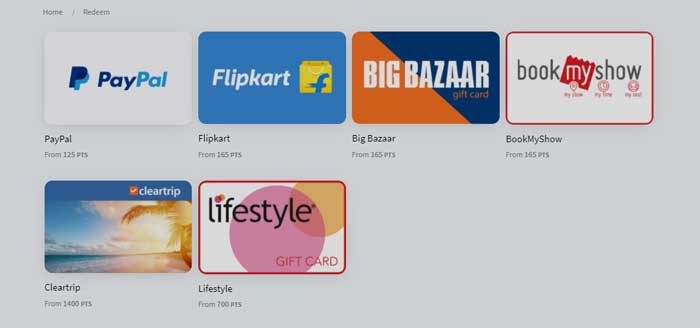 On the other hand, gift cards can be redeemed by collecting at least 165 points. The options for gift cards will be based on your demographics. For example, I can see rewards from India such as Flipkart, BookMyShow, Big Bazaar vouchers.
Is Earnably Worldwide?
Currently, it is available in 37 countries including the US, UK, Canada, Australia, India, Mexico, etc. Earnably team is continuously adding new supported countries regularly when the offers become available there.
Who Can Use Earnably?
If you're 18 years old or more belonging to one of the 37 countries where Earnably is accessible, you are eligible to join them.
How Are The Customer Support?
As far as I have seen, their customer support is decent but not the best, which means – you will surely get a reply from them.
However, don't expect to get quick replies as they suggest waiting for a few days before getting back to you.
In my case, I received a reply within two days when I emailed them a query.
I don't know whether I mailed them at the right time or I was just lucky because I have seen people waiting for days to get a reply from them. If you face such a similar situation, contact them via their social media accounts. However, in most cases, they tell the user to drop an email.
Pros & Cons
Pros
Multiple ways to redeem points.
Lots of offers to earn points
Available in major 37 countries
Low minimum payout
Cons
Not available worldwide
Specific countries may see fewer offers
Final Verdict – Earnably Review
If you are looking for a way to earn extra money, Earnably is a decent site to add to your list. Surely, you have to do some work to earn rewards, but it is still easy compared to other legit jobs like proofreading, transcription, etc.
If you're a busy person, I suggest you use Earnably while you're traveling, watching movies, or watching TV. That's what I do to make a couple of dollars every month.
If you think this Earnably review is helpful? Share this post to those who are interested in making money online.
Read Next