When you click the links and ads on this blog, it helps me to pay the bills & keep this site free for you. Thanks for supporting me! For more info, read the Disclosure page.
Explore the potential of Bananatic, a platform that claims to let users earn rewards and money by playing online games.
In this Bananatic review, we'll closely examine its legitimacy, clear up any doubts, and dive into its main features.
Get to know the real Bananatic and what it has to offer right here.
---
What is Bananatic?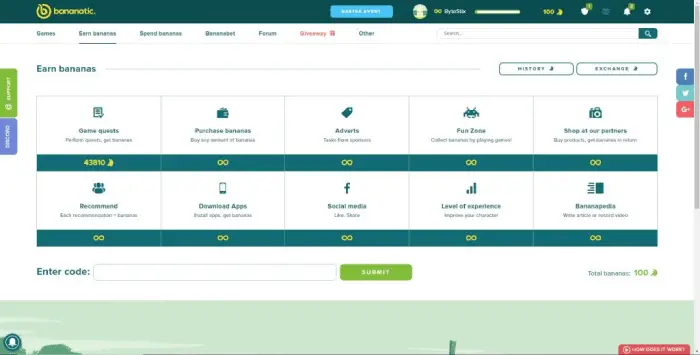 Bananatic is a GPT site, but unlike other sites, the availability of lots of online games is its main draw. It is regarded as one of the best places to get rewards for playing online games.
Aside from that, you can also complete other tasks similar to those found on other GPT sites, making this site even more appealing.
Bananatic, by the way, was created by Sedoc LLC, a company based in Miami, Florida.
---
How Does Bananatic Work?
Simply put, you must complete various tasks in order to earn bananas, an in-game currency that can be exchanged for valuable rewards.
You'll also gain experience points, which will allow you to level up your account, and buy banana modifications, among other things.
While completing some of the tasks and participating in Bananatic's society life, you'll also earn badges. Having more badges means a higher account status, similar to the gaming world.
---
Who Can Join Bananatic?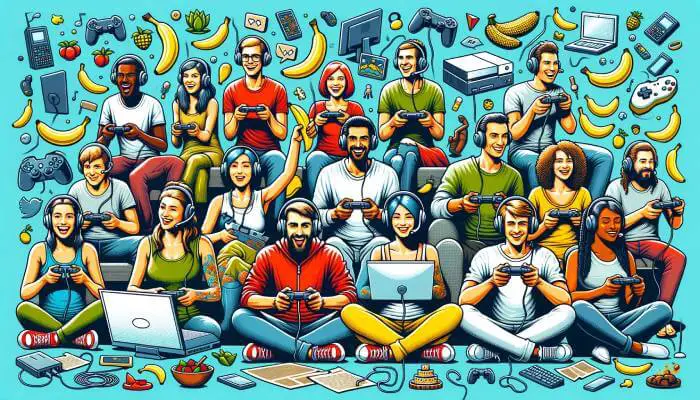 Bananatic is open to anyone over the age of 13. They do, however, state that children aged 13 to 16 must have the permission of a parent or guardian to use their services.
There are no country-specific requirements that I am aware of. I can access the website as a visitor from India, but a few images are not loading properly. However, when I connect to the site through a VPN, everything works perfectly.
So, I am unable to predict which countries can join them because there is insufficient information. But I think it is available worldwide.
However, you can check if it is available in your country by clicking here.
---
How Do I Join Bananatic?
Go to the sign-up page by clicking here. You can join either with your Facebook or Gmail account.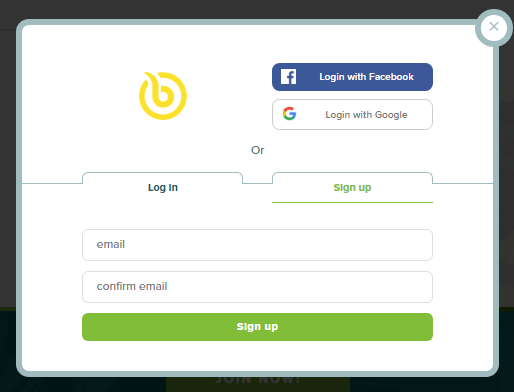 Then, enter your Bananatic account name followed by choosing your gender.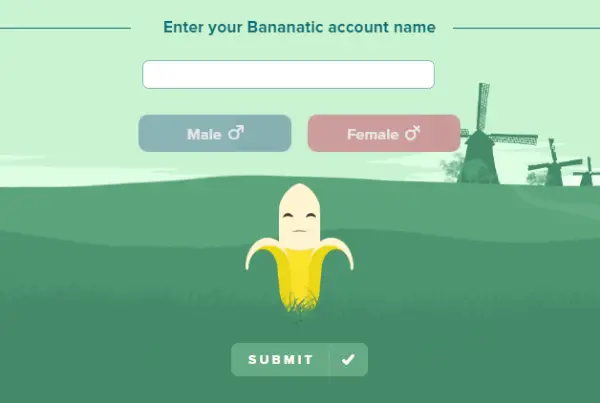 On the next page, you will go through a tutorial session in which you will learn how Bananatic works.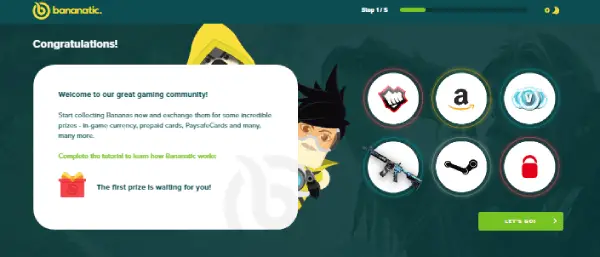 When you finish your tutorial, your account will be credited with 50 bananas as a bonus. You can also get an extra 100 bananas by subscribing to their newsletter and turning on notifications. As a result, you can earn 150 bananas right away.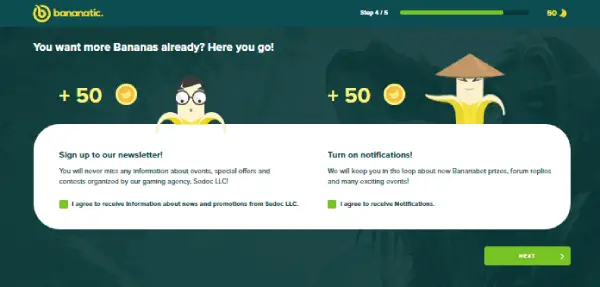 That's all you need to do to join them. On the next page, Bananatic will recommend some games to you. Choose any and start playing with them to earn bananas.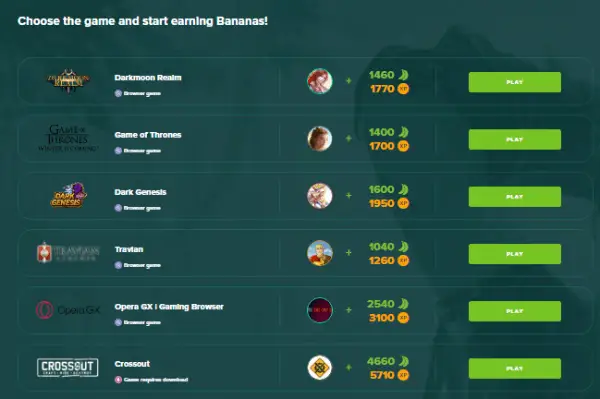 ---
The Five Benefits of Joining Bananatic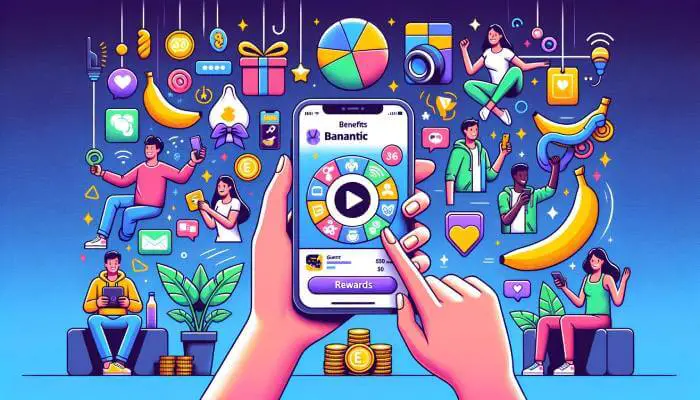 Now, let's take a look at some of the benefits of joining Bananatic that might entice you to give them a try.
#1. Various Ways to Earn Bananas
We are all aware that in order to earn rewards on Bananantic, you must have their in-game currency, which is bananas.
Though you can earn them by playing online games (for which the site is popular), there are some other ways to do so.
But, before I get into that, let's talk about the games.
Game Quests
In order to earn bananas, all you have to do is play a game and complete the objectives and tasks within it.
There are games in RPG, action, strategy, fantasy, and other genres. As a result, you'll undoubtedly find games that appeal to you.
Each game has a distinct set of quests or challenges. So, before you start playing, make sure you read them thoroughly.
For example, as shown in the screenshot below, this game (Darkmoon Realmbanan) offers a total of 1,460 bananas and 1,460 experience points. To earn them, you have to complete the following objectives.
Write an article or create a video for Bananapedia: 100 bananas and 100 XP.

Register and reach level 50: Receive a badge and 310 XP.

Complete quest 1: Earn 270 bananas & 270 XP.

Complete quest 2: Earn 410 bananas & 410 XP.

Complete quest 3: Earn 680 bananas & 680 XP.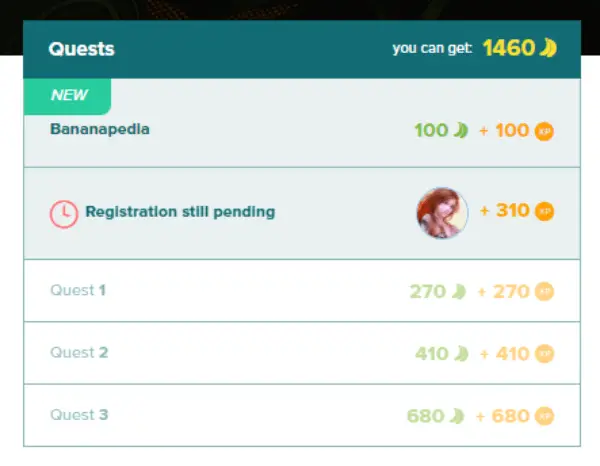 Because there are so many games to play, you can earn the most bananas through game quests.
Take Surveys
This is probably one you've heard of because it's one of the most common ways to earn points on GPT sites. All you have to do is complete online surveys to earn bananas. 
The advantage of completing surveys on Bananatic is that you will know how many bananas the survey is worth and how long it will take to complete it.
Knowing all of these details ahead of time makes you feel more at ease while taking them.
Here is a screenshot of surveys from my account.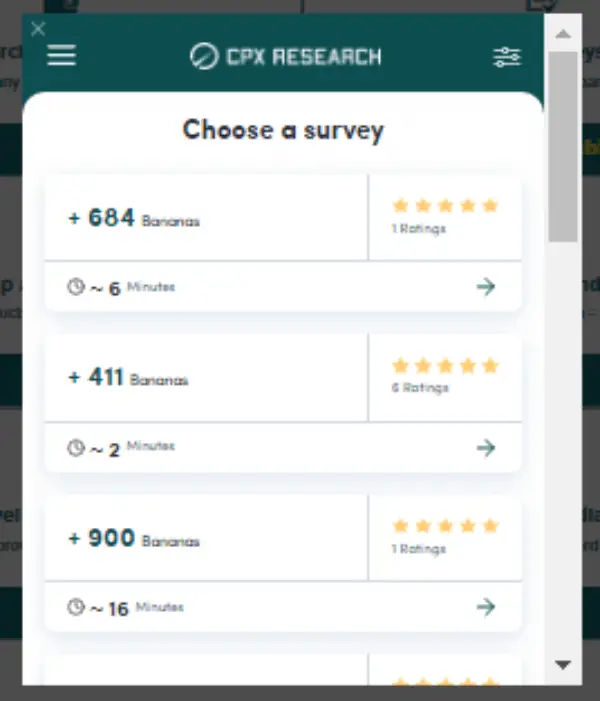 Adverts
It's simply the offer walls that you can also find on other GPT sites. It mainly consists of offers sponsored by various partner companies like AdGatemedia, OfferToro, Peanut Labs, Revenue Universe, and more.
Each partner offers a variety of tasks such as completing surveys, downloading apps, signing up for a free trial, watching ad videos, and much more.
So, just choose anyone and start completing the suggested offers to earn bananas. Depending on your profile and demographics, you could earn anywhere from 3 to 20,000 bananas.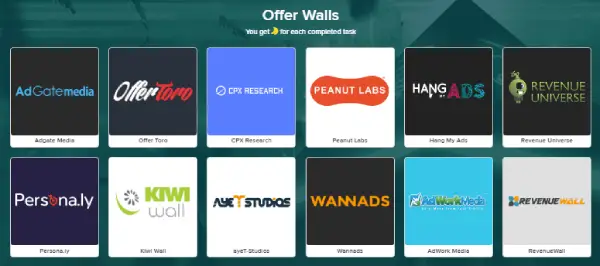 Fun Zone
In this section, you can explore browser mini-games, which are basically flash games that you can play in your browser. As a result, make sure your browser is flash-compatible, or the games will not work.
You'll see ads in between games, and watching them will earn you bananas. Furthermore, the higher the level you reach by playing these games, the more bananas you'll receive.
As far as I know and have heard, browser games do not pay well, but you can still try them out to see for yourself.
Shop At Our Partners
If you want to buy game CD keys and earn bananas at the same time, you can do so at GameVikings.com, a Bananatic-partnered digital marketplace. For every euro spent on GameVikings, you can earn four bananas.
At the time of writing, GameVikings is in the process of rebranding to Bananatic. As a result, it is currently inaccessible so I couldn't try them out. 
However, I will update this section as soon as it is ready for use.
Recommend (Referral Program)
Bananatic provides a referral link that you can use to refer others and earn rewards.
If they join Bananatic after clicking your link and earn at least 500 bananas, your account will be credited with $1 per referral.
Even though it's one of the simplest ways to make money, you'll still need to refer people who are actually interested in the GPT site.
Otherwise, they may quit the site in the middle before earning 500 bananas, and your effort will be in vain.
Banana TV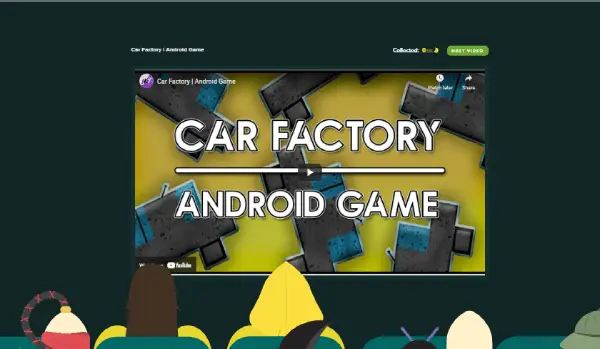 This section allows you to earn bananas by watching the Bananatic channel's YouTube videos. The videos are essentially game trailers and reviews that last between 1-2 minutes on average.
Because you can only earn one banana every five minutes, the earning potential isn't as high as it is with game quests.
However, the good news is that you can play the videos in the background without having to watch them. But, when the current video ends, you must manually play the next video.
Another cool feature of Banana TV is that you can use bananas to promote your own videos here. For example, spending 500 bananas on a video can get you 2000 minutes of watch time.
This is actually a good option for YouTubers if they need views.
Bananapedia
There is a Bananatic Wikipedia called Bananapedia, where members can write articles and make videos about games to get bananas and experience points.
Let's find out what this is all about.
Articles
If you're a good writer, you can write and submit articles on topics such as game tutorials, game experiences, reviews, news about changes, game events, and so on. 
For each article submitted, you can earn the following bananas depending on your membership.
Basic membership: 100 bananas per article.

Premium membership: 200 bananas per article.

Master membership: 500 bananas per article.
You can read articles written by other members to get a better sense of the topics. While writing your own, please ensure that the submitted articles must be original and not plagiarized.
Videos
If writing isn't your thing, you can earn bananas by making videos. Simply upload them to YouTube and connect your channel with the Bananatic app.
You can earn between 100 and 10,000 bananas for each video. I believe that the longer your videos are, the more bananas you can earn.
Bananabet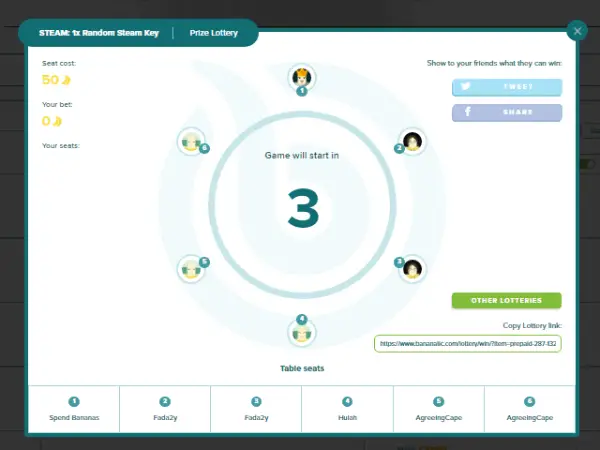 If you don't want to wait until you reach the minimum payout amount to redeem prizes, Bananabet is a good option.
All you have to do is bet a few bananas to be entered into a draw for a chance to win prizes.
Here's a quick roadmap.
Under the Bananabet section, you can place a bet on any of the displayed prizes.

Then you must bet the specified bananas, which is usually 1/5 of the prize cost, and wait for six people (including yourself) to join the same table.

When the last person has joined, the draw begins, and the prize is awarded to any participant randomly.

You can view the entire lottery process at any time by clicking the "watch" button.
Even though Bananabet is purely a luck-based game, you can still give it a go because the draw is only between six participants. So you stand a chance of winning.
---
#2. Receive a Welcome Bonus of 150 Bananas
If you follow their tutorial while signing up, subscribe to their newsletter, and turn on notifications, you can get 150 bananas right away.
Though it may appear to be a small sum, it can help you reach the minimum payout of 200 bananas quickly, which can be used to purchase steam vouchers and CS: GO skins.
However, the banana requirement is higher for gift cards & PayPal cards. Still, receiving 150 bananas for doing nothing is a good thing.
---
#3. Provide a Variety of Payment Options
If you love sites that provide multiple withdrawal modes, you'll definitely love Bananatic.
Personally, I enjoy GPT sites that provide a variety of rewards with varying minimum payouts. The same is true for Bananatic.
By simply going to the "Spend Bananas" section, you can spend your earned bananas for the following rewards.
Amazon gift cards

PayPal

Game currency. For example, Fortnite V-bucks, Wargaming gold, and League of Legends riot points.

Games and Prepaids.

CS: GO Skins

Digital keys

Paysafecard

Steam wallet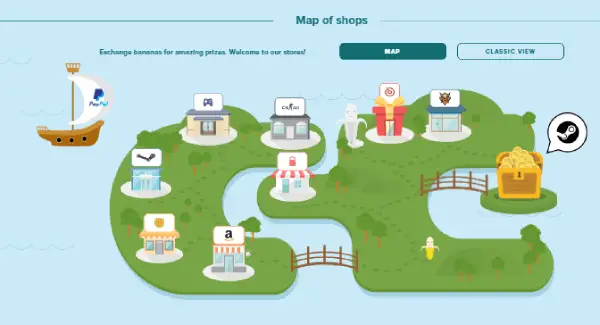 ---
#4. Provide Different Ways To Communicate With The Support Team And Members
Every GPT site should have a way to contact the support team in order to clear doubts and get a solution to the problems.
So, in terms of a support system, Banantica is not far behind.
That's because, besides the support page where you can contact them directly, they also have a chat feature where you can chat with other members and get answers to your problems.
If that isn't enough, you can also use their forum to ask questions, discuss topics, and receive suggestions. Plus, they also have a FAQ page for solving basic questions.
Overall, I like the variety in the mode of communication because it allows you to make your voice heard in a number of ways, which is a good sign.
---
#5. You Can Use Their Mobile App
Bananatic has its own app that is available for both Android and iOS devices.
This is actually a good thing because who wants to access the site on a computer most of the time when they are on the go?
The availability of a smartphone app makes it possible to use Bananatic from anywhere, at any time. Furthermore, the app is easy to use and provides a pleasant user experience.
P.S: They actually reward you for downloading their app. However, make sure to download the app by clicking the link on their website.
---
The 3 Drawbacks of Joining Bananatic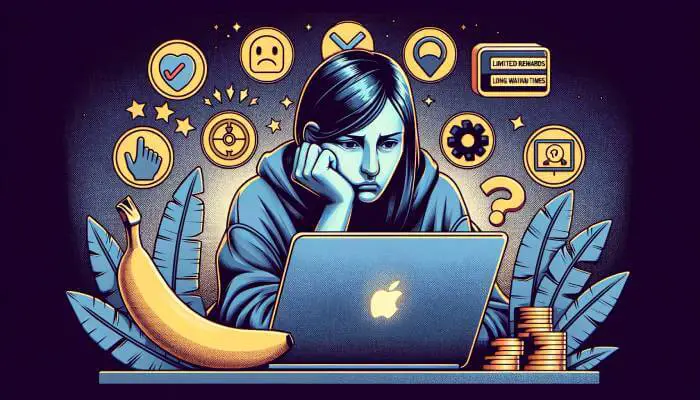 We've seen all of the benefits so far; now let's look at some of the disadvantages.
#1. Earning Potential is Limited
If you believe that spending time on Bananatica can help you earn a side income, then you're completely wrong.
That's because it's a site designed for having fun while also earning rewards on the side. If you enjoy playing games and have the patience to wait for the rewards, Bananatic is for you.
However, if you're only playing games to win prizes, you may be disappointed because reaching the minimum payout takes time.
---
#2. Bananas Missing
I've never liked offer walls because they're managed by third-party partners. So, it is bound to have some issues.
It has been seen that some people don't get bananas even though they complete the tasks on the offer wall. However, it does not always happen, but you may encounter it at some point.
Such issues can have a variety of reasons. So the only thing you can do is contact the support team to resolve the issue.
---
#3. Game Quest Tracking Issue
I've never personally experienced this issue, but I've read that sometimes, the tracking system fails while playing game quests. To put it simply, your game progress is not saved.
As a result, members had to register multiple times in order for it to work for them.
I'm not sure why this is happening. However, I recommend that you disable your ad blocker while completing game quests for a better experience.
---
How Much Money Can You Make With Bananatic?
Well, that is entirely up to you. The more time you spend on their platform, completing game quests, and offers, writing articles, and creating videos, the more rewards you can earn.
However, please keep in mind that the earning potential is limited. As a result, you'll have to do more and more tasks until you reach the minimum pay.
This will not be a problem for you if you enjoy playing games like I do. However, as I previously stated, if you're only here to earn rewards and that's why you're playing games, your patience will be tested.
---
What is the Minimum Payout on Bananatic?
The following are the minimum payouts for various rewards at the time of writing this review.
$20 PayPal card: 10000 bananas

$5 Amazon gift card: 2500 bananas

Games currency: 5000 bananas

Steam random key: 250 bananas

Games & Prepaids: 200 bananas

CS: GO Skins: 200 bananas

$10 Paysafecard: 5000 bananas

Digital keys: 1400 bananas
---
Is Bananatic a Safe Site?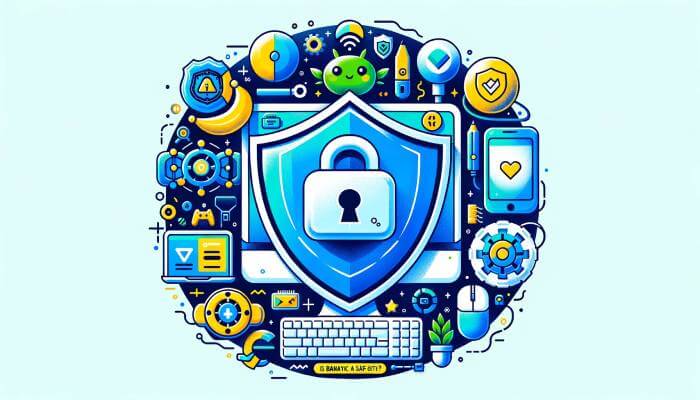 Bananatic is a completely safe website. However, they, like any other website, collect your personal data for the following purposes.
To monitor your activity so that they can be notified if you violate their terms and conditions.
To improve their service by analyzing your experience.
For processing payment transactions.
For marketing purposes.
They may also share your data with third-party partners on occasion. However, these partners only process your data in accordance with Sedoc LLC's instructions.
This allows them to offer services such as hosting, player support, advertising, analytics, and fraud prevention.
You may think twice after reading this, but it happens on every GPT site. So, you don't have to worry much because they do this just to prevent fraudulent activities.
However, I always prefer to create a separate email address specifically for joining such sites.
---
Final Conclusion:
Although you can win exciting rewards by playing games and completing other tasks on Bananatic, your earning potential is limited when compared to other GPT sites such as Swagbucks.
In addition, the minimum payout for gift cards and PayPal is high, which can put your patience to the test.
However, if you already enjoy playing games and don't mind receiving rewards on the side, Bananatic could become one of your favorite GPT sites.
Lastly, if you're interested to know about other GPT sites, you can try the following that are better than Bananatic.
Pin it For Later: