When you click the links and ads on this blog, it helps me to pay the bills & keep this site free for you. Thanks for supporting me! For more info, read the Disclosure page.
Which one is better – Earnably vs InstaGC.
Both Earnably & InstaGC are popular GPT sites that have been around for a while. While both of them are a legit site that pays its members for completing various tasks, the question is–which one is better for you?
InstaGC is the clear winner here because not only they are available in more countries but they provide a sign-up bonus, have a low minimum payout, offer more rewards, & have a better referral program.
If you want to read further to know everything in detail and how I reached this conclusion, I have compared both of them on different basis down below.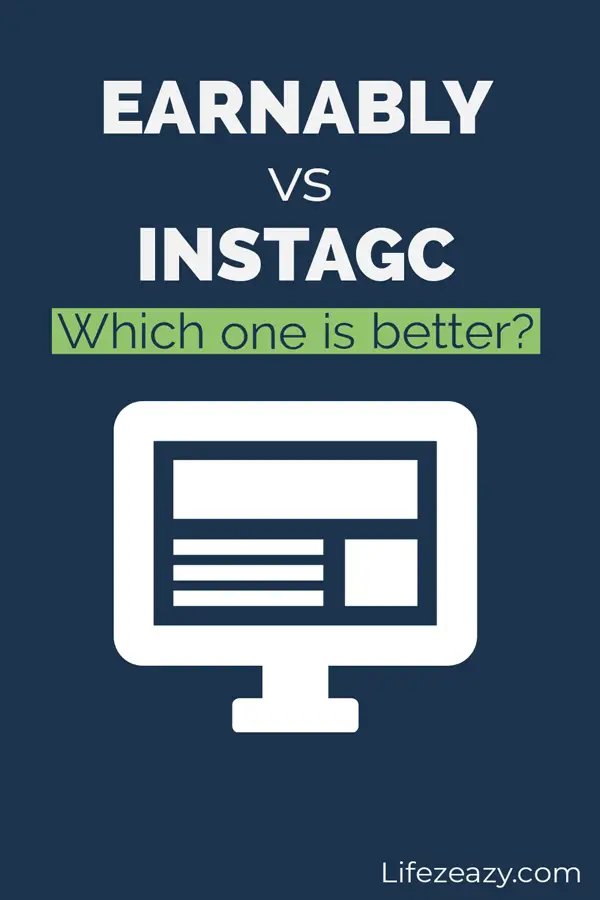 Earnably vs InstaGC 2021
Earlier, I have reviewed both the sites where I discussed a lot of things about them. If you haven't checked that out, make sure to read here.
Comparison 1: How Many Countries Can Access Them?
Earnably
Currently, it is available in 37 countries including the US, UK, AUS, Canada, India, Germany & more.
They also promise to expand to more countries as soon as there is an increase in offer availability.
InstaGC
InstaGC is available in all countries where PayPal is permitted excluding China & Vietnam.
Winner – InstaGC
If you check out, PayPal is available in over 200 countries which means – InstaGC is also available there. So, that makes them better than Earnably in terms of availability.
Comparison 2: How Much Is The Sign Up Bonus?
Earnably
They don't offer any bonus on registration.
Winner – InstaGC
No doubt, InstaGC is the clear winner here.
Comparison 3: How Many Earning Options Do They Provide?
Earnably
You can earn points by completing online surveys, paid offers, watch videos, install different apps, & refer new users.
Paid offers further consist of – more surveys, app installation offers, online shopping, free trials, & sign-ups.
InstaGC
InstaGC provides everything that Earnably has to offer along with various contest (Completion contest, Decimal pot & Sports) that gives you a chance to earn big bonus points.
Winner – InstaGC
If InstaGC wasn't offering contests, this section would have been a draw as both of them offer the same opportunities.
Comparison 4: Which Site Provide Better Paying Surveys?
Earnably
The surveys usually pay around 5 to 80+ points depending on the survey partner and your demographic. This means users from different countries may see a slight variation in points.
After visiting their survey section, you have to choose a survey partner and then go through their profiling survey aimed at collecting your personal information. These data are then used to find suitable surveys for you.
InstaGC
They provide eligible surveys based on the profile details you entered while creating the account. Even though you can straightaway take them, some surveys need additional informations via their profiling questions.
Most of the surveys pay around 25 to 135+ points and they also display the total completion time, which gives you an idea about how much time to invest on it.
Additionally, they also credit one point per disqualification up to 10 surveys per day. This means you can easily earn 10 points in a day, even after getting rejected.
Winner – InstaGC
I find InstaGC surveys to be more profitable because they display all the information right away, helping you to decide which one to pick. Not only that, but they also credit disqualification points which keep you motivated.
Now, you might think, what can one point do? Well, with a limit of 10 disqualification points per day, you can easily collect 100 points in ten days, which is basically the minimum payout of InstaGC. How cool is that?
Comparison 5: Which Site Has More Payout Options?
Earnably
Earnably offers PayPal and several gift card options depending on the country.
For example, I have access to the PayPal option while Amazon gift cards aren't available in my region. However, most western countries will have access to both of them.
In case, if your situation is like mine? You can always redeem for other gift cards.
InstaGC
They provide Gift cards, PayPal, eCheck, Direct deposit, Cryptocurrencies, & Prepaid cards as their payout options.
Under gift cards, you can find several vouchers that you can filter by country. As far as I have seen, US users have access to more gift vouchers.
Winner – InstaGC
Clearly, InstaGC has an upper hand because of the variety of withdrawal choices they provide, along with several gift card options. As mentioned earlier, Amazon e-cards were not available for my region in Earnably, but InstaGC provides them.
Comparison 6: Which Site Has Better Low Minimum Payout?
Earnably
PayPal cash starts from 125 points while gift cards need 165 points. Please remember it may change as per your demographics but as far as I have seen, it should be the same.
InstaGC
It has way less requirement for PayPal & Amazon gift cards but some e-cards require more points. For collecting just 100 points, you can start redeeming a $1 PayPal cash & $1 Amazon gift card.
Winner – InstaGC
Obviously, InstaGC wins here because they offer the same rewards in fewer points.
Comparison 7: Which Site Has Better Referral Program?
Earnably
The referral program pays 10% of everything your referral earns for a lifetime, excluding bonuses and promo code earnings.
For promotion, they don't provide any banners and pages except a referral link.
InstaGC
Besides receiving 10% from the referral's earnings for a lifetime (excluding bonuses), they also pay 10 points per sign up if your referral is from the US, UK, AUS, CAN. (Please note referrals from the same household won't credit 10 points)
For promotion, they give access to a referral link, banners, and promotional pages that make your job easy.
Winner – InstaGC
InstaGC has a better referral program because not only they provide a promotional toolkit in the form of banners and promotional pages, but also credits 10 points for each new referral from selected countries.
To be honest, Earnably could have been the winner had their referral commission were better. But sadly, it is the same as InstaGC.
Comparison 8: Which Site Has Better Support?
Earnably
There is no direct support link on their website but they do have an automated support chat feature where you can find answers to all your queries.
In case if you can't find a specific answer, Earnably then gives access to their support team allowing you to send your question to them. But make sure to wait for a few days to get a reply.
InstaGC
InstaGC has a separate support page where you can find links to – 
Account FAQ page
Rewards FAQ page
Points FAQ page
Guides on how to use InstaGC
Take a tour
Support ticket area
If the first five options couldn't answer your query, you can create a ticket by visiting the support ticket area. 
I tried once their support feature and I got a reply in 18 minutes. I don't know whether I was lucky because there have been instances where the user has to wait for days to get a reply. 
You can read my whole experience in my InstaGC website review to know more.
Winner – Draw
I am really impressed with InstaGC as they provide everything on one page, which improves user experience. But, I am also impressed with the automated chat feature on Earnably.
No doubt, both sites provide a good support service to their users, but the reply duration from the support team may vary per person.
That's the reason it's a draw for me because some users may get a quick reply while others have to wait for a couple of days.
Comparison 9: Which Website Has Better Usability?
Earnably
Earnably has a clean site that won't bombard you with lots of options. Their site architecture is navigation friendly, allowing you to have a better user experience.
I also like FAQ page links in some pages like survey, offerwall that will right away clear your doubts.
Overall, I had a wonderful experience accessing their site.
InstaGC
They too have a clean site that provides access to all the major pages via the navigation menu.
Like Earnably, they also provide a FAQ section on almost all the pages but instead of just a link, you can find a separate section on the bottom-right side that has all the necessary questions.
To keep you motivated, they also offer a "set goal" option that displays a progress bar once a target gift card is set. This way you will know how much you're close to reaching your goal.
Winner – InstaGC
To be honest, both are good as far as usability is concerned, but InstaGC does it a little better by providing all FAQ questions in one place along with the goal option. Thus, I had a much better user experience with them.
What's My Pick? – Earnably vs InstaGC 2021
Obviously, I prefer InstaGC more due to all the above factors but Earnably is also an excellent choice.
The best you can do is – use both of them (obviously, if you're eligible) to make the most out of it. This way you will have more tasks to complete & more rewards to earn.
Read Next: